Start of Main Content
Kellogg on Growth: Student Leadership Q&A (Part I)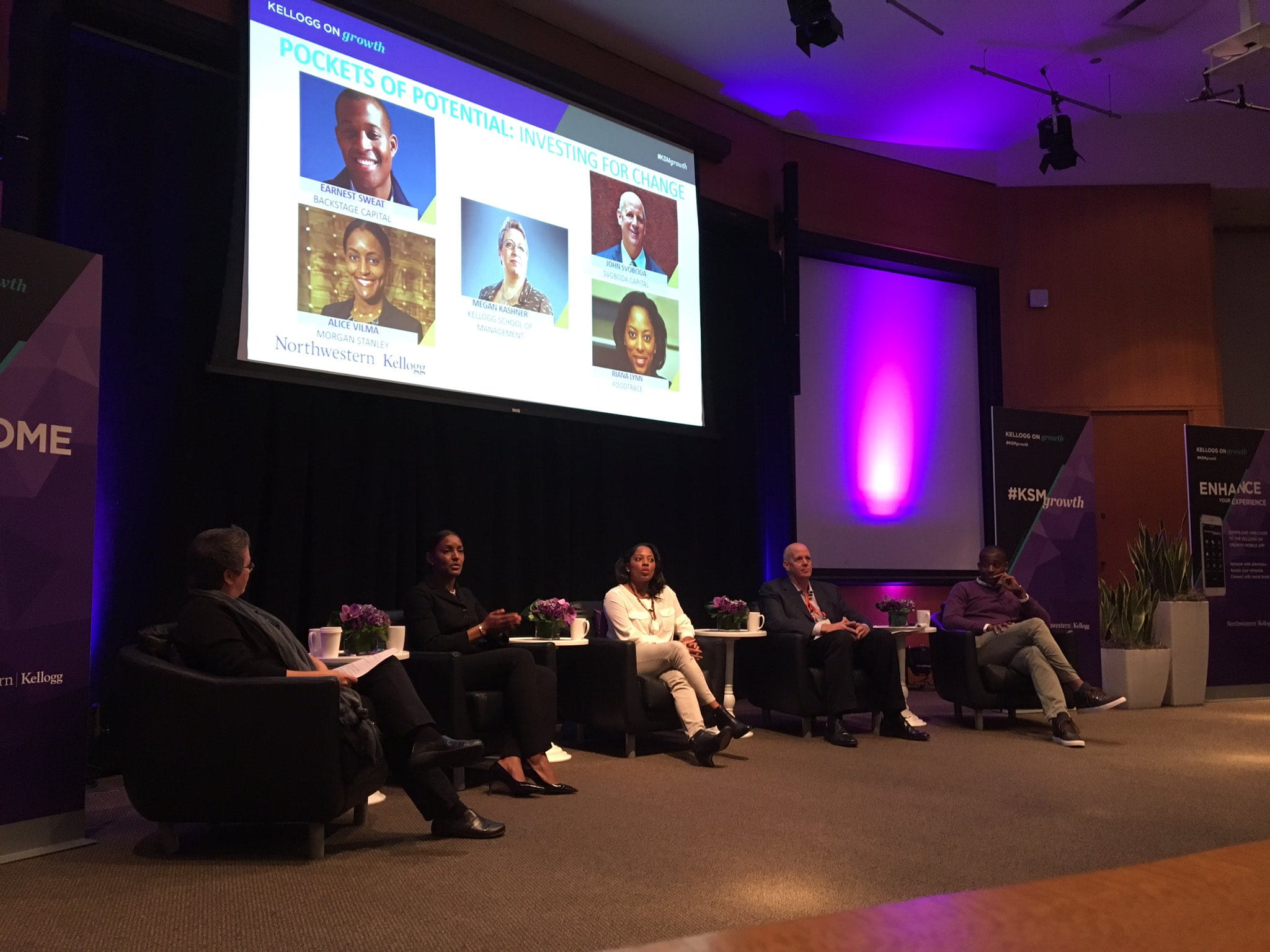 As the most prestigious conference of the year, Kellogg on Growth provided the opportunity for students and faculty to connect with Fortune 500 executives, industry game-changers, bestselling authors and other thought leaders shaping the face of business today.
From working closely with faculty to develop specially tailored programming to identifying influential growth leaders to share their stories, the student leadership team was instrumental in helping shape and develop this year's forum.
As part of the content team, both Tiffany Smith '17 and Max Meyers '17 worked with Kellogg faculty to bring influential business leaders and professionals to the forefront of their panel's discussions.
In Part I of our Kellogg on Growth Student Leadership Q&A, Tiffany shares her experience as the student lead for "Pockets of Potential: Investing for Change", where she worked with Professor Megan Kashner to bring a collection of senior leaders to the Kellogg stage to discuss investing in women and minority leaders and their ventures.
Why did you decide to join the Kellogg on Growth student leadership team?
Tiffany: I saw a need to bring topics to the forefront that highlight issues that are often hidden in the shadows of our economy. Within the financial inclusion and VC/entrepreneurship space, I saw an opportunity to bring premier thought leaders to campus to have a candid discussion around the current state of investment in underrepresented populations in this country. By 2040, it is projected that the U.S. will be majority populated with what is now deemed the "minority" population. When we talk about growth and what it means to be a business leader in this country, I felt I would be remiss to not focus on the implications of not investing in those populations now with the resources we have available. Less than 1% of minority entrepreneurs receive venture capital, yet 40% of pitches to VCs are done by minority entrepreneurs. Where is the disconnect?  It was also particularly important to me to lend a voice to historically disenfranchised populations to ensure there is a voice in the room to vocalize some of the challenges minority and women entrepreneurs face in the current landscape. On top of this, I saw an opportunity to network with some amazing classmates and administrators who put on the conference. I enjoy working with teams to bring a bigger vision to life.
As a student leader, what speakers and/or aspects were important for you to incorporate into this year's forum?  
Tiffany: Creativity was especially important especially around the panel titles. Megan Kashner is an amazingly creative person, and we worked together to come up with the title "Pockets of Potential: Investing for Change". It was also important for us to bring in both the investor and entrepreneurial/operator lens into the conversation to ensure it wasn't an echo chamber discussion. People often shy away from listening to topics like this because they feel like it "doesn't apply to them." We were faced with the challenge of not only providing thought provoking content that would engage students and alums, but we also needed tangible and thoughtful suggestions on how best to affect change in venture capital and enlist the support of those in the room who wanted to shift the narrative.
Which panel resonated most with you and why?
Tiffany: I only ended up attending my assigned panel due to schedule conflicts, but I did get a chance to speak with Jean Case before her keynote and our conversation was very insightful as she is intimately aware of the staggering statistics around investment in underrepresented minorities and women.
What was the most challenging part of helping plan for Kellogg on Growth? How did you learn from this experience?
Tiffany: Balancing my obligations, including a summer internship, to ensure the panel was of the right caliber to meet the expectations of attendees was particularly challenging. I learned the necessity of transparency when dealing with team members and administration, especially around deadlines and goal targets. I learned that it's sometimes better to be realistic than idealistic when coming up with content as there is always a fine line between what may be considered interesting versus out of touch. I also learned the importance of messaging clarity and perception. It is so important to understand your target audience and be thoughtful around how best to place your message in the broader atmosphere.
What's been the most rewarding part of being on the Kellogg on Growth student leadership team? What opportunities have been the most impactful?
Tiffany: What inspired me most was working with my classmates, who inspire and motivate me to do better and be better in every aspect of my experience. I witnessed several of my peers lead conversations that would happen in front of hundreds of audience members, including a mix of working Kellogg alums and students. Having the ability to facilitate these conversations was highly impactful for me.
What advice would you offer to 1Y students interested in joining the student leadership team for KOG next year?
Tiffany: Make sure to get involved early and reach out to the team to get engaged as soon as you get on campus.
How will you apply the information gained from KOG to your current studies and/or future career plans?
Tiffany: As a leader, it's crucial to be aware of the most pressing issues going on in society. It's particularly important to understand how those issues can affect your team, staff and colleagues during trying times. Some of the topics discussed during Kellogg on Growth were extremely relevant and important for all Kellogg students to digest, but I think what is most important is that we recognize the need to be stewards of information and constantly sharing our thoughts on what is relevant.
What industry are you thinking of working in after graduation? If you already have been hired, where are you working?
Tiffany: I'm focused on the technology/social impact industry, particularly around workforce development, education and empowerment. I believe an MBA is a key tool to affecting real change in communities that need help the most. We are provided with such a toolkit that can be leveraged in environments that need our expertise. I believe those environments are where I am best suited to have the most impact and look forward to being an innovator and change maker post-MBA.