Start of Main Content
Either you win or you learn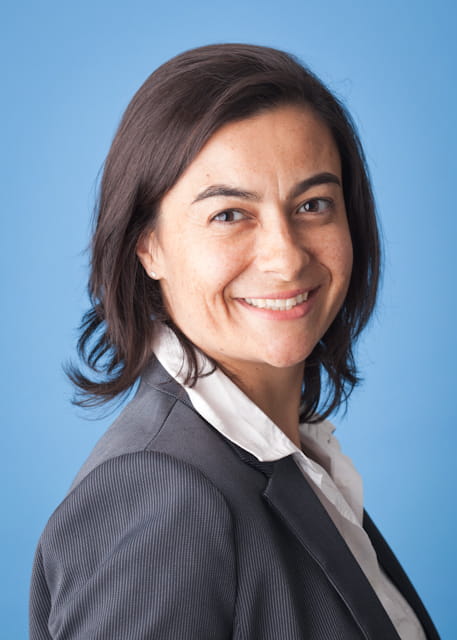 Aude Slama '11 (KW13) just launched a new business – and she's never been happier.
Based in Boca Raton, Fla., Slama is a recent graduate of the Kellogg-WHU program in Vallendar, Germany. This experience gave her the global expertise, confidence and momentum to launch her own business, Slama Global Search (SGS), a retained global executive search firm. SGS offers clients a tailored approach to executive staffing by combining a boutique organization feel with a truly global reach.
Slama shared her insights and advice on entrepreneurship, business growth and professional development.
Tell us about yourself.
I am a mother of two children and a global leader in Human Resources. After a decade spent in the corporate world, I decided to focus on two passions: business development and bringing top talents into organizations.
What made you decide to become an entrepreneur?
I inherited the entrepreneurial spirit from my father, so always had the desire to own a business, but was simply waiting for the right moment to tackle this new adventure. Even though I was mentally ready to start, it is a decision that cannot be taken lightly, especially when you have a family. I have always been confident, and ready to take up the challenge, but it was important for me to validate my choice with trusted people, who know me both personally and professionally. This new path was a good fit for me, and not a surprise for those that know me well.
How do you intend to grow your business?
I am not focusing on volume, but rather on excellence. My profile is rare in this industry, and as a consequence my partnership-based approach is unique, and so is my client value proposition.
In order to succeed, I plan on having partners and hiring associates who are aligned with our philosophy, and most importantly who will be ambassadors of our brand. I know that in order to get there, it is going to be very important to dedicate time for coaching and involve associates in the development of the organization. Together, we will bring a unique value, and this is going to be part of the organization's success.
How did the Kellogg-WHU EMBA impact your personal life and career?
If you want to reach your professional goals and live life, it is crucial you make the right choices. Kellogg-WHU was the right EMBA choice for me, both professionally and personally.
This established program prepared me for my international job transition, enabling me to become a global leader in a constantly changing business environment. At Kellogg-WHU, you will not only find educational excellence that focuses on team leadership and personal development, but you will find a real business partner in international leadership development, that offers diversity and individual uniqueness – key success factors in both today's and tomorrow's business world.
Are you making good use of your Kellogg and Kellogg-WHU connections? If so, how?
I attended courses in Germany, Miami, Chicago and Toronto, which provided the experience I needed to build a strong global network. Although my unforgettable Kellogg journey is complete, I still keep in touch with my former classmates. We discuss best practice sharing, career transition discussion, candidate search, introductions, human resources consulting and other insightful topics. It's also benefitted my career. For instance, I recently talked to an alum from Kellogg-Recanati who is looking for an opportunity in San Francisco and wants to develop a network there. I connected him to the President of the Kellogg Alumni Club there who called him immediately.
What would you say to a young woman about developing and advancing as a leader?
I would say that each woman's career path is unique. She may have different priorities in life, whether work, sport, health, family, etc. She will have to make individual choices, such as mobility, opportunity, having children, etc. Plus, she will have to pick partners, such as school, spouse, etc. Becoming a successful female leader will depend mainly on her decision path, as well as the opportunities that will present themselves along the way and her willingness to grasp them based on measured risk.
What do you do in your spare time to stay balanced?
A competitive sporting environment has been a big part of my life. Tennis, soccer and running have given me a competitive edge, which I apply to the way I conduct business.
When I decided to create my business, I knew that it would be a challenging journey. To better prepare myself for it, I had to find the same type of challenge in sports, because practicing sports helps me stay balanced. A year ago, I decided to prepare for a marathon. It keeps me focused, gives me time to think and reflect, allows me to trace a new path and helps me manage uncertainty. Until my first half marathon, I did not know what I was capable of. When I crossed the finish line, I was delighted to see my time of 1h 51min. I had every confidence that my body could handle more, and most importantly, that I was strong enough mentally. This long distance challenge has helped me sustain my professional effort, both mentally and physically.
When I was a young tennis athlete, in my mind I was either winning or losing a match. Today, with more experience I know I am either winning a match, or learning. I can apply this mindset in my professional life as well.
What leadership qualities do you utilize in your work as a global executive recruiter?
Resilience

: I quickly found out that an entrepreneurial project is a bumpy road, at least for the first couple of years. In order to stay the course, I must be able to bounce back with a positive mindset after experiencing challenging situations.

Teamwork/Collaboration/Partnership

: Due to the nature of my job, I have to collaborate and partner with outsiders for different reasons. It is crucial to develop the right network. In my case, I navigate in a global, trusted and quality network.

Agility

: In my industry, things are changing constantly, and so it is important to prioritize accordingly. Additionally, even though executive recruitment is an area of Human Resources, being on the other side of the desk is a continuous learning experience.

Innovation and creativity

: Innovation and creativity help drive a customized service for my clients. Whether I'm putting together the right search agreement or delivering the pearl, I enjoy delivering a real return on investment. I love this aspect about my job, because it's where your uniqueness makes all the difference.

Listening and questioning

: As each search is unique, it requires information that is beyond what is written on the job description, so listening and questioning skills are essential.
What outsiders have been most important to your career success?
Two trusted individuals that have been important in my career success are my dad and my husband. My dad taught me values at a young age that have helped me all along my career path, and still help me today as an entrepreneur: Never give up. Work hard. Have integrity. Respect others. Have fun. These are values that my husband shares. My husband and I are a team. Together we have made the right choices. He supports me in my work.
There are a variety of outside influencers in business, but one should never forget that each individual drives his or her own career. Ultimately, the person who will drive your success in life and business is yourself and nobody else.
What strategies do you use/have you used in terms of planning your personal career progression?
My first strategy is that I do not strategize by myself. When opportunities occur, I discuss them with my husband because the choice will automatically impact all the members of the family. Balance is everything. Secondly, learn on a continuous basis. Being in a comfort zone is definitively not what I am looking.
Finally, drive your own career. I have never been happier since I have made the choice to be entrepreneur. It is challenging, but such a rewarding experience.
Aude Slama is the managing director and president of Slama Global Search, a retained global executive search firm that has the ability to give the tailored service of a boutique organization and the capabilities and reach of a global firm. Learn more about Slama Global Search at www.slamaglobal.com. 
    Connect with Aude on LinkedIn or email at aude@slamaglobal.com.