Start of Main Content
Alumni Spotlight: Chris Motley '11
Get to know some of Kellogg's alumni who are bringing bold entrepreneurial visions to life.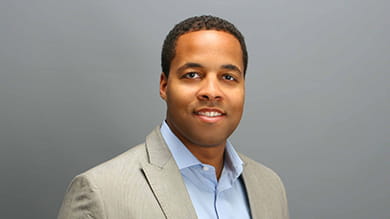 The cliché is true, says Chris Motley '11: Companies tend to hire on skills and fire on fit.
Problem is, during the hiring process, fit is hard to determine and harder to quantify. Fitting in at a company is one of the reasons so many people are unhappy at work, Motley says, citing a Gallup poll that reported two-thirds of employees are not engaged with their jobs.
Better Weekdays hopes to change that dynamic. Founded by Motley in 2012, the career-management platform uses big data and analytics to match job-seeking professionals with candidate-seeking companies, based on compatibility and cultural fit.
Launching in beta last summer, the platform uses an engine called MatchRank to determine job seekers' personalities and competencies using data from their résumés, employment preferences and JobScript. A self-assessment tool similar to the Myers-Briggs test, JobScript analyzes an individual's personality (motivations and values) and makes job recommendations based on that information.
At the same time, the technology scrapes the web for job postings, attaches metadata to the postings and then filters them to candidates according to compatibility. To date, the website maintains approximately more than 300,000 job postings.
Learn more about Chris and how Kellogg helped him get where he is today.