IN THE YEAR SINCE THE GLOBAL HUB OPENED,
IT HAS EMPOWERED ITS INHABITANTS TO NETWORK,
INNOVATE AND COLLABORATE
WRITTEN BY:
MARCO SANTANA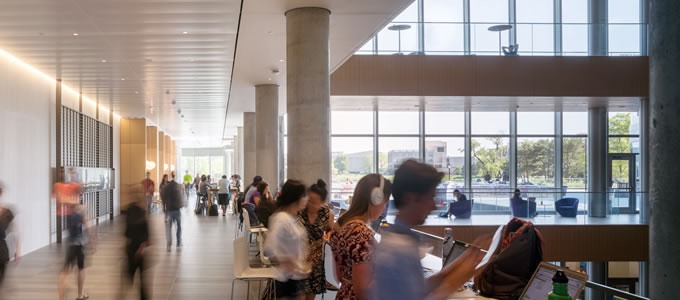 At any given time within the Kellogg Global Hub, students, faculty and staff experience the kind of chance encounters for which the building was designed.
"The building has served as a place where the entire Kellogg community can come together and thrive," says Max Lafortune '18. "I interact with peers and faculty each and every day of the week, regardless of whether or not I have class, and I believe that the building is a primary reason for that. It's a place that I come to be productive, to be social, to be inspired and, most of all, to learn."
"It inspires collaboration," agrees Florian Zettelmeyer, chair of the marketing department, who cites the "fantastic views from nearly all common spaces" as his favorite part of the building.
Such praises have been pouring in from students, faculty members and visitors since the building opened in March 2017. Here are a few ways the building has helped drive collaboration ever since.
PUSHING PAST THE CUTTING EDGE
It won't take long to spot one of the newer features in the Galvin Design Wing's Innovation Lab.
A robot named Phil – named for one of the lab's most prolific donors and a renowned faculty member, Phil Kotler – can often be seen looking for students in need of help.
The lab has become one of the centers of technology and entrepreneurial activity on campus, says Linda Darragh, executive director of the Kellogg Innovation & Entrepreneurship Initiative. It hosts technical literacy classes, which give students access to new tech, and a speaker series that features entrepreneurs.
"We want to make sure students are being exposed to some of the brightest innovators," she says. "We ask ourselves, 'What are the trends? What is cutting-edge? What will push them?'"
Students can interact with innovation programs at large companies, giving them exposure to potential career situations, Darragh says. "They can understand the disruption happening in these companies, which are pleased to partner with the innovative minds of our students."
A PLACE FOR GROWING AND FOSTERING GREAT MINDS
With areas such as the Design Lab at the ready, the building has drawn more than praise over the past year. In-residence spaces have been occupied by visiting artists, scientists and corporate partners, each of whom share how the space itself has inspired them.
Darragh says the school often receives cold calls from companies in the area that want to explore direct programs for students.
The Global Hub's Galvin Design Wing combines technology and creativity to enhance the student experience.
"We are trying to create real-world situations between corporations and students so more students can go into corporate innovation," says Darragh, who mentioned both Tyson Foods and General Electric as partners within the Innovation Lab. With this experience, "more companies will come to Kellogg as a source of talent."
The same effect can be seen on teaching and learning.
The Kellogg faculty have pointed to elements such as the flat classrooms that help them inspire students every day. Leigh Thompson, professor of management and organizations, cites her flat classroom's ability to facilitate interactive courses like Negotiation and Teams. "I loved it," she says. "We had the classroom set up in several 'pods' each day, and this allowed us to easily flex between the interactive-simulation portion of the class and the debrief."
"The building encourages interactions between faculty and practitioners with different perspectives and from different parts of the school," says Benjamin Jones, associate dean for innovation and impact. "It sparks dialogues that help shape research directions and new insights for the classroom."
ENGAGEMENT AND CONNECTIONS
Since the Global Hub opened, a steady, diverse stream of speakers – including former Vice President Joe Biden and Dr. Deepak Chopra – has headlined events at the facility. The new building has become a catalyst in how thought leadership and student conferences come together at Kellogg.
The 24x24 initiative, which initially set the goal of hosting 24 conferences at the building within its first 24 months, has already surpassed all expectations. Steady interest from faculty and staff has already increased planned events in these first two years to more than 40 and counting.
Many staff members point to the Global Hub's customizable spaces and their ability to create an intimate setting, no matter the number of attendees. On the second floor, for example, the 6,600-square-foot White Auditorium accommodates as many as 350 people. The seating can also be removed and replaced by tables and chairs in a room that includes a south-facing view of the Chicago skyline.
In May 2017, the Global Hub saw its first reunion celebration, where alumni recorded commemorative videos in the lower level's technology suites and attended lectures and networking events throughout the Gies Plaza and various classrooms. The event showcased the power of the building to returning graduates, who gathered on the expansive Montag Vista for toasts and photographs.
Commitment to sustainability
In January, the 415,000-square-foot Global Hub became the largest LEED-certified building on campus. Not only that, it achieved Platinum status, the highest rating given by the U.S. Green Building Council.
That Leadership in Energy and Environmental Design program is one of the more-recognizable and prestigious sustainability designations a building can earn.
But as important as sustainability remains, it's only part of how the physical building could help students' experience at Kellogg.
"I mean, look at it," says Chase Michalek '18. "It's not just state-of-the-art, it's simply stunning. I think the Global Hub is a symbol of everything the Kellogg experience offers: innovative, different, forward-thinking, warm and inviting."
"The Global Hub is hugely impactful on my day-to-day experience at Kellogg," Lafortune agrees. "It is an incredibly inspiring facility which I look forward to spending time in each day."