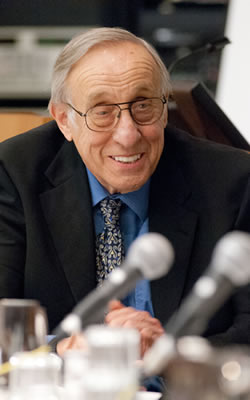 the
DEAN
of
DEANS
Dean Emeritus Don Jacobs forged a path to Kellogg's future
WRITTEN BY
: SARAH KUTA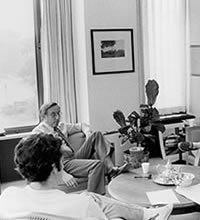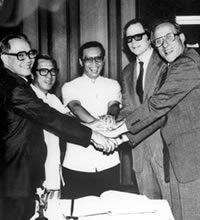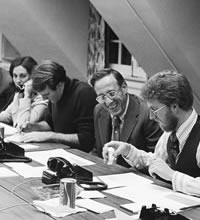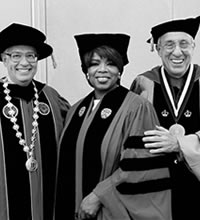 In October 2017, the passing of Dean Emeritus Don Jacobs caused an outpouring of condolences and shared memories from members of the Kellogg community. "A man of high standards and great warmth, Don Jacobs shaped the careers of thousands of Kellogg faculty, students and staff," says Dean Sally Blount '92.
"In addition to his work at Kellogg, Don sat on numerous boards. Combined, he quite literally influenced a generation of business leaders in a way that no one person will ever be able to do again."
Jacobs served as dean of the school from 1975 to 2001, propelling Kellogg to the top ranks of business schools around the world. Today, his impact lives on throughout the school.
He advocated for a teambased learning model through-out Kellogg, an approach in which students work together in groups during their courses to deepen their understanding of a topic and mimic real-world environments.
He created a global network of world-class business schools to expand the school's reach and provide students with an international management education.
Understanding the unique needs of mid-career professionals, Jacobs built the Allen Center to host executives for quick courses on modern business matters.
And his warmth, love for teaching, strength of character and welcoming presence continue to be missed.
A Model of collaboration
Under Jacobs' leadership, Kellogg was the first business school to fully embrace a team-based learning model. He had a deep commitment to engage students in such a way that they benefited from working with a vibrant, diverse community of high-caliber peers from around the world.
This approach was consistent with Jacobs' belief that in the real business world management is a group activity, not an individual pursuit. This pioneering approach has become the norm across the Kellogg curriculum and has been adopted by many other business schools around the globe.
The collaborative culture that is synonymous with Kellogg has its roots in this innovation, according to Mike Mazzeo, the current senior associate dean of curriculum and teaching. "Collaboration remains one of Kellogg's fundamental values, reflecting the benefits of including diverse perspectives in organizational decision-making."
The Global Hub was built with Jacobs' vision of collaboration in mind, with its flexible student spaces, flat classrooms, conference rooms and labs.
Global network
Jacobs had a deep understanding of the mandate for students to lead in an increasingly global economy. This reverberates through what is now the school's Executive MBA Global Network, which got its start when Jacobs formed a pioneering partnership between Kellogg and the Leon Recanati Graduate School of Business Administration at Tel Aviv University in Israel.
With that first formal international relationship as a model, Kellogg began offering joint EMBA degrees with other top universities around the world, including WHU-Otto Beisheim School of Management in Germany, Hong Kong University of Science and Technology and Schulich School of Business at York University in Toronto.
"The beauty of the network is that it leverages the strengths of our faculty and our curriculum, but also the best faculty at these other leading institutions and some of the unique courses that are specific to those regions," says Paul Christensen, associate dean of executive education.
Today, thanks to Jacobs' vision, the network has expanded to include Guanghua School of Management at Peking University in Beijing.
Jacobs understood from the beginning that the world was growing smaller every day and that modern leaders needed to be well-versed in global business practices.
"He knew that we were on a one-way path to an increasingly global economy," Christensen says. "It wasn't just a fad – it was a trend that was here to stay."
Beyond that, Jacobs wanted everyone in the world to have access to a high-quality management education, not just those students who could travel to Evanston to study at Kellogg.
"Don really did believe in the democratization of management education," Christensen says. "He aspired to reach an audience of students and future leaders who would make the world a better place. He wanted to train the world."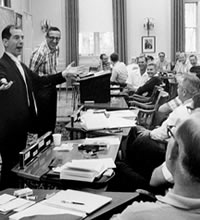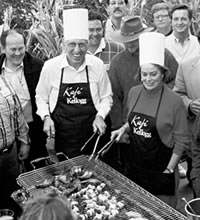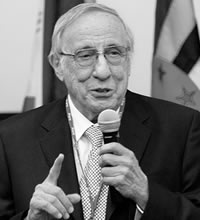 THE POWER OF THE ALLEN CENTER
Jacobs was committed to continuous learning and had a vision to bring together a network of professionals, faculty from multiple disciplines and accomplished practitioners to exchange ideas and open new perspectives. This vision came to life as Kellogg began offering shorter-term executive education sessions to talented mid-career business professionals.
"He was a seer," agrees Meyer Feldberg, who served as the director of executive education and an associate dean at Kellogg before becoming the dean of Columbia Business School, among others. "He really saw what management education was and where it needed to go, and others followed in his path."
He shared his vision with James Allen, a founder of Booz Allen Hamilton, who agreed to finance the construction of a new building on campus that would house the school's new executive education program.
The Allen Center opened in 1979, offering courses that lasted several days or weeks. Though a Full-Time MBA program took two years to complete, professionals could gain new skills and expertise in a short period of time, all while living and learning at the Allen Center. Today, the building hosts more than 6,000 executives each year.
University leaders were initially skeptical of Jacobs' idea, but eventually gave him the go-ahead.
"The university was concerned about putting up a brand-new building right on the lake that was going to have to be self-supporting," Feldberg says. "How do you know that it's going to work? How do you know you're going to get hundreds of executives in here? What if it fails?"
As with so many of Jacobs' ideas, the risk paid off.
The Allen Center introduced thousands of executives to Kellogg and helped elevate the business school's brand. In addition to offering a standard set of courses, the center began developing custom programs to meet the needs of individual companies.
Business schools around the world have since embraced the model of teaching executive education courses in a retreat-like setting.
"Don saw this as a way to enhance the managerial skills and talents and expertise of executives, but he also saw this as a mechanism for spreading the Kellogg image around the country and around the world," Feldberg says.