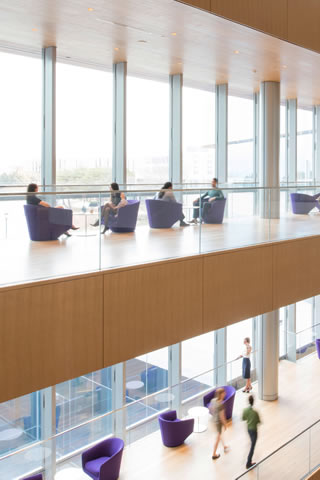 THE TEAM
THAT TRANSFORMED KELLOGG
Dean Sally Blount formed a team of brave leaders who prepared Kellogg for the 21st century and are ready to welcome the next dean
From her office in the southeast corner of the top floor of the Kellogg Global Hub, Dean Sally Blount '92 can gaze at a panorama of Lake Michigan that stretches into the Chicago skyline. But as tempting as it might be to relax and take it all in, Blount is more often found elsewhere in the building, engaging students, corporate visitors and alumni or working alongside professors and staff. Every day, she exhibits the same mindset that she developed at her alma mater: a courageous and collaborative spirit that mobilizes the power of the team.
When she returned to Kellogg eight years ago, Blount began to recruit and shape a team of leaders who would work alongside her. Her goal: to transform and equip Kellogg to take on the unique business and education challenges of the 21st century. "Today more than ever, we need leaders who get energized about investing in iconic institutions, about equipping 50- to 100-year-old organizations to embrace the economic and social realities of the post-millennium era," she says. "At Kellogg, it's been amazing to watch. So many high-impact, low-ego leaders have stepped up with me to reinvent our school."
As she prepares to pass the deanship mantle late this summer, Blount points to the team that is busy preparing for the next dean and creating plans to propel Kellogg forward even further.
The school's recent successes showcase the team's impact to date. Faculty research and thought leadership continue to thrive. Kellogg's global presence is stronger than ever. The quality and diversity of incoming classes are on par with the best in the world. And alumni around the globe are contributing time, energy, insights and financial resources at record-setting levels. All of this energy is emanating from the school's new LEED-certified Platinum building, the U.S. Green Building Council's highest honor.
These successes are not a matter of luck. They are the result of a bold vision and relentless execution, beginning with a strategic planning process that engaged more than 1,200 community members and has been continued by a committed faculty, staff, alumni and student team.
BLENDING RESEARCH AND PRACTICE
Blount sought to create an organizational structure that enhanced the ability of faculty and students to study the emerging business challenges of the 21st century.
"We needed to create platforms for innovation that honored our traditional departments, but allowed for more and faster improvisation and experimentation in our research and teaching," Blount explains.
Kathleen Hagerty
, senior associate dean for faculty and research, emphasizes, "Kellogg will always invest deeply in our core disciplines: accounting, economics, finance, management, marketing, operations, strategy. They are fundamental to what we do."
"To foster new conversations, we designed four strategic initiatives that cross our traditional boundaries and create incentives while reducing disincentives for faculty to work together between department lines," says Professor
Thomas N. Hubbard
, the faculty member who helped bring the four strategic initiatives to life.
Today the Kellogg Innovation and Entrepreneurship Initiative is led by
Linda Darragh
in partnership with Professor Ben Jones, the faculty director of KIEI and associate dean for innovation and impact. Blount recruited Darragh back to Kellogg to transform the school's entrepreneurship program. "This initiative puts an emphasis on middle-market offerings and corporate innovation in addition to startups," Hubbard explains. "Growth and scaling is inherently a general management problem." Through KIEI, Kellogg has rolled out 20 new entrepreneurship courses as well as a range of co-curricular offerings such as the Zell Fellows and Young Scholars programs.
The Kellogg Markets and Customers Initiative is led by Professor
Greg Carpenter
. KMCI builds a platform for integrat- ing customer insight across organizations. The Kellogg Arch-itectures of Collaboration Initiative, led by Professor
Brian Uzzi
, has focused on studying new forms of collaboration emerging through social networks, crowd-sourcing and human-machine partnerships. And the Kellogg Public-Private Interface Initiative, under the leadership of Professor
Janice Eberly
, encourages conversations across business, government and society.
EIGHT
FACULTY
LEADERS CHANGING KELLOGG'S COURSE
Over the past eight years, Kellogg faculty leaders have continued to advance the school's mission as a leading research and teaching institution.
DAVID AUSTEN-SMITH,
Peter G. Peterson Professor of Corporate Ethics, Professor of Political Science and Economics
Senior Associate Dean: Faculty and Research 2010-2013
This fellow of the American Academy of Arts and Sciences and political economist started teaching at Kellogg in 2004. A few years later, as the dean's office started to rethink hiring practices, he helped to expand the breadth of the economics faculty.
MICHAEL J. FISHMAN,
Norman Strunk Professor of Financial Institutions
Senior Associate Dean: Curriculum and Teaching 2011-2014
The finance professor and former senior associate dean led the current team to design Kellogg's core analytics courses. Thanks to a strong love for teaching, Professor Fishman won the EMBA Outstanding Professor Award six times.
ROBERT MCDONALD,
Erwin P. Nemmers Professor of Finance
Senior Associate Dean: Faculty and Research 2013-2016
A faculty member since 1984, McDonald has helped to reinvigorate research support infrastructure throughout the programs.
THOMAS N. HUBBARD,
Elinor and H. Wendell Hobbs Professor of Management
Senior Associate Dean: Strategic Initiatives 2012-2015
The professor of management and strategy led the development of the Kellogg Strategic Initiatives from the ground up. His leadership has also extended to the faculty and research magazine,
Kellogg Insight
.
THERESE J. MCGUIRE,
Professor of Strategy
Senior Associate Dean: Curriculum and Teaching 2014-2017

The professor created a curriculum that is more responsive to industry needs and student interests by creating student pathways reflecting emerging areas and evolving industries and by redesigning the curricular offerings for Evening & Weekend students.
KATHLEEN HAGERTY,
First Chicago Professorship in Finance
Senior Associate Dean: Faculty and Research 2005-present

Overhauling the school's growing PhD program was a longtime initiative for the finance professor. The program not only provides key access to the rest of the resources within the business school, but also helps doctoral students take part in a collaborative environment.
MICHAEL MAZZEO,
Associate Professor
of Strategy
Senior Associate Dean: Curriculum and Teaching 2017-present
The professor's passion for evening and weekend programs allowed for greater customization of part-time learning to help working professionals develop critical industry expertise and hone specific skills.
BENJAMIN F. JONES,
Gordon and Llura Gund Family Professor of Entrepreneurship
Associate Dean: Innovation and Impact 2017-present
When it comes to supporting student entrepreneurs, the economist was able to get Kellogg on the map. The faculty director of the Kellogg Innovation and Entrepreneurship Initiative helped widen curricular offerings for innovation and entrepreneurship, as well as growth and scaling. In his role as associate dean, he's applying that innovation to Kellogg.
INTEGRATING TO DELIVER A TRULY GLOBAL EXPERIENCE
Inspired by
Don Jacobs
, Blount knew that Kellogg had to build on Jacobs' and Dipak Jain's legacies of strong global connection. Central to this strategy was growing the joint-degree Executive MBA programs, which date back to 1995, and opening the Miami campus in 2006.
"We had four strong bilateral EMBA programs, only one of which arguably was having significant reputational impact for us," says Blount. "So we decided to join them into a network, in which Kellogg would no longer be the only connecting node. Almost immediately, the expanded connectivity led to more information sharing and innovation between partner schools and re-energized our programming and shared alumni base."
Deans of the partner schools meet annually to set network strategy and work closely during the year to enhance the global experience for all students. Under the guidance of
Greg Hanifee
, associate dean of executive MBA programs, today's network comprises Hong Kong University of Science and Technology's School of Business and Management, Tel Aviv University's Recanati Graduate School of Business Administration, Toronto's Schulich School of Business at York University, Beijing's Guanghua School of Management at Peking University and the WHU-Otto Beisheim School of Management located outside of Frankfurt.
Four years ago, Guanghua was added in response to the growing importance of mainland China in the business sphere, says Associate Dean
Paul Christensen
, who serves as the senior adviser for global strategy. "It has become far more than just a hub with five spokes. All students can now take courses across four continents during their two-year course of study."
Kellogg Full-Time and Evening & Weekend students also take advantage of a diverse array of global experiences through 37 "exchange" partner schools, each of which provides coursework that is unique to certain regions. In addition to the longstanding GIM and KWEST programs, a Global Lab course was launched in 2014 so students could work on an international consulting project. Such experiential learning is invaluable for today's leaders, who are increasingly working in an international context even in their home countries.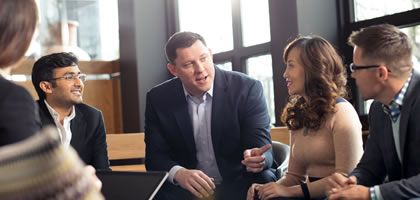 "ALL [EMBA]
STUDENTS CAN
NOW TAKE
COURSES ACROSS
FOUR CONTINENTS
DURING THEIR
TWO-YEAR
COURSE
OF STUDY."
ATTRACTING AND PREPARING THE NEXT GENERATION OF LEADERS
Matt Merrick
, associate dean for degree operations, leads a team that drives everything from admissions to student experience and the Career Management Center.
Kate Smith '98
, assistant dean of admissions and financial aid, is among the many alumni who have come back to Kellogg since 2010. A core part of their strategy has been deeper connectivity among prospective students, curr-ent students and alumni to bring the Kellogg story to life. The admissions team now works with applicants to identify the unique opportunities available to each of them at Kellogg. "Our focus has been on giving prospective students a window into the lifelong Kellogg experience, from the campus to the boardroom. When we tell our story well, we are highly competitive at yielding the world's top students, many of whom come to realize they really belong at Kellogg," Smith says.
The proof is in the data. Kellogg ranks in the very top tier of graduate management schools worldwide. Women made up 42 percent of the 2017 incoming two-year class, while U.S. minorities comprised 25 percent. As a higher share of the most competitive students select Kellogg, the average GMAT score has increased 25 points since 2009 to 732. "While it's just one of many metrics, it's certainly something people have noticed," says Smith.
Along with the Full-Time program, there have been impressive growth and increased vitality in the Evening & Weekend and EMBA programs. Evening & Weekend has seen a 15 percent increase in matriculating students over the past three years, while EMBA's number of matriculating students has grown by 32 percent.
The scope of career opportunities is also expanding for Kellogg students. Since 2010, the Career Management Center's team has evolved its approach to meet recruiter demand and student interests. For students, this means increased support for off-campus recruiting and niche job searches. For recruiters, this means customized strategies for engaging with and recruiting students. In 2017, 25 percent of Full-Time graduates accepted jobs in technology, second only to top-tier consulting. And for the first time ever, 31.4 percent of the graduating class headed to the West Coast, with 30.2 percent staying in the Midwest and 20.2 percent going to the East Coast. Further, more Evening & Weekend and EMBA students are taking advantage of personal career coaching and programming that speaks to their respective leadership journeys.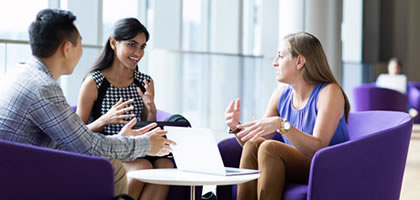 "WE ARE
HIGHLY
COMPETITIVE
AT YIELDING
THE WORLD'S
TOP
STUDENTS."
TAPPING INTO THE HEART OF THE COMMUNITY
To sharpen Kellogg's competitive positioning, Blount knew that she needed strong support from Kellogg alumni and friends. In September, the team surpassed its $350 million goal for Transforming Together, the school's first major capital campaign, to raise more than $375 million to-date. In addition, the Annual Fund giving has grown from $3.6 million in 2008 to $10.1 million in 2017.
According to Blount, demonstrating the breadth of new initia-tives was crucial. "My job was to say, 'We need your money, but even more we need your heart and your time to invigorate our school and our network.'"
Blount emphasizes that this effort is about more than money. It's about the time, passion and insights that energize a network. Thousands of alumni have donated time in recruiting students to Kellogg, assisting new graduates in job searches, building their local clubs and serving on advisory boards. And alumni leaders at Bain, BCG, Deloitte, McKinsey, Prophet and PwC/Strategy& have provided millions of dollars' worth of pro bono consulting.
Today, the fundraising team is busy continuing to raise money for the Global Hub and launching a two-year, $100 million Open Doors campaign. This effort will increase need-based aid and invest in program innovations that will ensure that Kellogg's student and faculty cultures are among the most diverse and inclusive of its peer set. "To assure that our culture stays vibrant and relevant, to assure that our doors can open as widely as possible to welcome the world's most promising young leaders for decades to come – that's our goal. Doing this right will take the self-reflection, perseverance and passion that is characteristic of Kellogg alumni and friends," Blount says.
The transformation has encouraged many to get closer to the business school community, says
Ann Drake '84
, chief executive of DSC Logistics in Des Plaines, Illinois. While Drake met Blount early on, she only recently set up the Drake Scholars Fund for high-potential women enrolled in the Kellogg Evening & Weekend MBA Program. For Drake, who earned her EMBA while running her own business, the fund is a way to give back to women who "are seeking the education but cannot make it financially." She also points to the inaugural Global Women's Summit, convening in May, as another instance where parts of the Kellogg community are intersecting and supporting each other.
Other alumni have returned to campus to help Kellogg fulfill its purpose to educate, equip and inspire, including
Tim Simonds '98
, the school's chief marketing officer from 2012 to 2016, and Wendy Weiss Kritt '84, managing director of alumni relations. "We want to make sure that we work with our alumni to catalyze our network globally," Kritt says. "At the same time, we're designing programming targeted to alumni at each different life stage."
The value of engaging with the Kellogg community can be transformative, says Larry Gies '92, founder and chief executive of Madison Industries, a global market leader that is making the world safer, healthier and more productive. Through his generous provisions of time with the students and a record-setting donation, he has helped to jump-start a culture of giving back, which he says is beneficial to both the school and his own growth as a leader. "What we do for the world and those we impact along the way is how we can each demonstrate purposeful leadership," he says.
back to campus
These current faculty and staff members are returning alumni:
Elmer Almachar '10
Bernie Banks '08
David Besanko '82*
Genevieve Burke '90
Lee Cabot '86
Carter Cast '92*
Renee Cherubin '06
James Conley '92*
Kathleen Coughlin '91
Margaret Douglas '95
Brenda Ellington-Booth '98*
Linda Feeney '97
William Garrett '90
Kent Grayson '94*
Julie Hennessy '82*
Ann Herring '96
Megan Kashner '03*
Harry Kraemer '79*
Wendy Weiss Kritt '84
Megan Krueger '90
Frances Langewisch '95
Jerimaih Langfeldt '08
Karen Larson '97
Liz Livingston Howard '93*

Elmer Almachar '10
John Malfettone '14
Greg Merkley '84
Shane O'Brien '05
Karin O'Connor '89*
Christopher Ody '12*
Kara Palamountain '04*
Joseph Patton '09
Nicholas Pearce '12*
Mary Pearlman '85*
Steven Peavler '08
Artur Raviv '76*
Kevin Robinson '15
Adnan Rukieh '85
David Schonthal '09*
Kate Smith '98
Louis Stern '62*
Amy Stewart Smith '05
Ellen Taaffe '97*
Matthew Temple '93
Thomas Turmell '98
Alice Tybout '75*
Linda Vincent '77*
Russ Walker '06*
Craig Wortmann '95*
*Faculty
BUILDING THE NEW KELLOGG
Thanks to this committed alumni community, one of the Kellogg team's greatest achievements is impossible to overlook. In fact, it stands 103 feet tall. The Global Hub exhibits an empowering level of collaboration that goes far beyond what happens in the classroom.
"The central plaza immediately conveys the message that Kellogg is a serious school that has a vision for the future," says Crate and Barrel's co-founder,
Gordon Segal '60
. He also served as chair of the board of trustees' educational properties committee, which spent more than three years working on the project. "Our end product is an outstanding use of its siting on the northeast end of the Evanston campus, flanked by the lagoon, Lake Michigan and the Allen Center. The use of glass for the exterior surface brings constant light and views that lift your spirit whether you're in the largest or smallest spaces of the building."
The late
J. Keith Murnighan
was a key faculty member who led the faculty team that provided input on the building's design. Though it was completed after he passed away, the Global Hub is just one of Murnighan's many lasting contributions to the Kellogg community.
Every day, the space facilitates meaningful connections among faculty, students and alumni, says
William Garrett '90
, who returned to the school as chief operating officer. Having worked on the building project, he is particularly impressed with the community spaces for students and faculty. "The vision of creating random collisions for innovation and creativity has come alive, and it really works," he says. "It has resulted in a new set of opportunities."
Blount and her team had an initial goal of showcasing the new building through the 24x24 initiative, which aimed to host 24 conferences within its first 24 months. However, the interest from the Kellogg community has been so strong that more than 40 will have been planned before the building's first birthday. These conferences bring together business, government and nonprofit practitioners to discuss today's pressing business topics.
Richard Lenny '77
, co-chair of the Kellogg Capital Campaign and chairman of IRI, a Chicago-based big data and analytics firm, views the building as an investment in the school's preparedness for a changing world. "It's less about where Kellogg is today and more about how the vision of what Kellogg will be in the 21st century is coming to fruition," Lenny says.
CONTINUING THE MOMENTUM
As her deanship approaches its end, Blount is confident that the school and its mission remain in worthy hands. While their academic and experiential opportunities have evolved, Kellogg students still acquire the core understanding that defines each graduate, a focus on the customer and the team, just as Blount did in 1992.
"We are still choosing leaders who know how to lift the room versus lift themselves," says
Elizabeth "Betsy" Ziegler
, the school's chief innovation officer and seven-year team veteran who will soon be departing to lead 1871, an incubator for technology and entrepreneurship. "Dean Blount has modeled this type of leadership for the Kellogg community, and Kellogg is in a better place because of it."
To Blount, preparing for the future and ushering in a new era requires staying true to the fabric of Kellogg. Today her legacy is entwined with the school that has contributed greatly to her career, a distinction she does not take lightly.
"I had the honor to lead an institution that shaped my life," she says. "I believe not only that my life is better, but also that the world is better and business education is better because Kellogg exists. I know so many people who have been profoundly shaped by our community and culture. I am confident about the relevance of that experience for future students, faculty and staff and the continued impact of our global community of Kellogg leaders."