the startup singer
/
songwriter
Dom Collins takes an entrepreneurial approach to his music
written by: Ben Gran
It's not every day someone leaves a lucrative job at a Wall Street investment bank to pursue stardom as a musician – but that's exactly what Kellogg alum Dom Collins '16 did.
Now performing under the stage name Dom Marcell, Collins is a JD-MBA Program graduate born in Puerto Rico and raised in New Orleans. He worked as a media and entertainment investment banker on Wall Street, but after a year in the financial world, he decided to leave to pursue a new career as a singer-songwriter. He is now preparing to release a new album that he describes as having influences from contemporary pop, R&B, hip-hop, dance and even gospel.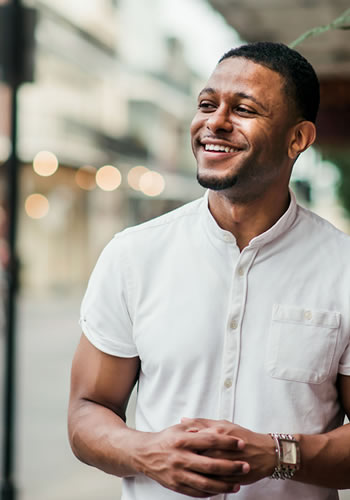 While the music business might seem like a detour from Wall Street, Collins sees his career move as part of the same journey toward entrepreneurship.
"The approach to invest in one's music is quite similar to work as an investment banker, where clients rely on [you] for strategic advisory services to grow their businesses and maintain competitive advantage," Collins explains. "I have studied the music business and music consumer tastes for years, so I tried to ensure that I was creating a sound that is current and uniquely different from other male artists. Unlike finance, evaluating music as an investment relies more upon intuition. Many talented artists may not catch their break. It can be hard to quantify an ROI. But I still knew that I love music so much that I am willing to go all in to make it work."
Although there are risks in leaving a lucrative Wall Street job to try to break through in the crowded music industry, Collins says that his unique perspective and business skills give him a competitive edge. His approach to the music business was inspired in part by the innovation and efficiency of Silicon Valley startups; he sees his new career as not just being a musician, but being the leader of a business enterprise.
"To build my new enterprise," he says, "I did a lot of research into the various roles that would be needed from both a creative and business standpoint. From there, I determined which roles I could do myself and which ones could be fulfilled by leveraging my network or outsourcing to third parties."
Collins' entrepreneurial journey has also been highly influenced by his business school education, where he learned fundamentals of leadership, strategy, marketing and finance. And as a lawyer, he was able to easily manage various details of starting a business, such as handling his own copyrights and trademarks.
Collins says that everything he learned at Kellogg prepared him for his new challenges as a musician and entrepreneur.
"The collaborative environment at Kellogg definitely taught me a lot about setting goals and being a team player," he says. "Regardless of the role I held, I always wanted to work with people who could challenge me on my ideas, and the more disparate ideas, the better. Kellogg was an ideal training ground to develop ingenious solutions with fellow classmates, and all of these lessons are employed in my business today."
Despite the risks and uncertainties, Collins is embracing his new career with confidence and enthusiasm, reinforced by his Northwestern degrees. "With any investment, it's imperative to hedge your bets to soften the blow if something goes awry," Collins says. "Fortunately, I had already made the perfect hedge – my investment in education. My mantra is this: The best investment one can make is in oneself, and the worst risk in life is not taking a risk."