We look for high-quality, unique photography that reflects our vibrant community and culture brand values: driven, supportive and courageous.
The images we use:
Emote a strong, positive feeling or provoke thought
Authentically and accurately portray the Kellogg community
Accurately represent the world and our global community
Meet industry best practices for resolution requirements for the medium (i.e., print, tablet, web, mobile, TV, HD or other device)
Here are a few types of imagery used in our new brand campaign.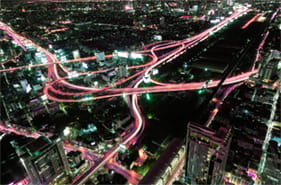 Architectural, complex cityscapes
Interesting lines and architectural patterns, sparking lights and colors, and expansive city landscapes visually cue today's complex global landscape. Images that show a sense of motion through blurred lines communicate the accelerated pace of business today or growth through motion.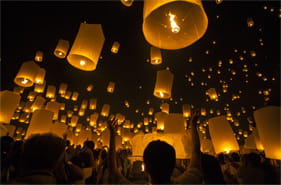 Repetitive, duplicative objects
Images with repetitive, duplicated images create interesting complex patterns or layers and signify growth and the power of networks and collaboration. Imagery with light also speaks to ideation, innovation and inspiration.
Authentic learning
The use of natural light, loose camera holds and close-up crops on faces gives a sense of authenticity and intimacy photography or video, whether it be inside or outside the classroom. Although we often portray students and faculty members working together or collaborating, we try to limit the primary subjects of a photo or video scene to three people or fewer.