Chicago-Booth Wins 2015 Case Competition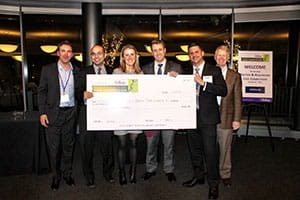 Launching Evolocumab:
How do you turn a biologic drug into a big growth opportunity?
That was the question student teams had to answer at the 12th annual Kellogg Biotech and Healthcare Case Competition, held January 24, 2015, at the Kellogg School. The event, sponsored in recent years by the biopharmaceutical company AbbVie, featured MBA-student teams from business schools nationwide. "We believe it is the biggest business school case competition with the longest history in the healthcare space," said Tim Calkins, clinical professor of marketing and co-academic director of the branding program at the Kellogg School, who has overseen the event for the past six years.
The quality of contestants reflected the competition's stature. Of the 44 teams that applied to compete, ten were chosen, representing top MBA programs including Kellogg, Columbia, MIT Sloan, and Booth (University of Chicago). Each team comprised three to five student contestants. "The participants had incredible backgrounds," Calkins said. Entrants' past employers included Blue Cross/Blue Shield, J&J, Walter Reed Army Medical Center, Booz Allen Hamilton, and other organizations within and outside healthcare. Several contestants were physicians or MD/MBA students.
The teams drew on their experience, skills, and MBA training to address the case question: How to develop the most effective U.S. launch plan for evolocumab, Amgen's new PCSK9-inhibiting biologic drug, which plays a role in reducing cholesterol. "We use a different case each year," said Calkins, who wrote the case with a Kellogg MBA student. "The challenge is creating one that's interesting and complex but manageable." He noted that this year's case was particularly challenging for the teams, as it required analysis of competitive dynamics, pricing, forecasting, budgeting, and marketing/branding to create a growth opportunity for Amgen and ensure consumers benefited from the product.
Teams had a week to analyze the case, conduct research (talking to cardiologists, for example), and create a comprehensive marketing plan. On January 24, all teams presented their plans and answered questions from a panel of judges made up of AbbVie executives including senior executives and younger managers, many with marketing backgrounds. "Some of my fellow judges were themselves MBA students in case competitions not long ago," said Clement Pimor, Vice President of Corporate Strategic Planning for Abbvie and a judge the past two years. To ensure fairness, teams were identified by color (Kellogg was not purple!). The judges scored them on the thoroughness, logic, and quality of their plan and presentation.
"All the teams demonstrated a good understanding of the industry and market," Pimor said, "especially because they only had a week to do what typically takes months or even years." First place went to the Booth School of Business team, with the Haas School of Business (University of California, Berkeley) and Johnson Graduate School of Management (Cornell) teams placing second and third, respectively. Kellogg and the Tuck School of Business (Dartmouth) received honorable mentions. These standout teams "showed they understood key issues for multiple stakeholders—physicians, patients, and others—and came up with robust marketing initiatives supported by strong analytics," Pimor said.
But the event was much more than a competition. "Beyond the prizes, it's a great opportunity for experiential learning and networking," Calkins said. "It's always a great event and a fun day," Pimor said, noting that the competition was inspiring for the competitors and judges alike.
By Sachin Waikar
Sachin Waikar is a freelance business writer living in Evanston, Ill.
Schools represented this year included:
-Booth School of Business University of Chicago (1st place)
-Haas School of Business, University of California, Berkeley (2nd place)
-Johnson Graduate School of Management at Cornell (3rd place)
-Tuck School of Business at Dartmouth (honorable mention)
-Kellogg School of Management, Northwestern University (honorable mention)
-Columbia Business School
-MIT Sloan School of Management
-Duke University's Fuqua School of Management