Start of Main Content
January 28, 2023
Kellogg Global Hub
2211 Campus Drive
Evanston, Illinois
How to Apply:
Application portal for the 2023 competition is closed.
Hotel Accommodations:
Hilton Garden Inn
1818 Maple Ave., Evanston, IL
Parking:
Validated permit parking available for both South (1847 Campus Drive) and North (2311 N. Campus Drive) campus parking garages
Questions?
Email Mary Novak
Project Coordinator
Healthcare at Kellogg

Eleven Teams Competed in 2023 Kellogg Healthcare Case Competition


Dartmouth-Tuck Wins 2023 Kellogg Healthcare Case Competition


On January 28, eleven teams from ten business schools and three countries gathered in Evanston to compete in the 2023 Kellogg Healthcare and Biotech Case Competition, sponsored by Moderna. The topic: How should Pfizer bring its new RSV vaccines to market? After the COVID challenges, this next vaccine has enormous potential to help people. But in healthcare nothing sells itself.
A team from The Tuck School of Business at Dartmouth won the event and the team from University of Michigan Stephen M. Ross School of Business finished a close second. Third place went to a team from Northwestern University Kellogg School of Management.
Honorable mentions went to teams from Boston University Questrom School of Business and University of Virginia Darden School of Business.
This was the 20th year of the event, making it one of the oldest and most recognized case competitions in the world.
Congratulations to all the teams that made it to the final round: Georgetown University McDonough School of Business, McMaster University DeGroote School of Business, SDA Bocconi University, UCLA Anderson School of Management and Columbia University Business School.
The winning team from Dartmouth Tuck: Leslie Akplah, Hanz Mangan Antony, Xinzhe Fang, Caitlyn Garland, Marie Smoak and Xiangyu Zhao.
The second place team Michigan Ross: Matthew Friedland, Jason Herzfeld, Denny Lai, Arushi Mahajan, Karthik Ramasubramanian

Photos from the event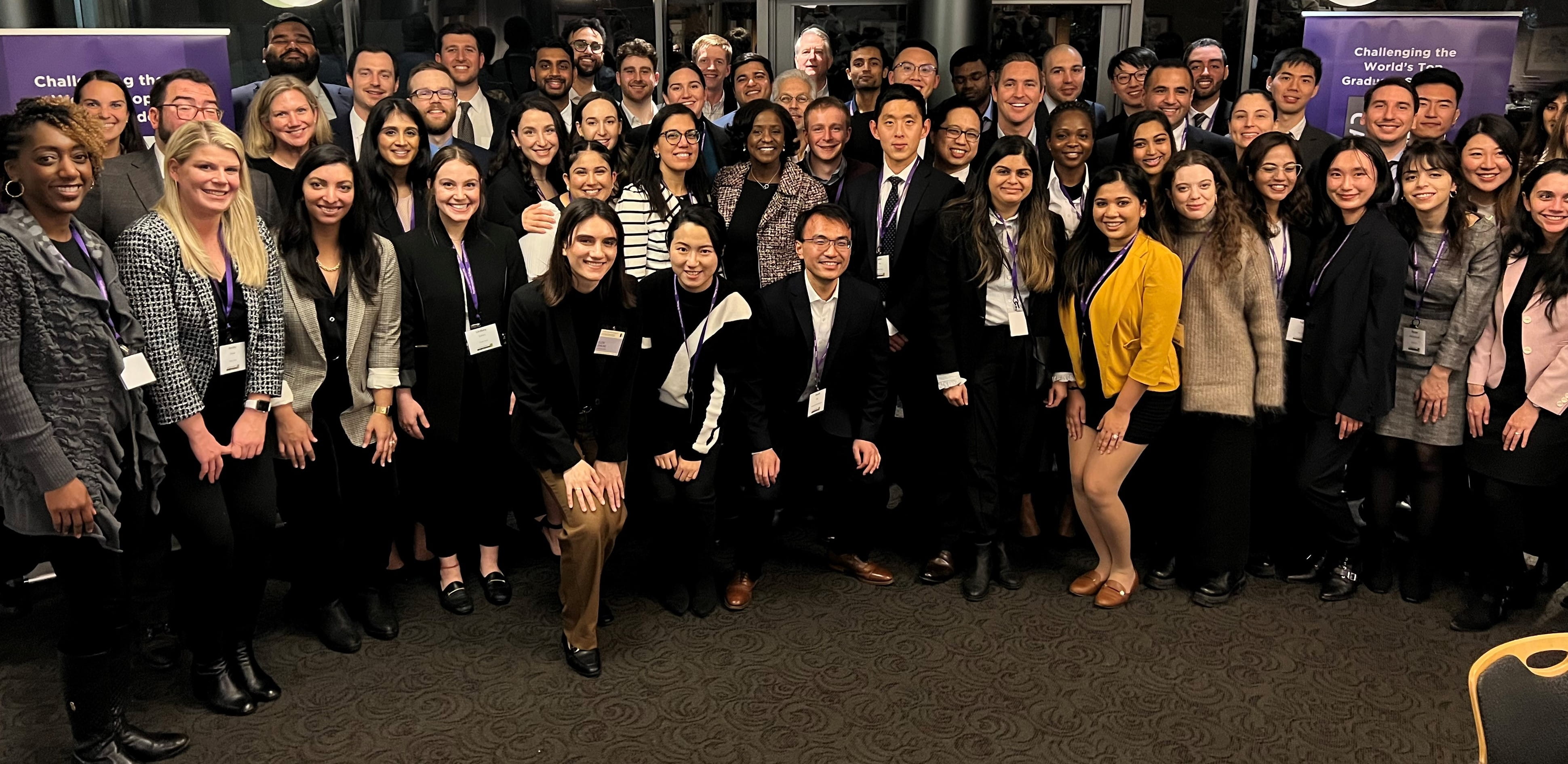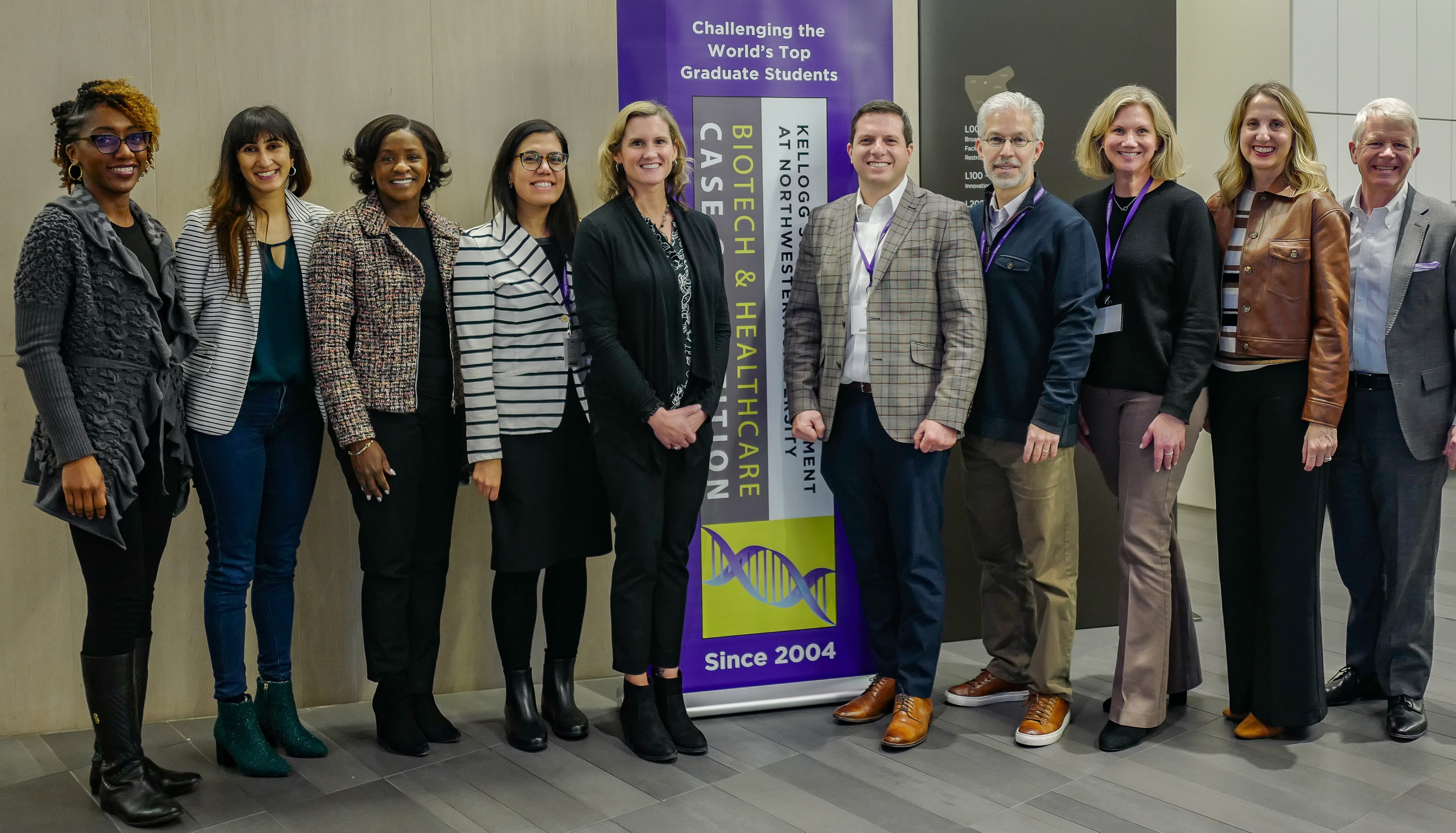 Previous Case Competitions
Texas McCombs Wins 2020 Case Competition
A team from McCombs School of Business, The University of Texas at Austin won the 2020 Kellogg Biotech and Healthcare Case Competition. Congratulations to Caroline Green, Amit Rao, Hannah Rosenthal, Praveen Satarasinghe and Emily Nguyen Steemers. A team from University of Michigan Ross School of Business took second place, with a team from University of California, Berkeley, Haas School of Business in third.

Competition was particularly tough this year. More than 55 teams applied for the event and 11 presented in the finals in Evanston. Special thanks to Astellas Pharma US for sponsoring this year's event.

This year's case focused on Palforzia, a new treatment for peanut allergy coming to market in 2020 from Aimmune Therapeutics. Teams had to evaluate the potential of the new therapy and provide an investment recommendation.

A terrific team of judges evaluated the presentations, including Mike Senical, Marty Golden and Nico Rivelis from Astellas, Jonas de Souza from Humana, Barry Fleischer from Shirley Ryan Ability Lab, Sally Kolta from Eli Lilly, Sasha Preble from Optum and Julie Fitzgerald from Abbvie.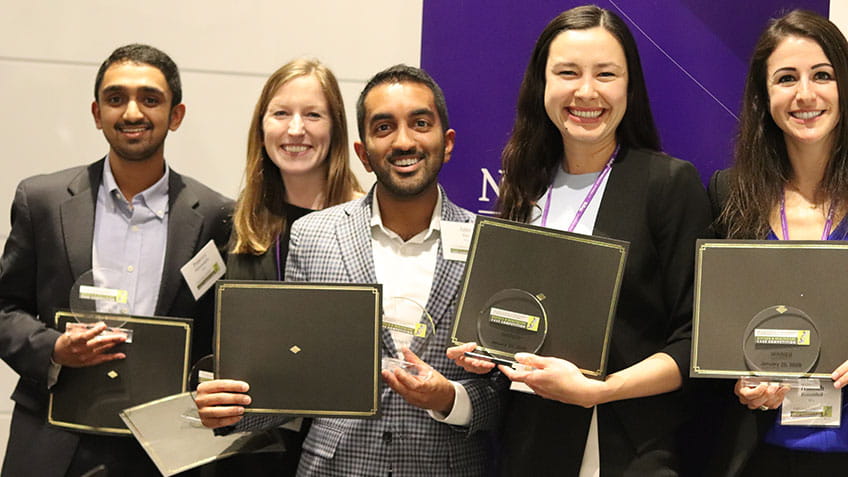 Johns Hopkins Team Wins 2019 Kellogg Biotech and Healthcare Case Competition
On January 26, eleven teams of graduate students gathered in Evanston for the final round of the Kellogg Biotech and Healthcare Case Competition, sponsored by Astellas. At the end of the day, a team from Johns Hopkins Carey Business School took home the top prize and a check for $5,000.

This year the competition was particularly intense. Sixty teams applied for the event, and eleven were invited to the final round.

Each year, the case competition focuses on a different healthcare related topic. This year's question addressed a timely issue: how should the pharmaceutical industry improve its reputation? Not long ago, pharmaceutical firms were widely respected and admired. Today, the situation is very different; many people have very negative perceptions of the industry. Teams considered whether these negative perceptions were a problem and provided ideas on what to do. Industry association PhRMA participated in the event and the ideas generated for the competition will perhaps be used in the coming months.

The winning team from Johns Hopkins had intriguing recommendations and presented the ideas in a credible, logical fashion. Congratulations go to Jessica Joseph, Taylor Cottle, Elizabeth Phelan and Jenna Fritz.

A team from University of Texas McCombs School of Business did a stylish presentation and finished second. Congratulations go to Emma Blumstein, Gaurav Singh, Sabah Akbani, Taylor Dilbeck and Anish Patel.

Third place went to a team from Kellogg, and the judges awarded honorable mention to a team from UCLA Anderson.

Teams from ten different schools took part in the event: Harvard, Texas McCombs, CEIBS, Kellogg, SDA Bocconi, UCLA Anderson, Johns Hopkins Carey, Chicago Booth, UCLA Anderson and Berkeley Haas.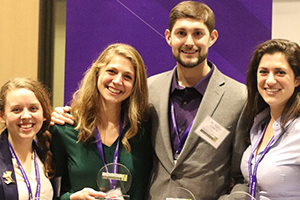 Kellogg, Michigan and Iowa Win 2018 Case Competition
Teams from the Kellogg School of Management and Michigan Ross School of Business took the top spots in the 2018 Kellogg Biotech and Healthcare Case Competition. A team from the Iowa Tippie College of Business at the University of Iowa finished third. Honorable Mention went to a team from the Haas School of Business at Berkeley.

The 15th annual event was held at Northwestern University on Saturday, January 20. Fourteen teams competed in the event. Judges were executives from Takeda, Eli Lilly, Johnson & Johnson, Baxter, AbbVie, Medline and the Shirley Ryan Ability Lab.

This year's case focused on how a LASIK clinic in Salt Lake City, Utah should respond to discounting by competitors. The winning presentations were a mix of financial analysis, customer insight mapping and competitive strategy.

The weekend started with an informal reception on Friday evening. Saturday, teams presented and attended the Kellogg Business of Healthcare Conference. Saturday evening featured a case debrief, dinner and an award ceremony.

The winning team included Binoy Edathiparambil, Hays Watkins, Aanchal Taneja, Varun Chodha and Akhilesh Barai.

More than 50 teams from around the world applied to participate in the event. Schools represented this year were:
Carey Business School, Johns Hopkins
Haas School of Business, University of California Berkeley
INSEAD (France and Singapore)
Judge Business School, University of Cambridge (UK)
Kellogg School of Management, Northwestern University
Michigan Ross School of Business
NYU Stern School of Business
MIT Sloan School of Management
Fuqua School of Business, Duke University
Tippie College of Business at the University of Iowa
Tuck School of Business at Dartmouth
UCLA Anderson School of Management
USC Marshall School of Business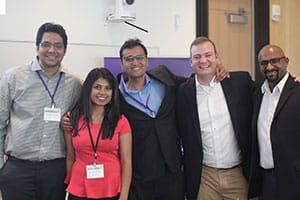 Wharton School Wins 2017 Case Competition
Teams from the Wharton School and the Kellogg School of Management took the top two spots in the 2017 Kellogg Biotech and Healthcare Case Competition, sponsored by AbbVie. This was the first time that a team from Wharton won the event. The winning team included Quingan Zhou, Eason Hahm and Vik Srinivasan. A team from the Tuck School of Business at Dartmouth placed third. Teams from Chicago Booth and Kellogg received honorable mentions.

The 14th annual event was held at Northwestern University on Saturday, January 21, 2017. Eleven teams competed in the event. This year's case focused on building use of chlorhexidine in Nigeria as a way to reduce infant mortality. The case, developed in partnership with USAID, was challenging; teams had to consider multiple stakeholders and allocate scare resources. Judges were executives from AbbVie.

The weekend started with an informal reception on Friday evening. Saturday, teams presented and attended the Kellogg Business of Healthcare Conference. Saturday evening featured a case debrief, dinner and an award ceremony.

A record 60 teams from around the world applied to participate. From this group, eleven were invited to compete in Evanston. Schools represented this year were:
Tuck School of Business, Dartmouth College
Booth School of Business, University of Chicago
Haas School of Business, University of California Berkeley
Olin Business School at Washington University
Kellogg School of Management, Northwestern University
HEC Paris (France)
MIT Sloan School of Management
Fuqua School of Business, Duke University
Wharton School, University of Pennsylvania
Judge Business School, University of Cambridge (UK)
Kellogg and Chicago Booth Win 2016 Case Competition
Teams from the Kellogg School of Management took the top two spots in the 2016 Kellogg Biotech and Healthcare Case Competition, sponsored by AbbVie. A team from University of Chicago, Booth School of Business placed third. Teams from Johns Hopkins, Carey Business School and UCLA, Anderson School of Management received honorable mentions.

The 13th annual event was held at Northwestern University on Saturday, January 23, 2016. Eleven teams competed in the event. This year's case focused on the merits of and concerns with direct-to-consumer marketing. The East Coast snowstorm made travel difficult, but all the invited teams managed to present. Judges were executives from AbbVie.

The weekend started with an informal reception on Friday evening. Saturday, teams presented and attended the Kellogg Business of Healthcare Conference. Saturday evening featured a case debrief, dinner and an award ceremony.

This was the first time since 2010 that Kellogg won the event. Teams from the Haas School of Business at UC Berkeley won in both 2014 and 2015.

The winning team included Hameed Hirani, Ankita Baxi, Melanie Chuen, Theresa Petmezas and Emily Todd.

More than 35 teams applied to participate. From this group, eleven were invited to compete in Evanston. Schools this year included:
Anderson School of Management, UCLA
Booth School of Business, University of Chicago
ESADE Business School (Spain)
Haas School of Business, University of California Berkeley
Johns Hopkins Carey Business School
Kellogg School of Management, Northwestern University
McDonough School of Business, Georgetown University
Olin Business School at Washington University
Said Business School, University of Oxford (UK)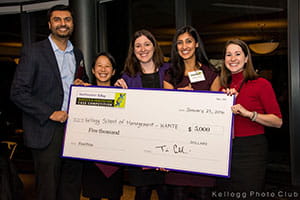 Chicago-Booth Wins 2015 Case Competition
Launching Evolocumab: How do you turn a biologic drug into a big growth opportunity?

That was the question student teams had to answer at the 12th annual Kellogg Biotech and Healthcare Case Competition, held January 24, 2015, at the Kellogg School. The event, sponsored in recent years by the biopharmaceutical company AbbVie, featured MBA-student teams from business schools nationwide. "We believe it is the biggest business school case competition with the longest history in the healthcare space," said Tim Calkins, clinical professor of marketing and co-academic director of the branding program at the Kellogg School, who has overseen the event for the past six years.

The quality of contestants reflected the competition's stature. Of the 44 teams that applied to compete, ten were chosen, representing top MBA programs including Kellogg, Columbia, MIT Sloan, and Booth (University of Chicago). Each team comprised three to five student contestants. "The participants had incredible backgrounds," Calkins said. Entrants' past employers included Blue Cross/Blue Shield, J&J, Walter Reed Army Medical Center, Booz Allen Hamilton, and other organizations within and outside healthcare. Several contestants were physicians or MD/MBA students.

The teams drew on their experience, skills, and MBA training to address the case question: How to develop the most effective U.S. launch plan for evolocumab, Amgen's new PCSK9-inhibiting biologic drug, which plays a role in reducing cholesterol. "We use a different case each year," said Calkins, who wrote the case with a Kellogg MBA student. "The challenge is creating one that's interesting and complex but manageable." He noted that this year's case was particularly challenging for the teams, as it required analysis of competitive dynamics, pricing, forecasting, budgeting, and marketing/branding to create a growth opportunity for Amgen and ensure consumers benefited from the product.

Teams had a week to analyze the case, conduct research (talking to cardiologists, for example), and create a comprehensive marketing plan. On January 24, all teams presented their plans and answered questions from a panel of judges made up of AbbVie executives including senior executives and younger managers, many with marketing backgrounds. "Some of my fellow judges were themselves MBA students in case competitions not long ago," said Clement Pimor, Vice President of Corporate Strategic Planning for Abbvie and a judge the past two years. To ensure fairness, teams were identified by color (Kellogg was not purple!). The judges scored them on the thoroughness, logic, and quality of their plan and presentation.

"All the teams demonstrated a good understanding of the industry and market," Pimor said, "especially because they only had a week to do what typically takes months or even years." First place went to the Booth School of Business team, with the Haas School of Business (University of California, Berkeley) and Johnson Graduate School of Management (Cornell) teams placing second and third, respectively. Kellogg and the Tuck School of Business (Dartmouth) received honorable mentions. These standout teams "showed they understood key issues for multiple stakeholders—physicians, patients, and others—and came up with robust marketing initiatives supported by strong analytics," Pimor said.

But the event was much more than a competition. "Beyond the prizes, it's a great opportunity for experiential learning and networking," Calkins said. "It's always a great event and a fun day," Pimor said, noting that the competition was inspiring for the competitors and judges alike.

By Sachin Waikar
Sachin Waikar is a freelance business writer living in Evanston, Ill.

Schools represented this year included:
Booth School of Business University of Chicago (1st place)
Haas School of Business, University of California, Berkeley (2nd place)
Johnson Graduate School of Management at Cornell (3rd place)
Tuck School of Business at Dartmouth (honorable mention)
Kellogg School of Management, Northwestern University (honorable mention)
Columbia Business School
MIT Sloan School of Management
Duke University's Fuqua School of Management