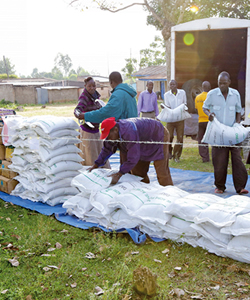 As planting season approaches, field managers work with community leaders to deliver and distribute farm inputs to the local smallholder farmers.
Youn Impact Scholars to meet at Reunion for inaugural biennial gathering
Youn Impact Scholars are an elite group of Kellogg students and alumni chosen for their passion and commitment toward creating positive social impact on the world. Named after One Acre Fund Founder Andrew Youn '06, the program is endowed by a gift from Christopher and Courtney Combe.
In May, the 2016 Youn Impact Scholars will join the 2014 and 2015 cohorts for the program's inaugural biennial meeting during Reunion weekend. The event is an opportunity for all three cohorts to share ideas on how to address the world's toughest challenges.
"Just hearing how they build on each other's ideas — both with contacts and with new ways of looking at challenges — is inspirational," says Sheila Duran, senior director of the Kellogg Public-Private Interface. "Coming together increases the power of this group to realize and extend their vision beyond their own capabilities."
Although this will be their first formal gathering, Youn Impact Scholars are already realizing the benefits of the network. Last fall, Nicole Chavas '15 and Laura Brenner Kimes '15, co-founders of Fresh Coast Capital, which turns vacant urban lots into tree farms and other agri-cultural projects, met with Paul Cheng '03, founder of SharedImpact, which helps impact investors channel philanthropic funds to change-making organizations. Cheng shared advice on raising capital as Fresh Coast Capital looks to expand their program into new cities this year.