CREATED BY ALUMNI, THE KELLOGG FINANCE NETWORK IS ENSURING THAT KELLOGG IS KNOWN FOR ITS FINANCE EDUCATION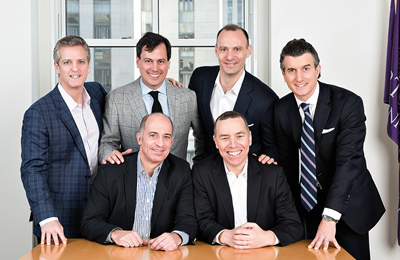 Kellogg Finance Network Managing Board
(Pictured above from top left)
Kevin Goldstein '92, Kris Zdyb '98, Brian Lessig '99, Lex Leeming '02, Stephan Hartman '99, Hagai Barlev '01
Advisory Board
Jerry Kenney '67, G. Chris Andersen '62, Robert L. Berner '86, David C. Blowers '89, William Bohnsack '91, Anthony C. Bowe '83, Curt F. Brockelman, Jr. '96, Richard Byrne '85, Robert Davis '89, T. Bondurant French '76, Michael Gross '87, Michael Haddad '87, Eric Hanson '79, Marten Hoekstra '94, David Kabiller '87, Edward Keller '86, Harry Kraemer, Jr. '79, Steven M. Lefkowitz '87, Peter McKown '85, Henry Robin '88, Douglas W. Rotatori '87, Scott A. Shay '80, David Sherwood '87, Scott Sleyster '87, Adam Sokoloff '88, Bruce Spohler '86, Nathan Troutman '86, Stephen N. Wertheimer '85, Anne Clarke Wolff '89
Executive Committee
Tommaso Breschi '07, Mark Fischer '05, Darren Schluter '07
A few years ago, Stephan Hartman '99 began to notice a peculiar fact: Kellogg grads working in finance often weren't aware that their colleagues on Wall Street were fellow alumni.
"So many Kellogg grads have had extremely successful careers in finance," Hartman says, "and yet it's not something people hear much about."
Hartman, who is currently head of business development at Houlihan Lokey, decided to bridge the gap by creating the Kellogg Finance Network (KFN), a community of alumni in New York City that is fostering connections and enhancing Kellogg's brand in the global finance industry. The network offers a platform for alumni to build relationships, host educational events and provide industry feedback to the school and its faculty.
Together with five fellow alumni, Hartman established a managing board to organize the network's structure and start building the network. He reached out to Jerry Kenney '67, a senior advisor at BlackRock, a leading asset management firm, to help recruit a group of alumni with 25 years of experience to sit on KFN's advisory board.
"The pleasant surprise was that everybody said yes," Kenney says of the more than 25 alumni the board reached out to. Many of them agreed to join "before we even finished the pitch," Kenney says. "And, everyone contributed the $5,000 fee or more. It was clear that everyone cares about the Kellogg brand, and wants the finance department to get the credit it deserves."
The network has organized a number of large-scale events each year, along with a series of monthly lunches where a Kellogg professor or board member will speak on a given financial topic. Kenney spoke about the impact of the regulatory squeeze on capital markets. Scott Shay '80, Chairman of the Board at Signature Bank, led a discussion on Bitcoin and the future of exchange technology. Jeff Ubben '87, founder and CEO of ValueAct Capital, an activist fund in San Francisco, spoke about recent industry trends.
"One of the things we're trying to do is tap into the diverse expertise of our community for the benefit of the entire alumni network," says Brian Lessig '99, managing director at Grace Bay Ventures. "There's certainly no shortage of it."
KFN also hosts receptions for Kellogg-affiliated organizations — for example, the Private Equity Group — and has even helped with recruiting. Several alumni recently met for dinner with a group of accepted students to talk about their Kellogg experience.
"Five of the seven students chose Kellogg," says
Kevin Goldstein '92
, a director at KPMG, "which is a pretty high batting average, and a good example of the kind of impact a group like this can have."