FUNDING FARMERS,
ENDING HUNGER
IN 10 YEARS, ANDREW YOUN '06 HAS HELPED THOUSANDS OF AFRICAN FARM FAMILIES STAVE OFF HUNGER THROUGH HIS ONE ACRE FUND. HE SAYS HE'S JUST GETTING STARTED.
By CHERYL SOOHOO | PHOTO BY RYAN LOUGH
Immense hunger drives Andrew Youn '06. But it isn't his.
It's the hunger of farm families in Sub-Saharan Africa, where one in 10 children dies of hunger before the age of five. Many farmers fail to coax their land to yield enough crops to sustain themselves — not for want of trying, but due to lack of resources.
At the start of his second year at Kellogg, Youn devised a business solution for this grave social problem: help farmers grow their way out of poverty. In March 2006, he founded One Acre Fund, a nonprofit social enterprise that provides smallholder farmers with seed, fertilizer, training and market facilitation. Skipping his graduation, the native Minnesotan literally left his Midwestern roots behind and moved to rural East Africa to cultivate new ones.
After his arrival, Youn and his team of five staffers worked with an initial 40 farmers to dramatically increase their crops. In six months' time, the first harvest significantly increased take-home income threefold, with 98 percent of the participants repaying program loans. Today, One Acre Fund serves more than 300,000 farmers in Kenya, Rwanda, Burundi and Tanzania and an additional 500,000 farmers through government partnerships. It employs more than 4,000 full-time staff members.
Experiencing a second consecutive year of 50-percent growth in 2015, One Acre Fund is on track to beat its target of helping 1 million families by 2020. But that's not enough to satisfy Youn, One Acre's executive director and senior partner, and his vision to eradicate hunger in Africa.
"We have hardly begun," says Youn, who will receive the 2016 Schaffner Award along with Managing Director Matthew Forti '06 at this year's Reunion. "We estimate there are 50 million farm families who could benefit from our model, so we are serving less than 2 percent of the need."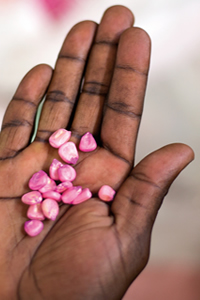 Maize kernels supplied by One Acre Fund during planting season. Maize is the primary crop and staple food grown by the smallholder farmers in East Africa.
AN IDEA SPROUTS
Youn grew up in suburban St. Paul, Minnesota. His parents emigrated from Korea and met in graduate school at the University of Minnesota. His father is a retired architect and his mother, a math professor. His younger brother works for the popular home-sharing startup Airbnb. While he had no obvious ties to farming or Africa, Youn learned compassion at an early age. "My mom reminded us every night of people less fortunate," he says. "It helped build empathy in me for the hard-working poor."
Youn graduated magna cum laude from Yale in 2000. After four years as a management consultant, Youn arrived at Kellogg looking to hone his business skills for a future career in the social sector.
During his first year, a Kellogg "Innovating Social Change" conference piqued Youn's interest in the world's second-largest continent. In the summer of 2005, an internship took Youn to South Africa, where he helped link HIV/AIDS patients with treatment options. But it was a two-week side trip to rural Kenya that changed his life.
"I met one farmer who was yielding two tons of food per acre," he recalls. "Her neighbor was yielding four times less food." The thriving farmer, it turned out, used environmentally appropriate seed, applied a tiny dose of mineral fertilizer and properly spaced her plantings. For Youn, this was his "aha" moment.
"These simple technologies didn't require an agriculture degree," he explains. "They just required business skills to expand distribution of resources at a mass scale to empower the poor to solve their own problems."
Youn returned to Kellogg that fall with an idea, one with huge implications, but now he needed to learn the skills and acquire the resources necessary to launch his grand endeavor.
IT TAKES A 'KELLOGG' VILLAGE
Kellogg Clinical Professor of Entrepreneurship Barry Merkin got an inkling of Youn's persistence before the "pleasant, soft-spoken" student even arrived on campus for his first year. Youn wanted to enroll in Merkin's course on entrepreneurship and new ventures. Merkin denied his request. Only second-year students were accepted, but his door was always open and Andrew began to visit.
"These simple technologies didn't require an agriculture degree. They just required business skills to expand distribution of resources at a mass scale."

ANDREW YOUN '06
Founder, One Acre Fund
"For the longest time I was convinced Andrew's plan was crazy," recalls Merkin, now retired. "Yet the great entrepreneurs often have a passion that seems to exceed reality. They have an idea that works and pretty soon you find yourself going along with it."
In September 2005, just before the start of his second year, Youn emailed Merkin: I am even more interested (obsessed?) with improving farm productivity since returning from Kenya this summer. I am haunted by the hunger there. It is the largest killer of children; a human toll that exceeds any disease. But there is an opportunity to change things.
Youn enrolled in Merkin's class that fall quarter. Inspiring 10 of his classmates with his One Acre idea, Youn and his team wrote a 30-page business plan that thoroughly impressed Merkin, who says, "It was one of the best I've ever seen." The enterprising second-year student also invested $7,000 of his own money to buy seed and fertilizer and hire staff in Africa to launch a pilot project that would become One Acre Fund. He managed the project by telephone. In the meantime, Youn recruited Forti, a classmate and founding board chair, to start fundraising. They won over more than 100 classmates to the cause.
"I was wowed that a fellow student could make a difference, but I was also a little skeptical that it could actually work," recalls Forti, who left his consulting job at Boston-based Bridgespan Group in 2013 to become One Acre's U.S.-based managing director. "Andrew inspires people through his actions. The fact that he had thoroughly done his research and used his own money to get this project off the ground inspired us all."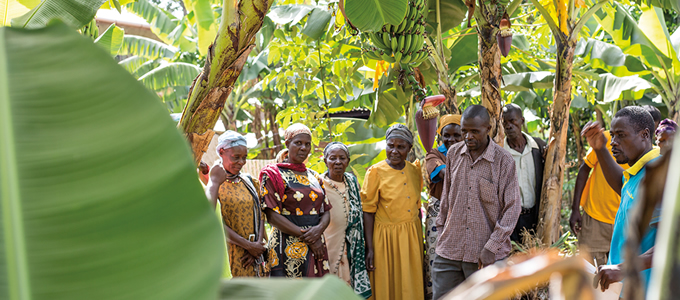 REAPING FRUITFUL PARTNERSHIPS
Youn traveled widely, making countless presentations, but by the end of the school year, he was short on the funds necessary to launch One Acre. Just before graduation, he made a last-minute pitch to the board of the Larry and Carol Levy Institute for Entrepreneurial Practice at Kellogg.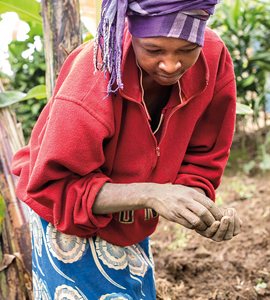 A smallholder farmer from Karongi, Rwanda plants maize kernels in her field.
After the pitch, Merkin heard murmuring around the room. He knew Youn needed to raise a significant amount of money or else his fledgling idea was doomed. Says Merkin, "I was thinking, why aren't these people paying attention?!"
While Larry Levy '67 admits to some of the whispering, it was for a good reason: The board members of the institute bearing his name couldn't contain themselves.
"Andrew's presentation was so compelling and incredibly ambitious," says Levy. "I didn't know whether his idea would be successful, but it was absolutely worth trying." On the spot, Levy and another board member offered Youn and the One Acre Fund their first significant grant, giving Youn the boost he needed.
Additionally, Kellogg Clinical Professor of Strategy Harry Kraemer's recent book Becoming the Best: Build a World-Class Organization through Values-Based Leadership (2015, Wiley) features a chapter on Youn. Kraemer is donating all proceeds from this book, just as he did with his first book From Values to Action published in 2011, to One Acre Fund. Over the past four years, Kraemer has given more than 600 talks about values and leadership, with all proceeds going to Youn's organization as well.
Youn remains grateful for the encouragement — financial and otherwise — of the Kellogg community. But many say that Youn's unwavering commitment to his vision makes it easy to support him. Northwestern trustee Chris Combe (WCAS70), former CEO and president of Combe Incorporated, said in a 2014 interview, "We need to create more Andrew Youns." Subsequently, the Combe family made a generous gift to Kellogg that year to endow the Youn Impact Scholars, a project that supports budding social entrepreneurs.
Supporters understand that farmers come first at One Acre Fund. In fact, all the organization's leadership and staff, including Youn, live in the same farming communities as their customers. Youn's office overlooks a beautiful hillside, dotted with farms tilled by hardworking farm families whose backbreaking work and desire to live productive lives is never lost on him.
"I proudly serve the strongest people, both physically and mentally, on the planet," he says. "These farmers are my inspiration."
NEXT: Youn Impact Scholars to meet at Reunion »