DRESSING FOR SUCCESS
WITH KAARYAH, NIDHI AGARWAL '08 PROVIDES BUSINESS ATTIRE TO INDIA'S GROWING FEMALE WORKFORCE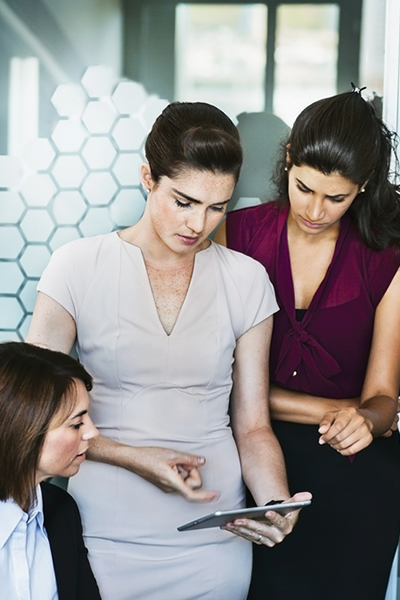 As Nidhi Agarwal '08 tells it, her foray into fashion began when she spilled coffee on her blouse. When she went to a nearby mall for a replacement, she couldn't find a shirt with the right fit. "That's when I realized there was a large unmet need in the Indian market for Western non-casual wear for the Indian silhouette," she recalled. "And I wondered whether I was the only Indian who felt like this."
Agarwal started her career as an accountant, but had early aspirations of running her own business. Now she hopes to grow her company, KAARYAH Lifestyle Solutions, into India's premier outlet for Western-style women's apparel.
Though traditional wear, such as the sari, still dominates the women's apparel market, Western tastes have begun to take hold, Agarwal said, particularly among India's younger generations. Agarwal said she wants to replicate the success of U.S. apparel companies like Ann Taylor and The Limited, brands that became well-known to her while attending Kellogg.
But she's faced challenges since launching the company nearly two years ago. After pitching to dozens of investors, Agarwal secured pre-Series A funding from Indian businessman Ratan Tata, chairman emeritus of the $100-billion Tata Group.
The funding proves there's a need for this kind of business, Agarwal said, as more Indian women try to find inroads into their country's overwhelmingly male-dominated economy. According to researchers for the International Monetary Fund, only 125 million of the roughly 380 million working-age Indian women are employed or looking for work.
300 +

KELLOGG ALUMNI
IN INDIA
Agarwal is betting more firms will hire women to power India's expanding economy. And more women entering the workforce will widen the demand for the Western-style work clothes her company markets.
For now, KAARYAH's fashions can only be bought online. But Agarwal hopes to open more channels as she grows her brand across the digital marketplace.