CREATING WIN-WIN SCENARIOS FOR COMPANIES AND INVESTORS
DIVYA NARENDRA '12 LOOKS TO TURN SUMZERO INTO THE WIKIPEDIA OF INVESTMENT IDEAS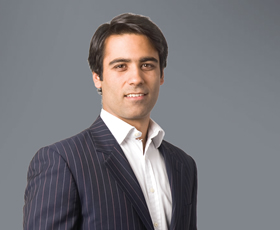 In 2006, Divya Narendra '12 had a conversation with former Harvard classmate Aalap Mahadevia about potential Internet venture ideas. "He knew that I had a background in social media with the founding of ConnectU," Narendra says, referring to the social networking platform he worked on with Cameron and Tyler Winklevoss and future Facebook CEO Mark Zuckerberg. "I had a 'light-bulb' moment," Narendra says.
With his knowledge of the investment research and hedge fund industry, Narendra wanted to build an online community where investors could share research, ideas and job opportunities.
Then in 2007, when his employer Sowood Capital shut down, Narendra saw two options. "I could just go work at another hedge fund or start a business." He chose the latter, and together he and Mahadevia created SumZero. The company name, Narendra says, reflects "the opposite of 'zero sum,' to further the notion that investing doesn't have to be a zero-sum game. Investors can create win-win scenarios by collaborating with one another."
Not long after he lost his job, Narendra enrolled at Kellogg to pursue his JD/MBA. "I wanted to spend that time trying to sort out what the business model would be, who would join the initial team and how would we engender user engagement within the community — those things you need to get a business off the ground," he says. Narendra describes finding early funding for SumZero as a "major hurdle." While pursuing his studies, Narendra and Mahadevia fully bootstrapped the company. "We outsourced all the programming the first year," he recalls. "It's a struggle to get a good developer on a budget."
In 2008, just as the partners were about to run out of money, the company experienced what Narendra considers its second start date: SumZero received an infusion of $100,000 from an angel investor who ran a small hedge fund in New York City. The investor also happened to be one of SumZero's earliest users. By late 2008, the company started enjoying some press.
In 2012, when Narendra graduated, the Winklevoss twins made their first venture investment by putting a little over $1 million into SumZero, which finally allowed the company to recruit people. "It wasn't until the end of 2012 that we even had our first full-time engineer," says Narendra.
SumZero's third unofficial start date, as Narendra sees it, came in 2013, when SumZero received its first institutional customer. "That was when it felt like SumZero was turning into a real business as opposed to a fun side project," he says.
Now, over 40,000 members subscribe to the company's basic subscription model and Narendra looks forward to more growth, including adding recruiting services and selling more research subscriptions. "If we do all that, we're probably going to have a solid runway of growth ahead of us," he says