WHY THE U.S. NEEDS TO INVEST MORE
IN INFRASTRUCTURE
WE SHOULDN'T UNDERESTIMATE THE IMPORTANCE OF INFRASTRUCTURE
FOR THE NATIONAL ECONOMY, SAYS DAVID BESANKO '82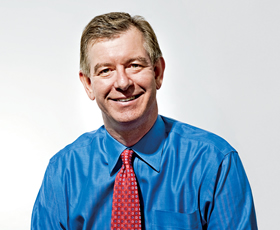 Convincing the public to invest in infrastructure has never been an easy feat. Nobody likes paying fees or tolls, and the costs of crumbling roads and bridges are largely invisible to daily commuters.
And so, after decades of neglect, the country faces what some estimate is a trillion-dollar funding gap. "For the average citizen, infrastructure is an extremely boring issue," says David Besanko, the IBM Professor of Regulation & Competitive Practices at the Kellogg School. "But it is essential to our economy, and there's no doubt we need more investment."
A number of lawmakers agree. In December, Congress committed to spend more than $300 billion on transportation projects over the next five years.
areas of expertise:
Competitive analysis, industrial organization, microeconomics, public policy and regulation strategy
Recent research on competitive strategy investigates what drives pricing in a learning-by-doing business environment by isolating predatory incentives and analytically decomposing the equilibrium pricing condition.
Awarded the Aspen Institute's 2015 Faculty Pioneer Award for developing coursework studying the relationships between capital markets, firms and the public good.
Yet many citizens are still skeptical of federally funded projects — a skepticism that dates back to the early nineteenth century, when President James Monroe sought to establish a system of 'internal improvements.' Today, one problem is public perception: few can name the thousands of federal projects that have turned out well, but everyone remembers the Bridge to Nowhere, the proposed Alaskan bridge linking a small town to a nearby airport that initially secured hundreds of millions in government funding back in 2005.
"The backlash against national funding of projects has been disproportionate," Besanko says. "Yes, there were abuses, but those abuses constituted a small percentage of overall spending. Big projects still require large amounts of money."
Consider the U.S. Interstate Highway System, which Besanko calls "one of the most impressive public works projects ever undertaken." The funding bill barely made it through Congress back in 1956, but having a federal highway system transformed the nation's economy. "There are long-term consequences to momentary investment decisions."
So where will this investment come from? Given the restraints on public funding, the private sector may have a role to play in supporting infrastructure projects. Public-private partnerships offer greater access to up-front capital and often lead to faster construction and better long-term maintenance.
"The private sector can certainly drive innovation," Besanko says. Consider the rise of smart city technologies, which would enable traffic signals to be updated in real time, or automatic train controls to make Amtrak trains more secure, or air traffic control systems to greatly reduce airport delays. "But if we want to have advanced infrastructure and secure the future of our economy, ultimately the public is going to have to make a greater investment."