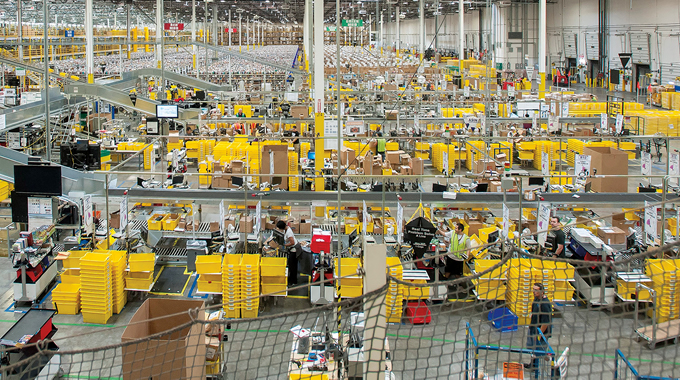 Making bigger better
Steve Frazier '89 is driving Amazon's global growth by
putting customers first

When it comes to scale, few companies can rival Amazon. Since launching as an online bookstore in 1994, the e-commerce site has expanded into roughly 40 retail categories and more than a dozen international markets. It's now the largest Internet-based retailer in the United States, with sales totaling nearly $89 billion in 2014.
For the past 15 years, Steve Frazier '89 has been at the center of much of that growth. Oscillating between Amazon's headquarters in Seattle and offices in London and Beijing, Frazier has helped launch more than a dozen new retail categories in the United States while expanding Amazon's business in the United Kingdom and China. Today, as Amazon's vice president of international, he's looking to take that growth even further.
At a high level, Amazon's global expansion strategy is relatively straightforward: Start with what the customer wants and work backward. There are core pillars to the customer experience, Frazier adds, that Amazon focuses on, regardless of market: great selection, great pricing and great delivery. "We've yet to find a country where people say, 'Show me fewer products, raise your prices, get it here slower,'" he says.
At the same time, Amazon focuses on leveraging its global capabilities to serve a local need. In the case of China, Frazier offers this example: A family there might look to Amazon for a combination of locally sourced items (Chinese-language literature or rice cookers) as well as imported items (wine, baby formula or an SAT test-prep book).
To deliver on those demands, Frazier has had to manage challenges ranging from securing local vendors to setting up payment infrastructures that align with local preferences. In China, for example, many residents still favor cash on delivery over credit cards as a payment method.
Delivering an exceptional experience for the customer, as opposed to squashing global competitors like Alibaba, is what ultimately drives Amazon, Frazier adds. "We're famous for saying that we think about customers more than competitors," he says. "We're always trying to raise the bar on the customer experience."