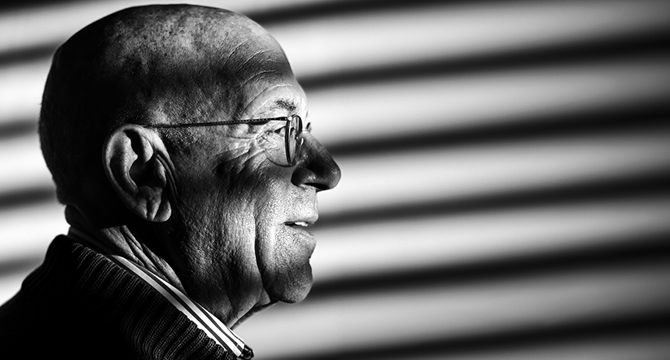 Leading the way

Serial entrepreneur Larry Levy '67 grew an empire by spotting opportunities and taking risks. For more than 20 years, he's helped the purple and passionate solve business and social problems
By Cheryl SooHoo | Illustration by Jeffery Salter
A
dinner at the four-star rated Spiaggia in Chicago provides the ultimate fine dining experience for foodies.
An acre of land in Africa, supported by asset-based financing and sustainable resources, helps to ward off hunger and reduce poverty for native farmers.
While worlds apart, these two successful enterprises have one man in common: Larry Levy '67, co-founder of Levy Restaurants, which grew from a single Chicago delicatessen opened in 1976 into an international food service organization that today generates more than $1 billion in revenue. Also involved in high-profile real estate ventures, including Chicago's River Point and One Magnificent Mile buildings, Levy has been a partner in more than 50 office, industrial, hotel and residential developments during the past three decades.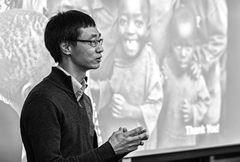 A Levy institute grant helped
Andrew Youn '06
build the Once Acre Fund, a successful nonprofit organization.
In 2003, Levy and his wife generously established the Larry and Carol Levy Institute for Entrepreneurial Practice at Kellogg, an important component of the Kellogg Innovation and Entrepreneurship Initiative. Shortly thereafter, Andrew Youn '06 became the first recipient of a Levy Institute grant to support an innovative social impact organization, the One Acre Fund, to improve the lives of impoverished Africans.
"Twenty minutes into Andrew's presentation to the Levy Institute Board, there was a great deal of whispering around the table," recalls Levy. With his spouse, he also endowed and created the Carol and Larry Levy Social Entrepreneurship Lab at Kellogg in 2007, realizing that some of the best entrepreneurs are social entrepreneurs. "One of the board members said to me, 'Why don't we fund the first two years of this venture?' And we did. What Andrew's One Acre Fund has been able to accomplish has been the proudest achievement of all our initiatives at Kellogg."
When Andrew Youn founded his company in 2006, it served 80,000 farm families in Kenya. By 2013, that number had grown to more than 130,000 farm families in Kenya, Rwanda, Burundi and Tanzania. Just last year, Kellogg announced its inaugural class of Youn Impact Scholars, a new program honoring the creativity and innovation of an elite group of Kellogg students and alumni passionate about social impact, funded by Northwestern University Trustee Chris Combe (NU '70). Fittingly, Youn was named a 2014 alumni scholar of the program that bears his name.
"Larry Levy is the visionary who saw that entrepreneurship was on the rise and that Kellogg was uniquely positioned to be a leader in creating future entrepreneurs."
LINDA DARRAGH Clinical Professor and Executive Director, Levy Institute for Entrepreneurial Practice
"Larry Levy is the visionary who saw that entrepreneurship was on the rise and that Kellogg was uniquely positioned to be a leader in creating future entrepreneurs," says Linda Darragh, a clinical professor and executive director of the Levy Institute for Entrepreneurial Practice. "He knew that successful entrepreneurs have to have general management skills blended with creativity, resourcefulness and the ability to communicate effectively. Larry's gift to Kellogg goes beyond his generous donation that created the Levy Institute for Entrepreneurial Practice.
Larry has been actively engaged with the center, the students and the alumni for years."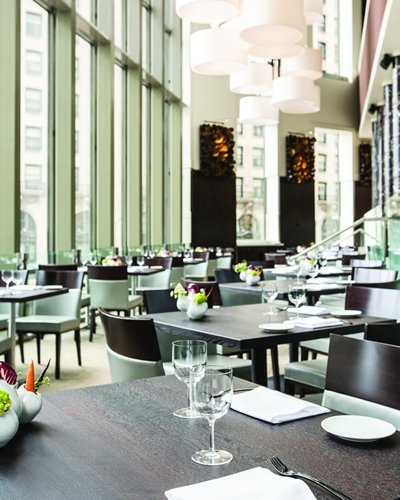 "I have had a lot of very expensive learning experiences, but I've never let them stop me from getting up in the morning and trying again."
Larry Levy '67 Co-Founder, Levy Restaurants; Chairman and CEO, The Levy Organization
An enterprising entrepreneur
Kellogg has had no shortage of noteworthy entrepreneurial students and alumni throughout its history, especially in recent years. But that entrepreneurial spirit wasn't always so pervasive. "Aspiring to be an entrepreneur was looked down upon when I was a student," says Levy. "As a career choice, it had negative connotations. People thought of you as a fast-buck artist."
During Levy's time at Northwestern, he said Kellogg offered just a single one-credit course that gave enterprising students the opportunity to spend an hour each week with invited entrepreneurs. For him, the experience was important and one he personally makes possible for others. At his home, Levy reserves many Saturday mornings to mentor budding entrepreneurs not only from Kellogg but also from around Northwestern. For example, he has been counseling Northwestern startups such as SwipeSense, a germ-fighting hand-sanitation device and monitor for the health care industry; BucketFeet, artist-designed canvas shoes sold at Nordstrom and other retail outlets; and Syndio, social data management software that identifies bottlenecks to creativity. "All three are doing well," says Levy. "I enjoy supporting entrepreneurship everywhere it's appropriate at Northwestern."
Increasing the odds of success for the entrepreneurial-minded served as the original driving force for the Levy Institute. Today's ever-evolving entrepreneurial curriculum at Kellogg continues to meet with Levy's approval, providing real-life situations and the skill sets needed to endure the life of an entrepreneur. Levy strongly advocates developing unwavering resilience despite failure. "I have had a lot of very expensive learning experiences," says Levy, "but I've never let them stop me from getting up in the morning and trying again." 
Solving the big problem
Developing products and services that offer solutions to big problems may be the best way for young entrepreneurs to avoid disappointment. Levy did it exceptionally well with Levy Restaurants by pioneering the concept of premium dining and warm hospitality at sports and entertainment events, from the Super Bowl and Kentucky Derby to the Grammy Awards.
"The big problem I solved was bringing restaurant-quality food and service to venues that used to only serve hot dogs and beer," says Levy. "We dramatically raised the bar."
Levy sold the remaining shares of his restaurant empire in 2006 but remains chairman emeritus. In addition to his real estate business, Levy is managing partner of Levy Family Partners, a principal investment company. He and two of his sons oversee a number of operating businesses in the restaurant industry, including a strategic alliance with Blaze Pizza, a fast-fired, custom-built pizza concept. Founded by Elise Wetzel '92 and her husband Rick, Blaze Pizza is the nation's largest and fastest-growing build-your-own pizza chain. In 2013, LFP and Blaze Pizza joined forces to open 25 outlets in the Chicago and Miami areas.
Like Blaze Pizza's "made with 100% pure fire" motto, clearly the entrepreneurial spirit still burns brightly for Larry Levy.