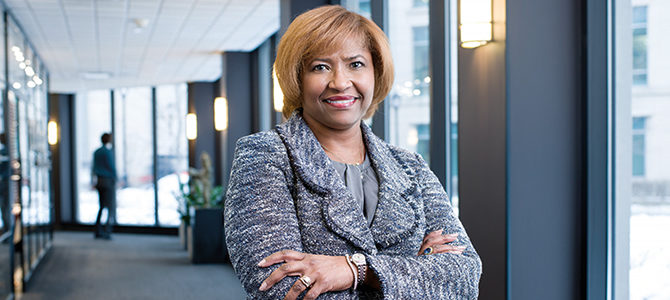 Transformation Through Diversity

Anise Wiley-Little brings her years of diversity-focused business practices
to Kellogg


Having spent almost three decades helping Allstate Insurance attract and retain some of the best talent in the business world, Anise Wiley-Little knows what impact a diverse workplace can yield. In October, she joined Kellogg as its new Chief Human Capital and Diversity Officer with responsibility for Human Resources, Diversity and Inclusion and Community.
Here, Wiley-Little explains what successful diversity truly means for an organization like Kellogg, and how she plans to bring her inclusive strategies to the school.
K:
What is your plan for Kellogg?
AWL:

My goals for diversity are to ensure that Diversity and Inclusion are integrated into all of our people and business practices for faculty, students and administrators. To do this well we need a People Vision that provides us a clear direction for the future aligned with Kellogg's strategy. Our People Vision starts with our core values and diversity and inclusion are deeply imbedded in our values. We will use this vision to connect our people priorities to our business priorities. For Human Capital we are focused on increasing engagement through Performance Coaching and Feedback, Professional and Personal Development and Career Planning. This will mean building a robust infrastructure to support the work.

Our organization's engagement is particularly important now as we push through the final two years of our current seven-year plan for transformation and 5 year strategic plan. Leveraging the diversity within our organization will allow us to achieve our goals and prepare for the next phase. As a business school we want to model inclusive leadership while providing an environment that embraces different points of view through cultural agility, allowing maximum return for Kellogg.

K:
What attracted you to this new position?
AWL:
This was an opportunity to take what I've learned in a corporate setting to academia and merge the best of both worlds. You don't see many chief diversity officers who move from corporate to academia. However, focusing on a school of business was the perfect pairing. In academia you can have a social-justice-focused conversation while discussing how diversity success can be profitable. A perfect combination for me.
K:
"Diversity and inclusion" get thrown around a lot. What does it mean to you in terms of business practices?
AWL:
First, it's important to understand that diversity is the mix of talent in your organization and inclusion is how you maximize that talent. To be successful, you need both. This requires a thorough assessment of your business and leaders that model inclusive behaviors for results to be fully realized. If diversity is to enhance innovation and collaboration, it can only be accomplished through understanding and integrating all aspects of the business and people processes.
K:
How will you bring those ideas to Kellogg?
AWL:

From our students, our employees and faculty that are executing on the Kellogg strategy, we want to ensure that our business school is the best, and we can't do that unless we leverage diverse thinking.  We will start by making sure leaders understand how to leverage the diversity around them and how the practice of inclusion creates an engaged, motivated, and profitable workplace – this is when inclusion thrives and transformation begins.

Diversity is not something that is one-size-fits-all; that's why it should be tailored and integrated into your business strategy. The way that you get to a high performing organization is when you take that lens of diversity and overlay that onto your business practices. This makes you the place of choice for the strongest talent.

Quick Facts
Anise Wiley-Little is a writer on issues of diversity for notable publications and author of Profitable Diversity: How Economic Inclusion Can Lead to Success. She has received external recognition and awards for her thought leadership on diversity, including recognition from the Society of Human Resources Management as one of the Top 100 Global Thought Leaders for Diversity.