Kellogg Magazine
|
Alumni Wire
Class Notes

1950s
1959-FT
Salvatore Magnano
Sal was elected to the board of trustees of the Life Plan Community; he was the first resident of the community to be elected. Sal is also a member of the resident council of the community. Sal also volunteers at the local Boys and Girls Club and has done so for 37 years.
H. Don Nelson
It has been 60 years since Don graduated with his MBA. In 2018, he also turned the big 85 and has enjoyed 18 years of healthy and happy retirement.
1960s
1967-FT
Michael Weinman
Michael connected with classmate Osamu Hirano '67 to ask that he meet two colleagues of his who were touring Japan. Osamu, despite some health issues, rose to the occasion and spent a day with them, for which they are profoundly grateful. Michael also was in touch with former Abbott Hall roommate Ted Unton '67, as well as John McMillan '67 and Bill McGovern '67.
1968-FT
Rev. Ron Valentine
Ron recently retired from two nonprofit boards: Porchlight Counseling (which treats college sexual assault survivors, including NU students) and the Bishop Anderson House (which trains chaplains and spiritual caregivers). The latter named a national online training program in Ron's name. Ron continues to serve as an Episcopal deacon and chaplain in Lake Forest, Illinois, and for the State Advisory Council on Elder Abuse.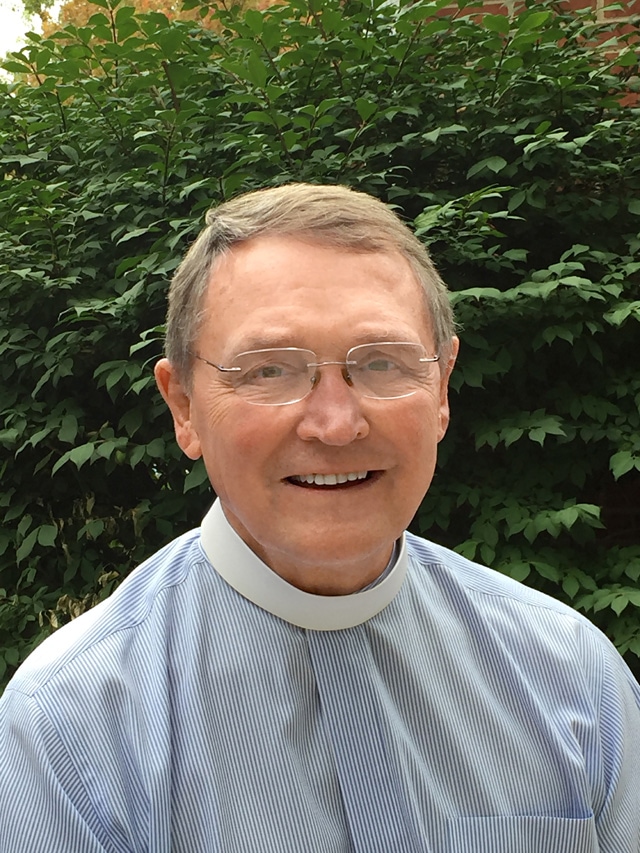 1970s
1971-FT
William Schmidt
Bill is semi-retired and still consulting with his firm, Pragmatics International (praginter.com). He and Marylea moved to Philadelphia. He sings with The Orpheus Club, performing at The Academy of Music (three concerts per year), The Kimball Performing Arts Center and The Union League, among many other gigs. Marylea and Bill are recently grandparents for the first time.
1972-E&W
George Nassos
After earning his PhD in chemical engineering at NU, George worked for an international chemical company, but it was his MBA that led him to run two subsidiaries in Germany and the Netherlands for four years. That's when he became interested in environmental sustainability and later went into academia, running an MS program in sustainability at IIT (and is currently doing the same at DePaul).
1974-FT
Dennis Brimhall
Dennis retired in 2005 and had a second career as CEO of FamilySearch International in 2012. He retired again and is volunteering at BYU Jerusalem Center for 18 maonths, shown on a field trip to Greece in the photo above. He lives in southern Utah — red rock country — and has four children and 14 grandchildren. Thank you to Northwestern for the good start.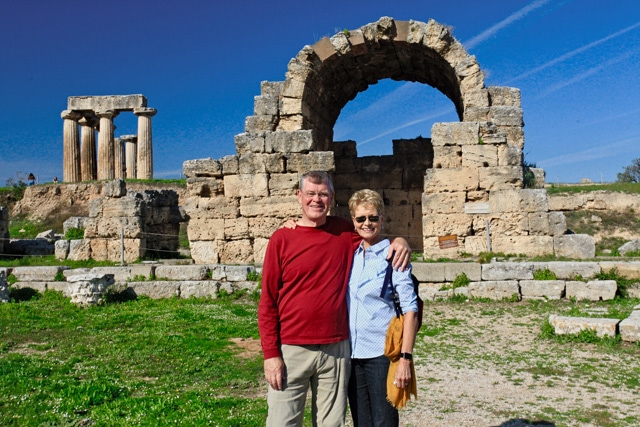 Jim Martin
After 35-plus years working in human resources and labor relations with companies such as Pepsi-Cola, Coors Brewing, TWA and Bankers Life, and living in 11 different states, Jim and Diana have moved to Matthews, North Carolina. Jim continues to work part-time as a labor relations consultant. Along with their five children, they have a total of seven grandkids with another due in October.
1978-FT
Robb Knuepfer
Robb (JD-MBA) earned a Master of Divinity at the University of Chicago Divinity School in 2017 and was ordained as a minister in the United Church of Christ in 2018. He currently serves as associate pastor of Union Church of Hinsdale, Illinois. He also serves on the board of the Hallstar Company with Kellogg alum Rad Hastings '77.
Ingrid Stafford
Ingrid is retiring from Northwestern University in 2019. Serving in finance roles her entire career, Ingrid is active in board governance in the financial services and investment sectors. She is looking forward to travel and more time for family and friends.
1979-FT
Anne-Marie Lamarche
Anne-Marie, together with classmate and husband Mark Menke '79, is busy rebuilding a home in Sonoma, California, that burned in the October 2017 wine country fires. Bad timing . . . they had bought the property the previous May! Meanwhile, Anne-Marie is recovering from a broken femur sustained in a horseback jumping accident but hopes to be walking in time for this year's reunion. They hope to see all of you there!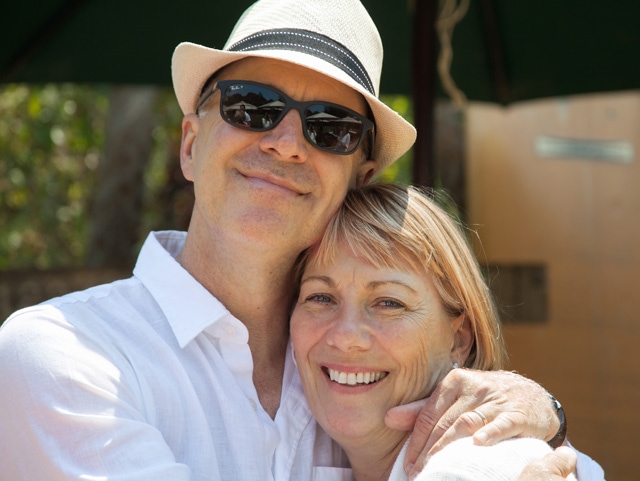 1980s
1980-FT
Michael Hogan
Mike was recently honored for completing 22 years, the final seven as treasurer, on the board of directors of the United Way of Greater St. Louis. He had previously received the organization's Freeman-Holtkamp Award for longstanding meritorious service to the organization in 2013.
Mark Lonergan
Mark just celebrated the 20th year since founding Lonergan Partners in Silicon Valley. He has four kids, the youngest of whom is going to college this year. His youngest son was also a starter at Serra High School in San Mateo on the California State Champion high school football team for 2018.
Sherri Bergman Neuwirth
Upon her 60th birthday, Sherri began a transition from her 35+ year market research career to the human rights field by entering a graduate program in Holocaust and genocide studies. She's now completed her coursework and is writing her thesis, "Comparative Approaches to Genocide Prevention: Early Warning Systems & Interventions." Upon graduation, she hopes to use her research and statistical skills at a genocide prevention NGO or teach future prevention activists.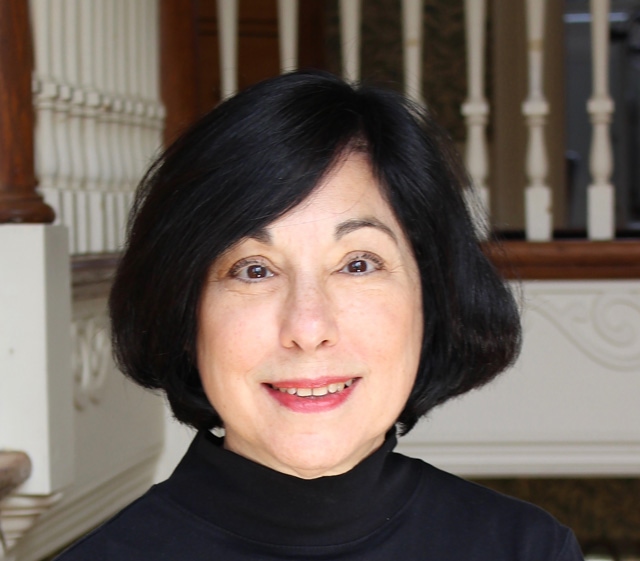 1981-FT
Jay Allen
Jay retired from Bank of America Merrill Lynch after 37+ years and looks forward to spending more time in his role as board chair at Wabash College.
Tom Bedecarre
Tom has been appointed lecturer in management in the marketing department at the Stanford Graduate School of Business. Tom also joined the teaching team for The Lean Launch Pad and Hacking 4 Defense startup courses in the Stanford Technology Ventures Program in the school of engineering. In 2016, Tom was a Stanford Distinguished Careers Institute fellow.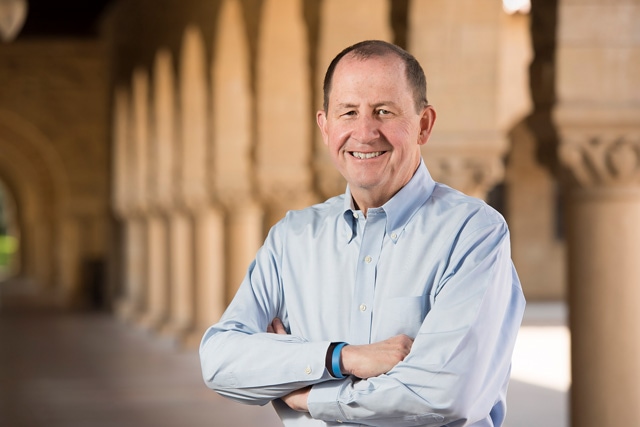 1982-FT
Craig Kensek
Craig was a VLAB.org volunteer of the year and has been attending some alumni events. CK has been actively posting on LinkedIn. CK is not fond of writing about himself in the 3rd person. CK is still at 151 pounds, pulse 46. CK has a credit in "Borderless Behavior Analytics." CK has kept this to 59 words.
Dan Bohn
Dan and other class of '82 members (Beth Buffa Bohn, Don Ullmann, Susan Hanrahan Ullmann, Tom Williamson, Karen Dahl, Julie Nagel Hennessy, Geoff Dorflinger, Glen Madeja, Kevin Murnane, Kim Williamson and Jan Madeja) met in Evanston last November to catch up on families, work, retirement and life in general. They thank Kellogg for launching them into over 35 years of friendship!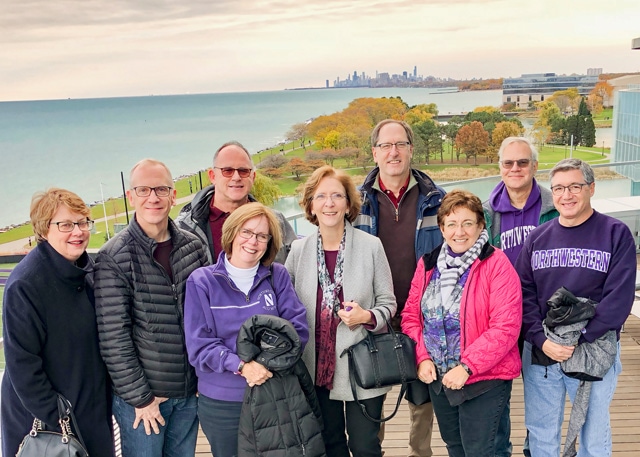 1984-FT
Claire Farber
Inspired by the kindness of others, Claire is launching humanBEingmanKIND, an apparel brand with a social impact mission to bring greater kindness into schools and communities. Fifty percent of profits go to fund charities and student-run Kindness Projects, all with a focus on local impact. To learn more, follow humanBEingmanKIND on Facebook or Instagram, @humanBEingmanKIND. A "Like" is always appreciated!
Lynnette Barnes Hinch
Lynnette enjoyed the opportunity to participate in the first Kellogg Women's Global Summit in May. Held in the amazing new Global Hub, it was an inspirational experience interacting with over 800 women — most were Kellogg alumni but there also were current Kellogg students. Lynnette began a new role leading innovation at Reynolds Consumer Products, where she has held various marketing roles for the past eight years. On a personal note, Lynnette reports that life is good!
Wendy Weiss Kritt
Wendy is looking forward to seeing many classmates in Evanston for the 35th reunion May 3–4. You don't want to miss this one! From the faculty thought leadership sessions Friday and Saturday and the reunion performance of our very own Bullets band Friday night, to the big Saturday night party at the Field Museum, it's going to be awesome. Pictured: Wendy with classmates Dwight Hilson (Reunion Committee Chair) and Birgitta Hanan at the Kellogg Alumni Club of New York annual holiday party in December.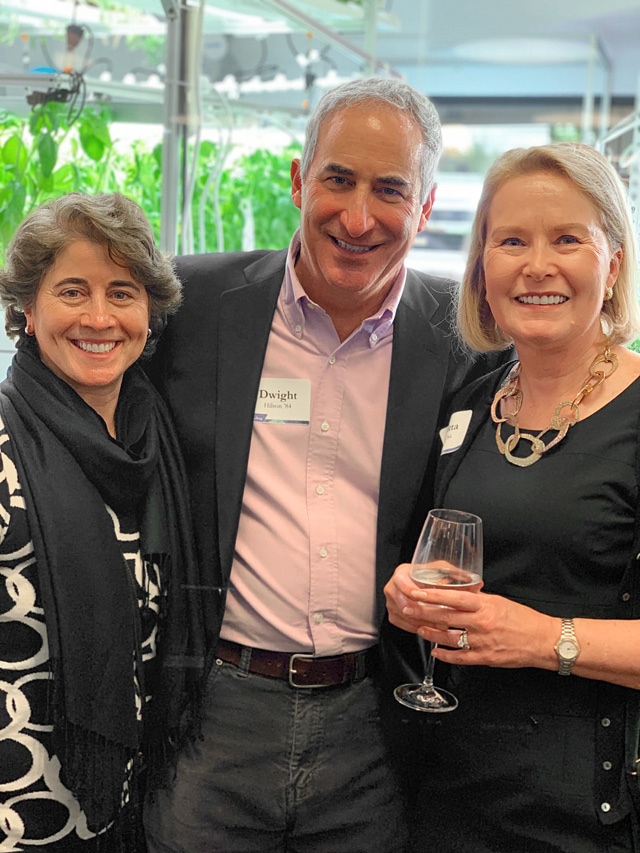 1985-FT
Lisa Jenkins
Lisa and Scott Jenkins '85 are starting their first entrepreneurial adventure as B&B owners/operators after independent careers in IT management. They are enjoying rediscovering all of their Kellogg skills, including: marketing, project management, logistics and accounting. They would love to see other alumni. Tours come with tea and cookies. Visitors can call 540-692-6198 or email MountainHomeAT@gmail.com.
Scott Jenkins
Scott and Lisa Jenkins '85 just completed the five-year historic rehabilitation of Mountain Home in Front Royal, Virginia, bringing it back to life as a lovely B&B and hiker hostel on the national and state registers of historic places. Located on the Appalachian Trail near Shenandoah National Park, they meet interesting visitors from all over the world. See facebook.com/mountainhomeinfrontroyal.
Michael Sharkey
Michael, president of MB Business Capital, was awarded the prestigious Commercial Finance Association's Lifetime Achievement Award. The award recognized Michael's accomplishments spanning a 40-year career in financial services. He has excelled in many leadership roles, including that of CFA chairman. Under his leadership with his enduring dedication, consistent support, commitment and guidance, MB Business Capital has thrived.
Greg Williamson
Greg and Matt Scanlan '81, founding partners in San Francisco-based investment firm Pluribus Labs, met with Kellogg interim dean Kathleen Hagerty in San Francisco in January to discuss developments at Kellogg and its strategic future. Strong supporters of Kellogg, Matt and Greg look forward to future plans for the school.
1986-FT
Cindi Bigelow
Cindi had the best time watching Charlie and Lauren Baker '86 being sworn in this past January as second term governor and first lady of Massachusetts! An incredible experience shared with fellow classmates Allie Shemitz, Ann Hewitt and Gordon and Dee Kane.
Craig Brennan
Craig enjoyed three years as a stay-at-home dad for his 3-year-old twin boys Christopher and Connor before being named on January 15, 2019, as the new CEO of private equity-backed Switchfly, a leading travel e-commerce and travel industry SaaS company based in San Francisco.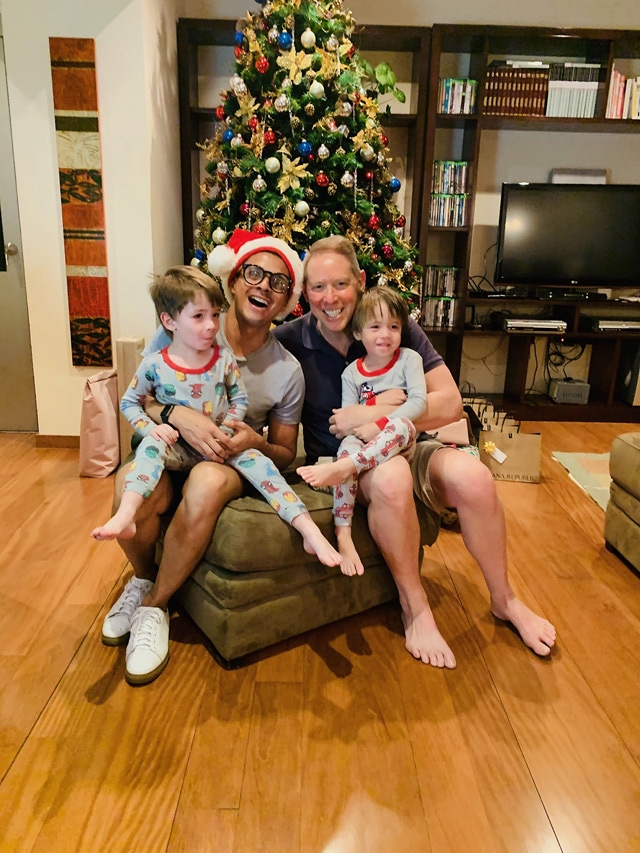 Nikki Pope
Nikki returned to Santa Clara Law as the managing director of the High Tech Law Institute. In this new role she combines law and her love of technology in novel ways. Her first project is using artificial intelligence to help people challenge forfeiture of their assets by the state. Nikki is also busy working on her next audiobook project with Ginger Campbell '86. The working title is Life Stories, but she's hoping a marketing maven classmate thinks of something more compelling!
1987-FT
Tim Hennessey
As he prepared for an admission interview, Tim checked in to report that he just celebrated 18 years of Hennessey Financial Services, which provides Interim CFO/Controller services. Kellogg continues to open doors for him and has enabled him to land some great engagements. After eight years in DC, he is moving his practice back to Fort Lauderdale in March and looks forward to reconnecting with Kellogg alums there. He's glad he was admitted when he was — the new Kellogg applicants are rock stars!
Spencer Horowitz
Spencer was elected to the board of directors for the Santa Clara Valley Water District Public Facilities Finance Corporation. The corporation manages debt financing for public water and flood control projects in Silicon Valley, California.
Jeff King
Jeff has been active in the Kellogg Texas Club for the past 18 years, building up the Kellogg DFW Alumni Club (with great board partners) to one of the best "Kellogg experiences" in the network. They have launched the Kellogg Leadership Symposium, the Kellogg Speaker Series and the Kellogg Leadership Forum Quarterly Events. All of these programs have greatly increased alumni engagement and learning. They are a great way to share your company's best practices or innovations!
Kerstin Mogull (nee Persson)
Kerstin won the silver medal in sprint triathlon (W 55+) at the European Athletics Championships in Glasgow, Scotland, this past summer. She was competing for Team GB (the British national team).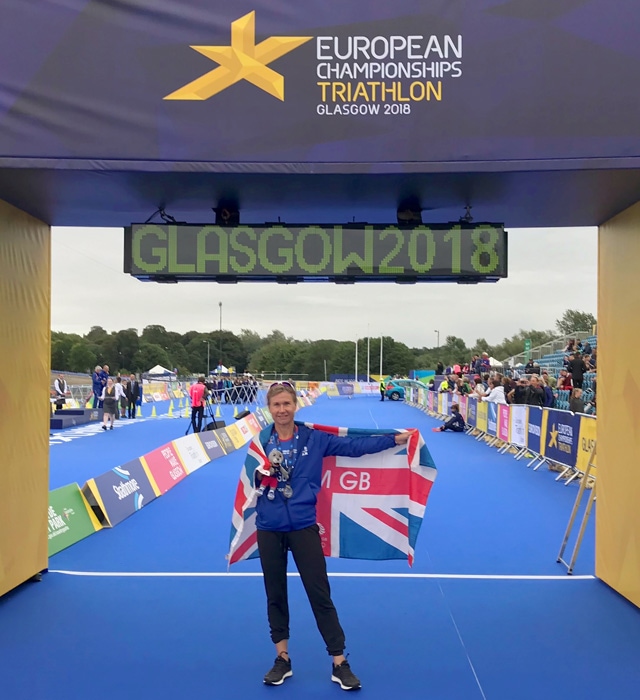 Rod Stephan
Rod is a founding partner of two-year-old Altitude Investment Management LLC, a New York-based, cannabis-focused venture capital firm. Altitude invests globally in seed and growth-stage cannabis companies and was recently awarded a #1 ranking by Pitchbook for the number of deals done in 2018. A focus of the firm is investing in foundational companies proving efficacy and safety of cannabis derivatives for disorders such as autism spectrum disorder, anxiety disorder and inflammation.
1988-FT
Derek HasBrouck
Derek took a break from his utilities consulting career last fall to bicycle solo across the country. Derek connected with classmate Mike Wapner '88 as he navigated the south side of Chicago to catch up on kids and careers. In 50 days, Derek's trip connected Saratoga, California, with Saratoga Springs, New York (pictured) and included visits to Illinois, Wyoming and Utah. After counting coal cars across the country, he is now helping finance renewable and reliable energy and utility systems.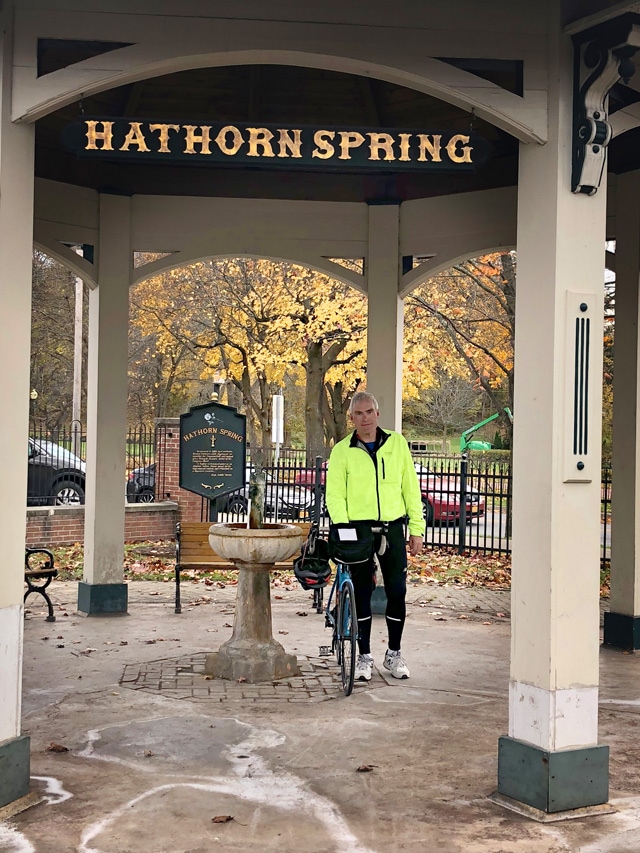 Mark Proudfoot
Hanne (Olsen) and Mark attended the 30th reunion in Evanston, reconnecting with many classmates and learning of their careers. It was great to see everyone. They are celebrating our 30th wedding anniversary with a cruise/expedition to Antarctica in February. Three weeks in South America and cruising to the Antarctic Peninsula will be an adventure. Building and running a successful mid-size private company has been a great challenge, and they are proud of their Renkert Oil team.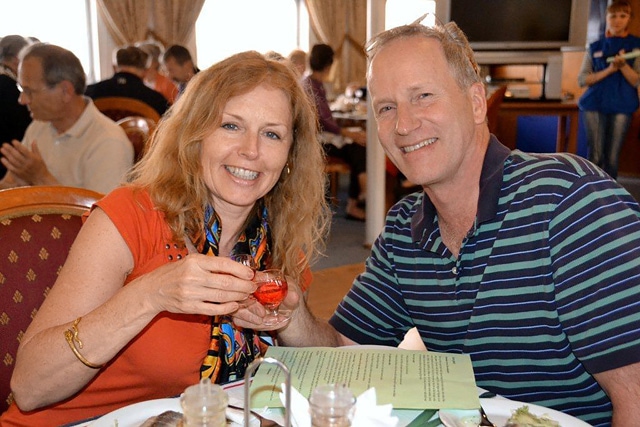 David Perry
David recently left his CMO role at University of Utah Health to form Perry IQ, a marketing consultancy focused on healthcare, higher education and philanthropy. Clients to date have included Bloomberg, Stanford Health Care and Seattle Children's/University of Washington. While in Seattle, he got to catch up with fellow Class of '88 grad, Laura Jennings, who is CEO and founder of a cool high-end gift company, KNACK Seattle. He also hung out with Len Fabiano '88 during a trip to Philadelphia.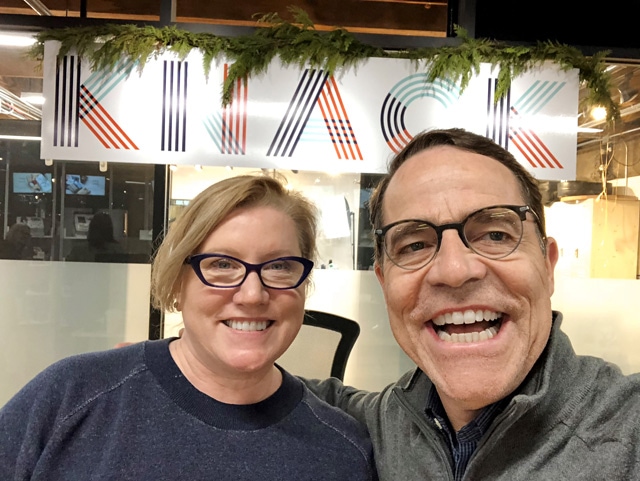 Brad Schneider
A U.S. Congressman, Brad was appointed to the exclusive House Committee on Ways and Means. As the chief tax-writing committee and oldest committee in the U.S. Congress, Ways and Means exercises broad jurisdiction over tax, tariffs, healthcare, Social Security, Medicare, pensions, trade and other issues. Brad was also named to the House Committee on Small Business.
1989-FT
Mauricio Graber
Chr. Hansen, under the leadership of CEO Mauricio was named the world's most sustainable company at the World Economic Forum in January 2019.
Brad Heming
Brad joined the Abu Dhabi Investment Authority (ADIA) as a senior portfolio manager in the real estate and infrastructure division, and now lives in Abu Dhabi, UAE.
Walter Woods
Walter celebrated his first year in his new role as CEO of the Humana Foundation. He attributes his first-year successes to his Kellogg experience, which gave him the confidence to quickly implement a radically new strategy targeting asset limited or income-constrained people and their families. Both programs focus on social determinants of health — and combined resulted in contributions of approximately $10 million to nonprofits in the Southeast.
1990s
1990-FT
Allison Plyer
Allison has been appointed chair of the U.S. Census Bureau's Scientific Advisory Committee. The CSAC addresses emerging census challenges, including cyber infrastructure, adaptive design, operational priorities, and demographic, economic and statistical research. Allison received her Doctorate in Science from Tulane University in 2009 and is recognized as an international expert in post-Katrina demographics and disaster recovery trends.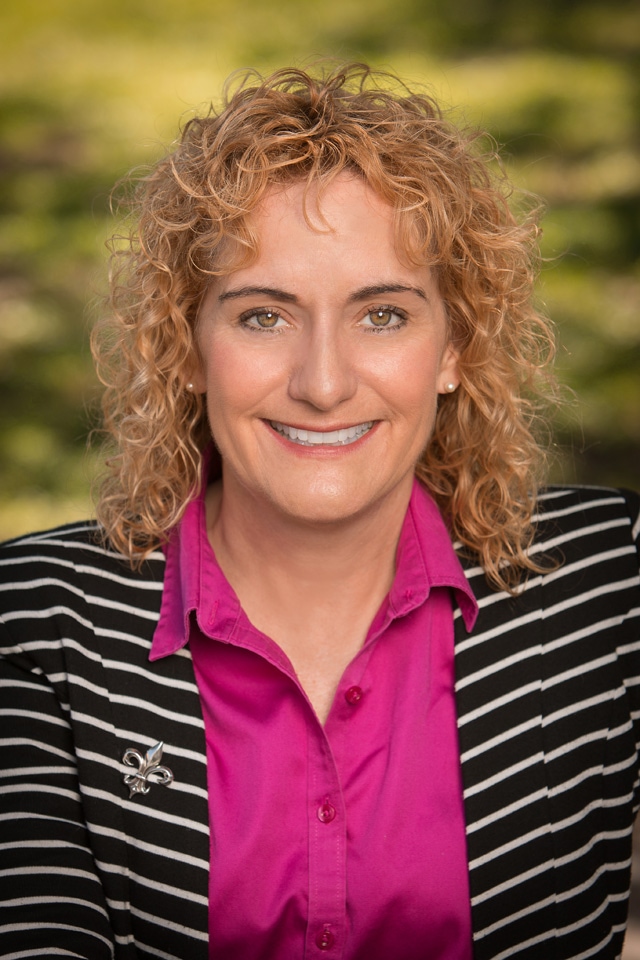 1990-E&W
Carolyn Nopar
Carolyn used her Kellogg MBA to launch a startup in the last year designed to help small nonprofits enhance their fundraising programs. The Chicago Fundraising Accelerator uses a peer-learning format with small group training to help nonprofits better understand how they can leverage their assets and achieve financial sustainability.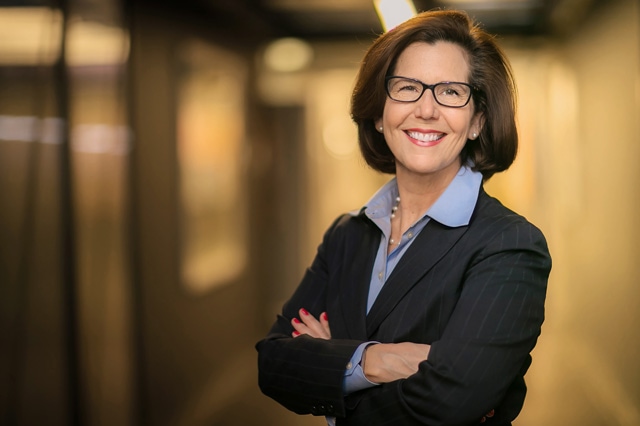 1991-FT
John Vano
John met up with Doug Cruikshank '91 at Doug's place in Beaver Creek for a ski weekend in January, and rumor has it Matt McCall '91 may join next year. Cedric Jeanson '91 visited John and Jeff Ferris '01 in San Diego, but missed Larry Langbort '91, who also lives in San Diego.
1991-E&W
Vera-Kristin Grundmann
Vera-Kristin had a wonderful time biking the beautiful bike path Ostseekueste, which runs along the northeastern German coastline 500 km from Flensburg near the Danish border to Wismar. She built her experience using insider tips on great beaches, hotels and restaurants in a book called Lieblingsplätze.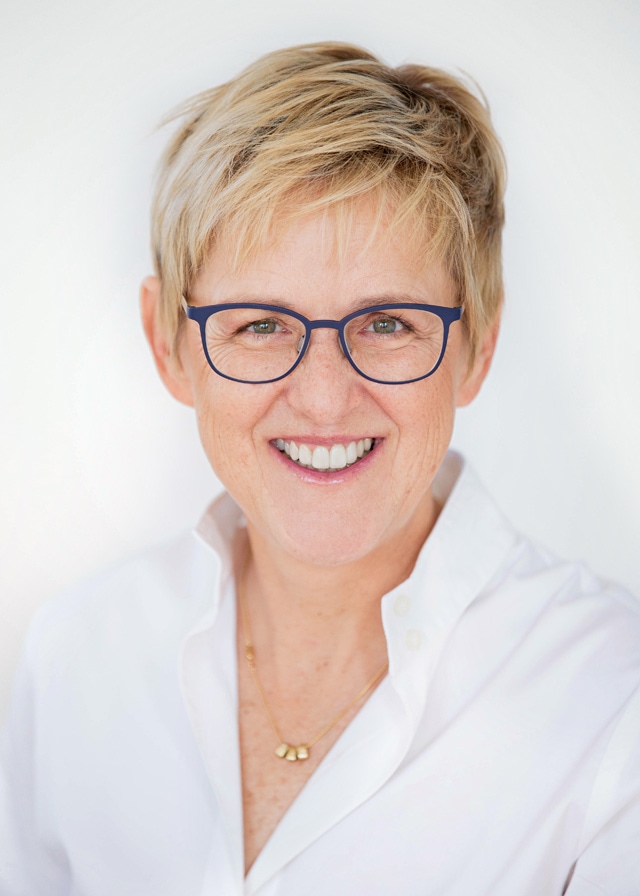 1992-FT
Gary Dvorchak
The notorious Outlook address fill-in error is typically a disaster, but in this case it was the opposite. Gary's client ACM Research was looking for a CFO. At the same time, Gary was helping Mark McKechnie '92 out by sending his CV to Gary's IR firm, The Blueshirt Group. Instead of Lisa L, Outlook sent the email to Lisa F at his client. ACM liked Mark's credentials so much that they hired him. He is now VP of Finance and soon CFO!
David Darragh
David has been president and CEO of New Orleans-based Reily Foods Company since 2006. Primary products compete in the coffee, tea, condiments, baking, and spices and seasonings categories. David was recently appointed to the board of directors of the Federal Reserve Bank of Atlanta's New Orleans branch for a three-year term.
Greg Orlando
Greg completed the 799 kilometer walk along Camino de Santiago. During the trek, he contemplated: Who am I? What is my purpose? What have I contributed? What does it all mean?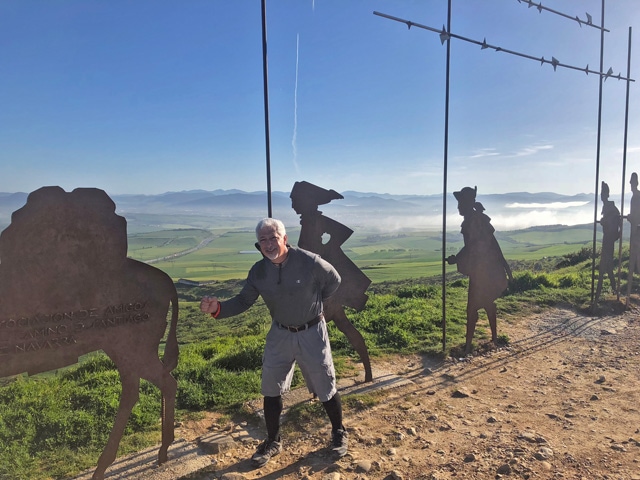 Caleb Tower
Caleb is still CEO at P3Software after 17 years. He reconnected with Luke Parker '93 via a mistaken email offering to sell him two surplus AU Navy Minesweepers and will definitely connect with him next time he's in Sydney, Australia. He also sees Geoff Hyatt '93 in Boston, but not frequently enough.
1993-E&W
David Lee
David founded Cultural Cuba, a travel company focused on high-end, private custom tours in 2011. The company was recently named the top tour operator for Cuba by the editors of Town & Country Magazine and was on the Wendy Perrin Wow List for 2017 and 2018.
1994-E&W
Mark Burnstine
Mark, of Glencoe, Illinois, retired from HSBC in 2018 as a senior vice president of strategy and development after 27 years of service.
1994-FT
Pierluigi Antonelli
Pierluigi moved in April from Sandoz, a Novartis division whose HQ is in Munich — where he was Western Europe head — to a new role within Novartis as head of Europe in the oncology division located in Switzerland. He is excited to start this new adventure and looks forward to reconnecting with alumni in Switzerland and Italy, where he also has an office in Milan.
Paul Stratta
Paul scaled up his innovative sports app iPlayMe2, collaborating both formally and informally with fellow alumni Monica Logani '94, Eric Eichmann '94, Tim McClelland '94, Joe Abed '94, Mike Kaplan '94, Michael Hehn '94 and George Bischof '94, who lent him advisory, professional and moral support. Cristina Taboada '09 and Paul will take up the reins of the KAC-Belgium/Benelux.
1995-FT
Aviva Ajmera
Aviva was named to Kansas City Business Journal's prestigious Women Who Mean Business list. She is the co-founder and CEO of consulting firm SoLVE KC and lives in Kansas City with her husband and daughter.
Scott Gill
A surprise KGSM reunion took place during freshman move-in at the University of Chicago in late September when Scott and Ashley George Gill '94 from St. Louis and Linda Lin Pirrotta '95 and Mike Pirrotta '96 realized that they had more in common than just the fact that their daughters were going to be roommates at the University of Chicago. Pictured: Scott Gill, Alison Gill, Ashley George Gill, Christina Pirrotta, Linda Lin Pirrotta and Mike Pirrotta.
James Gardner
James and wife Eileen Yoshida '99 joined Boston's Northwestern Alumni Association's pre-holiday volunteering efforts at the Greater Boston Food Bank, They presorted over 10,000 pounds of food and helped feed thousands of New England's needy. Hard work but fun and meaningful, too.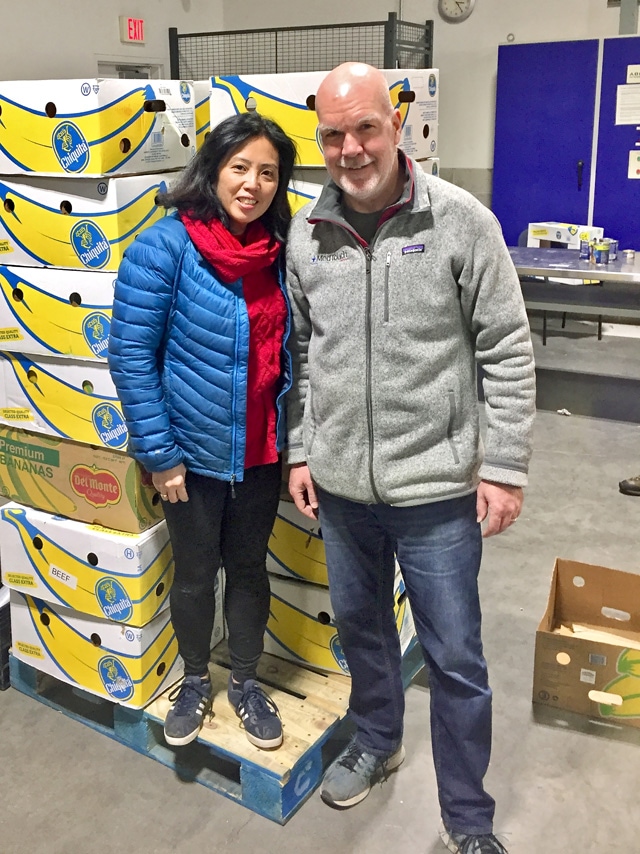 Mark Lamps
Mark happily reports that his oldest son, Joseph, will be graduating from Northwestern this coming June, and is watching the job search process with interest! Mark also changed jobs. After 23 years with Pentair and recent spin-off nVent, Mark moved to Atkore in the Chicago area, where he works with several other Kellogg alumni, including CEO Bill Waltz '97.
Hiro Mizuno
Hiro joined Climate Finance Leaders Initiatives, commanded by the UN general secretary, as one of the founding members, together with the CEO of Goldman Sachs and the CEO of HSBC.
Mark Porto
Mark was named president and CEO of Associated Steel Group, a private equity-owned engineered steel building fabrication company. The group consists of Associated Steel, Inc. in Oklahoma City and ACI Building Systems in Batesville, Mississippi.
1996-FT
Julie Maner
Julie, Howard Katz '96, J. Michael Locke '97 and Matt Burnham '97 have reconnected to help the Chicago nonprofit community by founding Compass Pro Bono Chicago, a nonprofit that uses MBA alumni and other volunteer business professionals to help with strategic projects for other nonprofits. Alberto Ruocco '90 and Karianne (Paolo) Gomez '05 have also joined the Compass board. In its third year, Compass has provided over 200 meaningful volunteer opportunities for more than 25 organizations in Chicago.
1997-E&W
Phil Anthony
Phil and his wife, Eileen, live in Chicago's Bucktown neighborhood where they are raising their three pre-teen boys. In December, Phil's new product design consultancy, Design Integrity, celebrated its 20th anniversary. In his spare time, Phil plays in an R&B band with Eileen, vacations at their Wisconsin cabin, coaches youth baseball and volunteers at their local Chicago public school.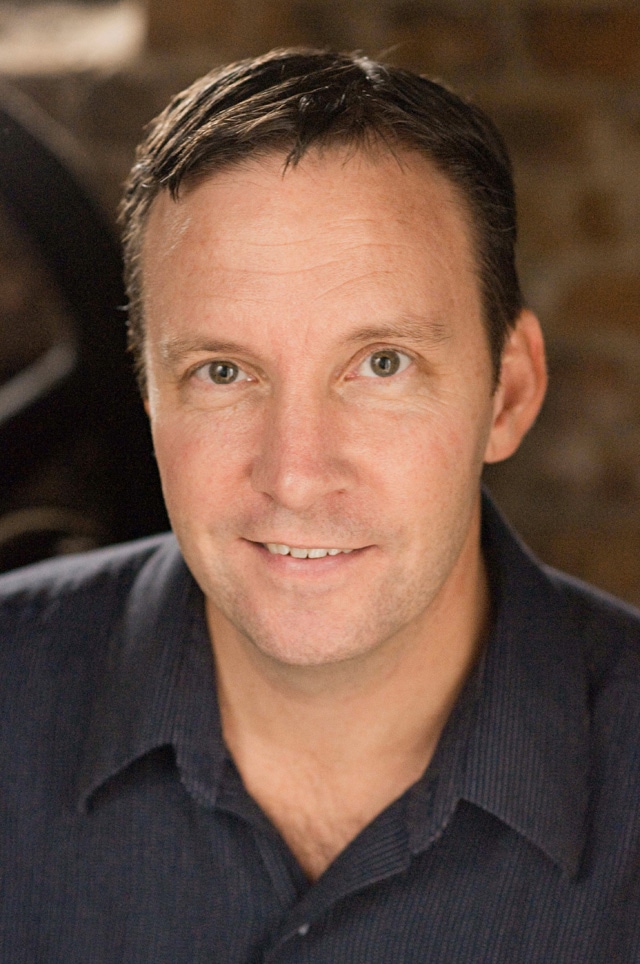 John Budd
John was recently appointed by Oklahoma's new governor Kevin Stitt to be the first COO for the state. In this capacity, John is responsible for bringing improved efficiency, effectiveness, accountability and transparency to the efforts of Oklahoma's state agencies and commissions.
Timothy Cartwright
Timothy landed on Florida Trend magazine's list of "Florida's 500 Most Influential Business Leaders." The executives were selected based on extensive contacts in regional business circles, hundreds of interviews and months of research, culminating in a highly selective biographical guide to the people who really run Florida, according to Florida Trend.
Mark Shadle
Mark, as managing director of the global corporate practice at Zeno Group, recently introduced a new research study, "New Barriers to Employee Engagement," which explores the challenges in communicating effectively to employees in an uncertain and sometimes volatile business climate.
1997-FT
Mark Little
Mark started a new role as chief data strategist with Anonos, Inc., a data privacy startup.
Andy Scott
After a great nine years at RPX, Andy enjoyed 2018 with his family and friends, and he is exploring the emerging blockchain and distributed ledger technology arena.
1998-FT
Rachel Fleishman
KGSM 1998's 20th reunion in May 2018 was a blast! It's amazing how much everyone has accomplished — and how little we've changed. The reunion made us want to reunite even more. Rachel (shown here with Ignacio Arrizabalaga '98) is now supporting HD Vo '98's WHERE.PLACE, an indoor map business, along with Jay Sala '98 and others. Rachel is currently living in Hong Kong, heading sustainability and advocacy in Asia for chemical giant BASF and is a senior fellow at the Center for Climate and Security in Washington, D.C.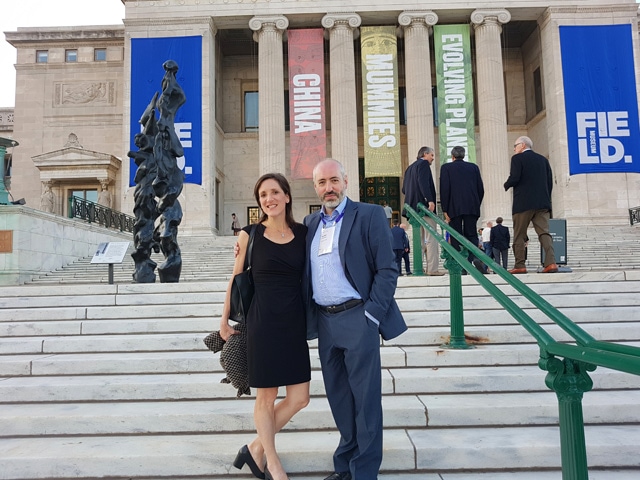 Sari Makofsky McConnell
Sari is in her second year as president of the Burlingame Community for Education Foundation, a local nonprofit fundraising organization for the Burlingame School District in California. Since joining its board four years ago, Sari has raised almost $8 million for public school education. Her trusty sidekick, K. Blake McConnell '98 is an executive at Service Now. Sari and Blake celebrate their 18th wedding anniversary (thank you, Kellogg) this winter.
Scott Smith
Scott started a new business, Frolic, which provides entertainment and educational opportunities for people with dogs. With programming ranging from birthday parties to a module helping people overcome their fear of dogs to a puppy raiser program, Frolic seeks to enrich lives by connecting people with dogs. Frolic is a companion business to Scott's existing business, Biscuits & Bath, and is located in New York City.
1999-FT
Erin Lydon
Erin teaches global strategic management to Whitworth University MBAs. She designed and keynoted a Women's Leadership Lecture series at the college. Last December, she coached her Jr. Olympic XC team to unprecedented success at the USATF National XC Championship in Reno, Nevada. Twelve of her runners finished All-American (top 25 in the USA), including one national champion. Erin draws upon her Kellogg days in her teaching and coaching, including game theory, competitive advantage, organizational behavior and strategy.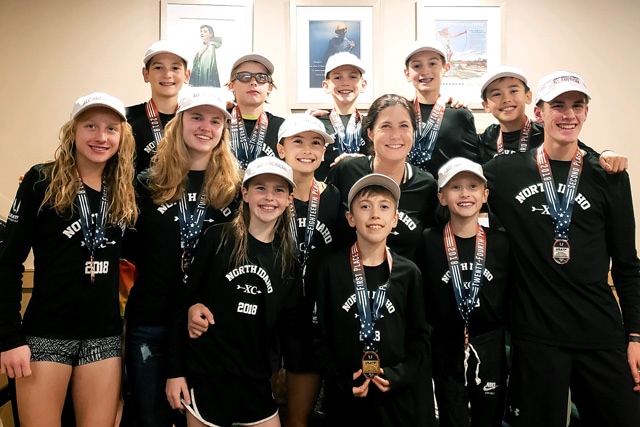 Erik Carlson
Erik has been in Nashville with his wife and two kids, now 8 and 10, since 2011. He is now the chief marketing officer for a global fintech company, which he just led through a full rebrand and agile marketing transformation. Get in touch if you're visiting Music City!
1999-E&W
Juliann Larimer
In April 2018, Juliann was named president and CEO of Peak-Ryzex, a technology solution provider based in Columbia, Maryland. The firm provides design, deployment and management of enterprise mobile, supply chain and specialty print solutions to F500 and mid-market customers in North America and the United Kingdom.
2000s
2000-FT
Ken Bower
Clayton Financial Group, a St. Louis-headquartered investment advisory firm co-founded by Ken and two others in 2015, added three new managing directors.
Laurie Burkland Waller
Based in Atlanta, Laurie is a partner with Kenning Associates and enjoys a career in executive coaching, leadership development and team performance optimization. She also plays coaching roles at Emory Goizueta, UCLA Anderson and UVA Darden. Contact her: laurie.waller@kenningassociates.com.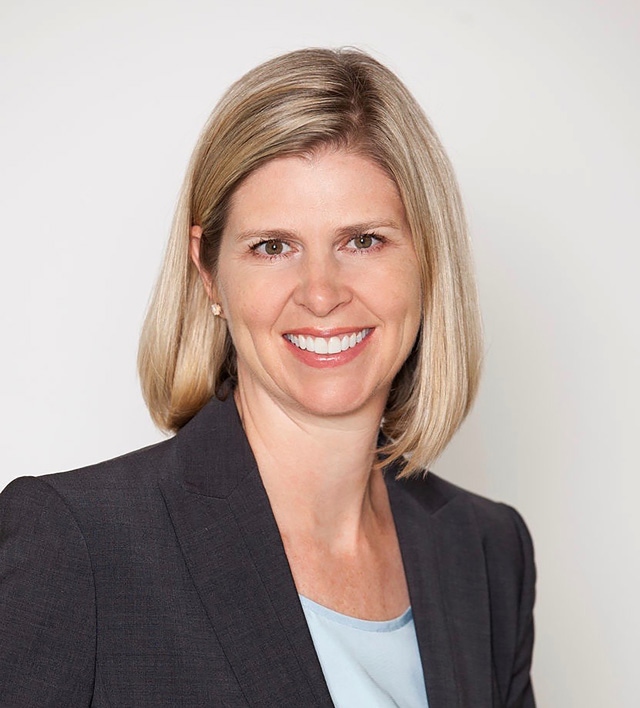 2000-E&W
Beth Frasco
Beth, Joan Hendell '88, Katy Wang '01 and Laurie Barrada '00 recently connected through the Northwestern Alumni Office in New York City. They are all relaunching their careers and took advantage of a three-month Kellogg Alumni Action Circle focused on career reinvention expertly lead by Kellogg alumni career coach Michelle Awuku-Tatum '02 of myfactor Coaching & Consulting.
Sari Winick
Sari recently started a new job as VP of brand management at Lundbeck in Deerfield, Illinois. Prior to joining Lundbeck, she had the privilege of taking a one-year sabbatical in Israel with her family, living in Jerusalem and enjoying the opportunity to explore, volunteer and spend time with her husband and three sons.
2001-FT
Evan Levy
Evan was named EVP chief operating officer of Fitzco, an integrated McCann Worldgroup advertising and marketing agency based in Atlanta. The promotion marks the latest of many roles Evan has held at the agency over his career, including account director, group creative director and managing director.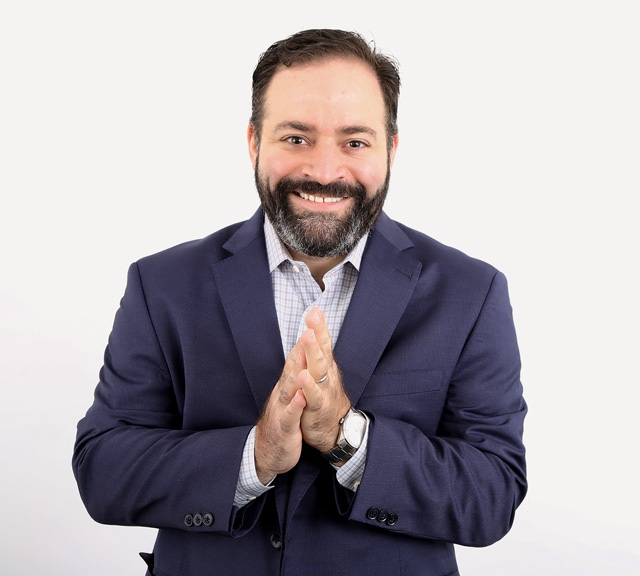 Rahul Kapoor
Sheela Chandrasekhar '01, Amit Walia '01, Jagdeep Sahni '01, Rahul Kamath '01, Tushar Dhayagude '01 and Rahul have kept in touch, meeting every month by sampling beer at various Silicon Valley hangouts. Tushar and Rahul have taken the startup route. Rahul's Contiq Inc. is delivering customer engagement analytics for enterprise marketing and sales. The others are almost on top of their corporate ladders.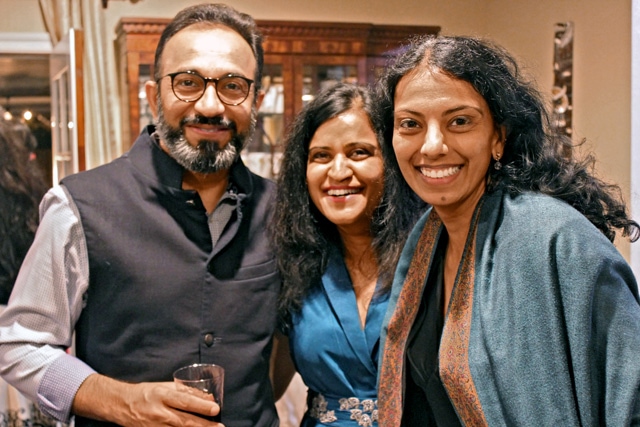 Brian Poger
Brian, enraptured spouse of Silvia and father of Daniela (9) and Adriana (5), still hasn't successfully interviewed for a job since Kellogg. Brian sold his second insure tech/digital health company to HealthMarkets, a Blackstone/Goldman-owned company, which was just acquired by UnitedHealthcare. Brian offers special gratitude to Josh Daitch '01, who invested in Brian's companies, Adam Caplan '01 for in-the-trenches camaraderie and countless other Kelloggians!
Keith Vendola
Keith was appointed CFO of Rezolute (RZLT), a clinical stage biopharmaceutical company specializing in the development of innovative drug therapies for metabolic and orphan diseases.
Robin Permutt Winer
Robin was promoted to senior marketing director at Alva-Amco, a leading U.S. producer of specialty non-prescription pharmaceuticals in Niles, Illinois.
2002-FT
Cathryn Olchowy
Cathryn joined Boulder Organic Foods, the 12-year-old leader in healthy organic soups, as director of marketing and insights. Cathryn joins the company with a distinguished career in food and branding with leadership positions at Kraft Foods and Sterling-Rice Group.
Kate Solomon
Kate is delighted that she sold 100% of the company, Babo Botanicals, to French skincare company Mustela. She will continue to run Babo Botanicals from Scarsdale, New York, and hopes to have greater access to international expansion and their R&D expertise. Babo products are found at Whole Foods, Target, Amazon, Ulta.com and Buy Buy Baby.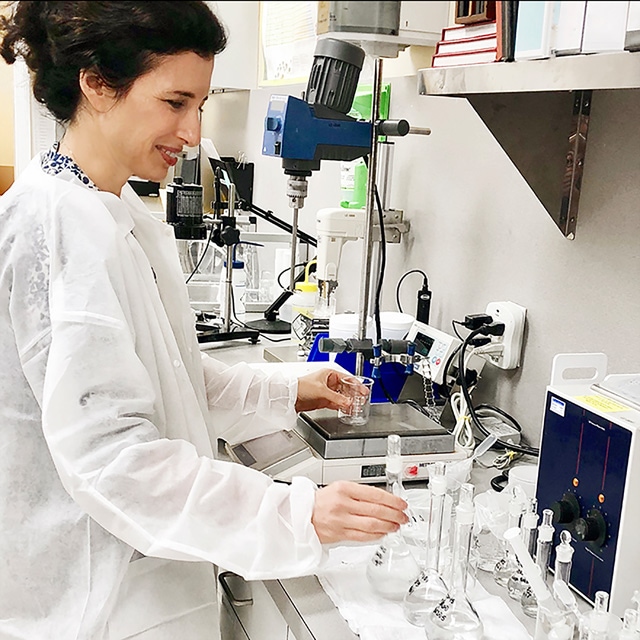 2002-E&W
Leigh Barber
After 11 great years at the Coca-Cola Company, Leigh has started a new position at Peapod Digital Labs (an Ahold Delhaize USA company), focusing on transportation innovation and improvement. He lives in the Chicago metro area with his wife and three kids. Leigh completed the Lifetime Fitness Triathlon in January 2019. Currently, Leigh is training for the HF Triathlon (March) and Chicago Triathlon (August). During his free time, Leigh volunteers with the American Red Cross.
Gabriele Saure
Gabriele was traveling to Chicago for Abbott Diabetes Care and joined the reunion in May 2018 to experience the Global Hub and join the presentations and celebrations. She was excited to connect with Chander Chawa '03, COO Alumni Club San Francisco and Gail O'Hara, associate director Kellogg alumni relations, as well as to document the gathering of Kellogg alumni for the annual reunion group photo. She left the events truly inspired and proud to be a Kellogg alum.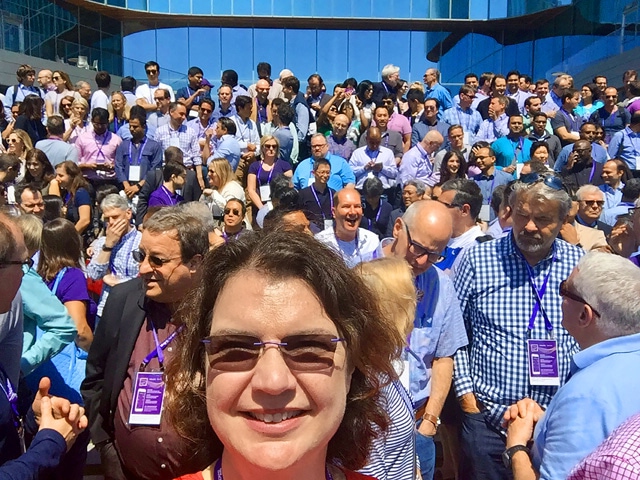 2003-FT
Chris Dupre
Chris reports that his private equity firm, Renovo Capital, successfully raised its third fund this January. Chris and the Renovo team are now focusing on investing the $225 million fund into middle-market companies experiencing strategic, operational or financial challenges. Chris will continue working out of the firm's Dallas headquarters and encourages his classmates to look him up next time they find themselves in "Big D."
Bryan Imhoff
Bryan completed his emergency medicine (EM) residency in the fall and is now a practicing EM physician and assistant professor at The University of Kansas Health System.
Ben Tisdell
After five years in Hong Kong, Ben and his wife, Alexis, have relocated to Bangkok with their three children, Nora, Jack and Henry. Ben is a senior special operations officer with the International Finance Corporation of the World Bank.
2003-E&W
Dan Cahill
2019 marks the 10-year anniversary of Cahill Project Management Services, Inc., providing real estate/construction project management services to clients in the Rocky Mountain and Midwest regions. Dan keeps in contact with Mitch McCloskey '02, Bharat Kakar '02, Brian Healy '02 and Barb Jones '03.
2004-FT
Sarah Butterfass
Sarah recently joined Groupon's executive team as chief product officer. She joins other Kellogg alumni at Groupon, including Christine Turcuato Gutierrez '05 (head of NA e-commerce transportation ops) and Lauren Thal Rocklin '05 (senior director of sales strategy and ops).
2005 Executive Education
Dave Komendat
Dave was honored by the U.S. Federal Bureau of Investigation with the 2018 award for Exceptional Public Service. The Excellence in Public Service category honors someone who has demonstrated great unselfishness and public consciousness in assisting the FBI in achieving exceptional results. He helped grow the Domestic Security Alliance Council — a strategic partnership among the FBI, the U.S. Department of Homeland Security (DHS) and private industry that promotes the exchange of security and intelligence information between the U.S. federal government and the private sector — from 297 member companies in 2015 to 525 members in 2018.
2005-FT
Mike Baird
Mike founded Avizia in 2013 after spinning out his team from Cisco to focus on the rapidly growing telehealth space. After growing the company to serve 1,300 hospitals nationwide with customers in 38 countries, Avizia was acquired by American Well in 2018 for $140 million. Mike is continuing on at American Well as president. Mike and Katie and their five kids are happily living in Virginia.
Jack Clark
Jack has been elected to serve on the board of Boston's Rose Kennedy Greenway Business Improvement District (BID). He is a senior vice president at property management company Pembroke. Full bio here: pembroke.com/team/jack-clark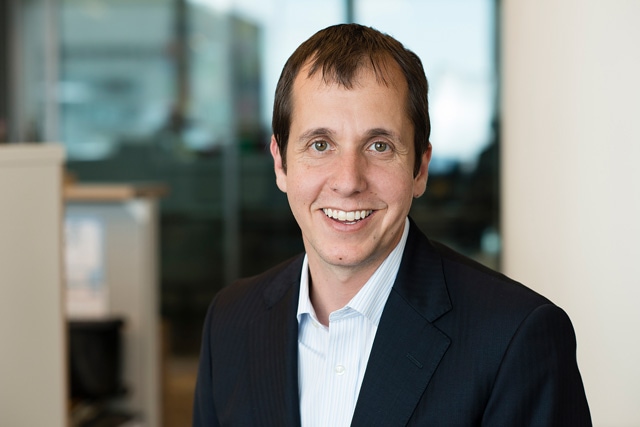 Cooper Marcus
Cooper joined Xenon Ventures, a private equity firm focused on acquiring, growing and selling underperforming SaaS (Software as a Service) startups. Cooper will lead a recent acquisition while sharing his technology ecosystem management expertise across the Xenon portfolio.
Sameer (Sam) Mehta
Sam is the director and chief investment officer of the Atlas Family Office and director and chief executive officer of Dr. Mehta's Hospitals (leader in clinical outcomes and India's oldest private hospital). He serves on the boards of the Arya Fund, Proklean Technologies (chemicals), CloudCherry (technology) and the Chennai Angels (angel investments) and has been recognized as one of the top investors of India. He was named one of the 100 Most Impactful Healthcare Leaders of 2018. Sam was recently awarded the Hero of India and Good Samaritan Awards for his services to the community.
Myron Quon
Myron and Anna Songco Adamian '05 reconnected along with many other Kellogg alumni in the San Gabriel Valley for an annual Kellogg neighborhood dinner! Pictured: Louis Chieng '10, Myron Dean Quon '05, Anna Adamian '05, Michael Chang '16, Jinghui Liu '99, Jeff Tzeng '16, Chris Lansing '89, John Joseph '09.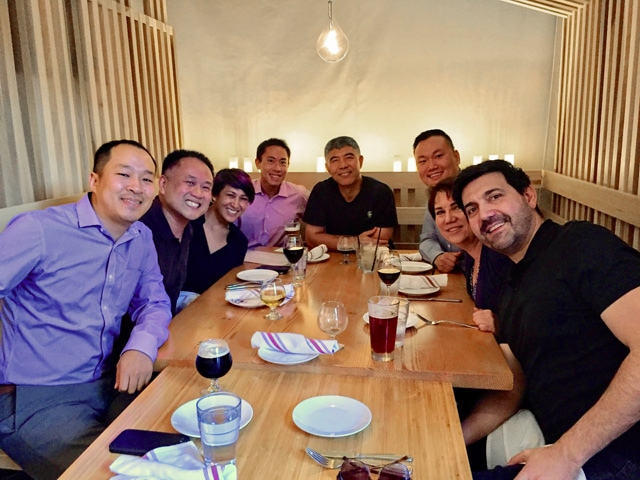 Jediah White
Jed finally made it back to see the beautiful new Kellogg facilities with a tour from entrepreneurship education leader Linda Darragh. He is kicking off a new venture capital fund, TASC Ventures, focused on seed stage investments in fintech, insuretech and HRtech. He welcomes your connections!
2005-E&W
Kelli Feigley
Kelli manages production company Fresh Films, which just produced the Filmmaker Lab, a co-production with Hello Sunshine and AT&T Entertainment featuring Reese Witherspoon and showing on DirectTV. It also had 21 future female filmmakers working on set. Kelli also places youth in film, tv and media internships as part of her role. Reach her at kellifeigley@freshfilms.org.
2006-FT
Jim Neill
Jim is now in his fourth year as headmaster of Landon School, a Grade 3-12 independent boys' school in Bethesda, Maryland. Right after Kellogg, he served as head of school at National Presbyterian School, an independent elementary school in D.C. He recently ran into classmate Rich McPhillips '06, who is also in D.C.
Alison Coleman Rezai
Alison and Kameron Rezai '05 are happy to announce the birth of their third child, Grant Reven, on June 26, 2018. Grant joins big brother Ben (7) and big sister Paige (5). The Rezai family continues to reside in the Bay Area.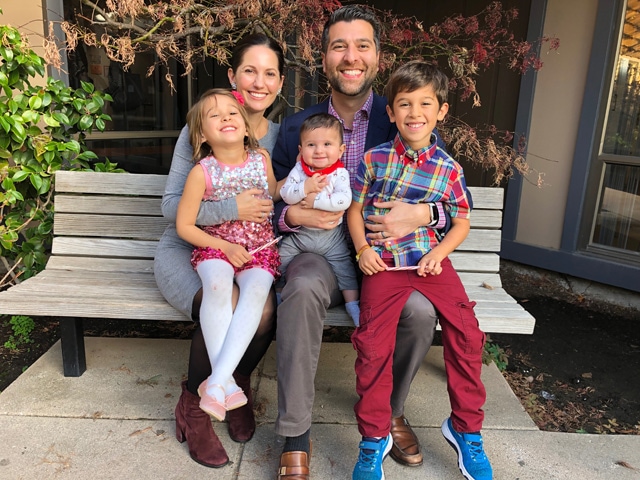 Brian Schneider
Brian and his wife Mary Stewart Malone welcomed twin girls in May 2018.
Analiza (Quiroz) Wolf
Analiza is starting a high school for low-income students as COO at East Harlem Tutorial Program, an educational nonprofit with after-school and summer programs, a teaching residency and charter schools. She, her husband (Alex Wolf '05) and kids Scarlet (2) and Bryson (6) enjoy rock climbing, snorkeling and skiing.
2006-E&W
Prashant Gupta
As director of Azure Global at Microsoft, Prashant has launched health data collaboratives to enable end-to-end global AI networks to help reduce disease burden and has been recognized by Fast Company among the 8 Bold & Visionary Projects (2017), received the Frost & Sullivan Best Practices Award (2018) and HIMSS Asia-Pacific Elsevier Award (2018).
2007-FT
Daniel Goldman
Dan married Morgan Cronin on May 5, 2018, at Campovida Winery in Hopland, California. Several Kellogg classmates were in attendance, including Eric McGimpsey '07, Ken Rice '07, Kristen Fedak '07 and Chris Elliott '07. Dan and Morgan continue to live in San Francisco, where Dan recently left McKinsey to take over as vice president of strategy at The North Face.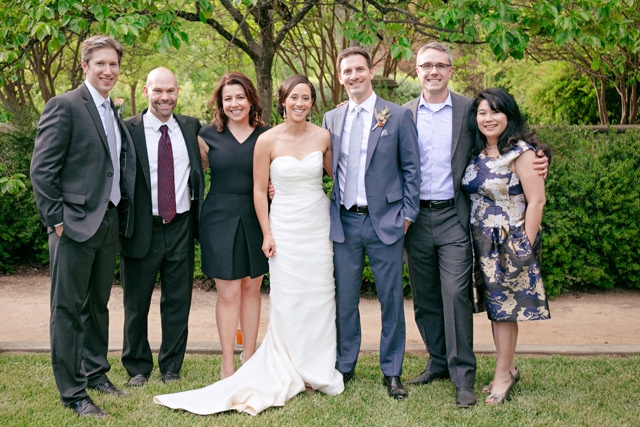 Deepak Jha
Deepak has recently found himself to be a textbook example of how bipolar disorder has hindered his ability to hold onto a stable job. He welcomes any guidance and support in tiding over a financial crisis he has driven himself and his family into given the past two decades of suffering from bipolar disorder. Thanks.
Caryn Zieses Levine
Caryn and Evan Levine (WCAS '03) were thrilled to welcome Raychel Danielle Levine to their family on June 29, 2018! Big brother Caleb (age 4) has already been teaching her the fight song and even though she didn't make the family trip to Evanston for the Michigan football game this year, she will surely be traveling to Chicago soon!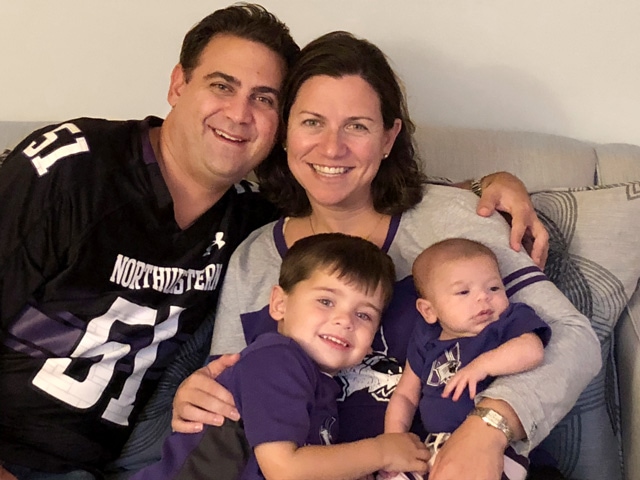 Tracy (Johnson) McKinney
Tracy and Scott McKinney '08 are excited to announce the birth of Tyler James on December 4. He joins Clayton (5) and Katie Paige (3) in Houston, Texas.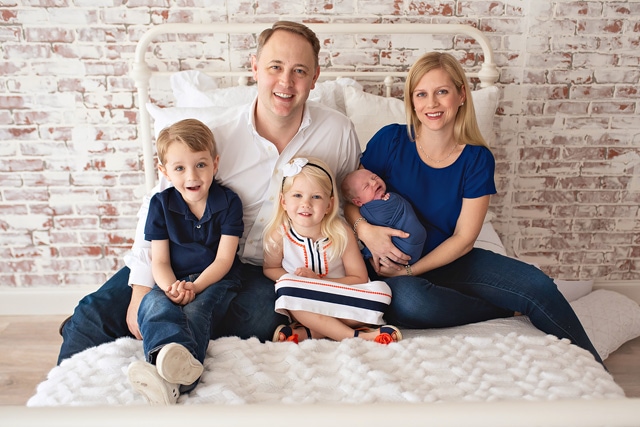 Rony Touma
Rony and Rayane got married on June 23, 2018, in Switzerland. Rony and Rayane will be welcoming their first baby, a boy, this spring! Rony is helping to relaunch the Kellogg GCC alumni club, organize a series of events and bring the community together.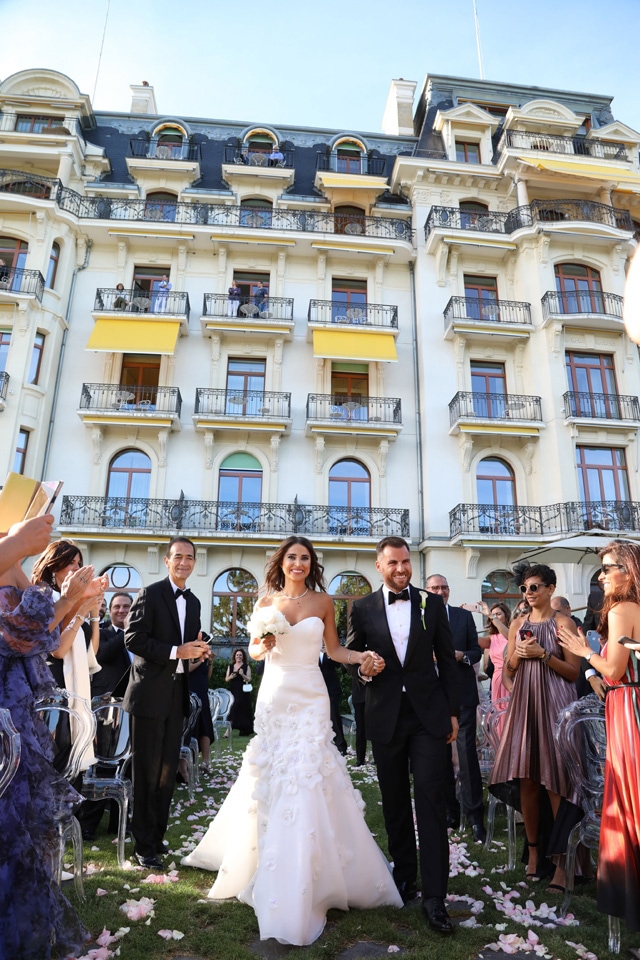 2008-FT
Shane McBride
Although Shane swore at Kellogg that he just didn't have entrepreneurship in his blood, somehow, he founded Chiron Strategy Group, an independent consulting practice. Focused on public sector healthcare, 2018 was a year of growth and challenge; 2019 is looking brighter in terms of revenue and client base. He also recently started a pro bono consulting project with Boston Harbor Now through Community Consulting Teams | Boston.
2009-FT
Guillermo Mallen
Guillermo and wife, Catalina Sanchez, welcomed baby girl Luciana Mallen on September 15, 2018. Mateo, their 4 year old, is excited to be a big brother. The Mallen family continues to enjoy their life in San Diego, where Guillermo works for HP.
Sultan Mehrabi
Sultan exited his startup that he co-founded in 2016; it was acquired by Travelers Insurance. Throughout his experience, many Kellogg alumni were valuable resources directly and indirectly. Sultan looks forward to catching up with everyone at Reunion in May!
2009-E&W
Christopher Serb
Chris was promoted to Captain on the Chicago Fire Department in December 2018. In June 2019, his book, War Football: World War I and the Birth of the NFL, about the military origins of professional football, will be published by Rowman & Littlefield. He recently saw classmates Heidi Fischer Pyrros '09 and Lynne Adamson Tagge '09.
2009-Executive Education
Dimitra Kane
The Kellogg School of Management at Northwestern University is an excellent business school committed to inspiring and developing strategic leaders. It was an honor to be a member of KMI Class 2010, a class of 14 who represented various global industries and became great friends. The faculty is impressive and fostered an environment of collaboration and knowledge transfer. Dimitra's proudest moment in 2018 was being invited to the Capitol as an active NTSC Executive IT Security participant.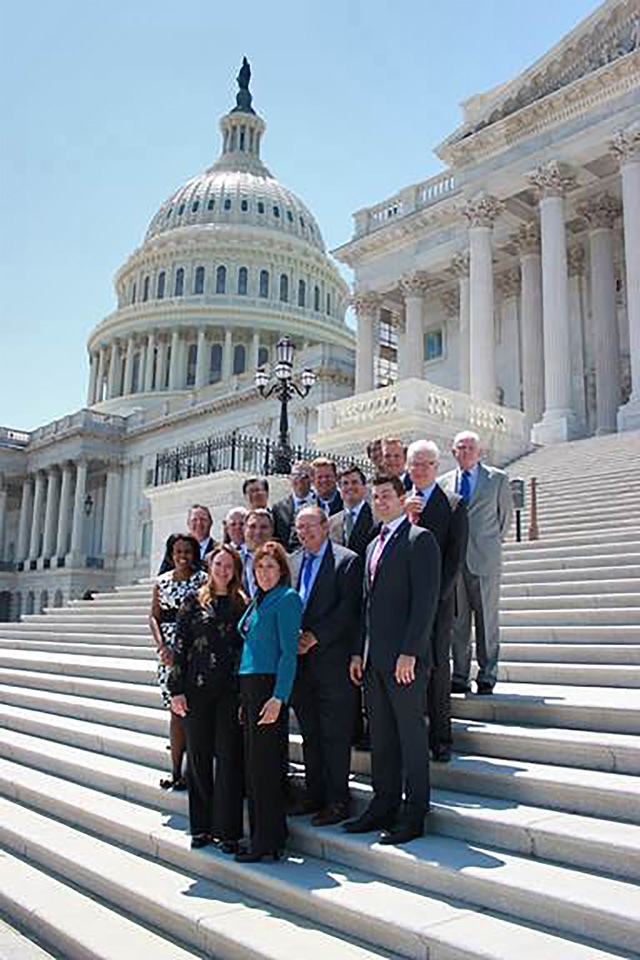 2010s
2010-FT
Nadir Ahmad
Nadir and his company, Dowling Street, celebrated their fifth anniversary on January 17, 2019, in their New York City offices, announcing their first European office in Zurich. Dowling Street is a boutique consultancy that combines classic strategy consulting with emotional intelligence. Pictured: The Dowling Street team, including founder Nadir Ahmad '10, and advisors Lylan Masterman '10 and Patrick Nyffeler '10.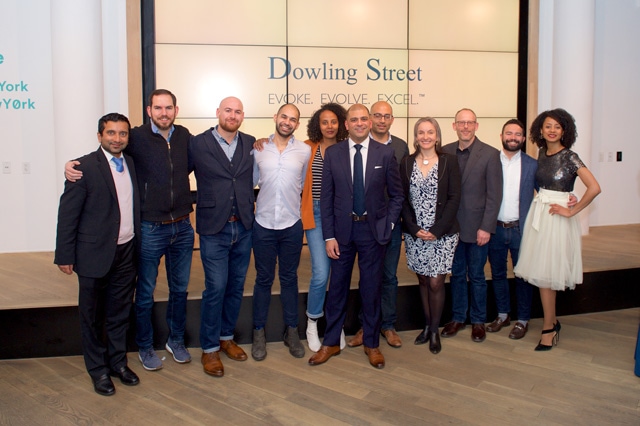 Kenny Shum
Kenny and his wife, Erin, welcomed their second daughter, Olivia Elizabeth Shum, on January 15, 2019. Kenny, Erin and older sister Avery are thrilled with Olivia's arrival.
2010-E&W
Sumita Ghosh
Sumi leads the Wellness Innovation team at ACCO Brands as senior director of global marketing. Innovation has its inherent risks, but Kellogg equipped Sumi with strategic thinking and problem-solving skills to face business challenges fearlessly. She launched the Swingline Smart Shredder last year, enabling office managers to remotely monitor fleets of shredders with real-time notifications. She lives in Chicago with her husband Nick, 6-year-old Sophia and 20-month-old Noah.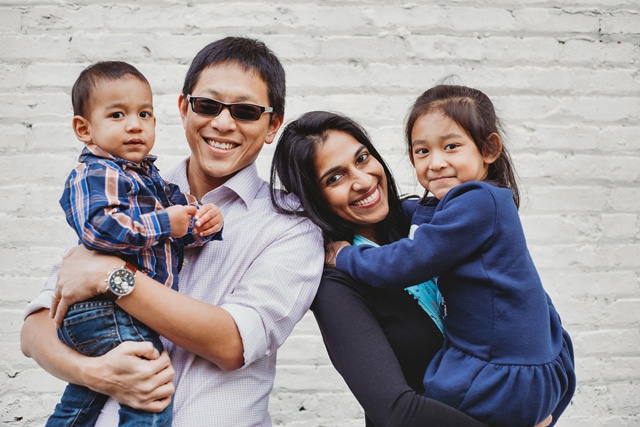 2011-E&W
Shital Chheda
Shital was promoted to partner at McKinsey & Company. Shital primarily helps clients in financial services drive growth through digital strategy and transformations, digital marketing and customer experience.
Michael Raspatello
Michael continued to expand the reach of October, the beer and culture brand he founded via a joint venture between Conde Nast and Zx Ventures. Their online magazine, Oct.co, grew to reach over 5 million unique readers, and October's tentpole festival OctFest cemented itself as the nation's premiere Beer, Music and Food fest as it took over NYC's Governor's Island last September. Beyond October, Michael's debut documentary feature was released via Amazon Prime last July.
Nick Scarlett
Nick has relocated to London as UK associate director at TRC Advisory, a boutique strategy firm based in Chicago, to formally expand the firm's presence in the UK and Europe. Nick joined fellow Kellogg alumni Cyrus Patel '11 and Mark Skoskiewicz '11 at TRC in the summer of 2017.
Kara Wallace
Kara is using principles from Kellogg to transform a $5 billion company's approach to its customers. Kara was recently promoted to senior director of strategic marketing and business development with Mortenson, a real estate developer and commercial/industrial builder celebrating 65 years of making an impact with renewable energy, inspiring spaces, reliable infrastructure and productive environments.
2011-FT
Enrico Leta
Enrico, founder of all-natural Greek yogurt maker Yorgus, launched the first strained yogurt drink in the Brazilian market. Yorgus Ultra with 18 grams of protein is helping the brand maintain the leadership of high protein yogurt category in Brazil.
Andrew Lim
Andrew and wife, Jennifer, welcomed their first child, Zoey, on June 10, 2018.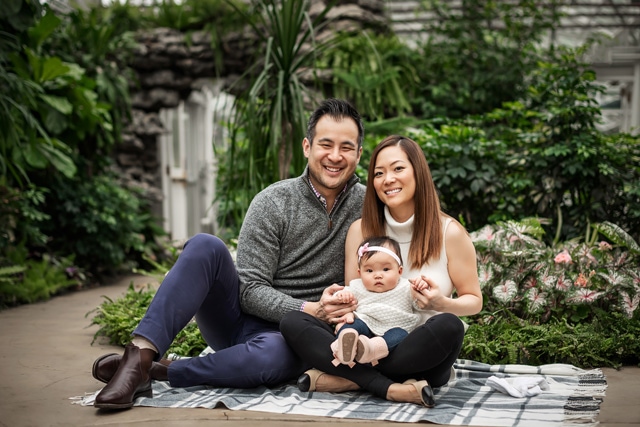 Andreas Lorenz
Andy and his wife, Sofia, welcomed baby boy Simon Nicolas in June and have been meeting with several fellow alumni ever since. They met with the families of Christophe Maters '11, Christophe Nauts '11, Daniel Young '11 and Niels Esmeijer '11 in Belgium; with Taco Smalberg '11 and family in Argentina; and with Johannes Walker '11 and family in the second half of the year in Erlangen, Germany.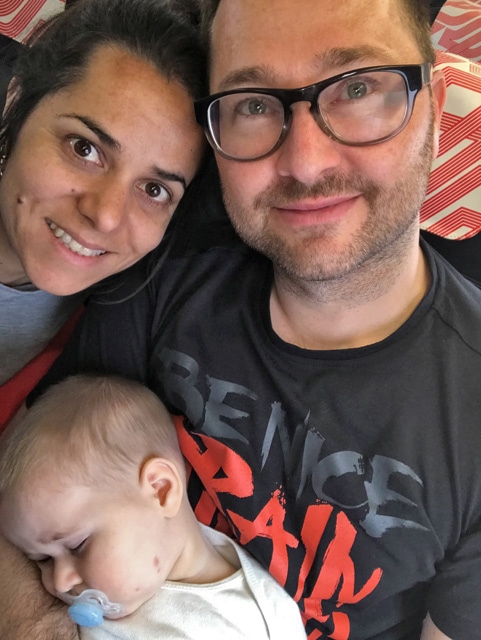 Tej Patel
Tej has been published in the ASM Handbook for Aluminum Science and Technology for the work he has been involved in while at Techevon LLC.
Erin Brooks Sawyer
Erin returned to Kellogg as a guest lecturer in Professor Kevin Murnane's organizational behavior class. Erin provided students with professional coaching tools learned from navigating her career in the male-dominated fields of automotive and technology. Most recently, Erin worked as VP of supply chain at Wrightspeed, a Silicon-Valley startup that builds electric powertrains for heavy duty vehicles. Erin is currently on maternity leave with her newborn daughter, Sloane.
Ifeolu Babatunde Sered
Ifeolu married Barak Sered on July 1, 2018, in Bedford, New Hampshire. Fellow classmate Timmie Wang '11 was in attendance to celebrate the occasion.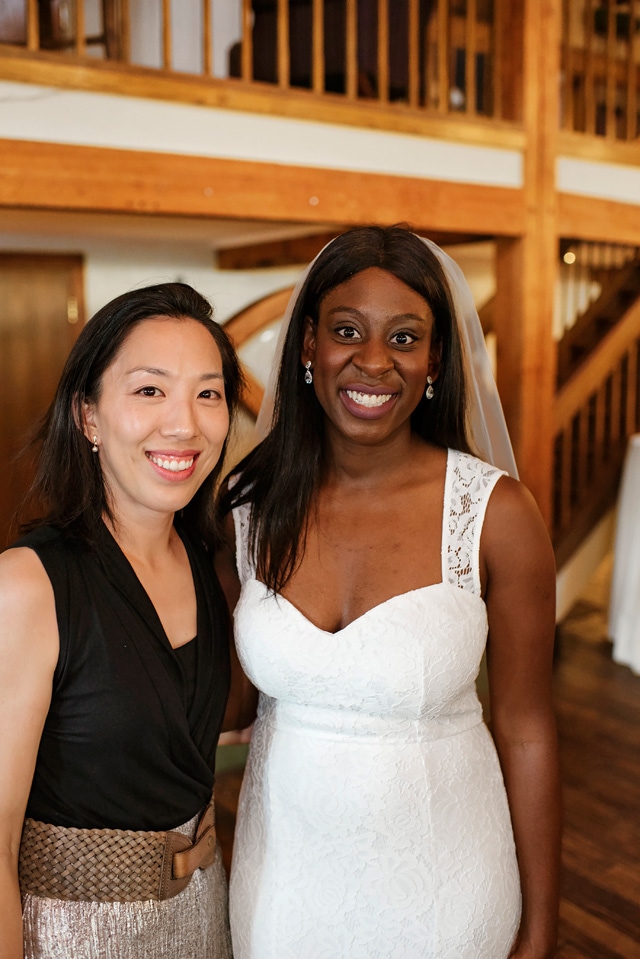 Eric Sieckmann
Eric and his wife, Laura, welcomed their third child, Joseph, in St. Augustine, Florida.
Drew Tannenbaum
Drew, his wife, Larah, and their son Jack welcomed daughter Elle to the family. Drew was promoted to managing director of strategy and finance at Balyasny Asset Management and Larah was made partner at law firm Quarles & Brady. The family recently moved to Evanston, just over a mile from campus.
2012-FT
Nick Haschka
Nick launched a startup called Credit Parent to help parents protect their kids from identity theft by freezing their credit reports. He's gotten great support from the Kellogg parent community!
Connell Hasten
Connell joined Victory Park Capital as partner and is co-founder of the insurance services platform, a turn-key investment management solution for insurance companies. Connell is tasked with sourcing, underwriting, executing and managing investments in the private debt, structured credit and real estate sectors.
Bo Olafsson
Bo joined Deloitte in Iceland as the managing partner of Deloitte Consulting in Iceland.
Paul Perez
Paul, Chrissy and Emmanuel welcomed Ana to the family. Ana, born in May, is now taking over the house in Louisville, Kentucky! Paul works at Humana, Chrissy at Kort and Kindred.
Pete Schmidt
Pete recently joined Scotiabank's internal strategy team, adding to Kellogg's presence within Toronto's financial sector. More personally, Pete and his fiancée, Marsha, are excited to be engaged, and are looking forward to their August 2019 wedding.
2013-FT
Seth Capron
Seth celebrated opening the third office (downtown San Francisco) of TestCrackers, the GMAT and GRE prep company he founded after Kellogg. TestCrackers is now one of the largest Bay Area test prep providers and continues to grow!
Joe Schuster
Beginning with a taco truck on Friday night in the Southwest Michigan wilderness and culminating in a rustic barn wedding/ceremony the following day, KWESTmates Joe Schuster and Krissie McMenamin '13 got married! 30+ members of the Kellogg family celebrated together. Dan Creagh '13, Mike Roach '13 and Supriya Sood '13 stood beside Joe and Krissie in the wedding party, and Samir Mayekar '13 officiated. #kelloggisliterallyfamily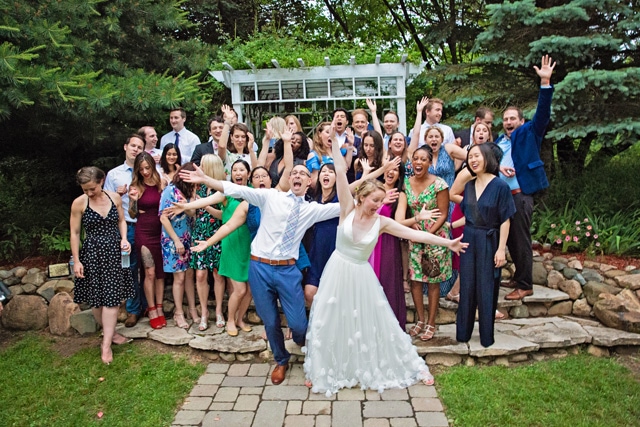 2013-E&W
Deana Haynes
Deana recently joined JLL's Consulting group as vice president and was also elected as secretary for StreetWise, a Chicago-based nonprofit. In her new role at JLL, she provides workplace strategies and solutions for corporate real estate teams. With StreetWise, she's excited to support and empower Chicagoans facing homelessness through magazine sales, workforce development programs and day-to-day needs.
2014-E&W
Denis Beausejour
Denis was promoted to managing director this January and has now been at O.C. Tanner for three years. O.C. Tanner helps companies engage workplace cultures through consulting around organizational purpose, rewards and recognition, and peak experiences. Denis now co-leads the Chicago office. The Beausejour family is growing with the addition of Denis Leonard Gracen Beausejour (September 2016) and Julien John Francis Beausejour (October 2018).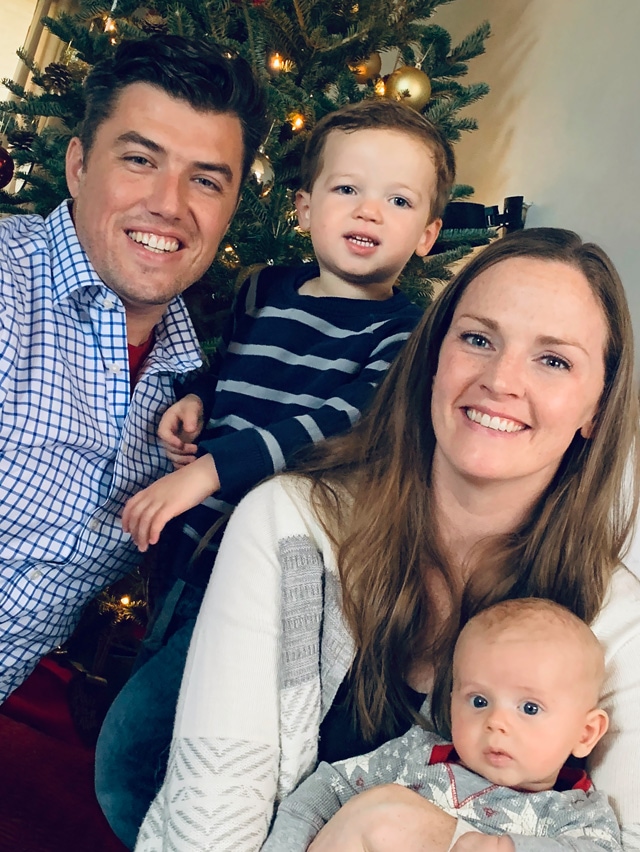 2015-FT
Ciara Glenmullen
Ciara and Kevin Borden '15 welcomed MMM-baby Connor into the world in April 2018. He has shown a strong aptitude for design thinking.
Juliana Panagas Lamblin
Juliana and Julien welcomed their son Adrien on January 8, 2018, and recently celebrated his first birthday. Julien and Juliana were married in July 2016 in Provence, France, and were joined by many Kellogg friends at both the wedding and a reception in Chicago.
Ron Sinha
Ron has moved with Nike from Portland to Tokyo. After three years serving the U.S. digital business through data analytics, he's leading analytics for Nike Japan. Some of the first people he reached out to upon arriving in Tokyo were Kellogg alumni, and he's happy to report that the alumni network there is alive and well. If any Kellogg alumni come through Tokyo, please let Ron know, and he'll take you for some of the best yakitori you've ever had.
2016-FT
Andrea Crane
Andrea joined e-Courier Software, a last-mile transportation logistics SaaS company, as CEO when the company was acquired by Alpine Investors. Andrea is based in San Francisco.
Brian Mulligan
Brian and Anna Mulligan welcomed their first baby, Lina Rose Mulligan, on November 4, 2018, and have been enjoying every minute with her!
Grace Rumford
Grace moved to London in March 2018 to work on low carbon strategy at BP and has recently taken on the role of deputy chief of staff for the chief scientist. One perk of living in London is seeing other classmates in the U.K. and E.U., such as Leah Fine '16, Dan Metzel '16 and Xue Zhang '16!
Lumay Wang
Lumay and Padden Guy Murphy celebrated their marriage on September 8, 2018, with family and friends, including Arielle Salomon '16 in the bridal party. Shortly after, Lumay moved from San Francisco to New York City. After more than two years with Monitor Deloitte, where she focused on retail strategy, Lumay joined AB InBev's global headquarters as a corporate strategy manager.
Najah Woodby
Najah married Lawrence Omar Phillips on September 8, 2018, in Martha's Vineyard. The couple were surrounded by friends and family who celebrated with them throughout the weekend.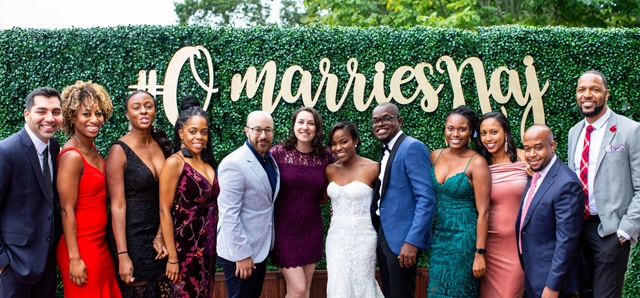 2016-E&W
Stephanie Gravenor
Stephanie co-founded digital health startup Medecipher Solutions to help hospitals improve clinical operation decision-making. Medecipher is a founding member of Denver's healthtech innovation community Catalyst Health-Tech Innovation (Catalyst HTI). Medecipher was a finalist for the 2018 Prime Health Challenge, the 2018 IGNITE Healthcare Network's Annual Fire Pitch Competition, and Stephanie is a 2018 graduate of the Boomtown Accelerator Program.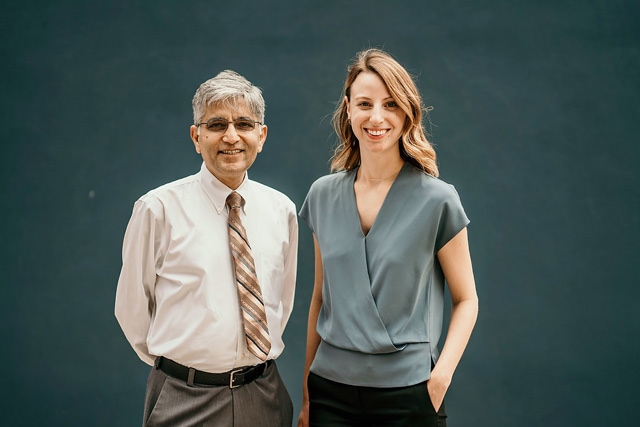 Michael Turoff
Michael and his wife, Atara, along with big sisters Nava, Adira and Ora, celebrated the birth of their fourth daughter, Tirtza, in January.
2017-FT
Danielle Bourguet
Danielle and Devin Angle '14 were married in Port Washington, New York, on September 15, 2018. They celebrated with family and friends and were grateful for all of the great friends they made at Kellogg who were in attendance. They now live in New York City.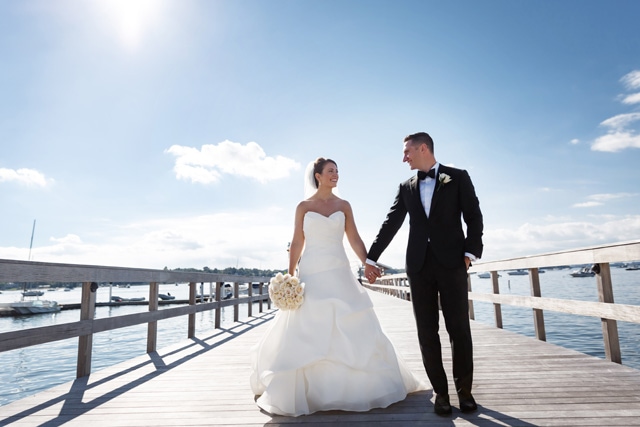 2017 Executive Education
Jack Stambaugh
Jack has been named chief marketing officer of CTB, Inc. In his new role, Jack will be responsible for all marketing-related activities, sales optimization and close collaboration with the CTB business units on marketing strategies. He will also be responsible for leading and providing strategic direction for the company's Ironwood Plastics, Shore Measuring Systems and Laake businesses.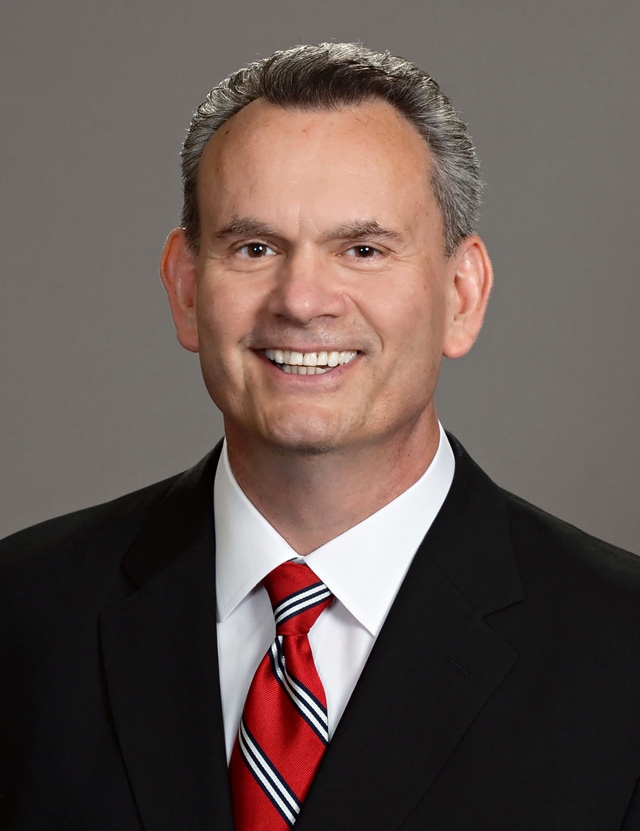 2018-E&W
Laura Pollan
Laura and her husband, Andrew Moore, welcomed their first child, Anders, into the world on October 3, 2018.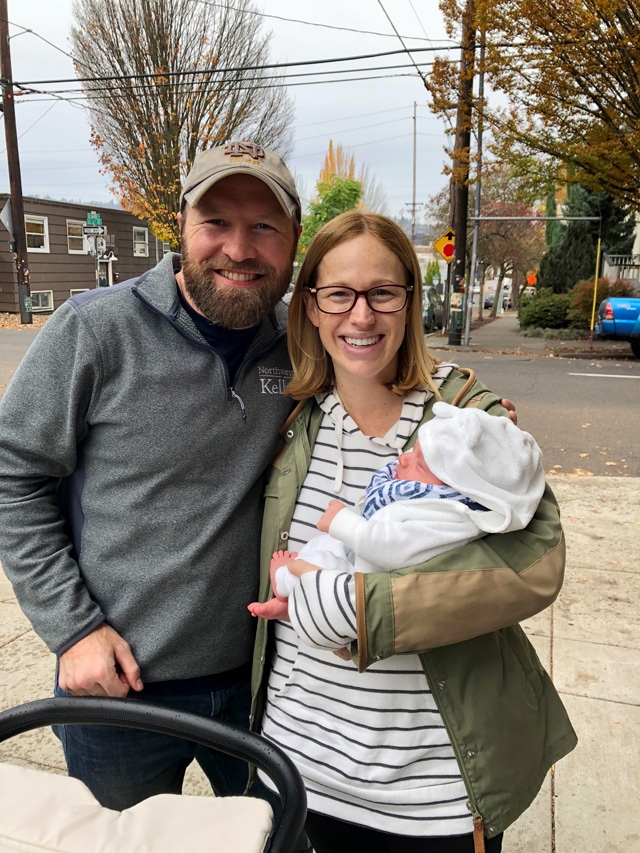 2018-FT
Brian Mueller
Brian joined the Baupost Group in Boston as an asset manager on the real estate team.
Rob Pothier
Rob and Kathryn Pothier are loving life in Dallas with their son Bobby (3) and daughter Jane (1). Rob is a marketer for PepsiCo, focusing on front-end innovation strategy, and Kathryn is the head of investor relations at Trive Capital, a private equity firm. Bobby is enjoying swim lessons and Jane is walking up a storm.
Simon Silva
After graduation, Simon was asked to join as chief investment officer at one of the largest economic groups in Chile. A couple of months later, his third child was born. He is enjoying the intense family and professional life, looking forward to reconnecting with his classmates and receiving the new Kellogg alumni in Chile.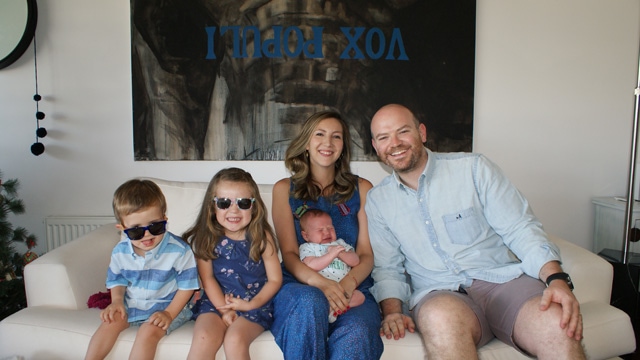 Executive MBA Cohorts
EMBA COHORT 3
J. E. Murdock III
Semi-retired; writing now is vocation/avocation — written a historical novel about Benjamin Banneker, an African American who almost convinced Jefferson that "all men are created equal." Need agent. Writes two content marketing posts/day on aviation safety. Grandkids other major focus.
EMBA COHORT 7
Michael Kulczycki
Michael retired from 44 years of leadership in nonprofit healthcare organizations, most recently as executive director of ambulatory care services for the Joint Commission. He served in that leadership role for 17 years, or 40 percent of his history with that service. Along the way, he was named to fellowship status with the Institute of Medicine/Chicago.
EMBA COHORT 30
Rohit Vishnoi
Rohit co-chaired the American India Foundation gala at the Field Museum in Chicago in November 2018.
EMBA COHORT 33
Karl Saunders
Karl continues to work as an adult reconstructive orthopedic surgeon and as an entrepreneur with Saunix Management, Ltd. In 2018, he was awarded his Renzo Gracie black belt. He teaches martial arts, self-defense and continues to serve as a director of various corporations.
EMBA COHORT 36
Mark Bader
Mark retired on October 31, 2018 after more than 38 years with John Deere. His career started in construction and forestry manufacturing, quality and product engineering. After graduating in 1997 from Kellogg, the wonderful EMBA COHORT experience allowed him to move to marketing, sales and a merger/acquisition. Additionally, he managed customer support and global agriculture new product development, finishing his career working in the area of John Deere precision agriculture.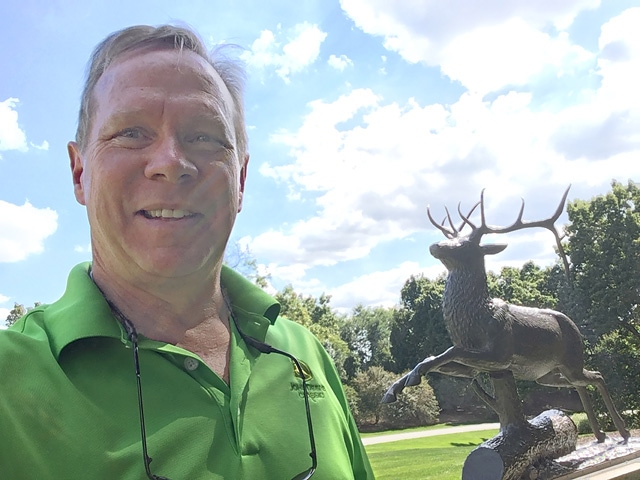 EMBA COHORT 38
Lawrence Kosinski
Larry is the founder of SonarMD, a technology-enabled care management company focusing on high-beta chronic disease, which has been funded by the Blue Venture Fund and Arboretum Ventures. SonarMD received $10 million in series A funding in December. The funds will be used to staff the company, build infrastructure and scale nationally. Larry credits much of his success to his Kellogg education.
Trish Lambrecht
Trish (class rep) continues to hear from classmates. Trish has seen Tom Hajduch, Mike Smith, Mike Shelton, Cindy Vanina, Betsy Finkelmeier, Jerry Lincoln, Mary Bouska and Tom Schwingbeck. In addition, Trish connected with Kathy Madison, Gary Weiss, Jeff Vender, Ian Heller, Andy Martin, Jim Pogue, Steve Croskrey, Jeff Felton, Steve Aguina, Steve Goerth and Larry Brand. She enjoys hearing from you all.
EMBA COHORT 49
N. Merritt Becker
Leveraging his global experiences with EMBA COHORT 49, Merritt and his family have relocated to Bangkok, Thailand, after accepting the managing director position for Cummins DKSH. Cummins DKSH is a joint venture between Cummins Inc. based in the U.S. and DKSH Ltd. based in Switzerland.
EMBA COHORT 50
Stephen Hoke
Stephen represented Vanderbilt Minerals, LLC in the most complex civil action in Connecticut history. Stephen obtained positive outcomes in the trial and appellate courts and continues to represent Vanderbilt Minerals, LLC on appeal before the Connecticut Supreme Court. The case was listed by Law360, a national legal website, as one of the leading Insurance Cases to Watch in 2019 in the United States.
Lisa Wilson
Lisa is now the associate vice president of research and sponsored programs at Clark Atlanta University. She is still in touch with classmate Natalie Laackman.
EMBA COHORT 56
Vicky Free
Vicky and fellow 56er Margie Cooper Stanton traveled to Fiji for their annual girlfriends' trip last summer. They enjoyed native food, private islands and participated in cultural rituals while there. Currently, Margie lives in Camas, Washington, and is director of the health systems division at Oregon Health Authority, and Vicky resides in Los Angeles and is senior vice president of global marketing for the direct-to-consumer division of the Walt Disney Company.
EMBA COHORT 69
Rodrigo Sierra
Rodrigo was named to the board of directors of Leadership Greater Chicago (LGC), the region's premiere civic leadership development organization.
EMBA COHORT 82
Akbar Jaffer
Akbar joined ZorroSign, an early stage startup as a partner/owner in 2017. It's a company that is disrupting the eSignature and DTM space with its patented technology. His Kellogg network continues to be a tremendous asset. Akbar and wife, Nusrat, welcomed their daughter, Zoya, in February of 2017. They call both Silicon Valley and Phoenix their homes.
EMBA COHORT 84
Charles (Chuck) Lauber
A. O. Smith announced the appointment of Chuck as chief financial officer. Chuck will be responsible for all financial functions of the company. Prior to joining A. O. Smith as director of audit and tax in 1999, Chuck was a senior manager at Ernst & Young LLP.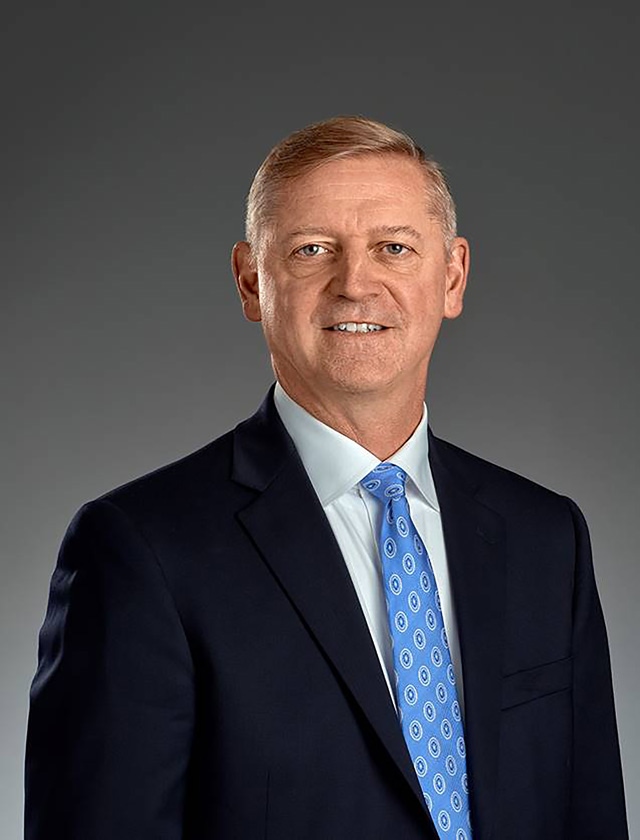 EMBA COHORT 106
Angel Torres
Angel and Brendan O'Brien '03 were elected co-presidents of the Veteran Leadership Council. Together they grew membership by 320% and supported an expansion into new cities, including Washington, D.C. This organization is the premier network for veterans in business. They hosted a signature panel in digital transformation that included Joshua Vesely, EMBA COHORT 104 who's the SVP for the global HR firm Randstad, the CDO of UL and the CIO of McDonald's Global.
Dana Kau
What a year! One year out of Kellogg Dana climbed Mt. Rainier and relocated to Washington for a business development role with Microsoft, focusing on strategic alliances across AI and intelligent cloud.
EMBA COHORT 108
Saurabh Raisinghani
After 13 years at Publicis Sapient, Saurabh joined Marriott as a VP of application development. The learnings at Kellogg helped Saurabh realize the kind of organization he wants to join and helped him prepare for the new job and role. Saurabh has been in regular contact with several colleagues from his cohort and has been working on ideating and building new ideas. While last year Saurabh focused on some major life and career changes, this year he will be focusing on reconnecting with Kellogg.
EMBA COHORT 109
Christian Rotter
Christian and Alfredo Campana EMBA COHORT 109 are excited to announce their newest venture, Crowd Capital. Crowd Capital was born out of frustration in the lack of opportunities for the everyday person around the world to truly create wealth. They wanted to help democratize investing and help put people's money to work as hard as they do. They welcome all alumni to visit their website, crowdcapitalpartners.com, for more details.
EMBA COHORT 110
Tim Ozinga
Alison Bullock EMBA COHORT 108 and Konstantin Borodin EMBA COHORT 109 recently joined Tim, executive vice president at Ozinga, in corporate communications and public affairs and marketing, respectively. Ozinga is a fourth-generation American family-owned company and leader in concrete, building materials, logistics and energy in Illinois, Indiana, Wisconsin, Michigan and South Florida. The trio credits the Kellogg global network with bringing them together.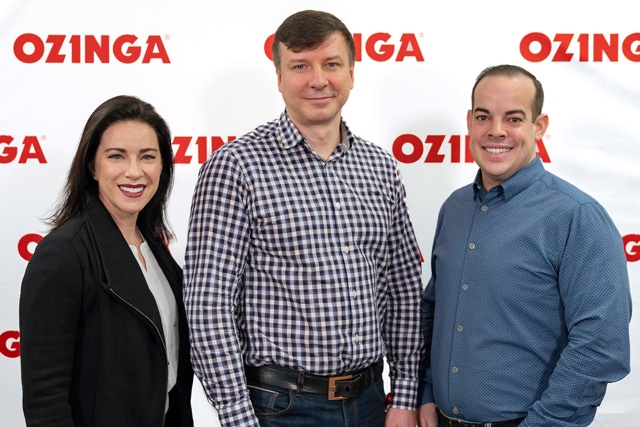 Kellogg-Recanti 6
Simon Kelner
Simon joined Rhythm Pharmaceuticals in Boston as chief human resources officer in June 2018.
Kellogg-Recanti 21
Yousef Alzaeem
Yousef, a Palestinian Executive-MBA graduate from Gaza, studied at the Kellogg-Recanati program at Tel-Aviv. After his graduation last November, Yousef started to leverage his newly minted EMBA degree and the many wonderful contacts he made to develop his family's construction business in Gaza and geographically expand into other areas.
Kellogg-Schulich 11
Deb Voorheis
Deb joined Bigwin Group — Talent Strategy in 2017 as an associate partner. She credits Kellogg's Leading High-Impact Teams course — along with her background in retail sales, operations and business development — with driving her track record for success in recruiting world-class talent. With a passion for empowering trailblazers and building revenue through relationships, Deb takes pride in creating high-impact teams that help companies reach their potential.
Kellogg-WHU 00
Ulrich W. Schiefer
Ulrich met classmate Oliver Gosemann at the Kellogg WHU 20th year celebrations in Koblenz, Germany, at the end of 2018 after a long time. They plan to meet again soon to explore opportunities on a private and business basis.
Kellogg-WHU 08
Yasmin Wateler
Yasmin is passionate about improving leadership effectiveness. She is working with her MBA sponsor to launch a suite of high-impact development solutions that are tailored to meet the specific needs of individual leaders. These solutions enable leaders to connect with global experts to address their individual leadership and management challenges. Alumni should contact Yasmin (yasmin.wateler@posteo.de) if they'd like more information.
Are you celebrating a reunion in 2019? Reconnect with everyone by joining your class Facebook group or page.