Kellogg Magazine
|
Features
Titans of marketing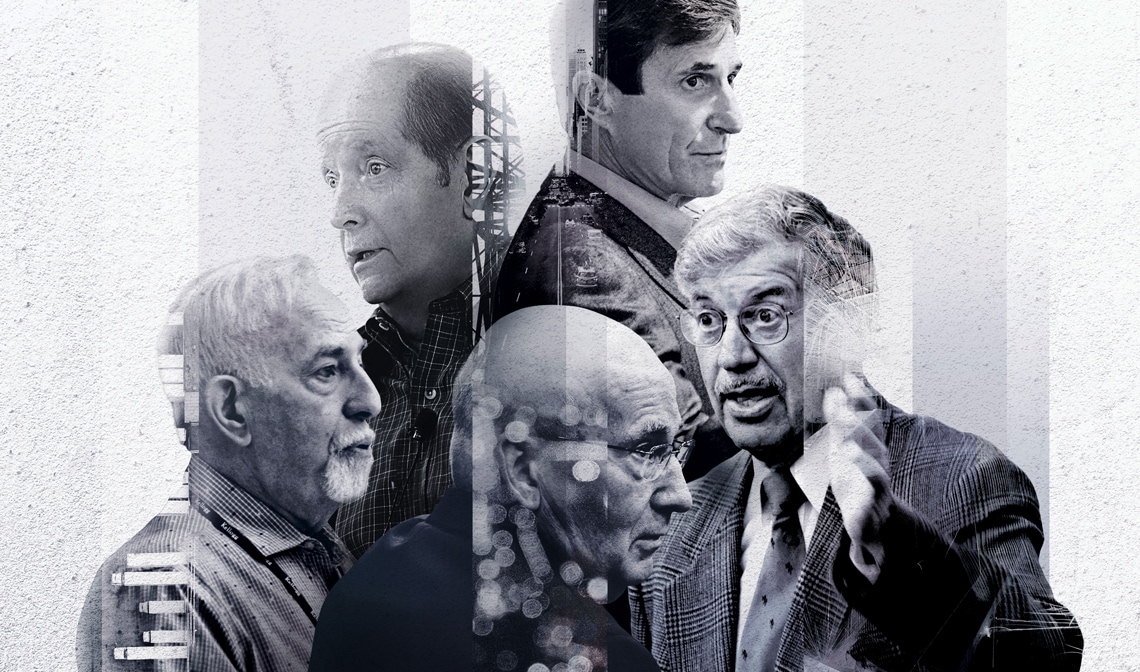 A tradition of innovation stands on the shoulders of a legendary partnership
Millions of people around the world have been influenced by the Kellogg Marketing Department — they just don't know it.
What began in the 1960s as a fresh crop of Kellogg marketing professors eventually turned into a core partnership that revolutionized the way we think about and practice marketing today. At the center of that partnership are five professors — Sidney Levy, Phil Kotler, Brian Sternthal, Bobby Calder and Louis Stern.
The recent passing of Sidney Levy, along with the retirements of Kotler, Sternthal and Calder, marks the end of an era. However, the other faculty members, long trained and influenced by those marketing giants, are ready to carry on the school's tradition of innovation in the field.
Kotler, who joined Kellogg in 1962, is often referred to as the "father of modern marketing" due to his numerous and influential books and articles that have been must-reads in the field for 50 years. His marketing management textbook, now in its 15th edition, enjoys widespread adoption in marketing courses around the globe. He has also penned several books focusing on marketing for hospitals, museums and nonprofits — effectively creating the subfield of social marketing — that encourages behaviors to benefit not only the firm and individual, but also society.
Although he retired formally in 1991, Levy was active in department affairs until 1997 when he moved to Tucson and joined the faculty of the University of Arizona. Nevertheless, he continued to engage with Kellogg faculty and students by returning to deliver seminars about his ongoing research. His last seminar at Kellogg was on his 96th birthday in May 2017. He passed away the following March.
Sternthal, whose tenure at Kellogg spans more than 45 years, is known for his research focusing on how people process information in response to persuasive messages. This important work is published in a wide range of leading marketing and psychology journals. His legacy also includes developing an innovative and popular elective course on advertising, as well as mentoring scores of doctoral students, who now populate the faculties at other leading business schools.
Calder, who joined the Kellogg faculty in 1975 and who also holds an appointment in Northwestern's Medill School, is an authority on research methodology, branding and media. His articles on research design and focus groups are fundamental to the field, and he was instrumental in introducing new concepts such as consumer engagement to marketing.
'The friendship that changed marketing'
The American Marketing Association last year called Kotler and Levy's long-running relationship "the friendship that changed marketing forever." The duo's skillsets complemented each other perfectly.
"Levy was more qualitative; I was more quantitative and data-oriented," Kotler observes. "We worked together on broadening the concept of marketing. He was an ally in that move."
Along with distribution expert and professor emeritus Stern, Calder, Sternthal and Kotler helped marketing move beyond an era that was only equated with advertising and sales. At that time, businesses created products and services, and only afterward did marketing play a role in persuading consumers to buy what the company had chosen to make.
Kellogg's faculty in the 1970s and 1980s changed that. Kotler introduced the view that the marketer's role was one of facilitating exchange, which, in turn, required adopting a customer perspective throughout the process of developing goods and services and bringing them to market. Kotler and Levy also argued that the domain of marketing should encompass all types of exchanges, not just commercial ones. This expansive, collaborative thinking was contagious, and it brought the faculty together. "That was the enjoyment of it, and that is how we all sustained for so long," Kotler says.
Camaraderie and inspiration
The marketing group expanded over the decades. Calder says they succeeded by focusing on increasing the program's vitality and adding faculty with diverse backgrounds. "We didn't just avoid messing it up," he said. "We did a lot to keep it growing intellectually."
Managing an eclectic group of creative professors from a range of disciplines required the right leadership in the department chair's office. Levy served as the Marketing Department chairperson for 12 years. "He was so open-minded," Kotler recalls. Stern, Sternthal and Calder all took turns as chair as well.
"No one would have been admitted into the group unless they had the promise of making a substantial contribution," Kotler says. "But there was a deep level of camaraderie that existed here. It already existed when I arrived, and I hope I did things to foster and support that."
It was an environment, they all felt, that helped inspire today's group of faculty members. "The marketing department has had good chemistry over the years," he explains. "We always played off each other's ideas rather than going our own separate ways."
Levy's passion for marketing and research even carried over when he began jogging in the 1980s with Sternthal and fellow faculty member Alice Tybout — now the Harold T. Martin Professor of Marketing. Sternthal told him to maintain a pace at which he could speak comfortably. In response, Levy broke into a fast trot and demonstrated his ability to set the pace while also delivering enlightening commentary.
"NOT ONLY ARE THEY SCHOLARS, BUT THEY ARE INSTITUTION BUILDERS. THEY COULD MENTOR AND INSPIRE PEOPLE, INCLUDING COLLEAGUES AND STUDENTS."
"Once he began chattering away on that first run, he never really stopped," says Tybout, whose running group with Levy and Sternthal often included several students and other faculty. "Brian will tell you that we got an education along with our exercise."
Stern reflects, "The camaraderie we felt and support we gave one another were truly exceptional." This close bond among the Kellogg marketing faculty was recognized and admired by other departments, says Sternthal.
Honoring the giants
The deep respect and affection from newer colleagues toward the outgoing legends was palpable at a May faculty meeting when the contributions of the three recent retirees were recognized. It was there that Gregory Carpenter, faculty director of the Kellogg Markets and Customers Initiative, praised Kotler's establishment of a fundamentally new approach to marketing, often simply summarized as the four Ps: product, price, place, promotion.
"We are in awe of what you have achieved and very grateful for all you've shared," Carpenter said then. "Serving on the same faculty has, for me, been a great honor, a rare privilege and a true inspiration."
"These are giants of the field," noted Angela Lee, the Mechthid Esser Nemmers Professor of Marketing. "Not only are they scholars, but they are institution builders. They could mentor and inspire people, including colleagues and students."
Similarly, Tybout praised Calder's intellect and demeanor, commenting, "Bobby has shaped and sharpened my thinking. He has been a role model for treating colleagues and students with patience and regard."
She closed by teasing Calder about his cigar smoking and Sternthal's pipe smoking in long Saturday working sessions when the building ventilation was off, saying that her "only wish is that no-smoking rules had been enacted sooner."
Moving forward
As the department moves forward into a new era, it does so in an environment that has vastly changed from the era in which the Kellogg marketing department emerged as a global thought leader.
"Marketing is changing rapidly," says Carpenter. "The conception that Phil Kotler and Sid Levy wrote about years ago has come to be: Marketing has moved from a single function in an organization to a perspective on management, with the customer perspective infused throughout the organization." Expanding marketing from a single function to a broader management approach fundamentally widens the scope for the field, creating many new challenges.
Today, marketers must manage brands in an environment where the competition for consumers' attention is intense and where they cannot always control the message. Social media influencers develop their own messages about brands, and these views can make or break brands. Businesses must both adapt to this loss of control and forge partnerships with new key influencers. That means Kellogg's educational side must adapt, Calder says.
"Everyone has a 'printing press' these days," he says with regard to the growth of digital media. "There is a real need to understand media and communication in a much broader way than, 'This is a good 30-second ad' or 'Not a good 30-second ad.' They [managers] need to understand that narratives are important to people, and people are storytelling animals. The future of marketing is to find new and better ways of telling your story."
As these challenges unfold, new Kellogg marketing leaders are poised and ready to carry on the legacy. The department is already leading the way as the first business school to develop a comprehensive big data and analytics program specifically for business leaders, and their pioneering behavioral research continues to bring new insights and advancements to the practice of marketing.
From their rigorous thought leadership to their dedication to excellence in teaching, Kellogg professors will carry on as a hub for marketing innovation for decades to come.
"MANAGERS NEED TO UNDERSTAND THAT NARRATIVES ARE IMPORTANT TO PEOPLE, AND PEOPLE ARE STORYTELLING ANIMALS."