Kellogg Magazine
|
Features
Reflecting on 10 years of Kellogg Insight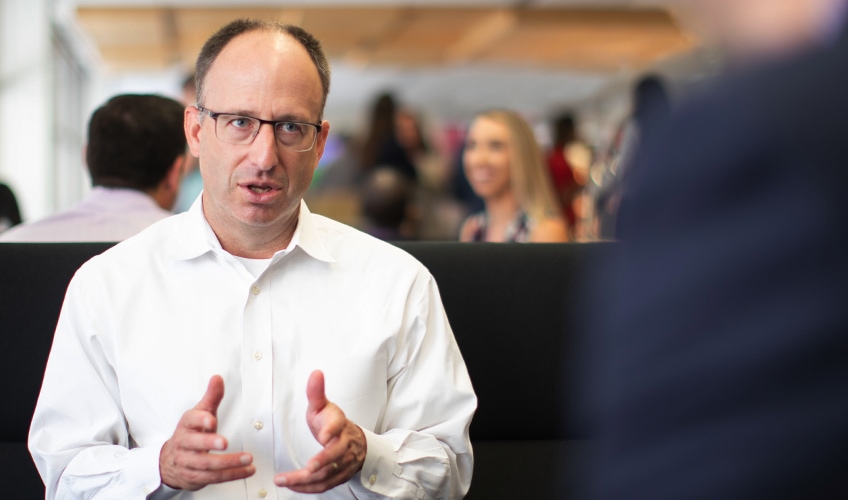 The publication's leaders discuss its evolution and plans for the future
On a sunny morning last October, tenure-line and clinical faculty members took a break from their research and teaching duties to gather in the Global Hub's Faculty Summit. Over doughnuts and coffee, they toasted the 10th anniversary of Kellogg Insight, the school's thought leadership publication.
To Faculty Director Thomas N. Hubbard and Editor-in-Chief Jessica Love, the event celebrated more than the milestone; it represented the culmination of the school's shift to more fully emphasize research.
Hubbard, who also serves as the Elinor and H. Wendell Hobbs professor of management and a professor of strategy, says Insight's beginnings came from a previously unaddressed need to highlight the depth of knowledge of the faculty and their work.
"With the launch of Insight, Kellogg was trying to make academic research more visible within the Kellogg community," he says.
Hubbard, Love and Dean Kathleen Hagerty are all quick to cite Patricia Ledesma, the former assistant dean and director of the Kellogg Office of Research with a Ph.D. in economics, as a huge player in helping to translate that knowledge to the target audience of mid-career advancing executives and their peers.
"One of the big stumbling blocks was getting accessible versions of faculty research," says Hagerty, who described how Ledesma hired science writers to make the process less time-consuming for professors. "Patricia took that model so we could present versions of all the research happening in the school, including ideas that were more challenging. And the faculty have loved it from day one."
The online publication gained further ground in showcasing the variety of the types of expertise at Kellogg when it expanded under Dean Sally Blount's tenure. "By giving us more resources, we were also given a different mandate," Love explains. "Research is always important, but we are going to start to look beyond the single peer-reviewed paper as a source of faculty expertise. This also offers us a chance to feature the contributions of some of our clinical faculty or our tenure-line faculty who are involved in really interesting projects beyond their research."
And the results speak for themselves: Traffic has about tripled in the last three years alone, and the editorial team is already hard at work redesigning the website and continuing to provide subscribers with content that speaks directly to their business needs. They also plan to expand their podcasting efforts and publish more translated versions of their content, working with partner publications around the globe.
As Hubbard reflects on the past 10 years, he points to the individuals whose contributions helped Insight evolve. "I'm really proud of what Kathleen, Patricia, Jess and others have done because research is now much more part of the fabric of the entire Kellogg community and not just part of the fabric of tenure-line faculty. The people working on this have done a fantastic job."
Check out this issue's special Insight section