Kellogg Magazine
|
Features
At every stage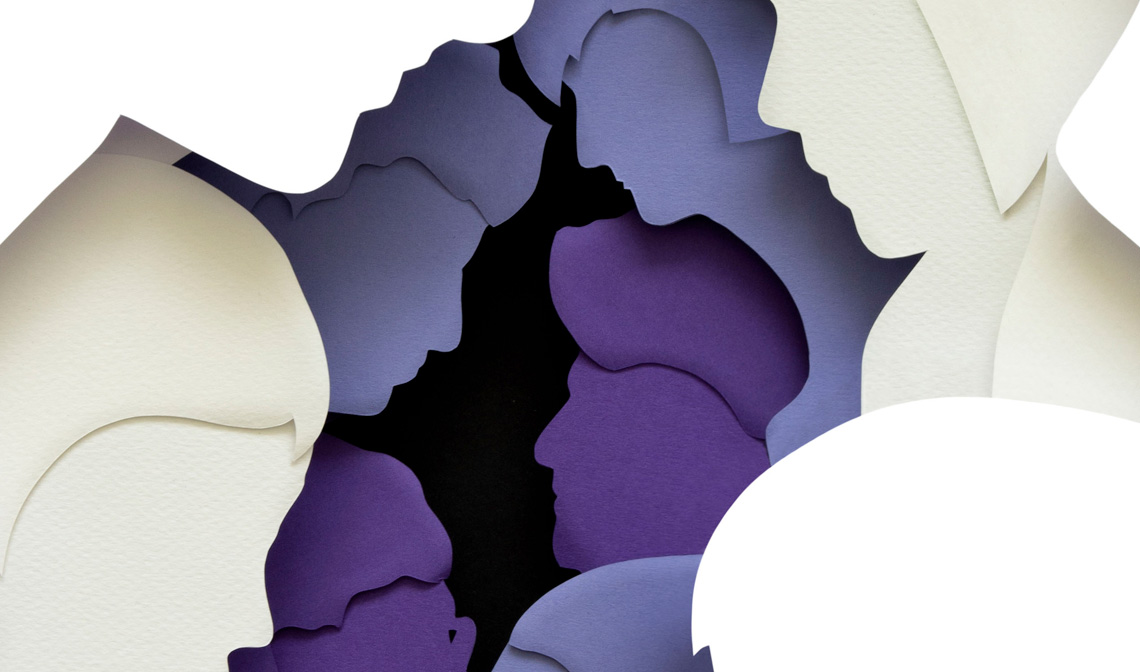 Kellogg takes a holistic approach to supporting women throughout their careers
Women outnumber men on college campuses and are pursuing MBAs in increasing numbers. In fact, 46 percent of the incoming class of Two-Year MBA students at Kellogg are women. Yet the upper echelons of the business world remain squarely male-dominated, despite research linking gender diversity with better corporate performance, improved innovation and more ethical decision-making.
According to the Kellogg Center for Executive Women, only 11 percent of the highest-earning corporate officers are women, and women hold just 21.2 percent of board positions at S&P 500 companies and 4.6 percent of CEO positions.
Kellogg is striving to change that.
Kellogg has long been a leader among top business schools in accelerating the careers of high-potential women. The Kellogg Center for Executive Women was founded in 2001 to help senior-level women reach the C-suite and the boardroom. Over the past few years, the school has added a number of new programs to advance women across all stages of their careers. By equipping women with skills, connections and inspiration at all stages of their careers, the school helps them make the most of their professional and personal lives.
"KELLOGG HAS ALWAYS SEEN THE IMPORTANCE OF HELPING WOMEN SUCCEED."
Showcasing this commitment, last May Kellogg hosted the inaugural Global Women's Summit under the leadership of Dean Sally Blount '92, the first woman to lead a top business school. The Summit was co-chaired by Ellen Kullman '83, the former chair and CEO of E.I. du Pont de Nemours; Edith Cooper '86, former partner and global human resources head at Goldman Sachs; Ilene Gordon, former CEO, president and chairman of Ingredion; and Dr. Victoria Medvec, the Adeline Barry Davee Professor at Kellogg and co-founder of the Kellogg Center for Executive Women. The co-chairs worked with a faculty committee, a steering committee of more than 40 Kellogg alumnae and school supporters, and a talented planning committee to deliver this extraordinary two-day event.
Roughly 2,200 women — 800 in Evanston and 1,400 who participated remotely around the world — attended the summit to learn from one another, seek advice about the challenges they're facing and develop meaningful peer and mentor connections. The successful two-day event showcased the Kellogg School's ongoing focus on three distinct stages of a woman's career: launch, mid-career and executive.
From launch to leadership
In many ways, the summit reinforced and brought fresh energy to the work Kellogg has been doing for decades, with its more than 17,000 alumnae and current female students.
"The message we're hearing is that women are hungry for this support network — they want the advice and insight from their colleagues and from Kellogg," says Wendy Kritt '84, Kellogg managing director of alumni engagement and networking. "It goes way beyond connecting and sharing stories; people want actionable advice, resources and tools. They want to be able to make change."
To create change at the highest levels, Kellogg leaders believe it's important to support women in all stages of their careers, including those who are just starting out by earning a Kellogg MBA.
Through programs such as the Women's Leadership Seminar series, Kellogg helps graduating female MBA students gain a deeper ability to navigate the challenges women face as leaders building their careers and effective strategies for navigating these challenges and developing an effective leadership style throughout one's career.
"I remember when Blair Pircon '16 and Rebecca Sholiton '16 first approached me with the idea to develop the Women's Leadership Seminar," says Medvec. "Our female students wanted programming focused specifically on helping them achieve a successful launch into their careers. The seminar was first offered in 2016, and the school's programming for our female MBA students has expanded extensively since then."
"We're trying to take a holistic approach to ensure that Kellogg women are equipped intellectually, practically and emotionally, so they can thrive over the long haul," says Ellen Taaffe '97, Kellogg director of women's leadership pro-gramming, who focuses on the overall strategy for women's leadership at Kellogg and specifically on women in the launch phase of their careers.
"Through our programs," adds Medvec, "women learn about gender-related research conducted by Kellogg faculty and hear from successful female executives who share valuable lessons from their personal and professional experiences."
A powerful network
In addition to programming, female students can take advantage of student-run groups such as the Women's Business Association and the newly formed Manbassadors, an organization that seeks to involve more men in conversations about gender diversity. Both groups support Kellogg women by hosting events, sharing information and raising awareness.
Through these and other experiences, Kellogg hopes to broaden students' perspectives of what they can do with an MBA. For example, though women are close to reaching parity with men in MBA programs, they are still underrepresented in certain fields such as finance.
"When women first arrive, we encourage them to explore and think more broadly and recognize the power of going big and bold as they launch their careers in order to build a strong foundation," Taaffe says.
Kellogg challenges women in the early stages of their careers to look into the future and think critically about how the choices they make now will affect their ability to reach their goals.
"The company you join, the function or industry you choose, your partner, where you live, the support system you have around — all of these things matter and strengthen you over the long term," Taaffe says.
Kellogg helps women navigate the mid-career marathon stage, during which they must juggle their professional roles with family commitments, relationships and career advancement goals. One way mid-career women can achieve professional growth and development is through the diverse array of programs offered through Kellogg Executive Education. They also have the opportunity to connect with other Kellogg alumnae on a personal and a professional level through the alumnae-led Kellogg Executive Women's Network (KEWN) and the Northwestern mentorship program.
"The network is very powerful. It's one of the top reasons prospective students choose Kellogg," Kritt says. "You get your MBA here for one to two years, but you're an alum for life. It's about helping each other succeed, whether through connections or thinking through problems. A piece of it is also knowing that you're not alone in what you're facing. It always helps to know there are other people out there who have faced something similar and can share advice."
Change at the top
Women in leadership positions transitioning into the senior executive stage can benefit from the Kellogg Center for Executive Women.
The center takes a two-pronged approach to achieving this mission: It supports women directly with programming, such as the Women's Senior Leadership Program and the Women's Director Development Program, and it provides access for companies to female board candidates via the board director registry of women who have completed the Director Development Program.
The center's long history of helping women advance is paying off: Roughly one-third of women who have gone through the Director Development Program are members of one or more corporate boards.
"Kellogg has always seen the incredible importance of helping women succeed and changing the face of the corporate landscape — that commitment has been strong for decades," says Medvec. "We've really been the leader in creating programs to help women move to the boardroom and C-suite."
Ann Drake '84, CEO of DSC Logistics, says her Kellogg experience continues to inform her career. "My Kellogg networks and professional education have been critical to my success as a woman leader, from information sharing, to problem solving, to new opportunities — it's all been critical to me. I think Kellogg's focus on the three stages and related potential solutions in a woman's career is an extremely helpful framework to find the right solutions for different women. I wish more people would become familiar with these approaches."
Drake launched the Drake Scholar Fund to assist outstanding women to come to Kellogg. "I am very excited about the strong role of women business leaders from Kellogg in the world," she says.
While Kellogg is just one small piece of a complex societal puzzle, the school hopes to meaningfully change the lives of its students and alumnae. Kellogg's leaders believe doing this can help change the corporate landscape and the world.
"To really enact change and come to big ideas for innovation," Kritt says, "you really do need diversity of thought and experience. That only comes from having diverse people at the table."