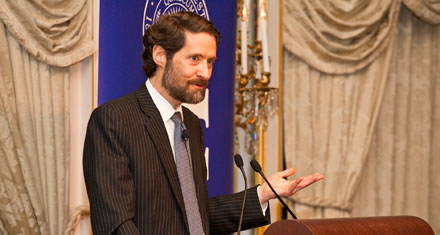 Gary Parr '80 in New York City Photo © Brett S. Deutsch
Global finale
The Kellogg Impact Series culminated June 3 in New York City, rounding out a series of world forums on the future of business, innovation, leadership and society.
The global events drew hundreds of alumni, beginning in February in London with a talk on the future of marketing by Philip Kotler, the S.C. Johnson & Son Distinguished Professor of International Marketing. Subsequent events took place in Chicago, Hong Kong and San Francisco.
In New York, keynote speaker and Lazard Vice Chairman Gary Parr '80 shared his insights into the financial crisis with more than 180 alumni, faculty, Kellogg supporters and admitted students at a dinner at The St. Regis New York.
The San Francisco Impact event at the Olympic Club on May 11 featured Promod Haque '83, managing partner at Norwest Venture Partners. Haque participated in an hour-long discussion with Interim Dean Sunil Chopra, covering topics that ranged from the impact of the recession on the venture capital industry to the outlook for investment opportunities at home and abroad.
Other series events included a Feb. 19 luncheon in Chicago, featuring Jim McNerney, chairman, president and CEO of The Boeing Company, who spoke about innovation. Insights on Asia's post-recession advantages were shared at the March 19-20 Impact event in Hong Kong by K.C. Chan, the Hong Kong government's secretary for financial services and the treasury and the former dean of business and management at the Hong Kong University of Science and Technology. The events also featured talks on global business by numerous Kellogg faculty members.
'The Kellogg Impact Series was a wonderful opportunity to strengthen our global network,' said Janet Sanders, assistant dean and director of alumni relations. 'These events offer tremendous social, professional and intellectual benefits to our alums — and we look forward to hosting more such opportunities in the future.'
Interim Dean Sunil Chopra (left) and Promod Haque '83 in San Francisco Photo © Maria J. Avila Lopez