'You Have the Time'
to
Change the World
A successful ceo of a global corporation selim bassoul
inspires others to find the time to make a difference
As CEO and chairman of The Middleby Corporation, as well as a Kellogg Global Advisory Board member,
Selim Bassoul '81
is a busy man. But he doesn't let that get in the way of what he wants to accomplish – especially when it comes to helping others.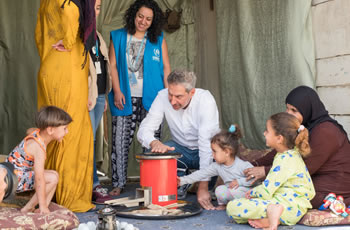 Selim Bassoul demonstrates
the Relief Oven in a refugee camp in Turkey.
Although you may not have heard of the company, you've almost certainly benefited from its products.
Middleby is a global powerhouse in commercial cooking equipment, doing business with 97 of the top 100 food service chains worldwide. Brands owned by Middleby include Viking, TurboChef and Jade, along with more than 50 others.
During his nearly 20-year tenure as CEO, Bassoul has transformed Middleby from a struggling, me-too regional manufacturer to a worldwide leader. In 2017, Middleby reaped a profit of nearly $1 billion – compared to $35 million in 2000, the year Bassoul became CEO. The Motley Fool has recognized Bassoul as the best CEO of all time.
Running a global corporation with more than 8,500 employees and 60 factories in 24 countries is, of course, more than a little time-consuming. But that doesn't stop Bassoul from his lifelong mission.
"I want to, in a small way, change the world. That has always been my purpose."
CHANGING THE WORLD
As a teenager, Bassoul and his family were refugees and homeless due to Lebanon's civil war. That experience, along with the influence of a beloved aunt known for helping impoverished people across the Middle East, gave Bassoul a clear sense of purpose at an early age.
"I want to, in a small way, change the world," Bassoul explains. "That has always been my purpose."
This guiding purpose led him to create the Bassoul Dignity Foundation in 2014, 100 percent funded by the Bassoul family. Aimed at giving people a second chance in life, the foundation provides education, training and other support to refugees, the homeless and others with few resources and even fewer champions. "The homeless and the outcasts are the ones who need the most support," Bassoul says. "We have to lift their spirits and make sure they feel wanted. Because if they lose that, there is nothing left, and they lose hope."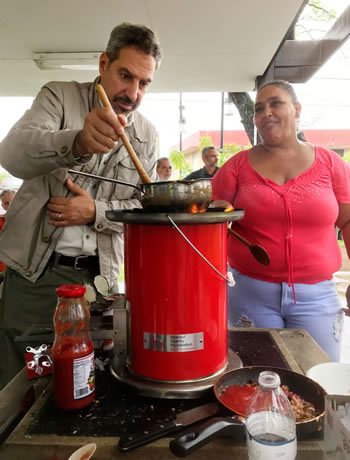 Selim Selim Bassoul uses the Relief Oven in Puerto Rico.
The Relief Oven
Based on his experience helping refugees, Bassoul realized that the ability to cook a meal – without spending hours trying to find wood for a fire – is a primary need. Working with a group of volunteer engineers from Middleby, Bassoul developed a stove that has already improved thousands of lives.
Called the Relief Oven, the stove is insulated so children don't burn themselves. It can be used inside tents and other temporary shelters without creating toxic fumes. And it has a magnifying glass that acts as a solar panel, so it can also purify water and charge a cell phone.
The Bassoul Dignity Foundation donates the Relief Oven to people in need around the world – including people in Syria, Lebanon, Jordan, Turkey and Puerto Rico. (After Hurricane Maria, Bassoul immediately delivered 250 of the ovens to Puerto Rico. Another shipment is being delivered soon.)
KELLOGG MADE A DIFFERENCE
Clearly, Bassoul has an inner spark. But he also credits Kellogg with helping him succeed.
"My Kellogg experience helped me throughout my career –especially as I was turning around Middleby – by teaching me the power of clear communication," he explains. "And I'll never forget the lessons I learned from Professor Alfred Rappaport about creating shareholder value.
"But the most important lesson that Kellogg taught me," Bassoul continues, "is that leading is about creating circles of influence, not circles of power. The foundation has partnered with the United Nations and the Red Cross. Leadership needs to be more cohesive than autocratic."
THERE'S ALWAYS TIME
Bassoul understands that people are busy – with careers, with kids, with life. But he hopes to inspire others to do what they can to help those who need it. For example, Bassoul is leveraging his circle of influence to engage CEOs of other companies, including Sysco and Arcelik, and involving them in the effort to distribute the Relief Oven in the areas of need.
"Don't just write a check," he emphasizes. "That doesn't have the multiplier effect that really getting involved can create. Get on the ground, find out what people need – and use your core competency to help. You have the time."
Stay in touch with Selim Bassoul by visiting the Kellogg Alumni Directory via KelloggConnect.