Marketing Healthcare Products
For Pharmaceutical, Biotech, Diagnostics, and Medical Device Marketers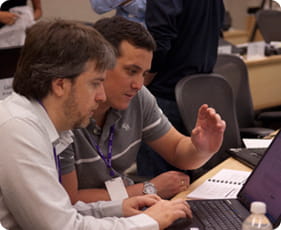 Without question, the healthcare and medical products industry is in the midst of rapid change. Mergers, alliances, consolidations, innovations and legislative changes are presenting both challenges and opportunities. We are in an era of big winners and big losers, as well-known brands are rising or faltering in the face of new products and competitors.
This program will help you understand how to navigate this ever-shifting landscape, learning from the mistakes — as well as the achievements — of executives, companies and industry segments. In the company of faculty and peers who know the industry best, you'll engage in deep discussions about trends and innovations that are reshaping healthcare and how to leverage these changes to create powerful marketing strategies.
Program Materials
Brochure

Download a brochure to learn more about the program.

Application

Download an application and apply today.
Connect with the Kellogg School of Management and stay up to date on the findings from our latest research. Followers of Kellogg will receive updates on trends in executive education and upcoming courses at the Kellogg School of Management.