Participant Life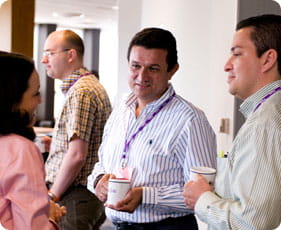 Our executive education programs offer participants much more than intensive, practical programs. Executive education students also build lasting rapport with members of the world-renowned Kellogg faculty and 
networks with classmates
from all over the world. 
Kellogg Executive Education
gives working professionals another very important thing they can't get at the office: time to step back and reflect.
It can be difficult — if not impossible — to drive real change in an organization amid a barrage of daily responsibilities. That is why executives reside in the
James L. Allen Center
, a lakefront living-learning facility designed especially for executive education, for the duration of their programs.
Complete with a dedicated staff,
classrooms and study group rooms
,
bedrooms
,
dining rooms
, workout facilities, an extensive art collection, and other
amenities
, the center provides spaces to study, socialize, network, rest, run, eat, sleep and — perhaps most importantly — think critically and creatively about your organization and your contribution.
Past participants have told us that coming back to the Allen Center for subsequent programs is like returning home.
Connect with the Kellogg School of Management and stay up to date on the findings from our latest research. Followers of Kellogg will receive updates on trends in executive education and upcoming courses at the Kellogg School of Management.

LEARN ABOUT | Negotiation | Leadership | Brand Management | Data Analytics