Immediate Results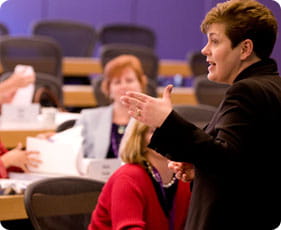 Though our faculty are at the forefront of business theory,
executive education
at Kellogg is not strictly an intellectual exercise. The real value of an executive education program lies in the knowledge and strategies our participants can implement immediately upon returning to work.
Each program has unique components, but most programs combine discussions, case studies and interactive exercises. Participants work in study groups to prepare exercises and projects for class discussion. In many of our programs, participants are asked to take part in "action-learning" exercises designed to help them identify opportunities to apply what they have learned at
Kellogg
to challenges they are facing at work. These exercises include formal time for personal reflection on lessons learned, development of plans to implement new strategies back at work, and class presentations designed to share the high points of these reflections and plans with the rest of the class.
Along with the insights our
faculty
provide, participants leave our executive programs with new frameworks, diagnostics, surveys and benchmarks they can put to immediate use at work. These tools yield tangible, measurable results, which is one reason why first-time participants often return to attend additional programs.
Read one CEO's story about the impact of executive education on his company.
Connect with the Kellogg School of Management and stay up to date on the findings from our latest research. Followers of Kellogg will receive updates on trends in executive education and upcoming courses at the Kellogg School of Management.

LEARN ABOUT | Negotiation | Leadership | Brand Management | Data Analytics