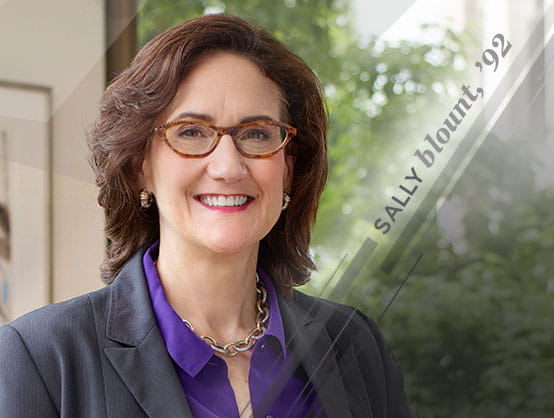 Sally

Blount '92

Dean / Kellogg School of Management; Michael L. Nemmers Professor of Management & Organizations

She has been featured in top news outlets such as The Wall Street Journal, Financial Times, Forbes, The Economist, Bloomberg Businessweek, Fortune and MSNBC.
Dean Blount is a director at Abbott Laboratories.
Dean Blount was also the co-chair for the World Economic Forum on Latin America in 2012.
Previously, Blount was dean at New York University's Stern School of Business.
An internationally recognized thought leader in management, negotiation and behavioral decision-making, Dean Sally Blount brings more than 25 years of experience in business education. Since taking the helm at Kellogg in 2010, Blount has made significant progress in advancing a bold, seven-year plan for the school, setting repeated fundraising records with the school's $350 million "Transforming Together" campaign, constructing a 410,000-square-foot lakefront global education center scheduled to open in early 2017 and expanding Kellogg's premier Executive MBA Global Network.
---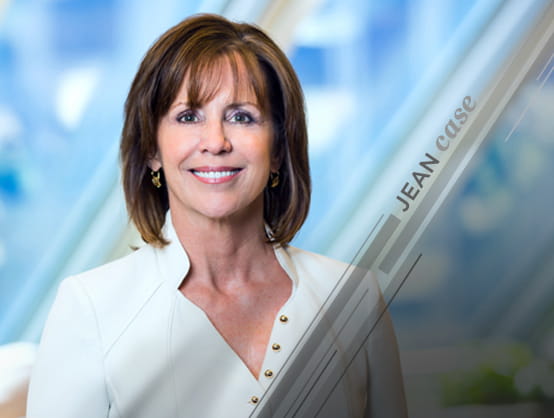 Jean

Case

CEO / The Case Foundation

An industry pioneer in impact investing and inclusive finance, Jean served on the U.S. National Advisory Board for the G8's Social Impact Investing Task Force.
Jean was recognized by the Washington Business Journal as Corporate Philanthropist of the Year.
Jean is a former tech executive, and led AOL's communications strategy during the company's IPO.
Jean is Chairman of the National Geographic Society Board of Trustees, and has chaired the President's Council on Service and Civic Participation and co-chaired the US-Palestinian Partnership.
Jean Case is an actively engaged philanthropist, investor and a pioneer in the world of interactive technologies. Her career in the private sector spanned nearly two decades before she and her husband, Steve Case, created the Case Foundation in 1997. The Case Foundation is recognized for its innovative efforts to address significant social challenges, harnessing the best impulses of entrepreneurship, innovation, technology and collaboration to drive exponential impact.
---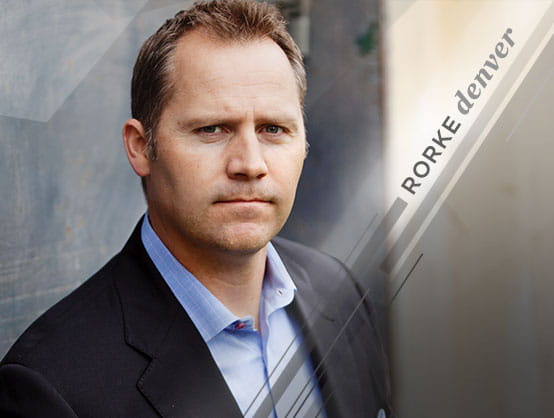 Rorke

Denver

Actor, Author, Former United States Navy SEALs Commander

Rorke was awarded the Bronze Star with "V" for valorous action in combat.
Rorke has written two books. Damn Few: Making the Modern SEAL Warrior takes readers inside his personal story and the fascinating, demanding SEAL training program. In his second book, Worth Dying For: A Navy SEALs Call to a Nation, Rorke tackles the questions that have emerged about America's past decade at war – from what makes a hero to why we fight and what it does to us.
Rorke starred in the hit film Act of Valor, which is based on true SEAL adventures.
Commander Rorke Denver has run every phase of training for the U.S. Navy SEALs and led special-forces missions in the Middle East, Africa, Latin America and other international hot spots. In 2006, Rorke was officer in charge of BRAVO Platoon of SEAL Team THREE in Iraq's Al Anbar Province in one of the most combat-heavy deployments of any regular SEAL team since Vietnam. He holds a Bachelor of Arts degree from Syracuse University, where he was an All-American lacrosse player and captain of the varsity lacrosse team. He earned a Master of Science in Global Business Leadership from the University of San Diego.
---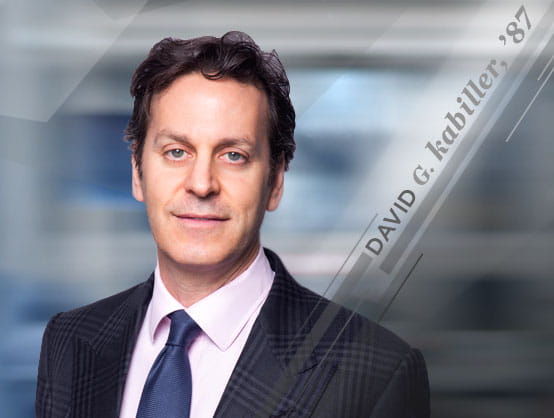 David G.

Kabiller '87

Founder and Head of Business Development / AQR Capital Management

David is a CFA charterholder and has co-authored papers on topics including derivatives, enhanced indexation, securities lending, insurance-linked securities, hedge funds and the secret of Warren Buffett's investing acumen.
David received an athletic scholarship to play tennis at Northwestern University and was named to the Big Ten's Academic All-Conference team.
He founded the Kabiller Prize and the Kabiller Young Investigator Award for researchers in nanoscience and nanomedicine, and established NU for Life, a program dedicated to the professional development of Northwestern student-athletes.
David G. Kabiller is a Founder and the Head of Business Development at AQR, overseeing client relationships, business development and strategic initiatives. He initiated AQR's international growth and its introduction of mutual funds as well as the creation of the "AQR University" symposia series and the AQR Insight Award for outstanding innovation in applied academic research. He earned his Bachelor of Arts in Economics and his Master of Business Administration from Northwestern University.
---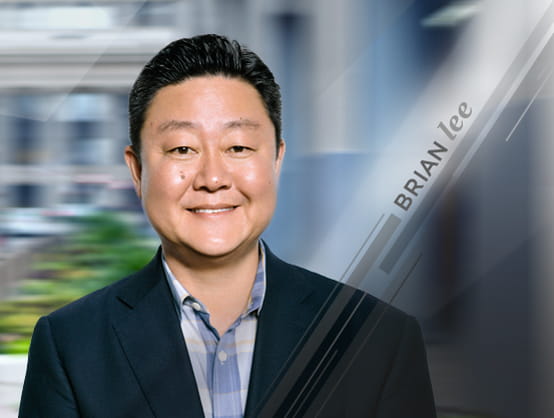 Brian

Lee

CEO / The Honest Company

Brian founded The Honest Company with Jessica Alba in 2012.
A serial entrepreneur, Brian also founded LegalZoom and ShoeDazzle.
In 2009, Brian was named one of the 25 Most Notable Korean-American Entrepreneurs by Forbes.
Brian Lee is Chief Executive Officer of The Honest Company, which he launched alongside Jessica Alba in 2012 with a mission to inspire people to live a happy and healthy life. Since its inception, The Honest Company has been honored with a wide range of recognitions and awards, including the Ernst & Young Entrepreneur of the Year – Los Angeles Region, ACG Award for Social Responsibility, PC Magazine's Seal of Consumer Approval in Tech, and an Allure Best of Beauty Award.
---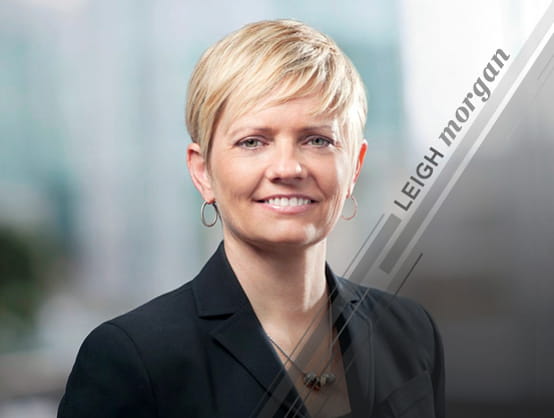 Leigh

Morgan

COO / The Bill and Melinda Gates Foundation

Leigh is the Chief Operating Officer for the largest transparently operated private foundation in the world
Leigh manages an organization with an endowment of $44.3 billion
A former higher education leader and biotech executive, Leigh was Associate Chancellor at the University of California San Francisco, and Vice President and Global Head of Human Resources, Product Development at Genentech.
Leigh was the starting point guard while a student at Duke University.
Leigh Morgan is Chief Operating Officer at the Bill and Melinda Gates Foundation, one of the largest transparently operated private foundations in the world. Her leadership experience spans the corporate, public, nonprofit and philanthropy sectors with a focus on M&A, governance, operations and leading organizations through dynamic change. In her current role, Leigh manages an organization with an endowment of $44.3 billion and is a key driver of the foundation's transformation efforts.
---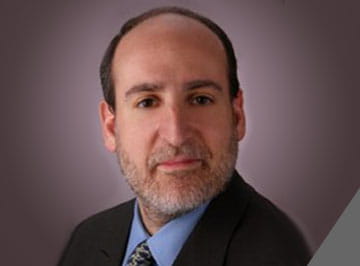 Paul

Leinwand '98

U.S. Principal / Strategy&

Paul Leinwand is a U.S. Principal with Strategy&, PwC's global strategy consulting business, based in Chicago. Co-author of Strategy That Works (Harvard Business Review Press, 2016), Paul advises clients in the areas of strategy, growth and capability building, with a focus on the consumer product and retail sectors. Leinwand also co-authored, The Essential Advantage: How to Win with a Capabilities-Driven Strategy and Cut Costs and Grow Stronger, as well as several articles in the Harvard Business Review and strategy+business. Before joining Strategy&, Leinwand worked for Federated Department Stores/Macy's. He currently teaches at Kellogg as an Adjunct Professor of Strategy.