By Chris Serb '09
In the past two decades, Charlie Baker '86 has moved seamlessly between public service and the business world.
| | |
| --- | --- |
| | |
| | Charlie Baker '86 |
| | |
| | |
Baker's 10-year tenure as CEO of Harvard Pilgrim Health Care followed stints in the Massachusetts Cabinet as secretary of health and secretary of finance and administration. But none of Baker's experiences in either public or private management quite prepared him for the rigor of his current role: candidate for Massachusetts governor.
Baker is one of a number of Kellogg alumni running for public office this fall. While government traditionally has been an "industry" dominated by law-school grads, the prevalence of Kellogg alumni on the campaign trail is no coincidence.
"Teamwork is essential to being successful in politics; you can't be a loner in politics and expect to win," says Donald Haider, professor of management and strategy and social enterprise and director of Kellogg's Center for Nonprofit Management. "Kellogg's focus on working in teams and the integration of experiential learning give the school a very vibrant life. That's a great resource for someone who wants to enter public service."
Indeed, the school's focus on collaboration has been a boon to the alums on the campaign trail.
"I think the biggest thing Kellogg taught me is that management and leadership is a team sport," Baker says. "Kellogg is all about playing for the team name on the front of the jersey, not the individual name on the back of the jersey. That matters in private enterprise but even more so in public service. You can't get things done if you can't figure out how to create consensus around the direction you want to go."
A nontraditional career path
Baker's path might not be that of the typical Kellogg graduate, but it's a direction he set even before he enrolled at the school.
"On my application, I stated that my career goal was to run a big public agency or a big not-for-profit," says Baker, a Republican. "I didn't want to go to a traditional government school; I wanted to go to a business school where someone interested in both public service and private enterprise could get a management degree, from an institution that appreciated excellence in both arenas. I went to Kellogg fully expecting to work in both the public and private sectors at some point."
| | |
| --- | --- |
| | |
| | John Hoeven '81 |
| | |
| | |
That kind of career versatility wasn't front-and-center for John Hoeven '81 when he attended Kellogg. The finance and accounting major went straight from Evanston into a banking career in his native state of North Dakota. But as he rose in the industry to become president and CEO of the state-run Bank of North Dakota, he saw an increasing number of opportunities to get involved in public affairs.
"I was very active in economic development, both on a volunteer basis as well as through my work," Hoeven says. "North Dakota is largely agriculture-based, and I wanted to get involved in growing, expanding and diversifying our economy."
In his initial foray into politics, Hoeven, a Republican, ran for governor in 2000 — and won. After easily winning re-election in 2004 and 2008, he set his sights on a new challenge in 2010: the U.S. Senate.
"Many of the same reasons that led me to run for governor led me to run for Senate," Hoeven says. "Number one, I want to focus on creating jobs and getting our economy going. And number two, I think it's important to exercise fiscal discipline so we can get on top of our massive federal debt."
The federal government, in Hoeven's view, would do well to regard itself more as a business, with cost controls, a customer-based focus on delivering value to the taxpayer, and planning that focuses on long-term goals rather than just getting through the annual budget cycle.
Also critical is the issue of leadership — and there again, Hoeven says, MBAs in government are in short supply.
"A background in management yields a very clear vision of where you want to go and what it's going to take to get there," Hoeven says. "That business-school ability is very important these days, with the challenges we face."
| | |
| --- | --- |
| | |
| | Scott Summers '76 |
| | |
| | |
Among Kellogg's political candidates, Scott Summers '76 may be the biggest underdog: He is the Green Party candidate for Illinois treasurer.
"What I'm doing has extremely long odds, and I'm OK with that," Summers says. "I was really disenchanted with the big-party political process here in Illinois, so I decided to join the Green Party."
Summers majored in public management, and credits Kellogg for bolstering that discipline long before many other business schools did. His work at Kellogg led directly to executive-level jobs at government planning agencies in the 1970s and 1980s. He later went to law school, and has run a solo private practice for the last 20 years. Meanwhile, he continued to pursue public service on a volunteer basis, serving a stint as a trustee of McHenry County College in Crystal Lake, Ill.
"Kellogg moved onto the right track by supporting the public management major and the idea that an MBA can lead to public service," he says. "There's plenty of room for MBAs in public service, and I'd recommend it to colleagues and alums — especially to people my age, who are nearing the end of their career trajectories."
Lessons retained
Just north of Kellogg's Evanston campus is Illinois' 10th District, where Republican Bob Dold '00 is seeking the open Congressional seat.
Dold is facing spirited opposition in a closely watched race. To improve his odds, he has leveraged his Kellogg connections throughout his run.
"From a financial perspective, I've gotten the support of many folks in my class, both Democrats and Republicans, and have started reaching beyond my class," says Dold, who notes that his 10-year Kellogg reunion this year proved to be a great opportunity to tap the Kellogg network. "Those Kellogg contacts have helped in areas beyond just financial support, in areas of policy and other places where we're looking for additional advice."
Dold hasn't quit his day job as president of Rose Pest Solutions, a family-owned extermination company based in Northfield, Ill. And that leads to some hectic days on the campaign trail.
"On a slow day, you might have five meetings. On a busy day, you have more than 15," Dold says. "You're making calls, reaching out to people, shaking hands, talking to businesspeople, making yourself available to constituents, trying to raise money for your media campaign. It's a never-ending process. The day ends and your plate is more full than it was when you woke up in the morning."
Still, Dold perseveres, largely because of what he learned about teamwork at Kellogg.
"At Kellogg, you got tremendous amounts of work done — not because you were afraid of the professor, but because you didn't want to let the team down," Dold says. "I feel that positive peer pressure on the campaign trail in the same way. My constituents, supporters and contributors are my team now. Just like with my Kellogg teams, I want to do everything possible to make sure I don't let this team down."
| | |
| --- | --- |
| | |
| | Scott Gessler '96 |
| | |
| | |
Scott Gessler '96 gives similar credit to lessons learned from Kellogg teamwork. But the structure of the Part-Time MBA program may have benefited the Kellogg grad just as much in his quest to become Colorado's secretary of state this fall.
"The campaign trail has a lot of time pressures, but I've been through that before when I went through the nighttime MBA program," says Gessler, an attorney who specializes in election law. "You went to work during the day, went to class at night, and tried to study whenever you had the chance. Time management was a big issue, but that helped prepare me for this race."
Gessler also credits Kellogg with giving him a broad range of tools to succeed on both the campaign trail and in office. He cites the predictable fields of accounting and finance, but also embraces the insights gained from unlikely areas such as marketing research, organizational behavior and statistical analysis.
"I'm happy with the tools that Kellogg gave me and with the Kellogg experience overall," Gessler, a Republican, says. "I've used them in my law firm, and with all of the budgeting and management issues we're facing, those skills will be critical in the secretary of state's office."
Focusing on ideas
The ideas that Kellogg's politicians are promoting this fall are, understandably, centered on business. Summers advocates a form of microfinance, creating small loans for entrepreneurs in blighted parts of Illinois. Hoeven hopes to encourage free enterprise by reducing regulatory and tax burdens, while using his banking background to help tackle federal debt. Dold wants to create jobs while reining in federal spending. Baker seeks to improve Massachusetts' competitive climate.
All the Kellogg candidates are confident in their ability to tackle these huge and growing issues if elected. Some even liken the challenges of digging into budgets or developing tax policy to the case-cracking they once performed as Kellogg students.
"We need to come up with solutions to problems instead of putting up roadblocks," Dold says. "That problem-solving is what we did in business school every day. Lawyers are trained to protect and be defensive, but business gets things done and makes things happen."
Baker agrees. "The kind of people who graduate from Kellogg are the ones who can make organizations perform better than before," he says. "More than ever in the public sector, we need to come up with ways of improving performance and efficiency, and Kellogg is full of people who can do that. I think the world would be better off if more people from Kellogg got involved in public service."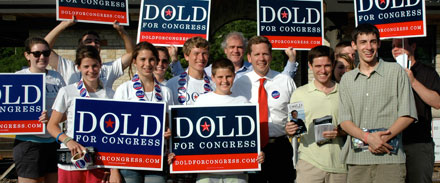 Bob Dold '00