Kellogg honors the late Keith Murnighan
Harold H. Hines Jr. Distinguished Professor of Risk Management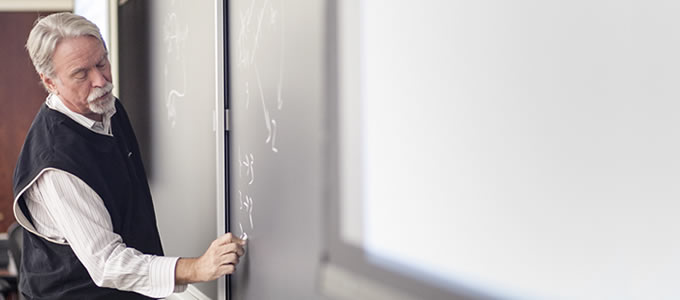 With the passing of Keith Murnighan in June 2016, Kellogg continues to honor his accomplishments, influence and involvement that spanned far beyond the Kellogg classroom.

Murnighan joined Kellogg in 1996 as a faculty member and went on to serve as a leading member of Kellogg's intellectual community, pioneering groundbreaking research in behavioral game theory and making major contributions to the fields of conflict resolution, management and organizational studies.

"Keith was a prolific and profound writer and a dedicated and award-winning teacher with great skill and an unusual ability to engage students in the classroom," says Dean Sally Blount '92. "His intellect and vibrancy is deeply missed by all of us in the Kellogg community."

Along with publishing more than 130 academic articles and seven books, Murnighan's accomplishments include receiving the 2015 International Association for Conflict Management's (IACM) Lifetime Achievement Award, the Distinguished Educator Award from the Academy of Management and an honorary doctorate from the University of London. In announcing the lifetime achievement award, IACM President Anne Lytle '94 praised Murnighan for raising the profile of organizational behavior as a discipline in business school education.

"Not only has he been a prolific researcher and writer, but he has done so in a variety of disciplines and across a wealth of topics, demonstrating incredible flexibility in his intellectual accomplishments," Lytle said in a 2015 interview. "Keith's research has been some of the most creative and widely read in our field."

Keith was most proud of his many doctoral students who are now professors at leading management schools throughout the world. He was broadly viewed as one of the nicest, smartest and most interesting people in his field.

With Murnighan's passing, graduating EMBA students established the Keith Murnighan Scholarship Fund (kell.gg/kmscholarship) to honor his legacy of intellectual accomplishments and the lasting and profound impact he has made on Kellogg.