Kellogg brings lifelong learning program to alumni
in collaboration with CISCO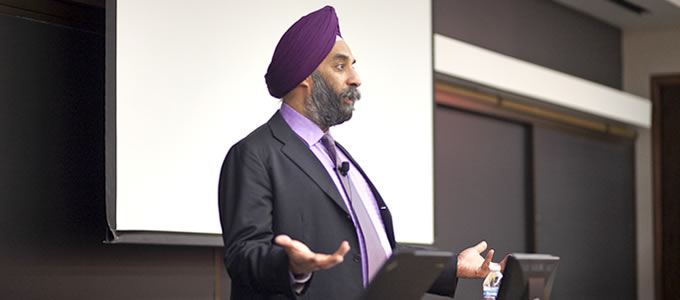 This winter, Kellogg introduced a new immersive learning experience for alumni across the globe, focused on developing Kellogg leaders' talents and giving them lifelong skills to utilize in their careers. "The idea is to provide continuous access to the best Kellogg thinking throughout the careers of our alumni," says Professor
Mohan Sawhney
, McCormick Foundation Chair of Technology, leader of the initiative from the beginning.
The pilot series, titled The Competitive Edge, invited Kellogg alumni to six, 90-minute sessions, where leading Kellogg faculty shared their thoughts and insights for practical application in today's business world.
The series brought state-of-the-art learning opportunities to alumni around the world using Cisco's TelePresence technology to replicate the full classroom experience without the need to travel to Evanston. Involved in the program were 60 alumni located across eight cities throughout the United States, including Chicago, Boston, San Francisco, New York, Dallas, Seattle and Washington, D.C.
"With this series, we've opened up the classroom experience and latest thinking from top Kellogg professors to the entire Kellogg community around the globe," says John Parker, clinical assistant professor and senior program director of executive education. "We plan to build on our success with similar programs in Asia Pacific, Latin America and Europe in 2017. The future is now!"
Delivered in full partnership with Kellogg, Cisco technologies, which has also equipped the Global Hub with a wide range of TelePresence technology, provided the technical infrastructure in each of the eight locations, using their superb TelePresence hardware and WebEx and Spark software product offerings to deliver a one-of-a-kind innovative and immersive learning experience. "[The most appealing aspect was the] ability to listen to top Kellogg professors give a high-level overview on timely topics and share current best practices that may have changed significantly since graduation," explains Chicago program alumnus
Mark Smolenski '03
. "The cost and convenience cannot be beat. Everyone in the classroom has a Kellogg MBA, which sets a 'ground floor' for the quality of conversations and debates in the classes."
Through this program, Kellogg hopes to continue its efforts in building a mode of lifelong learning for alumni as the school expands its global reach.