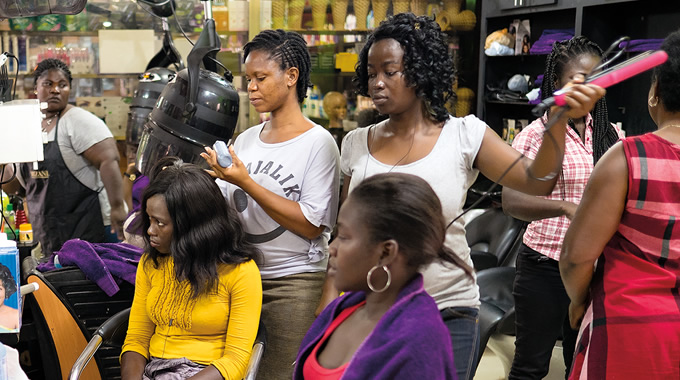 Serving Beauty
With SLID Industries, Sandy Osei-Agyeman '77 tends to the image-conscious
As economies and standards of living improve, Africans are becoming more aware of the clothes they wear, the brands they buy and their own standards of beauty.
Sandy Osei-Agyeman, the founder of SLID Industries, is hoping to tap into Africans' growing attention to their appearance.
"It's a global phenomenon, and it's not just limited to the West," he said. "The influx of African people now traveling outside [the continent] means there is now an exposure to everything from the outside. They are exposed to what they see through television or the movies, and they see advertisements. And now they believe in beauty."
Indeed, the growing popularity of his company's hair and skin products serves as evidence of the transformations underway in the region.
Osei-Agyeman began in the banking industry, but soon after graduating from Kellogg decided to strike out on his own. He took the skills he learned from banking — particularly in credit and risk analysis — and his penchant for crunching numbers and applied it to a new venture: He co-founded Chicago-based Afam Concept, a hair-care company catering to people of color.
"The hair-care industry was pretty much in its infancy, and I noticed that Africa was pretty much neglected," he said. "There was good potential in that industry, so that's why we chose it."
In 2001, Osei-Agyeman moved his family to his native Ghana to work full time on his new company, which manufactures and distributes hair and skin products under the brands MVP (for "Most Valuable Product") and RICH SKIN across sub-Saharan Africa, including Nigeria, Togo, the Ivory Coast and South Africa.
"The potential is there to grow a huge market," he said.
Because most of his raw materials are imported from the United States, his products aren't cheap. Many of his products are sold directly to hairdressers. His primary customers are Africa's affluent and status-conscious residents.
"We can build on that premium brand, but we can also expand that market by going for customers who want lower-priced items," said Osei-Agyeman.
His next steps include developing new products that appeal to that broader market, not just the affluent. "[They] still want to use the product but cannot afford the prices," he said, "so you have to do something and provide something comparable."
NEXT: New growth, new opportunities »