Kellogg Magazine
|
Alumni Wire
Class Notes

1960s
1968-FT
Jerry Juska
Jerry has a new textbook, Integrated Marketing Communications: Advertising and Promotion in a Digital World. It is a concise, complete and practical publication for MBA students, entrepreneurs and aspiring business executives. Jerry's business experience includes advertising management positions at Fortune 500 companies. After earning his doctorate at Northwestern, he taught marketing courses at five universities, including one in Switzerland. Copies of his book are available on Amazon.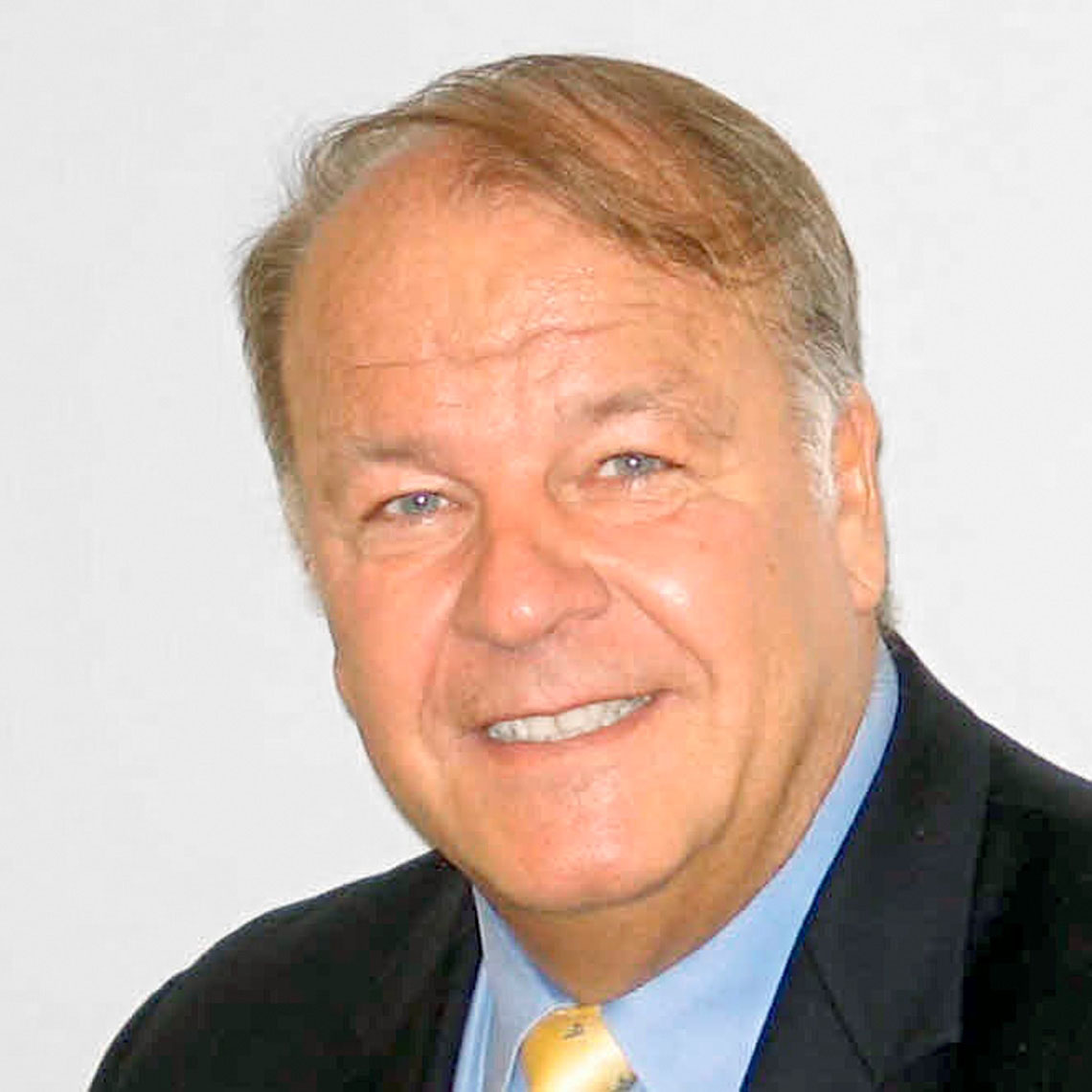 1970s
1972-E&W
George Nassos
After leaving academia for six years, George was contacted by DePaul University Driehaus College of Business last year and is now the director of the MS in Sustainability Management program. He plans to develop a world-class program in environmental and social sustainability, as he had done previously at IIT-Stuart School of Business.
1974-FT
David Martinov
Dave, pictured at the Hawks game a few years ago, is retired in Dunedin, Florida. He would love to reconnect with the old crew: Larry Short, Ben McKnight, the Laures twins, Jim Mortimer and many others.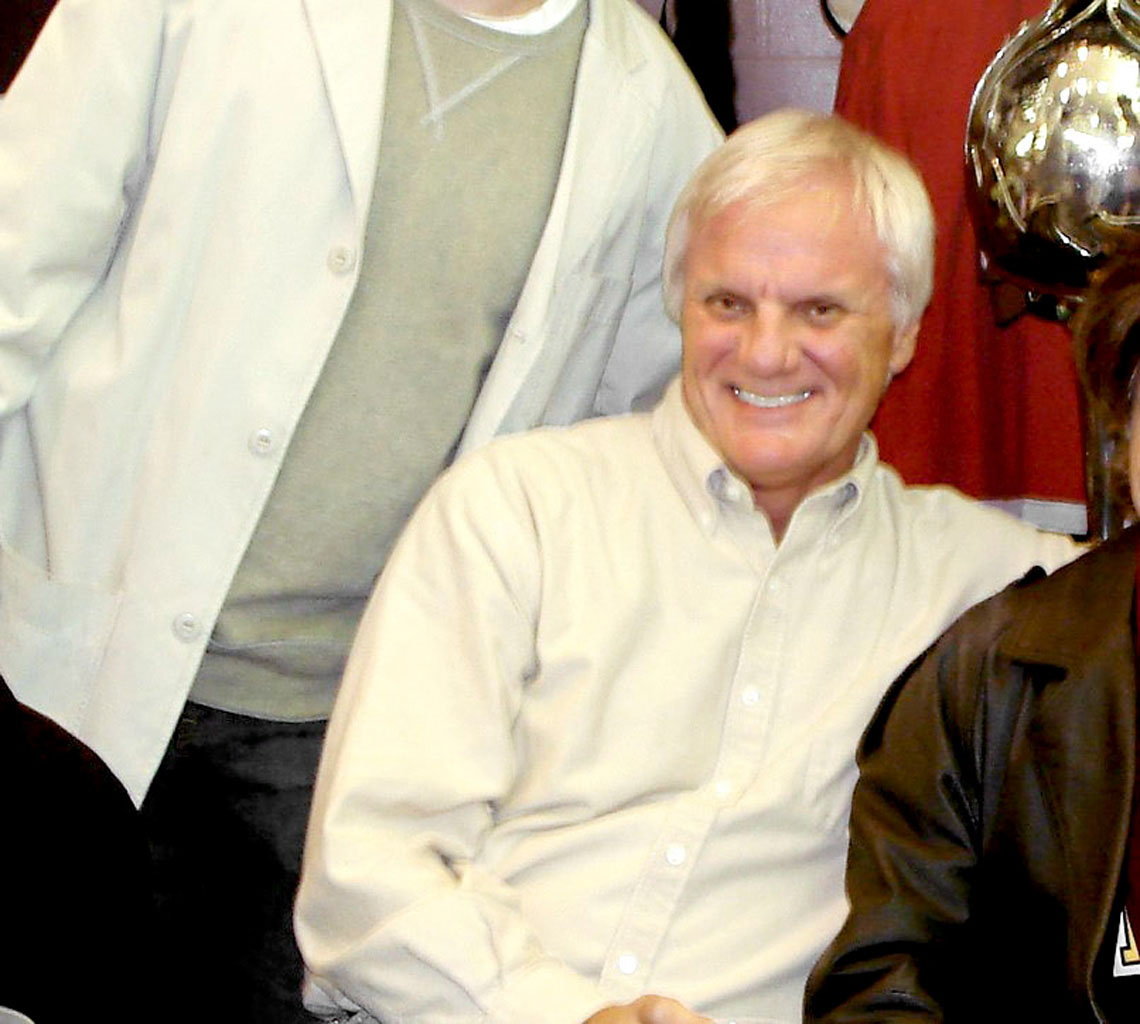 1975-FT
Pamela Snite Kerr
In June 2017, Pamela received the "Service Above Self Award" from Rotary International in recognition of the years she has been chairing Rotary HealthRays — a digital X-ray project bringing X-ray technology to the very poor in Guatemala through Rotary Global Grants and partnerships with the Guatemalan Ministry of Health and the Pan American Health Organization.
Carolyn Williams Meza
Carolyn was named senior associate dean and chief of staff at the University of Chicago's Institute for Molecular Engineering in September 2017.
Roy Taylor
Roy is still working and having fun at 68. He's chief architect at Commerce Bank and challenges his classmates to see who will continue working the longest. :)
1975-E&W
Judi Longmeyer
Judi co-chaired the Association of Zoo and Aquarium Docents and Volunteers (AZADV) national conference in Phoenix this past April. She's pictured at right, alongside co-chairs Cindy Becko and Mary Anne Lefevre, introducing Phoenix Zoo CEO Bert Castro at the opening ceremony. She and her co-chairs were recognized by the zoo for their community service with the Good Egg Award (in this case a make-believe giraffe egg).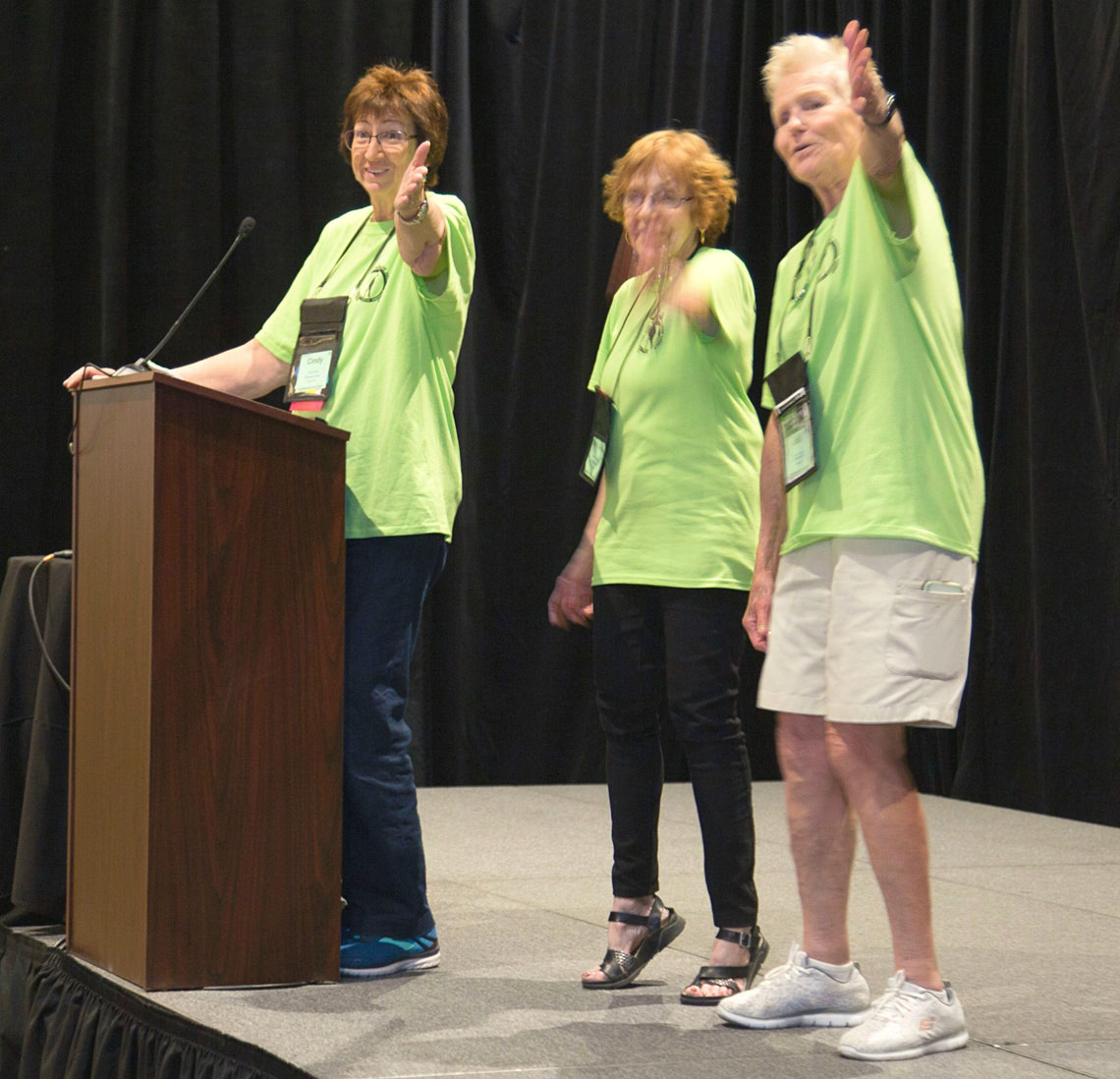 1978-E&W
Mike Rossmeier
Mike has spent most of his career in middle market commercial banking, including at American National Bank, Bank One and JP Morgan Chase. He especially enjoyed the diversity of businesses and working with the entrepreneurs. Currently, he is working on several startups.
1979-FT
John Erickson
John and his wife, Jane, celebrated the wedding of their son JP (James Peter) in Thousand Oaks, California, last November. John fills retirement, in part, as an elder at his church and uses his JLK Finance degree as a member of endowment and capital campaign committees at church, too.
Richard Jaffe
The Kellogg GSM and Marriage Bureau continues to have great influence on the lives of Rick and Françoise (née Lauris, ESSEC Exchange Program '78, PhD '88) Jaffe, as they have been married for nearly 39 years. Rick uses his Tim Hall organizational behavior skills every day, as well as his Ted Murray management skills and his Al Rappaport valuation thinking. Rick reports that even Lou Stern and Brian Sternthal managed to pound some marketing into his engineering brain. Rick used his Uri Dothan theoretical finance skills every day for three decades as chief technology officer and partner for a low-risk equity arbitrage stock and option trading firm until he retired several years ago, to an ever-growing mountain of volunteer work.
1980s
1980-FT
Ted Judson
Ted just returned from his 45th Trinity College reunion. One of the most interesting experiences was how his classmates' children are approaching their early-stage business careers. He was asked by classmates/parents: In today's entrepreneurial business marketplace, what role does a two-year MBA education offer? It's the value of exposure and intelligent analysis of all the immense startup options and the quality of fellow student relationships they built at Kellogg.
David Spitulnik
David's book, Becoming An Insightful Leader, was published in June.
1981-FT
Patricia de Verteuil Anastos
With sons Peter (artist) in Chicago and Daniel (engineer) in Kenya, and daughter Emily off to University of Richmond, Trish is having fun growing her executive coaching business. She collaborates often with Margaret Chan '81 and stays in touch with Liz Riley '81 and Julie Dasher '81.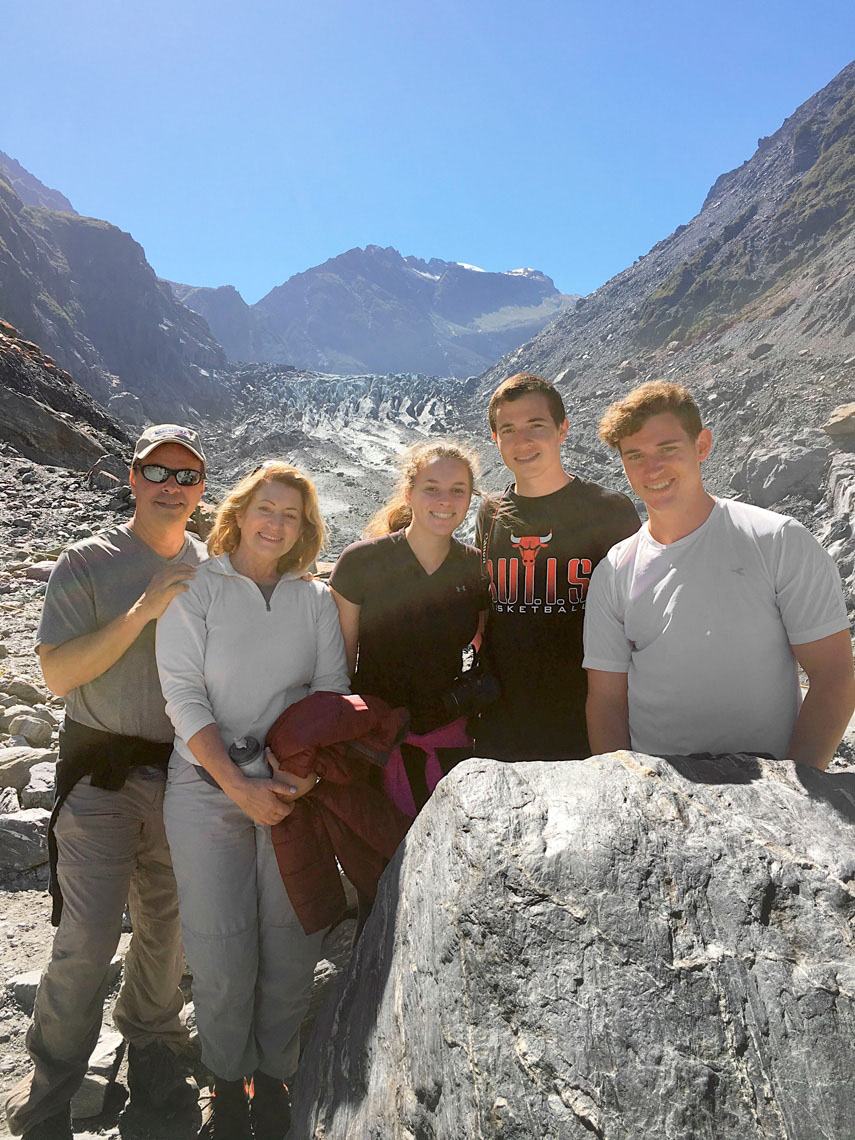 1981-FT
Arthur Holden
Arthur continues to develop and lead large-scale biomedical research consortia to exploit the potential of human genetics to better understand disease and drug response. He is completing his second international effort, The International Serious Adverse Events Consortium, and chairing the organization and launch of The Genomic Resources Consortium. He's happily married to Betsy Holden '82. Both their children currently attend Kellogg, and are pictured, left to right: Andrew '18, Betsy, Arthur and Julie '19.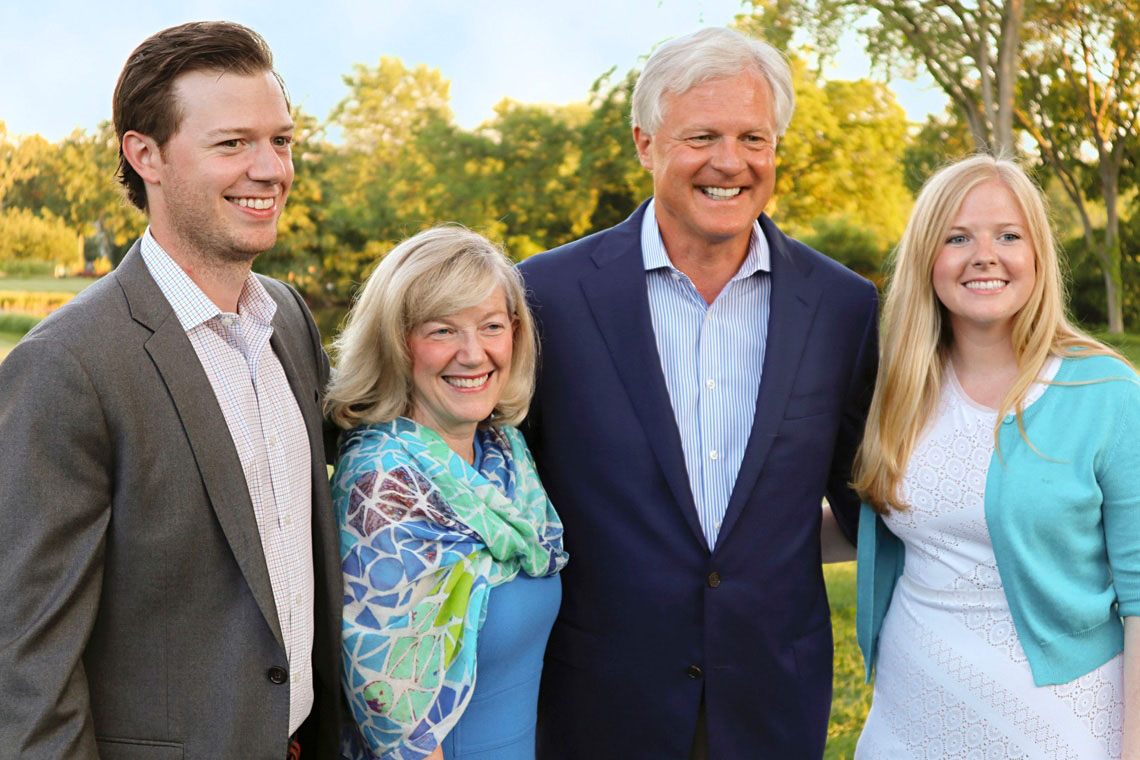 1982-FT
Mark DaSilva
Mark is enjoying leading product management, development and marketing at North American Pipe, which transports the world's most precious resource, water, and provides innovative solutions to meet customers' most difficult challenges. He thanks Kellogg for laying a solid foundation for his career.
David Ing
On Feb. 21, David launched a scholarly book, Open Innovation Learning: Theory-building on open sourcing while private sourcing, in Toronto (pictured). This research was conducted during doctoral studies at Aalto U. in Finland. Pursuit of the degree will continue into next year. The event occurred while David still had his ankle in a cast, from a family parkour adventure celebrating his birthday in December.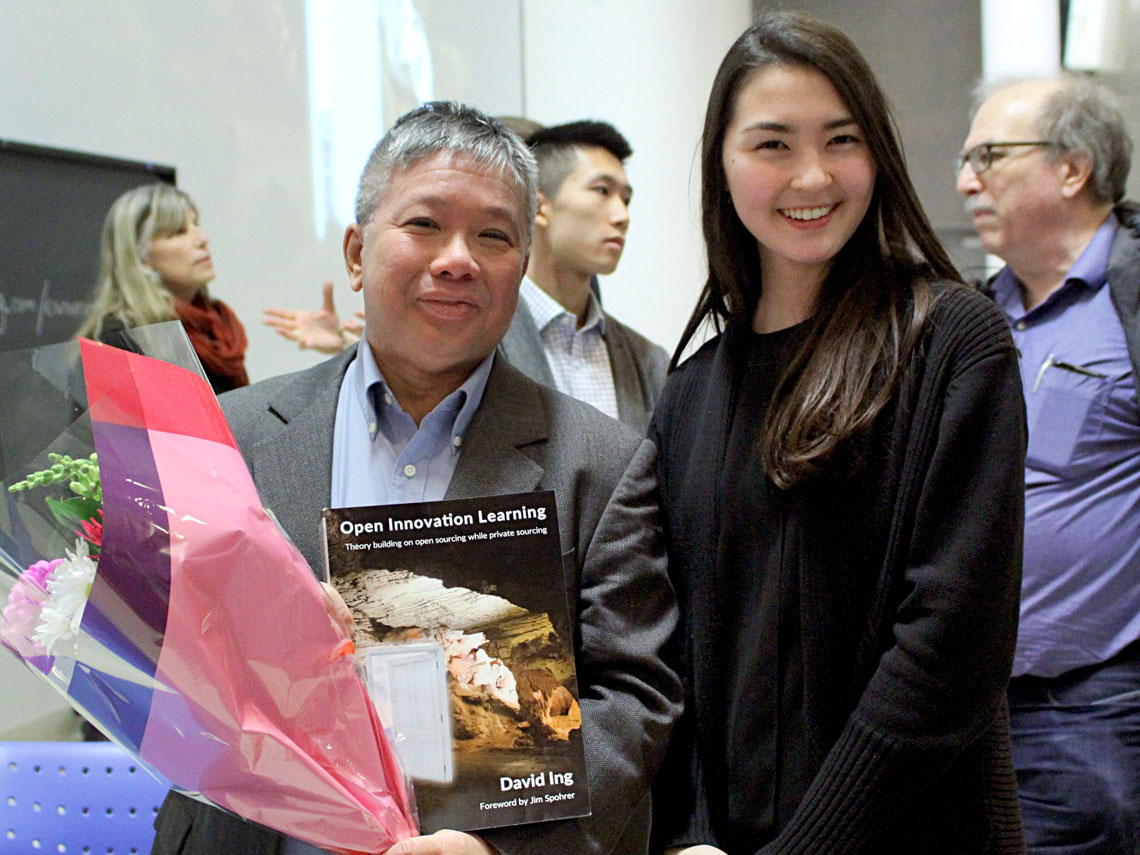 1982-FT
Marcy Lerner Steindler
Marcy was named the 2018 Distinguished Alumnus of Niles West High School in Skokie, Illinois. She is a CPA and principal at Mann Weitz & Associates, an accounting firm in Deerfield, Illinois, and specializes in the compliance and tax issues of nonprofit organizations. Marcy and her husband, Harry, are active community volunteers and parents of three grown children. They live in Deerfield and are devoted Wildcat football season ticket holders!
1983-FT
Cesar Purisima
Former Philippine Finance Secretary Cesar continues to serve as an Asia fellow at the Milken Institute. He is presently chairman of the advisory board at TAEL Partners and is a founding partner at IKHLAS Capital. He sits on the boards of the AIA Group, De La Salle University, Ayala Land, Universal Robina Corporation and the International School of Manila. He also serves as an adviser to the Partners Group's Life Fund Series. Cesar is raising two little toddlers with his wife, Corazon.
1984-FT
Lynnette Barnes Hinch
Lynnette is enjoying her new role, leading innovation for Reynolds Kitchen brands at Reynolds Consumer Products in Lake Forest, Illinois. She has happily re-engaged with Kellogg over the past year thanks to the encouragement of classmate Wendy Weiss Kritt '84! Lynnette participates in the Pete Henderson Society, attended the opening of the Global Hub and recently participated in the Global Women's Summit. She is looking forward to seeing everyone at the reunion in May 2019.
Lewis Hunt
After more than 30 years in the railroad business, Lewis seized the opportunity to retire from full-time employment and is now focused on opportunities working directly with rail shippers.
Wendy Weiss Kritt
Wendy joined Kellogg as chief marketing officer in 2016 after leaving her 30+ year career at Kraft Foods, and is enjoying her new role as managing director of Alumni Engagement and Networking. She has loved reconnecting with many classmates over the past year and is really looking forward to the next reunion, May 3—4, 2019. She hopes to welcome everyone back on campus next year!
Bob Sanfilippo
Bob moved into nonprofit management in April when he was named executive director of Counseling Center of the North Shore (CCNS), a nonprofit mental health and wellness center in Winnetka, Illinois. Bob had been on the board of directors of CCNS since 2013.
1985-FT
J. Bryan Bennett
Bryan published his second book, titled Prescribing Leadership in Healthcare, in January 2018 [pictured, right, with Merrill Osmond (from The Osmonds) at a recent healthcare conference]. It is available on Amazon and the Healthcare Center of Excellence website at healthcarecoe.org. In April 2018, Bryan was named one of "50 Great African-American Leaders in Healthcare to Know" by Becker's Hospital Review.
1986-FT
Cindi Bigelow
Cindi Bigelow was one of the steering committee members and panel speakers at th Kellogg's inaugural Global Women's Summit this past May. Besides having an opportunity to connect with a huge number of fantastic Kellogg students and alumni, she also got to spend time enjoying Chicago with fellow classmate Christina Schmitt Fawcett '86.
Craig Brennan
Some start early. Some start late. Craig is just glad he started! Craig and his husband Erick have twin 2.5-year-old boys, Christopher and Connor, born in Kathmandu, Nepal (pictured). Fellow classmates "Aunt" Nikki Pope '86 and "Uncle" Kirk Elliott '86 have enjoyed time with the boys. When not busy being a dad, Craig coaches/advises/mentors tech startups.
Willie Kotas
Willie returned to Miami after 12 years in Brazil and has focused on higher education. He helps MBA candidates apply to top-tier programs, teaches courses at the University of Miami and is an officer in the South Florida Kellogg and Northwestern alumni clubs.
1987-FT
Chip Bailey
Chip and Lorenzo Tan '87 have enjoyed getting together in San Francisco and Manila, the Philippines. Chip and Barb (Sandy) Golub '87 have reconnected recently when Barb joined the Kellogg Alumni Council.
Barb (Sandy) Golub
Barb joined the Kellogg Alumni Council, which facilitates efforts for alumni to network and engage in learning. She attended the Kellogg Global Women's Summit, which focused on issues unique to women across their career journeys. Barb re-entered the workforce after a break to raise her three kids, and is director of partnerships for Path Forward, a nonprofit that helps companies develop and implement return-to-work internships for people who took a career break for caregiving. Pictured: Barb with Wendy Weiss Kritt '84 (Kellogg's Managing Director, Alumni Engagement and Networking).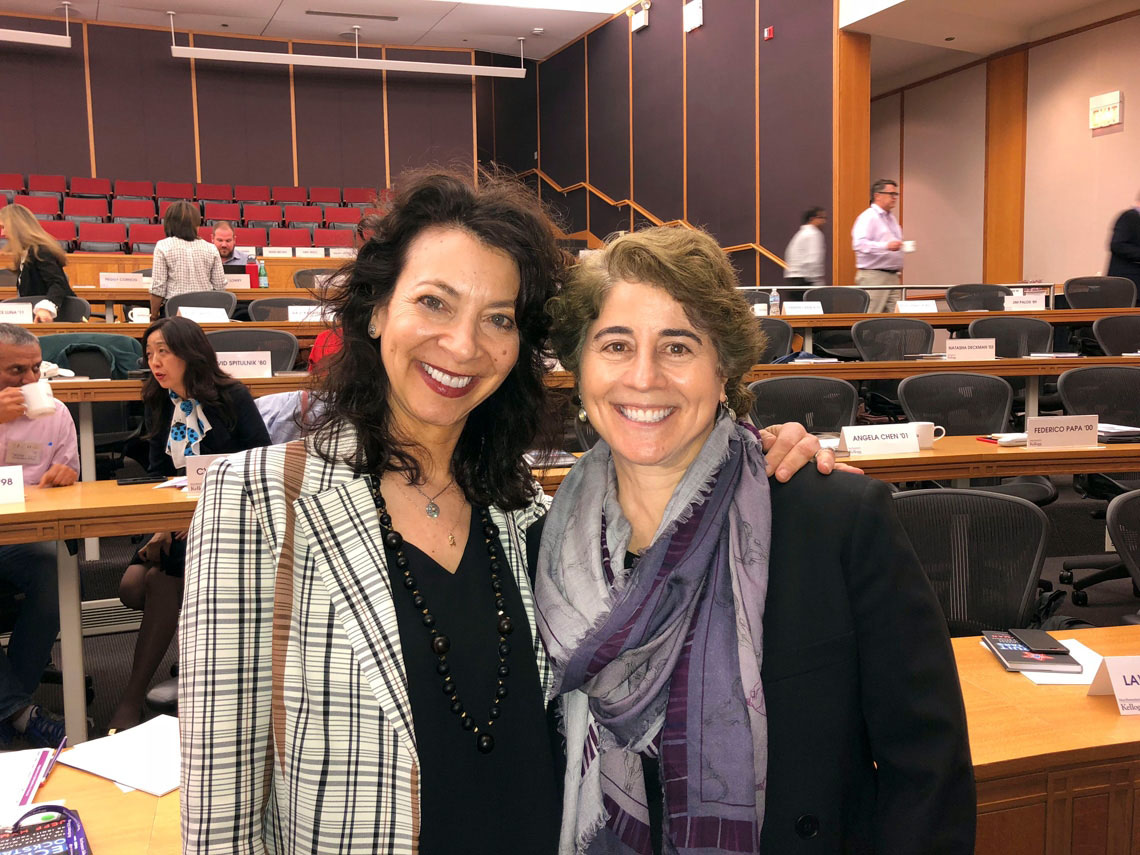 1987-FT
Mel Ingalls
Mel reconnected with his Kellogg roommate, Rich Jarrett '87, and with Claudio Marcus '87, visiting each of them in their homes. It was great to catch up!
Margo McCoy Reese
Margo just completed her two-year term as president of Northwestern's Women's Board.
Rod Stephan
Rod was in London for many years as the CEO of Longacre Europe, a distressed investments fund. He has returned to the Chicago area and is a founding partner of New York firm Altitude Investment Management, LLC, a state-legal cannabis venture capital fund. The catalyst was the loss of a family member to cancer and the growing realization of the beneficial effects of the various non-psychoactive cannabinoids in the plant in treating disease and other indications.
1987-E&W
Deborah Bothun
Deborah recently joined Merryck & Co., where she mentors Fortune 500 senior executives. She is also a strategy and innovation advisor to BAV Group, a global consultancy within Young & Rubicam (Y&R). Deborah publishes a monthly blog series on leadership titled "Bring your Whole Self to Work." A retired PwC senior partner, she served as industry leader for the firm's global entertainment and media practice. She recommends the Kellogg Women's Director Program she attended in 2017 as an excellent experience.
1988-FT
Tim Collins
Tim launched Grisdale Advisors, a social media advisory firm that helps current and aspiring C-Suite executives build a powerful personal and professional social media presence.
Hanne Proudfoot
Hanne (née Olsen) and Mark Proudfoot '88 attended the 30th reunion in Evanston. This year their eldest, Danielle, graduates from South Denmark University in Odense, son Thomas completes a year at Penn State, son Steven graduates high school in Reading, Pennsylvania, and their youngest, Kristin, finishes 9th grade. Graduations, Mark's mother's 90th birthday surprise party and Hanne's parents' diamond (60th) anniversary parties have them hopping between Denmark and the USA.
1988-FT
Mark Proudfoot
Mark and Hanne (née Olsen) Proudfoot '88 attended the 30th reunion in Evanston (pictured outside the Global Hub, below). They are figuring out how to invite everyone to the new LinkedIn group that Scott Ableman '88 set up. Their business, Renkert Oil, continues to grow and prosper. There has been a sudden uptick in travel, investment and support for the sales force to meet new customer demands. It is a healthy situation and keeps them busy. Keep them on your travel itineraries in eastern Pennsylvania and Copenhagen, Denmark.
1989-FT
Steve Carnes
Steve has been semi-retired since 2008 and moved to the Netherlands in 2013. In addition to world travel, sometimes with Dave and Carol Falstrup '89, he has two consultancies (management and technology), including a collaboration with Deb Gray, and is currently involved in two startups, one with Bob Mitton '89. His charity work focuses on FIRST robotics (STEM). The Kellogg Benelux Club is also an occasional venue. Visitors to the Netherlands are always welcome!
Jean-Philippe (JP) Maheu
After many years in digital marketing, JP joined Bluefin Labs, the leading social TV data company, as CEO in 2012. A year later, Twitter acquired Bluefin Labs. JP is still at Twitter five years later and he now runs the US revenue business for Twitter as vice president of US Twitter client services. He also joined the board of the New York chapter of the Nature Conservancy in support of his passion for the environment.
Walter Woods
Walter was appointed CEO of Humana Foundation, the Louisville-based health insurer's charitable nonprofit organization.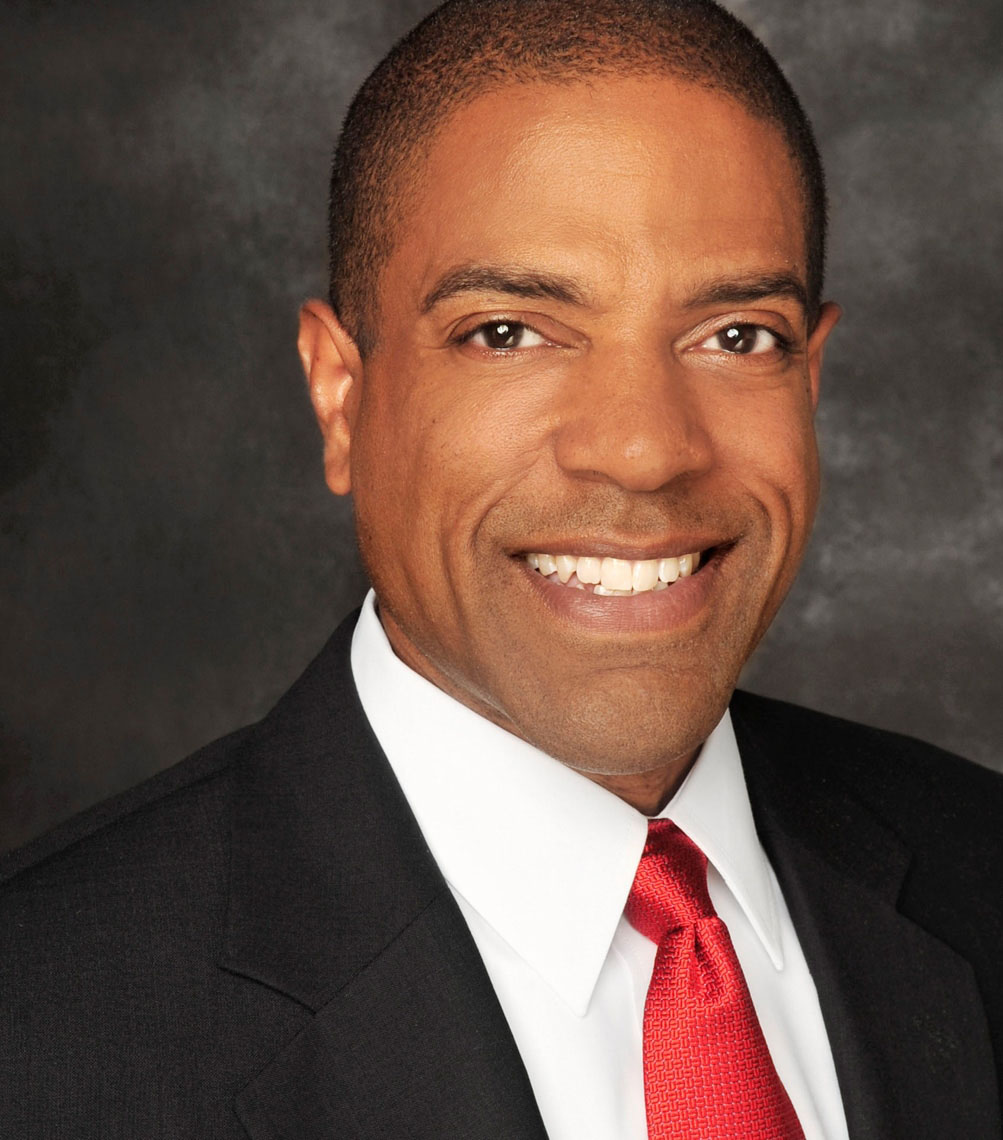 1990s
1990-FT
Jeffrey Chapman
Jeff left Edgewell Personal Care after 11 years. He's now a project director at Next Level Strategic Marketing Group and enjoys working with founder Peter Rogovin '93. He also self-published Cold-Snap and Snap-Back, two novels about the intersection of virtual reality and artificial intelligence (available in e-book or paperback from Amazon, or in paperback from chapmancreative.net).
1990-FT
Monica Lorick
Monica officially became part of the Sandwich Generation. Her dad died last year after battling Alzheimer's. Monica flew back and forth between Switzerland and Philadelphia to help him, close his photographic studio, rehab his commercial property, find tenants, plan his memorial, sell the family home, buy her mom a new home and get her mom set up, all while raising her active 15-year-old daughter. Debora Beverly '90 came to Philadelphia to hang out and brighten the day.
Jim Sellers
Jim lives in Kansas City with his wife Elizabeth and two new puppies, Lewis and Clark. Jim leads business development for the grocery practice of Service Management Group, a global provider of customer experience and employee engagement solutions.
1990-E&W
Tim Grabacki
Tim received a MS in human-computer interaction from DePaul University. He is using this knowledge to improve the user experience of coin and currency counting products at Cummins Allison, where he is director of product management.
1991-FT
Alison Ginsburg Sokoloff
Careers and families in full swing, five friends (pictured) had a mini-reunion in Seattle last summer, including wine tasting, cooking and bouncing around career ideas. Alison is a Silicon Valley marketing consultant, currently at Google; Jean Peterson Wanlass '91 is a project manager and community volunteer based in Newport Beach; Victoria Burwell '91 is chief marketing officer and senior vice president at Scholastic Education; Marcia Shackelford '91 is vice president of development at Climate Central in Princeton, New Jersey; and Barbara Hulit '91 is senior vice president at Fortive in Seattle and a Kellogg dean advisor.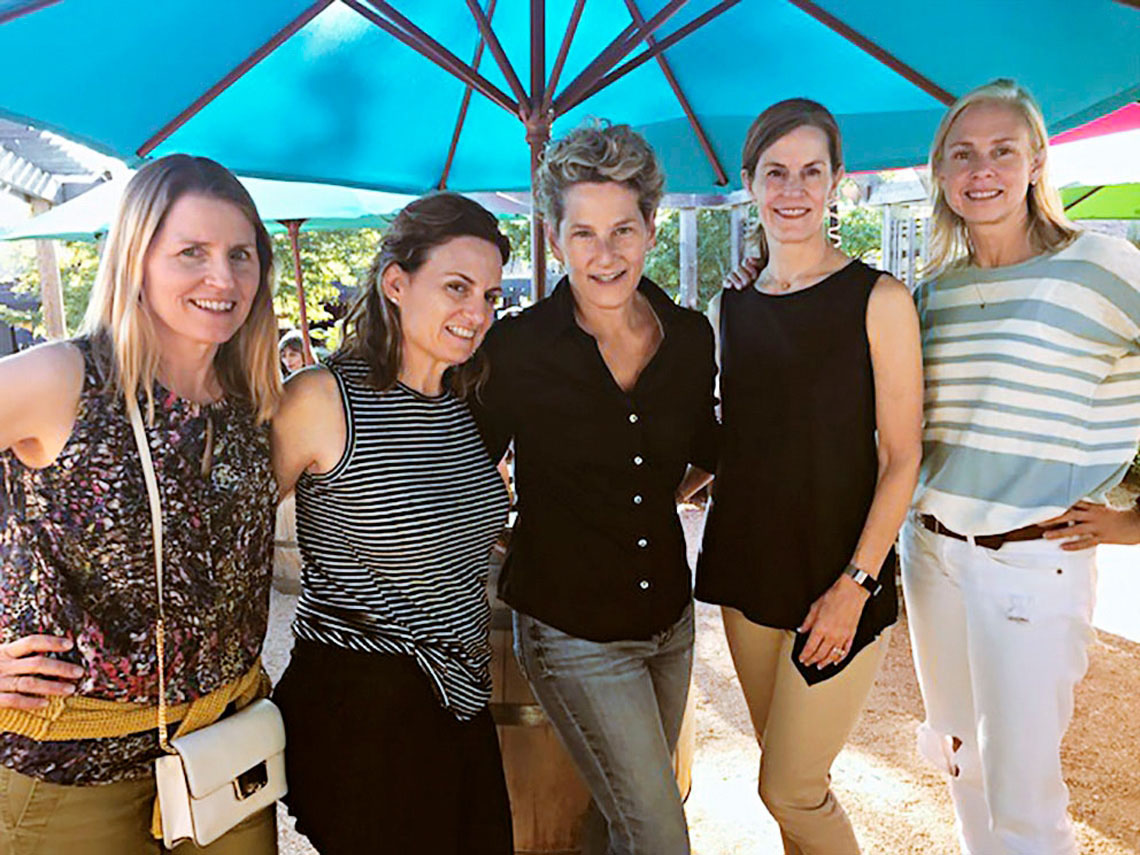 1991-E&W
Michael Carrier
Michael continues to develop his passion for customer service at Kroger. Aside from working in the deli, he is now a trained barista in the Starbucks outlet. He also spends most of his time as a cheesemonger in Murray's Cheese Shop. In two months he will take the red jacket test. He is making an impression on both customers and co-workers. His UPS posting continues to evolve into a loading supervisor and an operations manager for Saturday delivery.
1992-FT
Andy Hilliard
Andy and wife Silvia are empty nesting in Charlotte, North Carolina, after raising three kids. If the LA Galaxy plays in your town, catch his son, Tomas (Hilliard Arce), playing center-back. Andy is eight years into his role as president and chief revenue officer of Accelerance, advising clients on selecting and managing the ideal global software development team to build great software. The portfolio is packed with Kelloggians and Wildcats.
James D. Sandfort
J.D. is senior vice president, wealth management advisor at Merrill Lynch and was recently named to the Forbes 2018 Best-In-State Wealth Advisors List. He has been with Merrill Lynch for 10 years. J.D. serves on the advisory board of the Perot Museum of Nature and Science and the board of trustees of Blackburn College. He also serves as director of the Northwestern Alumni Association. J.D. and his wife reside in Coppell, Texas, and have two adult children who reside in Colorado.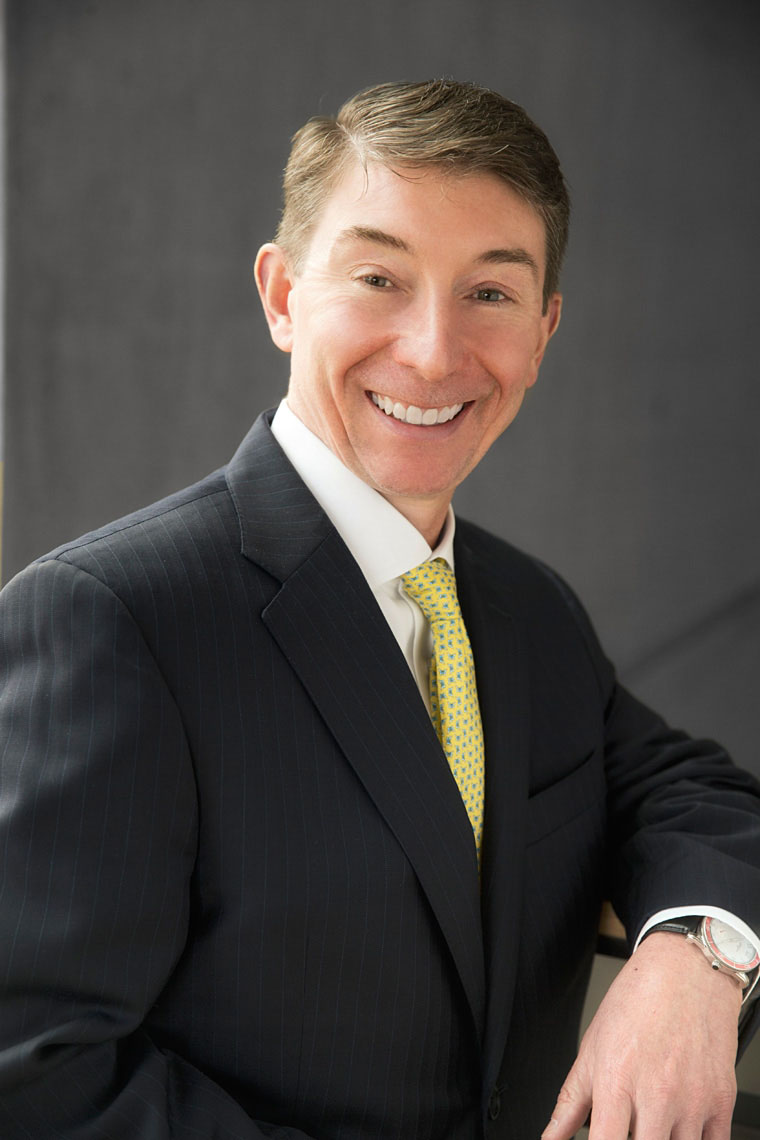 1992-E&W
Elaine (Gern) Long
Elaine now has one grandchild and, after 26 years, she is pursuing her PhD in business psychology with a dissertation focus on spirituality in the workplace. This fits with her unique Chicago-based holistic consulting firm, Soul Be It, which focuses on individual and organizational development alignment, purpose and joy.
Dave Loomis
Dave formed Loomis Marketing, a firm focused on driving organic growth at large B2B companies through improved voice-of-customer work. He consults, trains, writes and speaks on this topic throughout the world. Dave credits Kellogg with fostering his love of business strategy and product innovation.
1993-FT
Ava Spanier
Ava was sorry to miss reunion but happily had several visits in 2018 with her friend Kevin Leo '93. Her creative consulting firm, Headspark Productions, will start filming its second full-length feature this fall, has a musical in development and recently invested in its third Broadway venture: Jagged Little Pill, playing now in Boston. A partner at Monument Golf, she and her fiancé Steve Garland helped bring the Stick It Strap to market and just launched its second product this year.
Julie Sell
Julie recently completed a mid-career masters program in policy at University of California, Berkeley. The MPA at Berkeley's Goldman School of Public Policy is an executive program targeting leaders from the public, private and nonprofit sectors. Julie found time to reconnect with Kellogg classmates in the Bay area, including Ghia Griarte '93, Heather Forsythe '93, Nancy White Ramamurthi '93, Sumin Eng '93, Grace Ann Baker '93, John Sheputis '93 and Alistair Goodman '93.
Caleb Tower
Caleb is living in the Boston area with his wife Dede. He runs P3 Software, which he founded in 2001. P3 Software offers cloud-based bid and buy procurement services for the graphic communications industries. He sees Geoff Hyatt '93 from time to time. His twin sons Alexander and Elliot just finished their sophomore years in college. Caleb manufactures blown glass items at the Diablo Glass studio as often as possible.
1994-FT
Joel Bosch
Joel and husband Allan Haze both retired last year and fled to their house in Potrero, Costa Rica, where they live on the beach with howler monkeys and iguanas. They have many visitors, including Stacy Braack '94 (pictured).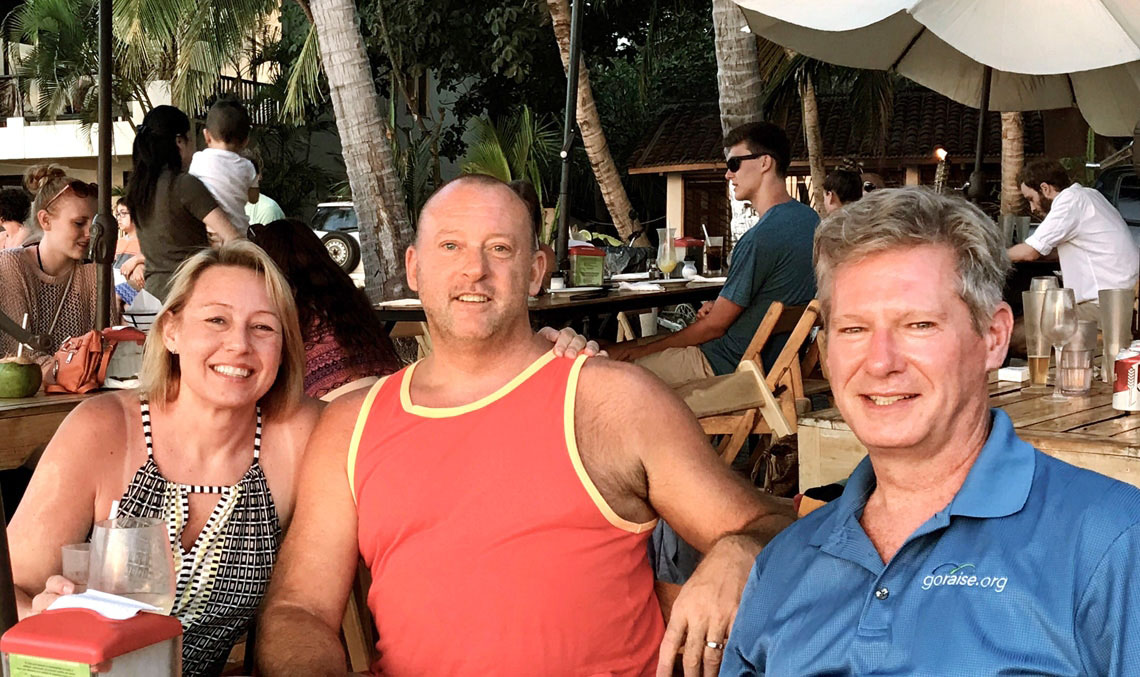 Mark Jansen
Mark is CEO of Blue Diamond Almond Growers in Sacramento, California, and has led the world's largest almond business to eight years of double-digit growth through product innovation, brand building and global expansion of its Almond Breeze brand. Pictured: Mark and wife, Carolyn.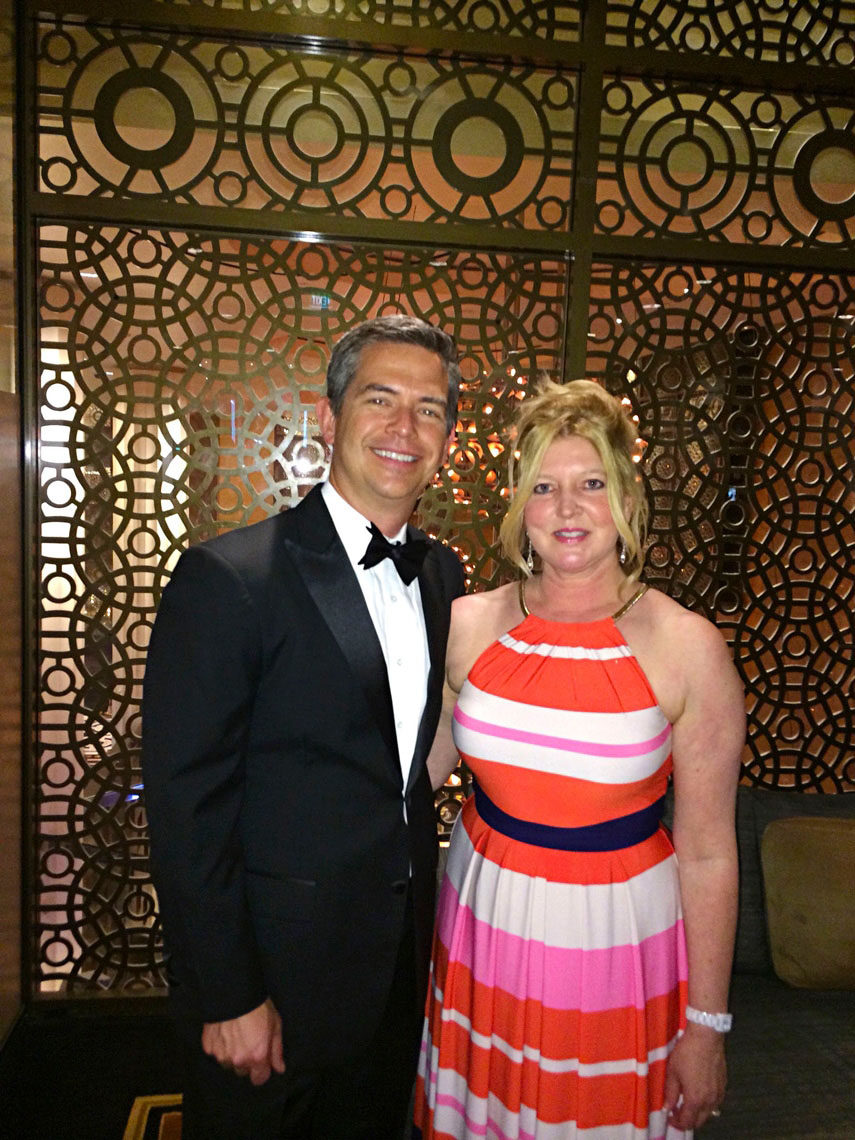 Akhil Shahani
Akhil is on the advisory board of the Kellogg Alumni Club of India. His education group runs private colleges in Mumbai and is now being established in four additional cities. He has recently received his doctorate in education in the area of student employability.
1995-FT
Lucia Paiz
On November 25 of last year, Lucia and Miguel de Leon were married in Antigua, Guatemala, in a beautiful ceremony, surrounded by their families and closest friends. They feel very happy and very blessed!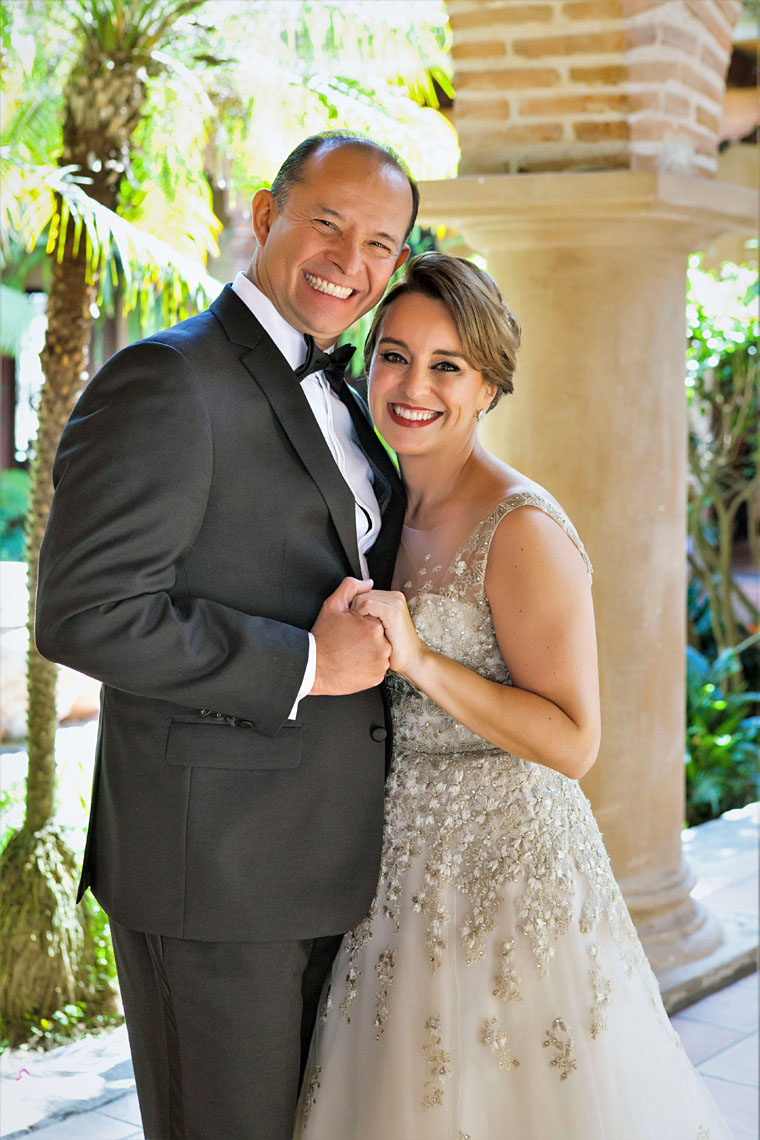 Win Reis
Win is looking forward to being an empty nester and playing even more golf when his and wife Marie's youngest heads off to college in September. Win continues to enjoy helping lead business development for Vocera Communications, with an expanding role and a slate of new projects.
1995-E&W
Brian Langenberg
Brian connected with fellow alumni at the recent Kellogg PE/VC conference, where he helps business leaders with M&A, strategy and growth. He is also teaching and managing business internships at a public university and looks forward to reconnecting with old friends and making new ones.
Heather Sears
Heather published her first book, MIND TO MOUTH: A Busy Chick's Guide to Mindful Mealtime Moments, and it has won three book awards, including Best 1st Book from the IndieReader Discovery Awards and a national Independent Publishing IPPY medal. Her book is available on Amazon.
Rick Wolk
Rick finished teaching a new entrepreneurship class that he recently developed at University of Alaska-Anchorage; all of his students successfully passed the course. The following week, Rick was the student, sitting for (and passing) his Board Certified Coach (BCC) exam. Karma, indeed!
1996-FT
Bill Bonadio
This past May, Bill, Sarath Ravapati '96, West Robbins '96, Jim Reilley '96, Rob Collier '96 and Blasko Ristic '96 got together for a weekend in Austin, Texas. A great time was had by all, catching up on life, family and careers. They raised a glass to the enduring friendships made at Kellogg, with classmates present and absent that weekend.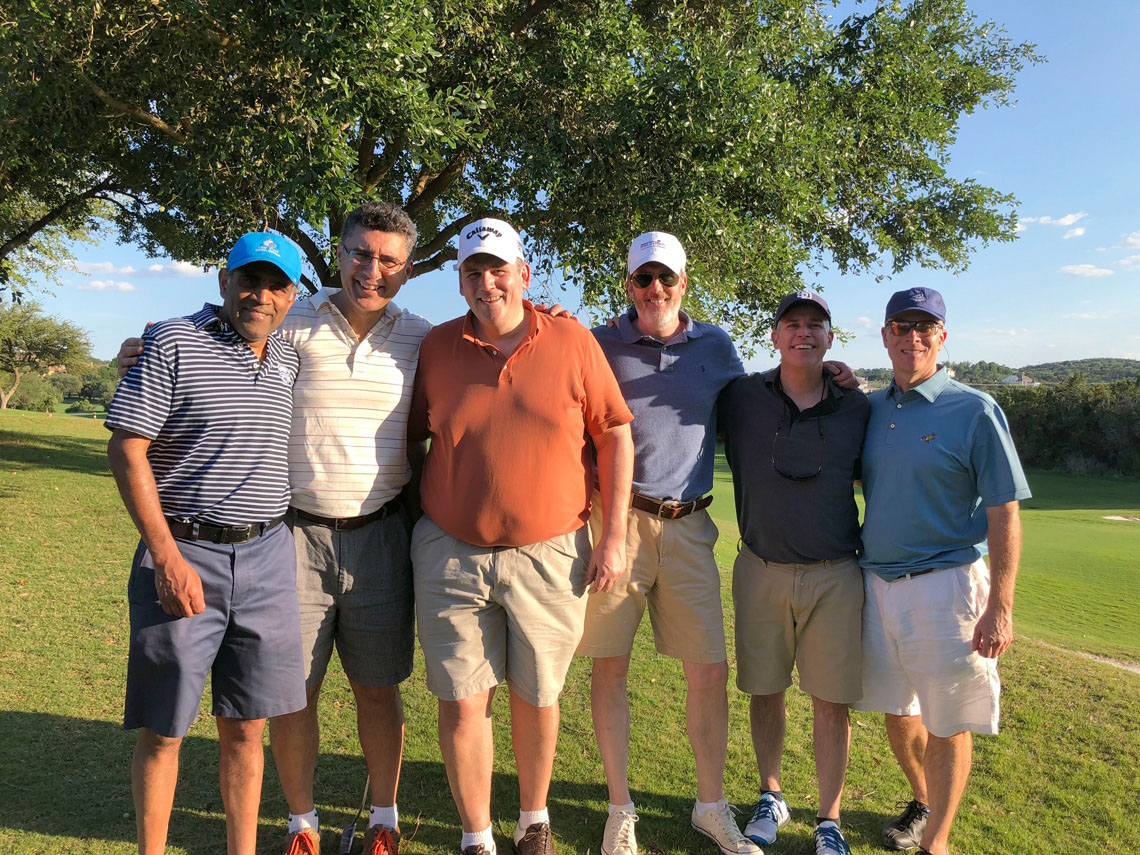 Katy Horiuchi
Katy connected with Judy Tom '96 at a reunion in 2016 and met more old friends. Katy is the PR person for Kellogg Club of Japan via her company H&K Global Connections and is happy to reconnect to the Kellogg community. KCJ website (Japanese): kelloggbiz.jp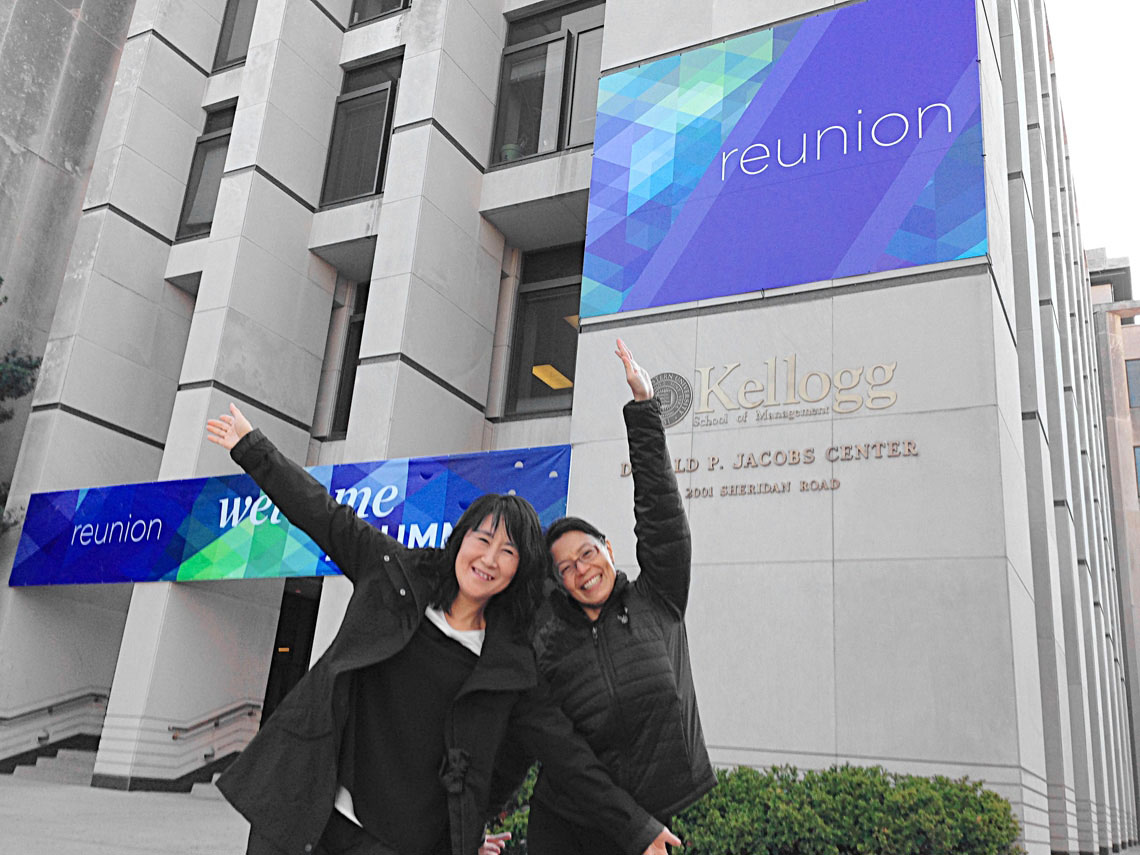 Carla Ravipati
Carla and Julie Whitney Goff '96 attended the inaugural Kellogg Women's Summit in May in Evanston. It was an excellent opportunity to learn about issues facing women in the workplace at different career stages and to hear from panelists such a Wendy Woods '96 about strategies for success.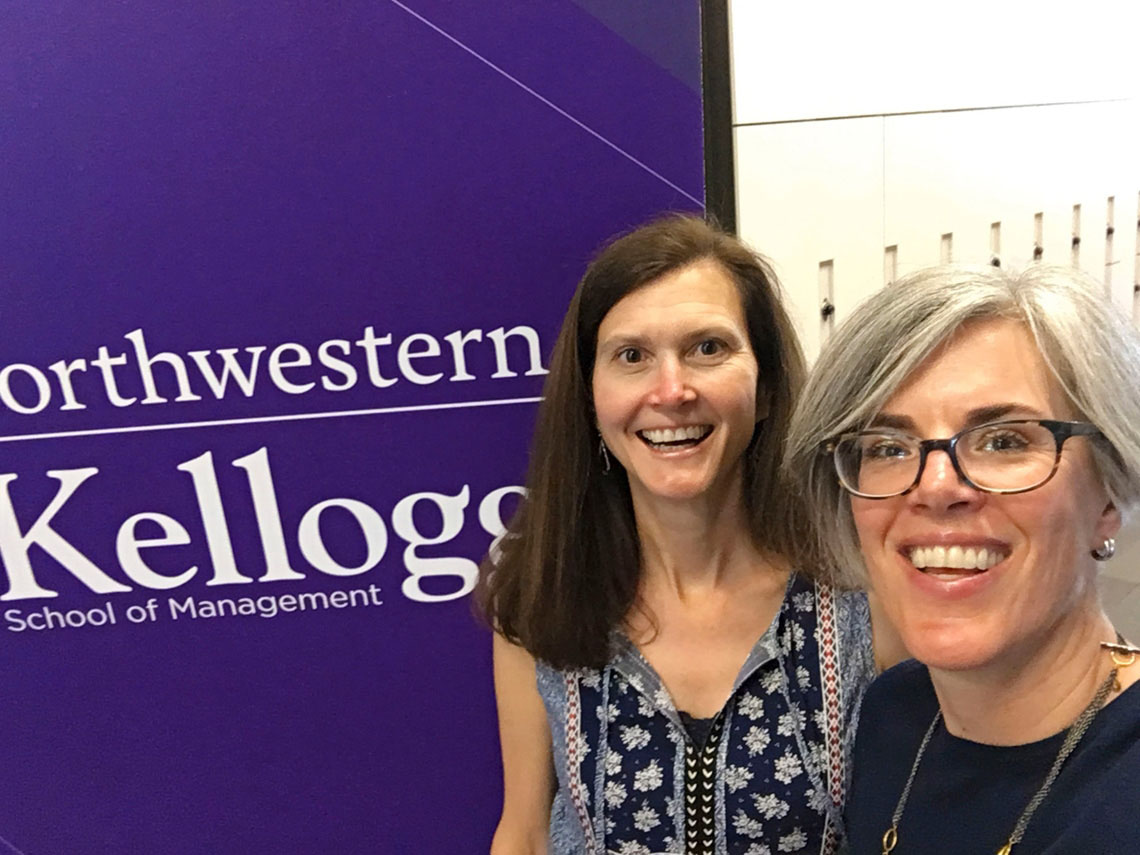 Judson (Jud) Weaver
All is well with Jud, and he wishes the same for his classmates of 1996. Look for him on LinkedIn. Cheers.
1996-E&W
Mark Camp
After nearly 33 years with Amoco and BP in a wide variety of operations, business development and program management roles, Mark recently retired to spend more time playing sports (ice hockey, mountain biking, XC skiing), traveling and doing volunteer work. Whether he will remain gainfully retired or get sucked back into an industry consulting role remains to be seen. Pictured: Mark on the summit of Mt. St. Helens.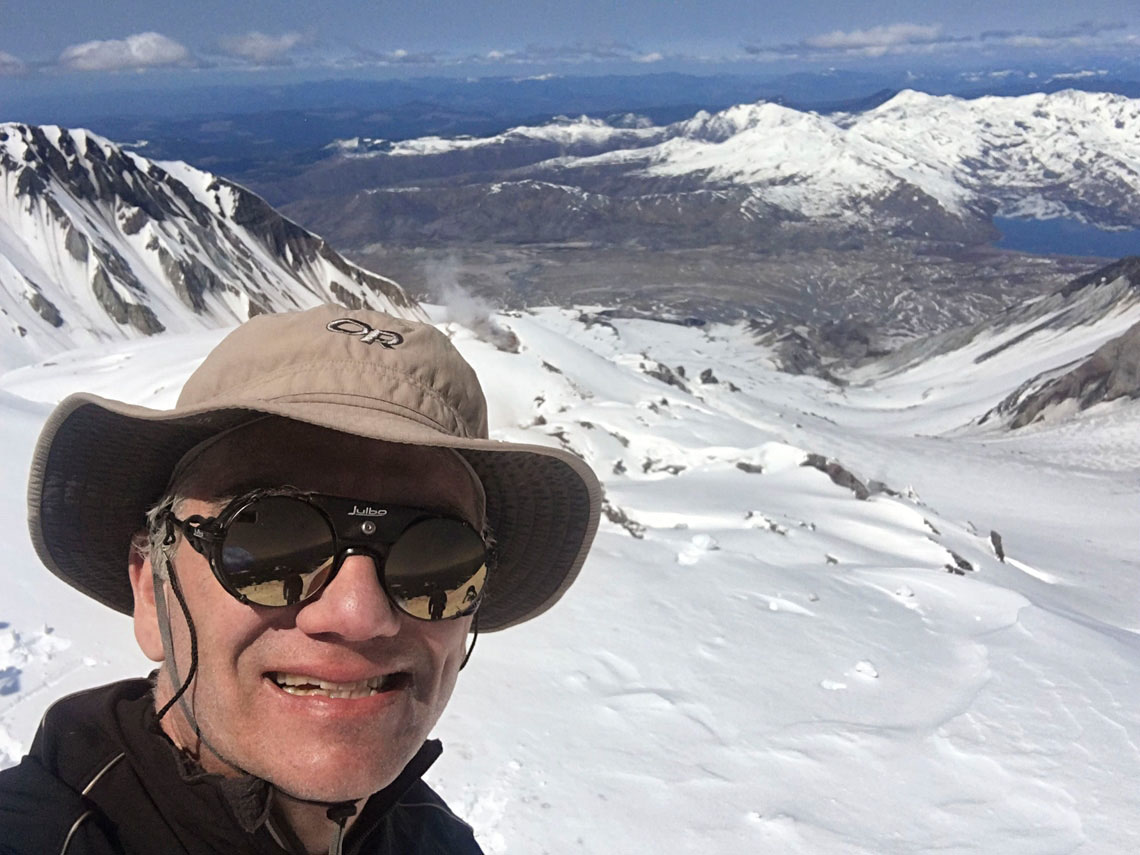 1997-FT
Ken Crites
Ken is happy to celebrate his fifth year with RotoWire. After 20 years of corporate gigs, he's enjoying working from home with NU college buddies. And his son Sam is attending Northwestern in the fall, class of 2022.
Susan Cohen
Susan recently moved to Atlanta and is a management and entrepreneurship professor at the University of Georgia.
Ryuji Kaneko
Ryuji moved to Hong Kong in April to work for Mitsubishi Corporation (Hong Kong). His work coverage includes industrial finance (leasing), private equity and finance. His wife Mari stays in Tokyo, daughter Machi is in Florida, and son Junpei is in Chicago. Yoshi Kaji '97, Sam Karita '97, Ike Kawanabe '97 and Ryuji (collectively known as "4K") got together in Tokyo before Ryuji's relocation to Hong Kong. Yoshi is still Japan alumni chief. Sam plays music more actively while consulting. Ike is rapidly growing his taxi app business.
Michael Teh
Michael is continuing his career as a professional actor but has launched an executive coaching business. It combines his years of management consulting, investment banking and startup experience with what actors learn about storytelling, preparation, voice and body language to improve executive writing and presenting. Contact him at michaeltehcoaching@gmail.com.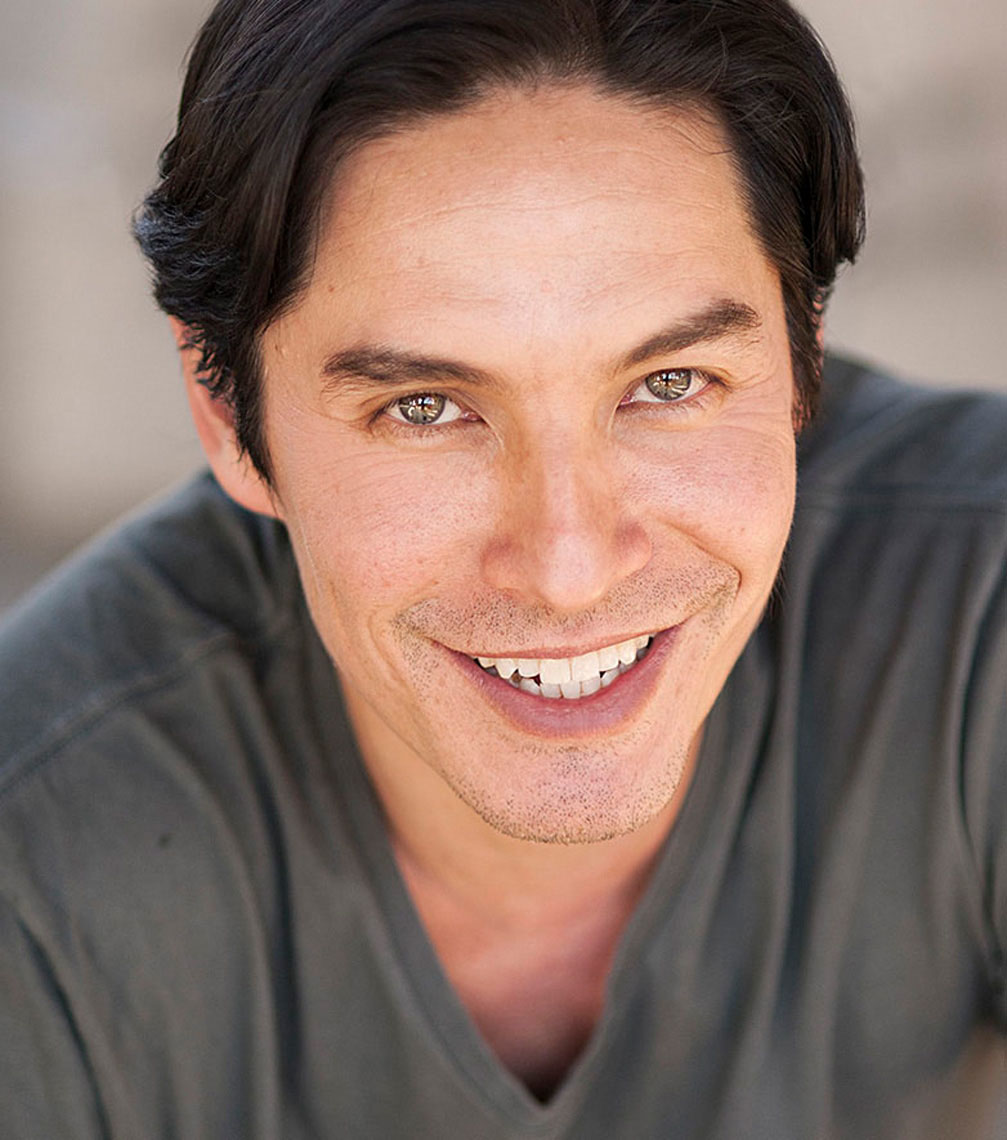 1997-E&W
Timothy Cartwright
Timothy completed an adjunct professorship at Florida Gulf Coast University last spring. His class included a case study-driven team negotiation in tribute to Kellogg Professor Steven Rogers.
Mary Scott Patronik
Mary joined the board of One Heart Uganda as the director of development. She is also co-chair of the Chicago Regional Board Northwestern University Leadership Council, board director of the Alumnae of Northwestern and co-chair of her 30th undergraduate reunion.
1998-FT
Marcelo Grimoldi
Will Adams '98 was extremely generous to offer a work experience in his Alpine Investors PE fund to Marcelo's daughter Sofia, who was born (with purple blood) in Evanston in 1997. Sofia had lived all her life in Argentina, and this has been a fantastic eye-opening experience for her.
Chris Tomseth
Chris had a great time at the reunion. Pictured: Simplice Anoh, Victor Hartono and Chris Tomseth outside the Global Hub.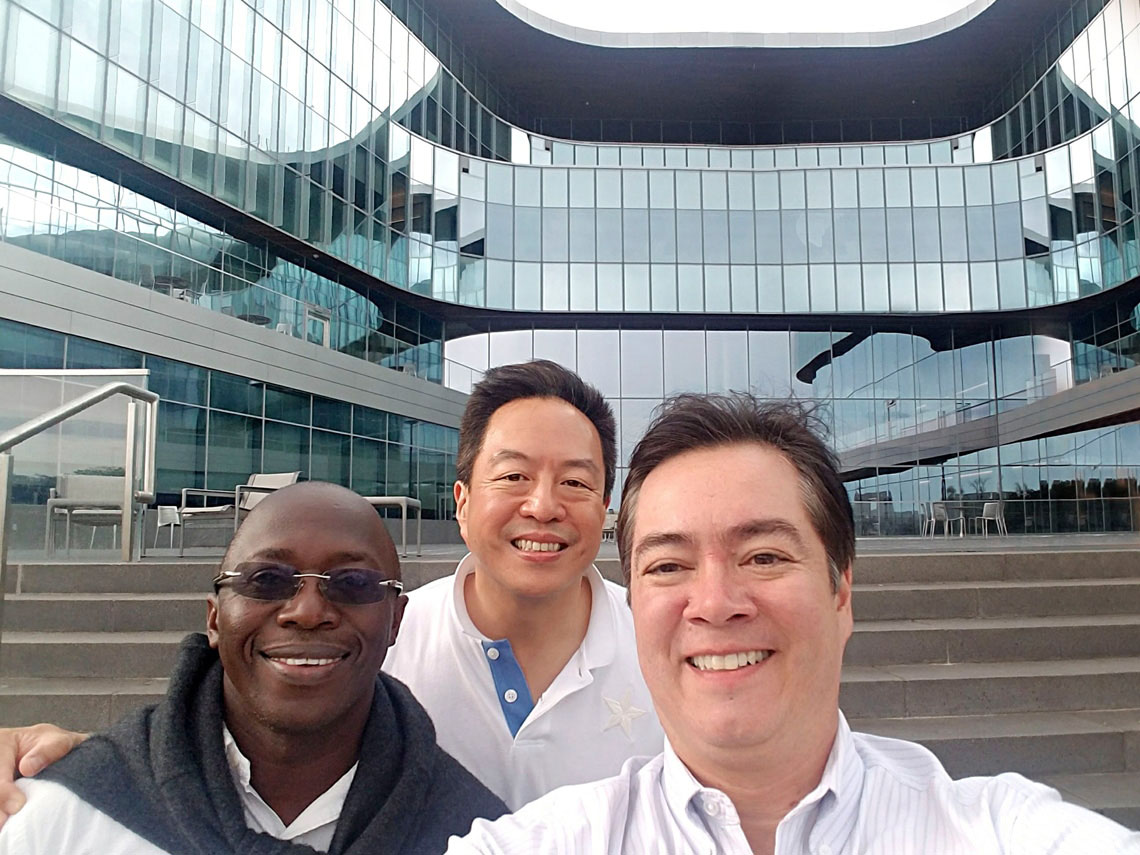 1998-E&W
Elizabeth Range Kiely
Kellogg's recent Mindfulness in Practice alumni gathering brought together classmates Amy Ravi '98, founder, president and CEO of ExtendMed, and Elizabeth, Founder of Om on the Range Yoga Studio. These class of 1998 friends enjoyed reconnecting, as well as the event presenters. The location for the event was in the beautiful, inspired loft of EvolveHer, the first women-only coworking space in Chicago.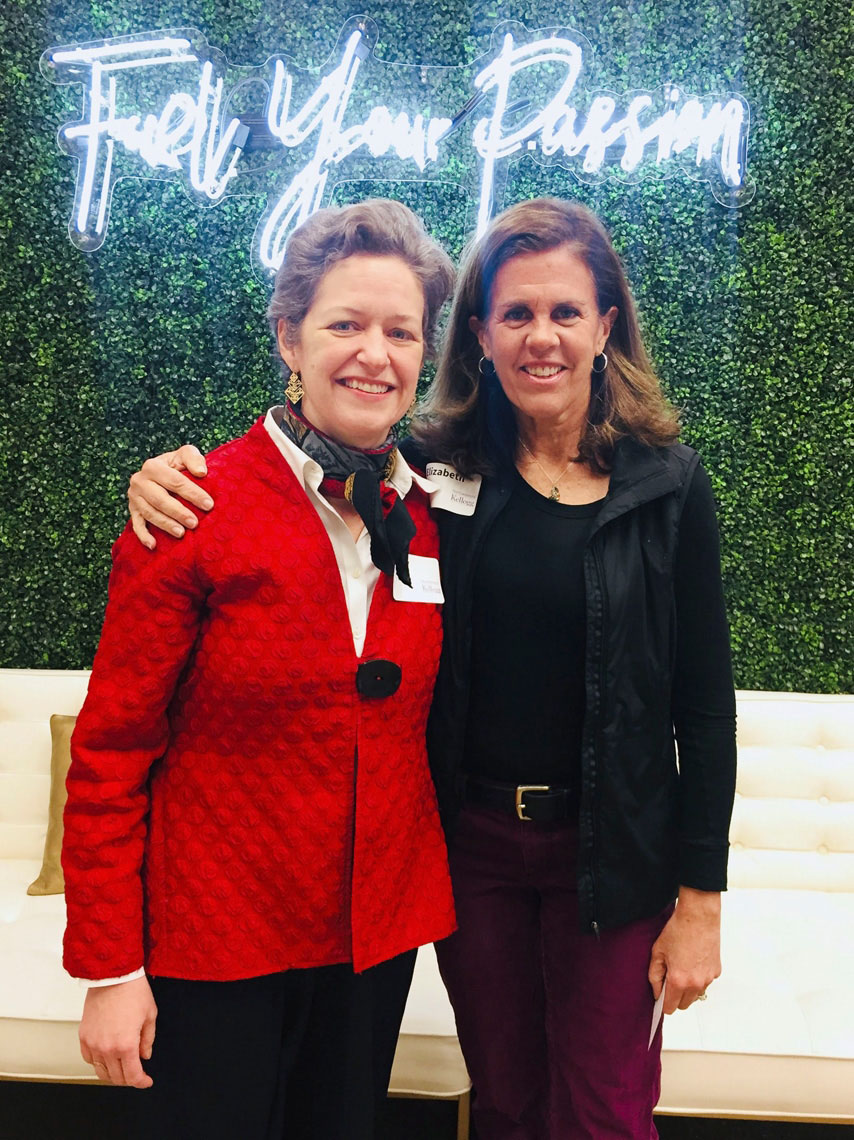 1999-FT
Geoff Bolan
Geoff recently became the education director at the Positive Coaching Alliance in Seattle. He suggests that if anyone has had a lousy sports coach along the way, or if their kids are suffering that now, they check it out.
Tom Hawkins
Tom, with Forté Ventures, recently launched Fund II, a $50 million venture capital fund that co-invests with corporate strategic partners across diversified sectors of technology. (Corporate VC helps mitigate risk without compromising return expectations). Tom founded Forté Ventures in 2012 and closed Fund I with $30 million in 2014. Investments include Ushr, Integrate, Urgently, RapidSOS, AdStage and StellaService. www.ForteVentures.com.
Sara Morris
Sara was named president of the Beecher's Foundation in 2017 after seven years running the Alliance for Education, Seattle's largest education nonprofit. The foundation operates programming to educate families about food, nutrition and consumer power. Sara, her husband Will and their three teenage daughters have lived happily in Seattle since 1999.
2000s
2000-FT
George Rossolatos
George is the founding CEO of the recently launched Canadian Business Growth Fund, a $545 million growth capital fund focused on helping middle-market Canadian companies scale.
2000-E&W
Sean Sebold
Sean is founder and CEO of Sebold Capital Management, Inc., a boutique wealth management firm working with a select number of highly successful entrepreneurs in managing their finances. He is headquartered out of Naperville, Illinois, with a nationwide client base.
2001-FT
Elaine Co
Elaine and Joey Wat '01 co-hosted the Kellogg Global Women's Summit Hong Kong extension event on May 11, 2018 (pictured). Leveraging the hugely successful inaugural Kellogg Global Women's Summit held in Evanston May 8-9, 2018, the Hong Kong fireside chat enabled more than 50 Asia-based Kellogg and NU alumni and friends of Kellogg vicariously participate, hear and engage in the Summit's topical content.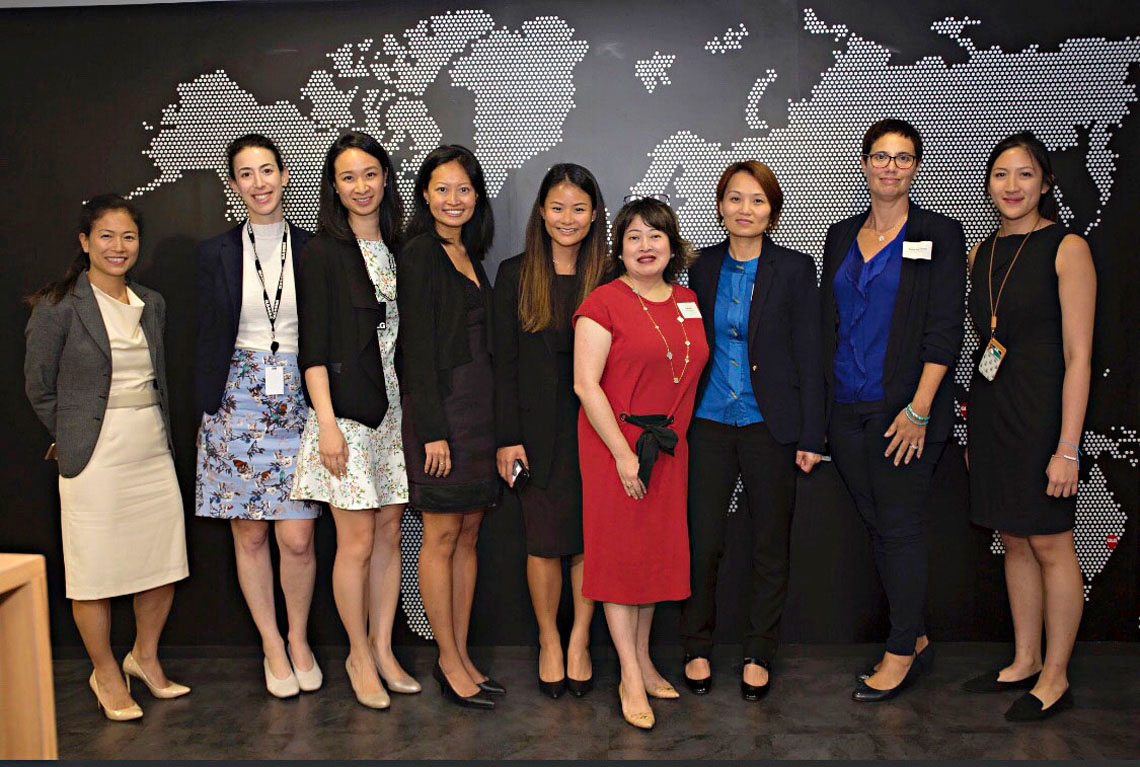 David Genova
David and Will House '98 recently formed Impact Capital Group, LLC, a pure-play impact investment firm focused exclusively on the treatment of drug/alcohol addiction and other behavioral health issues. The Atlanta-based firm's mission is to improve lives through investments in enduring solutions and seeks to generate attractive returns, as well as societal benefits.
Monisha (Kaplan) Lozier
In the wake of the release of Xiomara Padamsee '07's "Unrealized Impact," a groundbreaking study of staff experience, workplace practices and demographics across the education sector, Monisha and Xiomara recently co-founded Promise54, a talent-related consultancy supporting clients (individuals and organizations) to solve their toughest talent-related challenges.
2001-FT
James Lynch
James and Liz moved to Dallas. Twins Mead and Lily turned 5 on July 3. Look them up if in Dallas.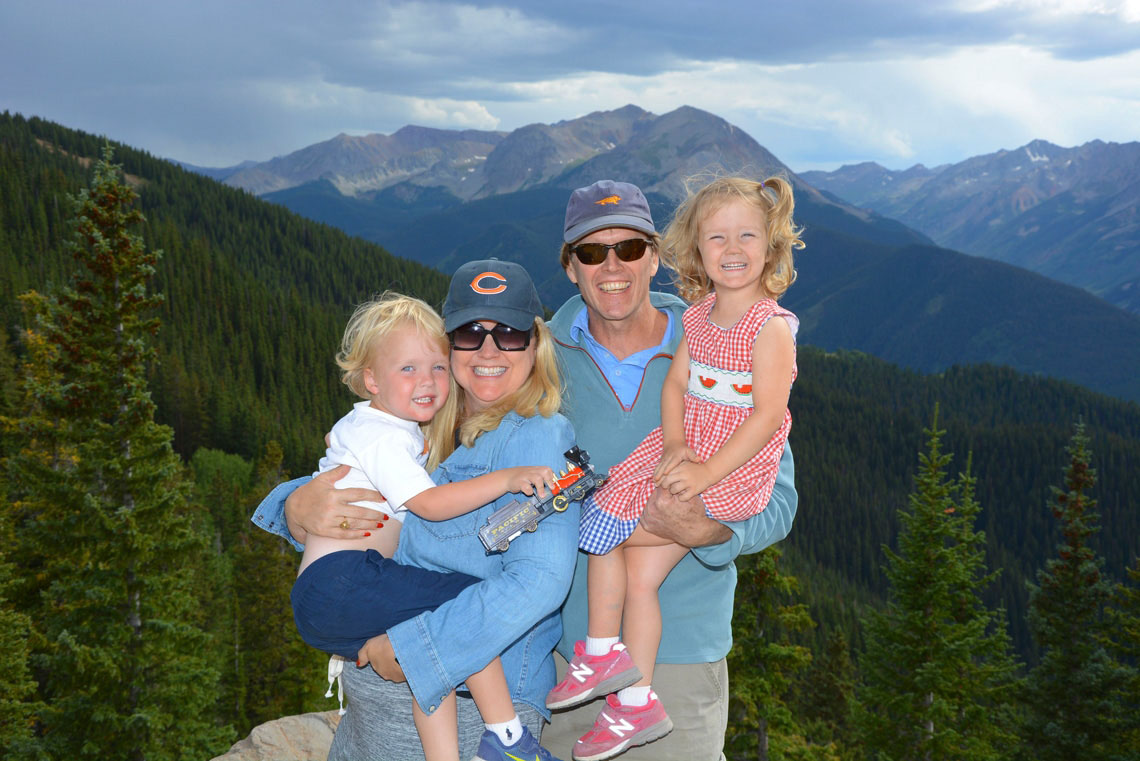 Robert McClung
Thanks to Maitee deCamargo '01 and family, Rob and his family were supported while they lived in São Paulo for two years. Maitee's family hosted them at many family events at the beach, the fazenda (farm) and in the city. The Kellogg family is strong and welcoming in Brazil!
2002-FT
Wayne Borduin
Wayne, his wife Stacie and their five children moved back to the U.S. (San Francisco area) after living abroad in Venezuela and Indonesia for more than six years. Wayne will start a new assignment as the general manager of investor relations for Chevron Corporation.
Julie Saliba Clauer
Julie and Brian Clauer's '02 daughter, Liana Marie, pictured surrounded by her mom's Kellogg classmates: Barbara Liss, mom Julie Saliba Clauer, Michelle Beels Lorge and Adriana McGrath Clancy. They are already teaching her spreadsheet skills, so she should be ready for Fin D by her first birthday.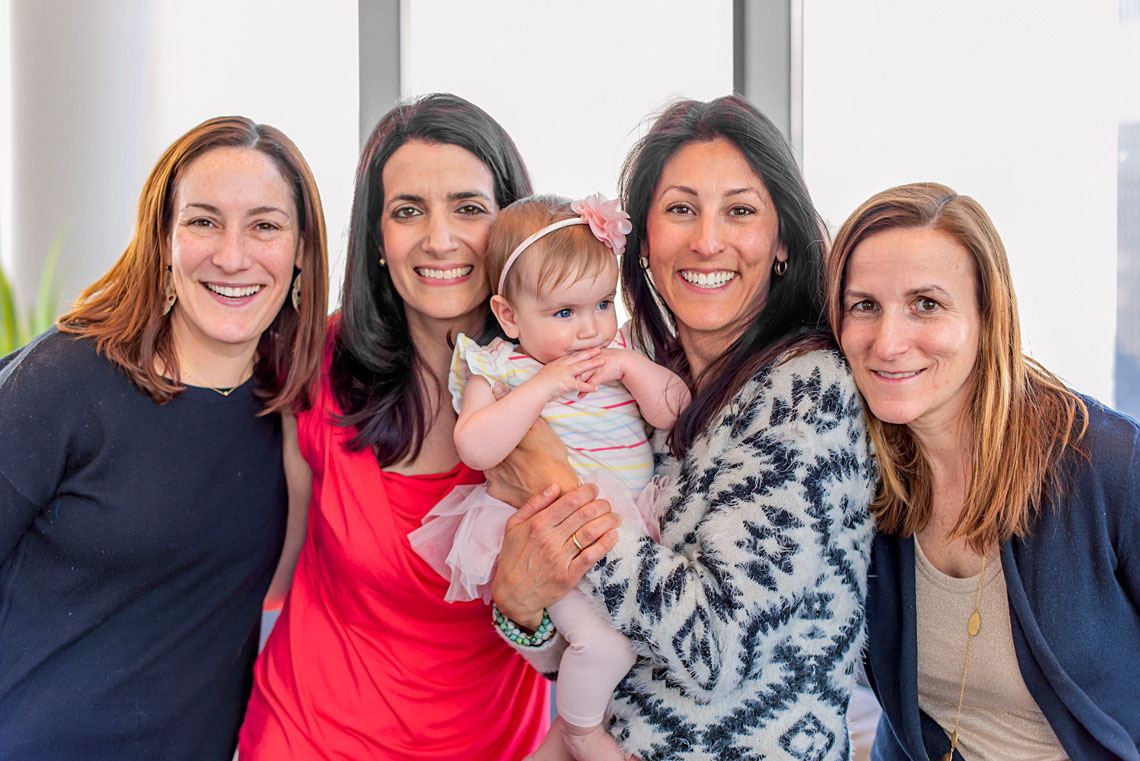 Romy Newman Cosmaciuc
Romy co-founded Fairygodboss, which is now the largest online career community for women. Fairygodboss was founded in 2015 and recently received a major VC investment from GSV Acceleration Partners. Romy lives in New York with her husband, Bogdan Cosmaciuc, and their two children.
Juan Federico Fischer
Juan was appointed to Andersen Global's Latin American board, and the law firm he manages became the Uruguay member firm of Andersen Tax & Legal. Andersen has relaunched with a new approach: a global tax and law firm. It is already one of the global law firms with the most locations (108 locations, 38 countries) and rapidly growing.
2002-E&W
Beth Idan Stern
Beth connected with Alexandria Marie Moros '19 when Alex was considering attending Kellogg a couple of years ago. Since then, both Alex and Beth have moved to Chicago: Alex as a part-time Kellogg student and Beth as a senior development executive with American Friends of the Hebrew University. Alex recently gave Beth her first tour of the Global Hub!
2003-FT
Priti Youssef Choksi
After nine years at Facebook in business and corporate development leadership roles, Priti has joined the investment world as a partner at Norwest Venture Partners in San Francisco. At Norwest, Priti leads consumer technology investments, ranging from seed to later stages. Priti also crossed off an item on her bucket list: hiking the Inca Trail to Machu Picchu. She is excited to bring her passion for building and scaling companies to entrepreneurs.
Chris Dupre
Chris recently joined Renovo Capital, a Dallas-based middle-market private equity firm, as a partner. He is looking forward to using his Kellogg learnings and contacts to help Renovo's management teams transform challenged or transitioning businesses into world-class companies. He reports that life in Dallas with Michelle and their three kids continues to be enjoyable and rewarding.
2003-E&W
Brian Gallagher
Brian has served as chief operating officer and chief financial officer of Santefort Real Estate Group, LLC since 2013. He enjoys guiding this family-owned provider of quality, affordable housing in Illinois and Indiana. He was happy to encourage colleague John Perkowski '17 to earn his Kellogg Executive MBA.
2004-FT
Kristina Frey
Kristina was sworn into the Indiana bar as an attorney in October 2017, and is practicing law as a public defender in juvenile court in Indianapolis.
Qiaoni Linda Jing
Qiaoni, chief of staff and senior director of global corporate affairs at Monsanto Company, was honored as one of the Most Intriguing People in St. Louis 2018 by Who's Who Diversity in Color, a recognition for the region's brightest diverse men and women who made a remarkable and unique impact to the growth of the region. She was also featured by St. Louis Business Journal as a St. Louis Character for cultivating global connections. She connected with 16 other St. Louis Kellogg Alumni Club members through a tour of Monsanto's newly expanded R&D Center in Chesterfield, Missouri.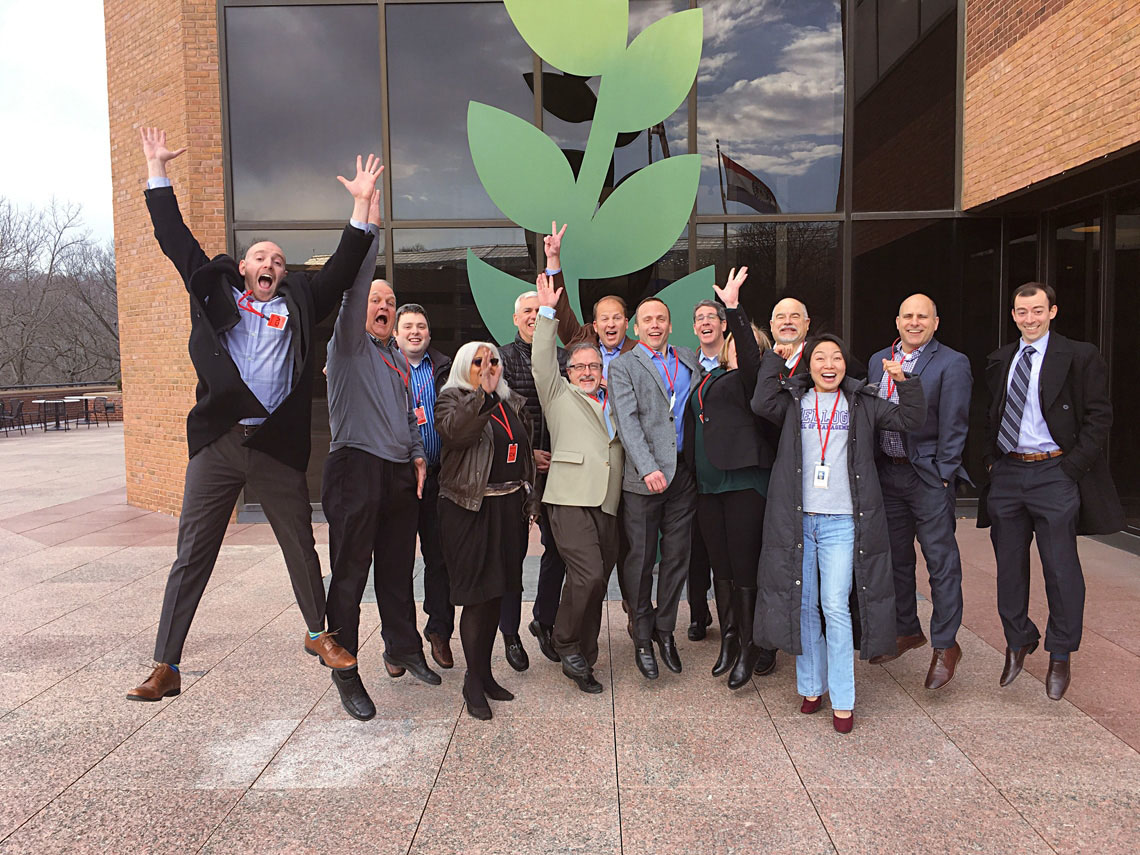 Lewis Lin
Lewis published two new Amazon bestsellers, The Product Manager Interview and The Marketing Interview. He lives in Seattle with his wife Jamie.
2004-E&W
Erin Weinland
Erin is combining her fervent love of storytelling and fierce love of data. She recently founded Weave Insights, which translates and simplifies complex consumer research, weaving it into actionable stories to fuel growth. She brings perspective from 20 years of experience on the client and supplier side, truly understanding the challenges market researchers face today.
2005-FT
Russell Baker
Russell was recently named chief strategy officer and equity partner at Wingard, a marketing and communications firm in Jacksonville, Florida. In addition to providing marketing strategy consulting, Russell also leads the company's efforts to expand their growing roster of CPG clients. Russell, Mary and their two children (Abigail, 12, and Burke, 8) are enjoying their move south to sunny Florida!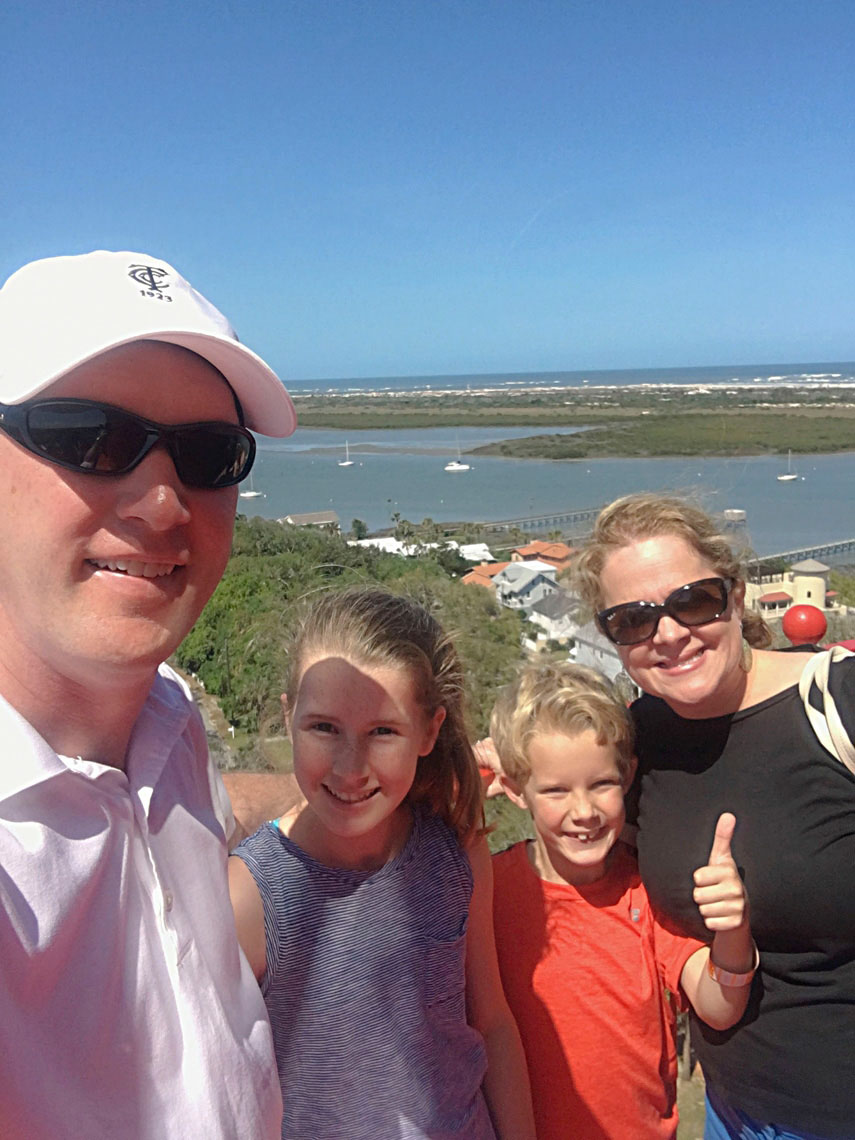 Daniel Custodio
In his debut book, Sacred Workday, Daniel shares his formula for how to transform the profane eight-hour workday into a sacred one. In 2017, Daniel became the first and only Lean Gold Certified professional in non-manufacturing as recognized by the Shingo Institute, SME and AME. To receive the certification, Daniel had to demonstrate mastery of his craft by transforming several organizations at the enterprise level, from the C-Suite to the front lines.
Karianne Gomez
Karianne has joined the Network of Executive Women in the newly created role of vice president of strategic value. Gomez, who most recently served as vice president of field strategy and sales at Pampered Chef, leads the development of new strategic value platform and core initiatives, including learning programs, research and insights, and solutions for corporate partners, NEW regions and members. NEW's focus is on achieving gender equality in the workplace.
Gabriele Lucano
After four years in Delhi leading the Indian division of CNH Industrial, Gabriele has started a new career at Alix Partners, focusing on performance improvement at industrial companies. He lives in London with his wife Silvia and his daughters, Stella and Emma, who has started her training as a classical ballerina at the Royal Ballet School.
Jason Milesko
Jason and Joost van Rens '05 recently qualified for the 70.3 IM World Championship in Chattanooga, Tennessee. The two spent time training and racing together, while reminiscing about their amazing experiences at Kellogg.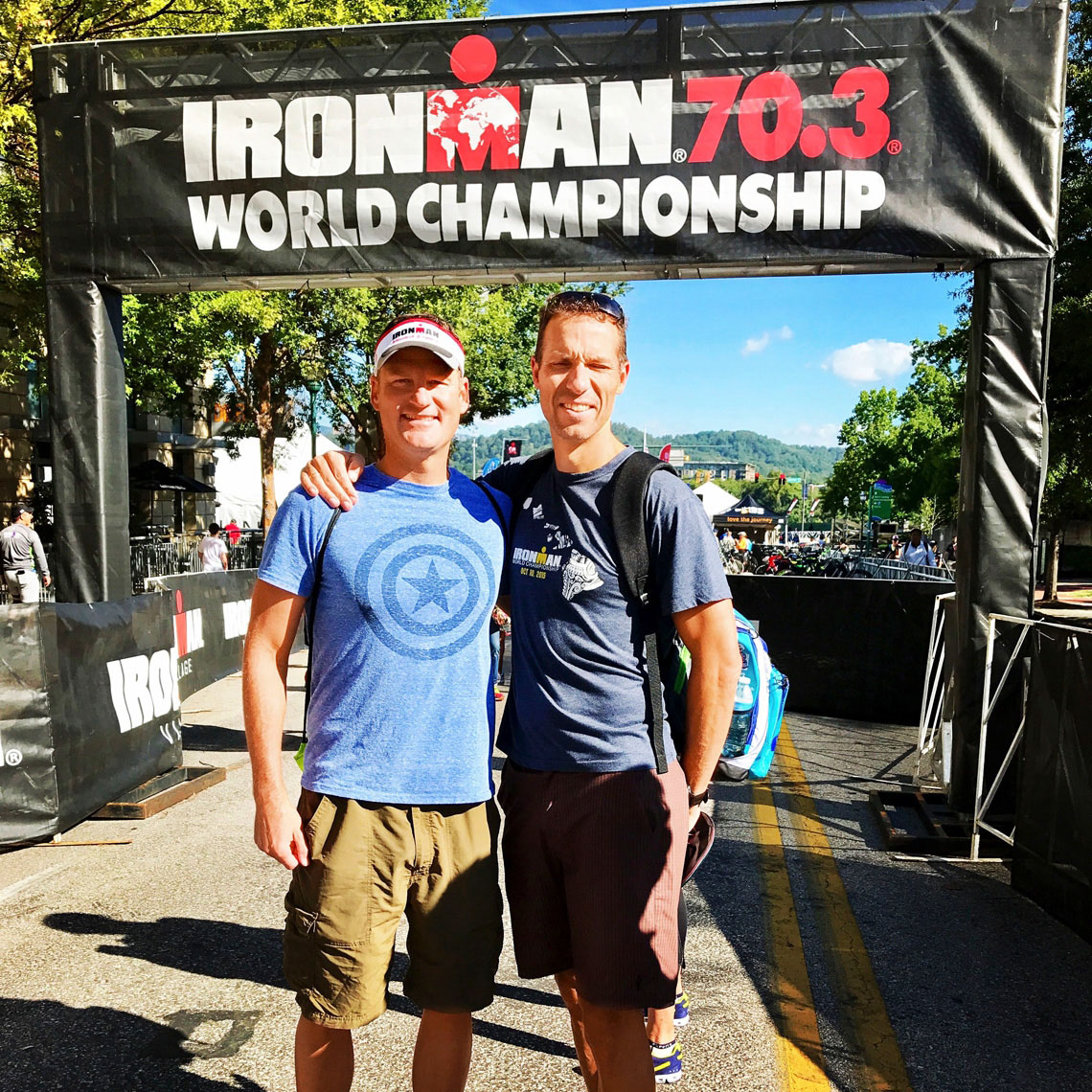 Jason Miller
Jason and his wife Katy are delighted to announce the arrival of their third child, Coraline Persephone Miller, on March 18, 2018. Cora surprised her parents with an early arrival, but everyone is healthy now. Big sister Annabelle (8) and big brother Theo (5) are proud to welcome Cora home. The family lives in Chevy Chase, Maryland, where Katy works for AstraZeneca's lung cancer division and Jason runs the Greater Washington Partnership.
Stephen Weiland
Steve relocated with Caterpillar's HQ move from Peoria to Deerfield, Illinois. He and his family moved to Lake Forest, Illinois. Steve is director of corporate development, working with Caterpillar engine and power businesses.
2005-E&W
Richard Bynum
Richard, president of PNC Bank in Greater Washington and Virginia, was named among Savoy Magazine's Most Influential Blacks in Corporate America. This listing showcases African-American men and women who have been recognized for their executive and business leadership in national and global-leading corporations.
2006-FT
Matthew Forti
Matthew was excited to visit the Global Hub for the first time as part of the 2017 Youn Impact Scholars. With Kellogg's support, One Acre Fund remains on track to eradicate chronic hunger for 1 million farm families by 2020.
Simon Frewer
Simon, Steve Windfeldt '06, Brandon Meigs '06, Garth Rummery '06, Billy Bennett '06, Andy Zacharias '06, John Duke '06, Brandon Drew '06 and Jeremy Wacksman '06 reconnected this April in beautiful Cabo San Lucas, Mexico, for some intensive professional networking, Kellogg reminiscing and some fun in the sun.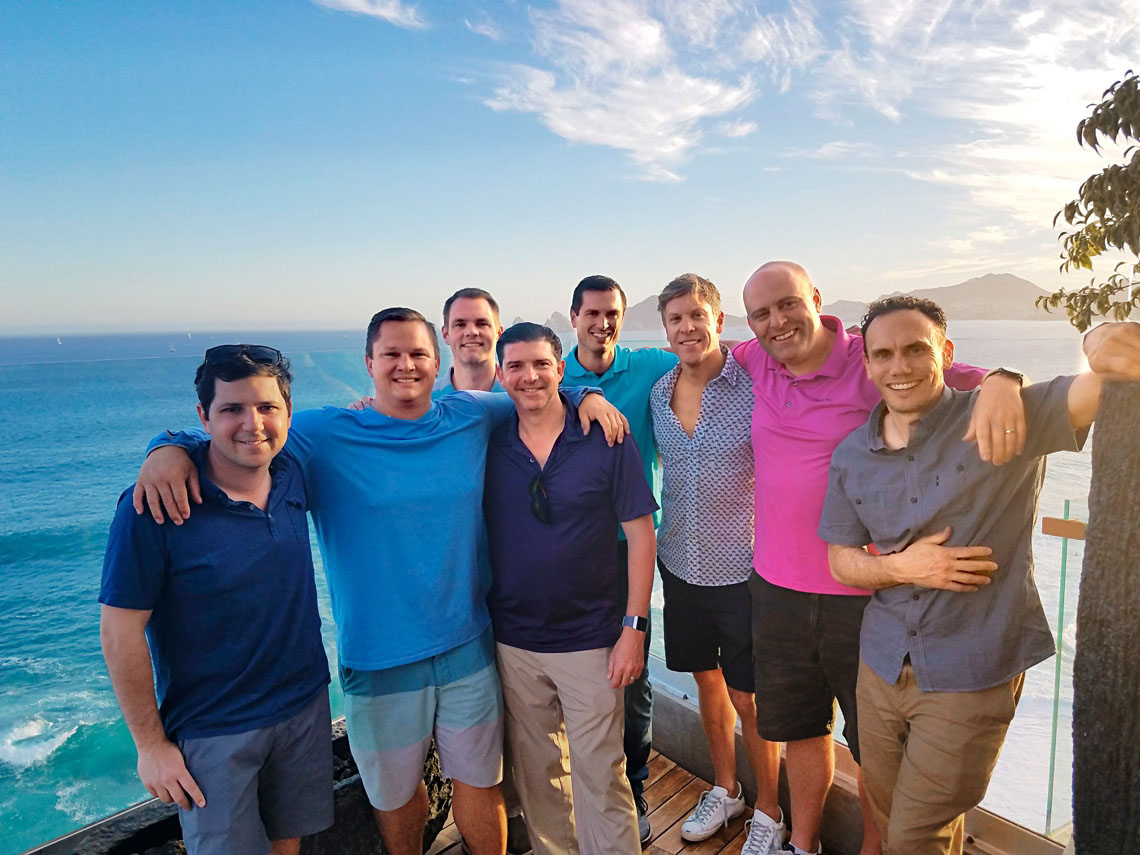 2006-E&W
Prashant Gupta
Prashant received the Alumni Trailblazer Award 2018 from University of Delhi College of Engineering, where he received bachelor's degree in 1998. The award was given for contribution to internet innovation, including Motorola's RAZR Maxx V6 mobile device, Microsoft's Azure Cloud (Linux & R) and for most recently introducing Inclusive AI for social development in India across education, healthcare and agriculture. His work was cited in Satya Nadella's book, Hit Refresh, The Wall Street Journal and The Economist.
2007-FT
Gavin Christensen
Gavin founded Kickstart Seed Fund in 2008, a venture fund that he conceived with other students while at Kellogg. Since then, Kickstart has become the most active investor in Utah and the Mountain West. In 2018, Kickstart announced its fourth fund, a $74MM fund with strong institutional backing. www.kickstartfund.com
Dustin Finkel
Dustin recently started a new food company, Ancient inGRAINed Snack Co (kapopsnacks.com). His ability to start this new food venture was significantly impacted by both the support and investment of numerous Kellogg alumni, like Abby Phelps '07, Mason Phelps JV '07, Alex Schneider '06 1Y and many others.
Krishna Kumar
Krishna now works as a financial advisor with Edward Jones and started his own Edward Jones branch in Wilmette, Illinois, this year. He works with individuals and families, understands their financial goals and enables them to achieve their aspirations. He works with a number of Kellogg and Northwestern alumni. His contact is krishna.kumar@edwardjones.com or 847-251-3186 for a preliminary discussion and a complimentary portfolio review.
Todd Melby
Todd recently left his role as COO of Precision BioSciences, where he worked for 11 years. Independent of leaving his job, the Lord led him to become president of Leadership Edge, a leadership mentoring organization that mentors next-generation leaders 18 to 30. Todd still lives in Durham, North Carolina, with his wife Leslie and three boys, Arne, Gunnar and Maddox.
2007-JD-MBA
Cameron Smith
Cameron recently relocated within Chicago to the Logan Square neighborhood with his wife Erica and their two boys, now 5 and 8 years old. Their new home is an easier commute to West Town and Bennett Day School, the K-12 private school focused on collaborative learning (like at Kellogg!) where Cameron is the CEO and co-founder.
2008-FT
Marisa Gottlieb
Marisa and Ariel Boyman were married on March 24, 2018, in Chicago at Salvage One. Several Kellogg friends were in attendance and took part in the wedding. Marisa and Ariel live in New York City. Kellogg bridesmaids included: Lyndsi Lee '08, Megan Sullivan '08, Agnes Liou '08 and Sonya Saunder '08. Kellogg guests included: Tina Chan '08, Jenn Lin '08, Nam Ong '08, Chad Waynee '08, Amy Helenbrook '08, Anne Stockman '08, Michael Feldman '08, Nilofer Vahora '08, John Lee '07, Jonathan Hopkins '07, Ken Rice '07, Amit Singla '07, Justin Kessler '04 and Guy Raviv '99.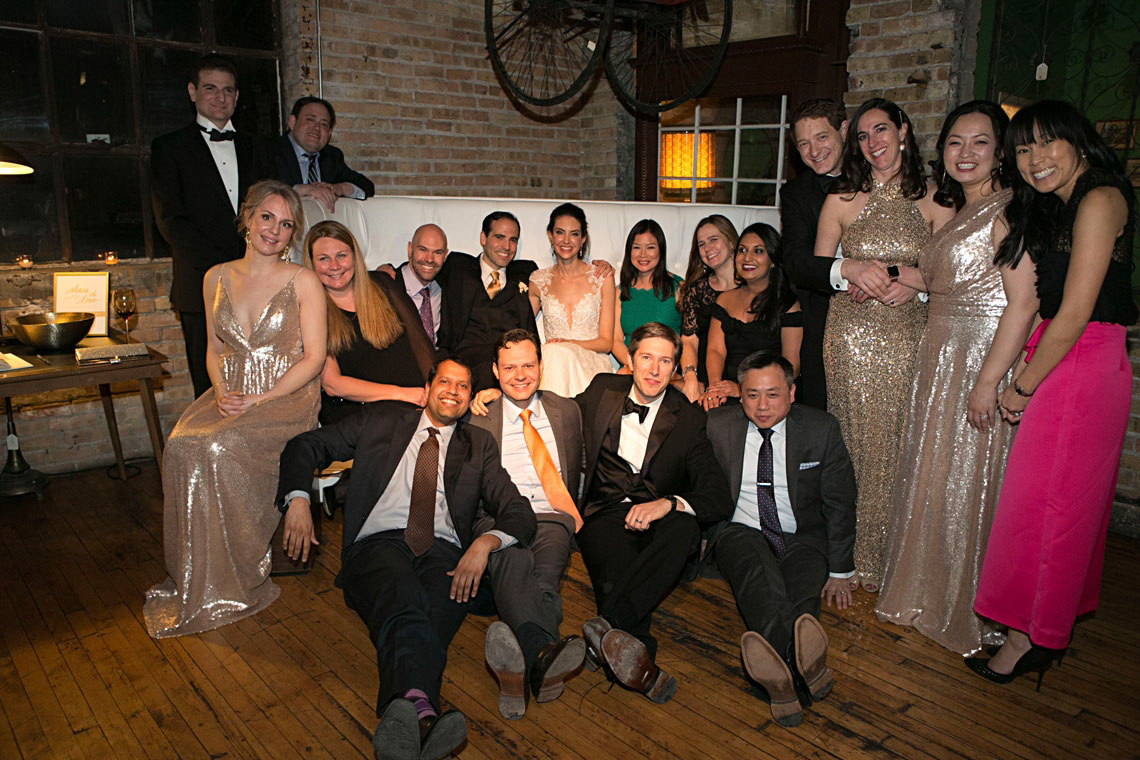 Scott McKinney
Scott was promoted to deputy chief financial officer at retailer Mattress Firm in March 2018. In his expanded role, Scott oversees accounting, FP&A, analytics and non-merchandise procurement, and continues to support the company's M&A and investor relations efforts. Scott and his wife Tracy Johnson McKinney '07 are enjoying Houston with their two kids and wonderful neighbors.
Jeffrey Petersen
In the 3.5 years that Jeff has spent as a wealth management advisor and portfolio manager with Merrill Lynch, he has successfully consolidated multiple books of business with more than $600 million in assets under management as a member of the Segura Molloy Fessler Petersen Group. Jeff is also proud to coach his son's youth lacrosse league and serve on the executive council of the United Way of Indian River County's board of directors.
2008-E&W
Casey (Fetherston) Kulka
Casey was honored as a Working Mother of the Year for 2017 by Working Mother magazine. Casey is a finance executive at GE Healthcare and resides in Milwaukee with her husband John and two sons, Jack (age 5) and Christopher (age 3). The award is given based on passion, leadership and resilience.
Elizabeth Neely
Liz is living her dream in the mountainous high desert of historic Santa Fe, New Mexico. She has taken on a new position at the Georgia O'Keeffe Museum as the curator of digital experience to design creative opportunities to connect with audiences onsite at the museum and in the artist's studio and through digital channels.
Gordan Redzic
Gordan has been appointed as chief technology officer at Swift Prepaid Solutions in Buffalo Grove, Illinois. Swift Prepaid Solutions is a global leader in open-loop prepaid program design and management, delivering payments, incentives and rewards on behalf of clients in over nine currencies and to more than 160 countries.
2009-FT
Evan Meagher
Evan is the VP of finance at Logikcull, an e-discovery startup in San Francisco, where he lives with Rebecca Frazzano Meagher '08. He continues to write cases for Kellogg publications and sing in a mediocre rock band, and he is a co-founder of the Batter's Box SF and Batter's Box Mobile batting cages.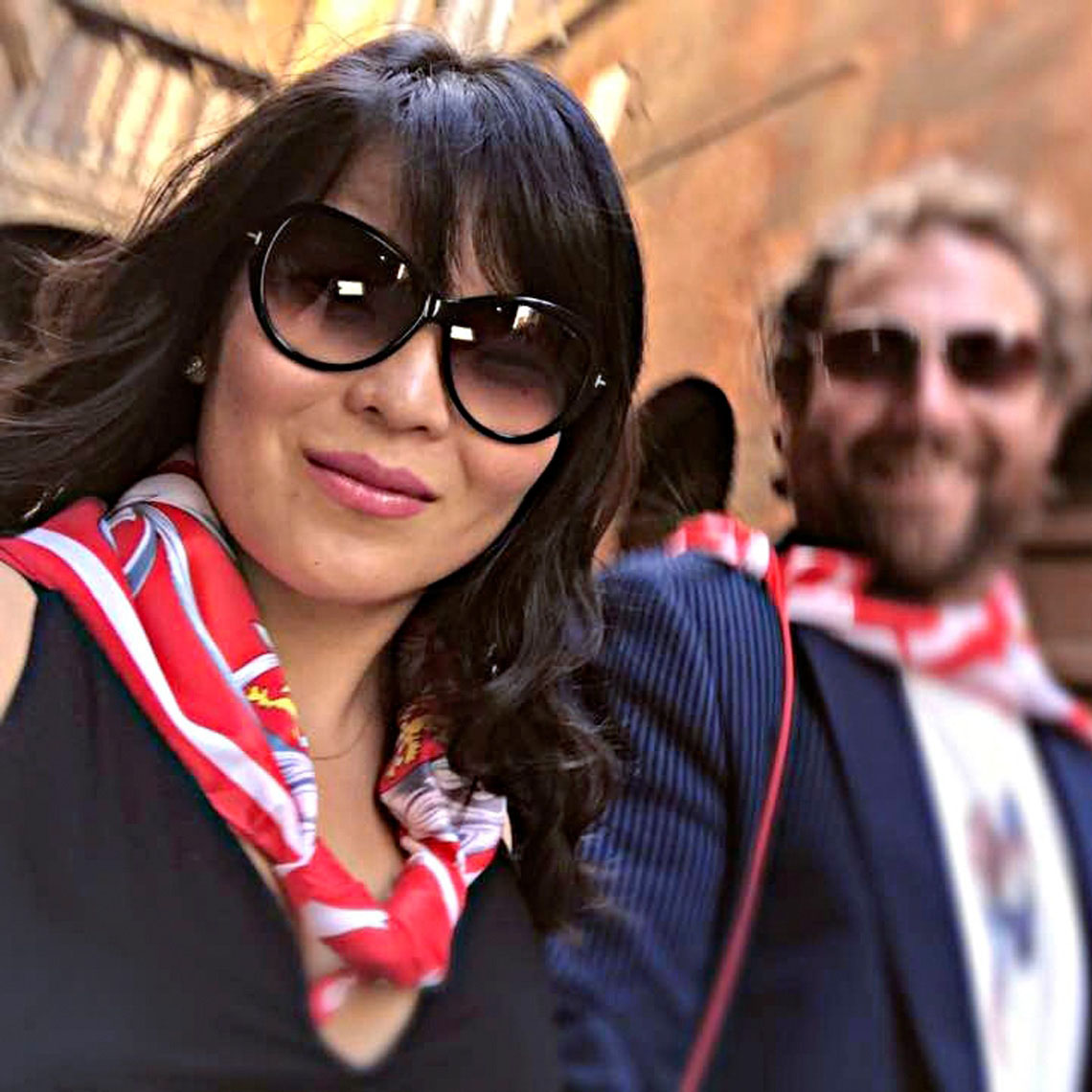 Ben Wightman
Ben was promoted from Gyro, where he was client service director and in group strategy and business development roles over the past eight years, to parent company, Dentsu Aegis Network, as head of data strategy, APAC. In the role, Ben organized and led the winning team for Google's first agency hackathon in APAC and was nominated for DAN's Innovation Award. Ben continues to serve on the NU-Kellogg Singapore Alumni Club executive board and the NU Global Connections Committee.
Catherine Wong
Catherine, Julie Carrier Bedard '09, Lisa Fanjoy '09, Emilie Fitch '09 and Sarina Sherwin '09 had fun catching up in May at the Kellogg Women's Round Table event in Boston. The event at Stella Restaurant in the South End neighborhood attracted an impressive group of more than 50 local Kellogg alumni. Attendees enjoyed a great night of reconnecting and meeting new friends.
2010s
2010-FT
Daniel Oska
Dan and family have moved on to his next work adventure with Chevron, moving from Venezuela to Angola for the next three years.
Rajesh Senapati
In March of 2017, HarbourVest Partners, a global private markets asset manager, announced its 2017 promotions, including six managing directors, one of which includes Raj. Raj focuses on secondary private equity investments. He initially joined HarbourVest in 2005 and subsequently rejoined the firm after earning his MBA.
Kenny Shum
Kenny and Erin Shum welcomed their first child, a baby girl named Avery Elizabeth Shum, on Nov. 20, 2017.
2011-FT
Enrico Leta
Enrico, founder of Greek yogurt brand Yorgus in Rio de Janeiro, Brazil, partnered with Eureciclo, founded by Thiago Pinto '14, to recycle, via a compensation network, 100 percent of the plastic used in the yogurt containers sold.
Jessica Liang
Jessica and Sam Liang '10, with their daughter Katherine, welcomed baby boy William in February.
Daniel Kamerling
Daniel, Kristin Jones '11 and their son Dustin welcomed daughter Ashlyn Rey to the family at the start of 2018. (Kristin and the kids pictured at Santa Monica Pier.) The family recently moved to Silicon Valley for Dan's new product manager job at Google and are enjoying reconnecting with Kellogg friends in the Bay Area.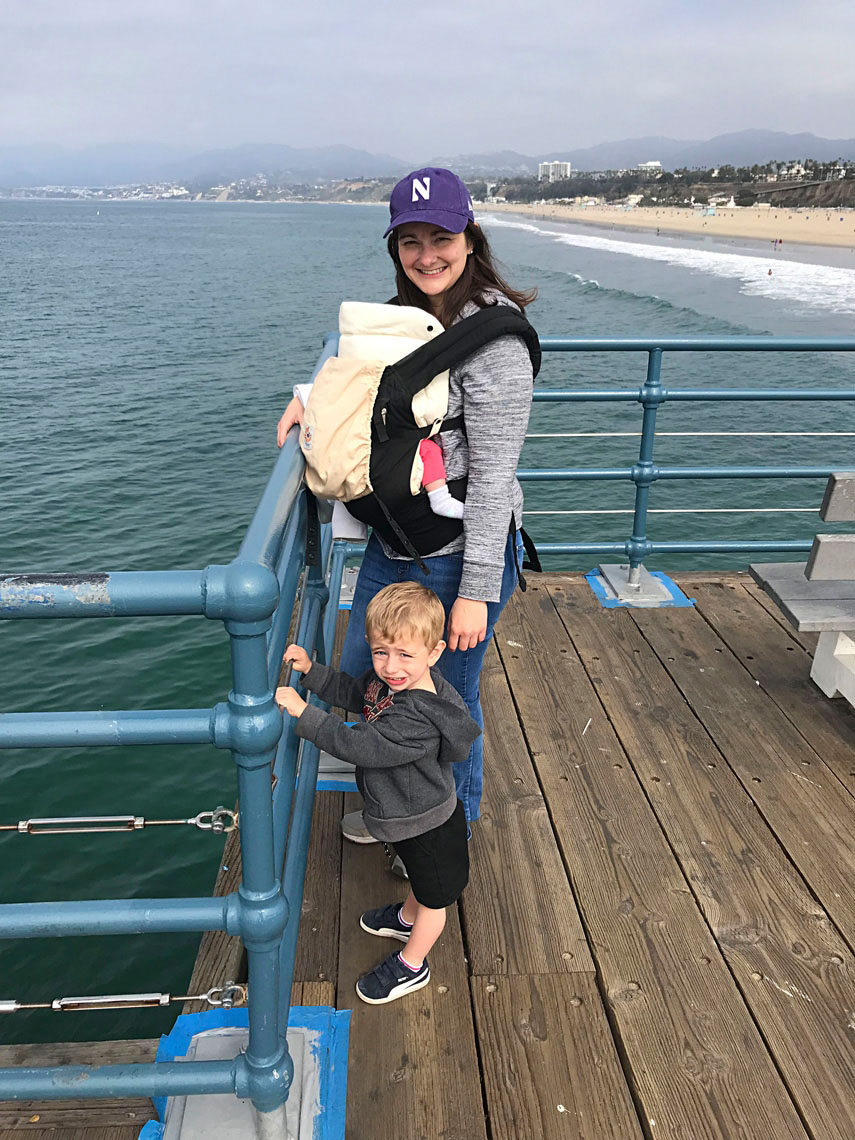 Christophe Maters
Christophe moved to Luxembourg to join a European group of wealth managers active in five countries. He's focused on the digital transformation of the group and is happy to often hang out with Ignaciao Bulnes '11 and Michal Laube '12.
Drew Palin
Drew helped the Kellogg rugby team beat Chicago Booth 33-0 in the inaugural 7's rugby game.
Hari Sripathi
While having dinner with a Kellogg classmate, Hari and Dozie Azotam '11 both realized how hard it was for alumni to practice case interviews outside of business school. There is neither a method of answering them nor an equally nuanced way of giving them. Hari, as the personal development chair of the New York Alumni Club, has been working this year on piloting a Kellogg Strategy Network that will allow alumni to connect with each other to practice case interviews.
Dheeraj Sultanian
Raj joined Corient Capital in Newport Beach, California, as partner general counsel and chief compliance officer.
2012-FT
Nick Haschka
Nick founded micro-private equity firm Cub Investments in 2016 to focus on acquiring niche businesses undergoing retirement-related ownership transitions. He has since become CEO of its first platform, Wright Gardner LLC, a San Francisco-based office plant company, and has facilitated three additional retirement transitions with other plant company owners.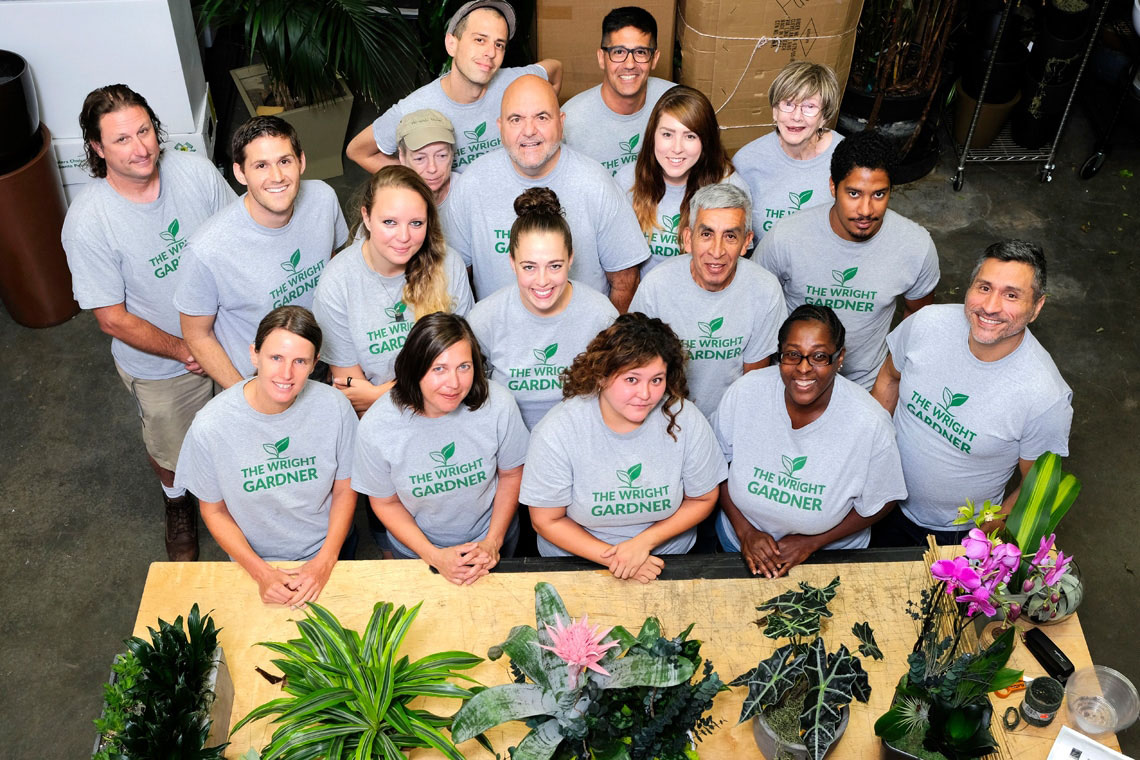 Peter Manoogian
Peter, an associate principal at ZS, recently earned a position on Consulting magazine's Rising Stars of the Profession's list. He was recognized in the client service category for his longstanding support of marketing and distribution functions with ZS's financial services clients. He and the other winners were recently honored at an awards gala in Chicago in April.
Penny Pennington
Penny was named incoming managing partner at Edward Jones beginning in 2018. (*Managing partner at the privately held firm is equivalent to CEO.) Penny began her career at Edward Jones in 2000 as a financial advisor in Livonia, Michigan. In 2006, she was named a principal and relocated to the firm's St. Louis headquarters, where she has held senior leadership roles in key divisions of the firm.
2012-E&W
Robert Vodicka
Robert, VP at SEAF, a global private equity firm, moved to Scottsdale, Arizona, with his wife Candace and daughters Lainey (4), Mila (2) and Mallory (2).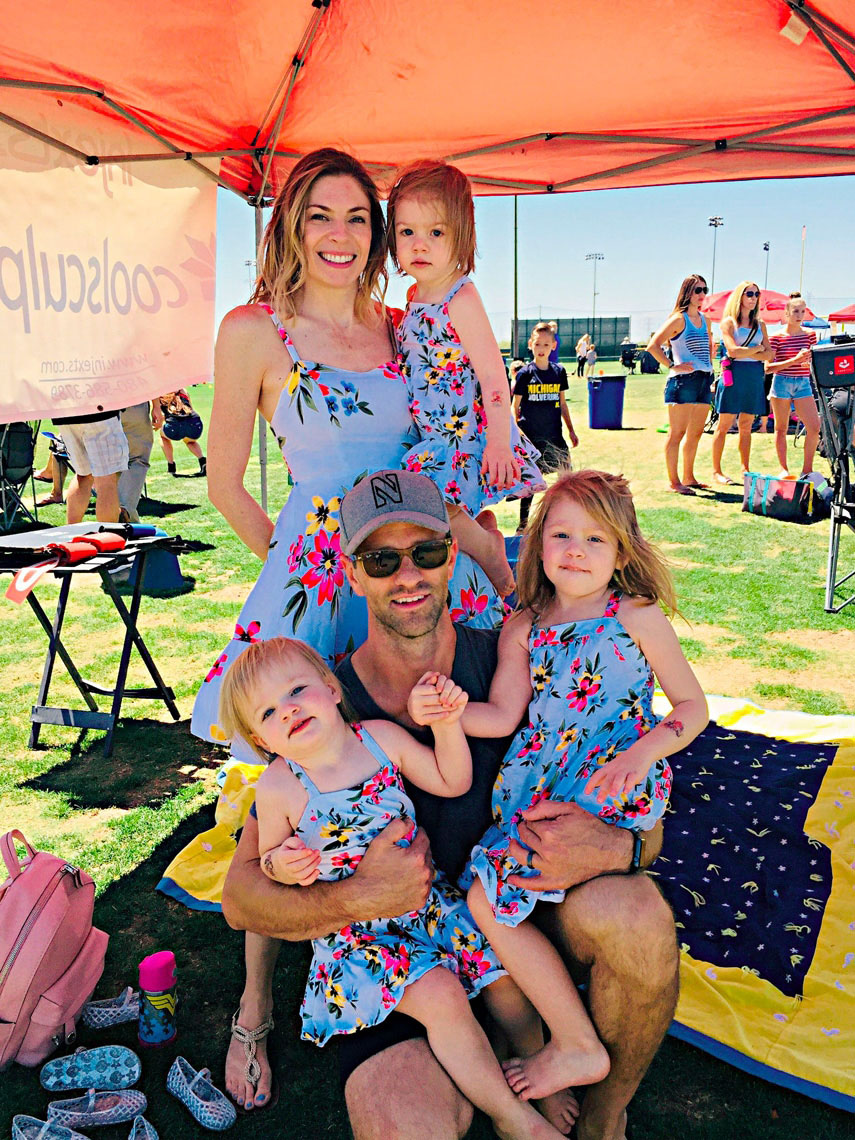 Luka Erceg
Luka is currently working at CDK Global as director of strategic sourcing and is serving on its nonprofit board. He is also on the regional leadership board for the American Cancer Society and an alumni advisor to Sigma Nu fraternity at Northwestern University. His current entrepreneurial venture is to bring Fashion Week to Chicago as the head of marketing.
2013-FT
Saul Andrade
Saul and his wife Elaina celebrated the arrival of their first child, Mateo.
Rushi Sheth
Rushi left BCG in 2016 to re-join the education industry and reignite a passion for serving students, teachers and schools. He works at the College Board as executive director of the AP Capstone Diploma program. This program features two courses — AP seminar and AP research — that place high school students in control of their learning. Teachers focus on research, argumentation and presentation skills and then coach students to conduct and present research in areas students choose.
2014-E&W
Nishant Awasthi
Nishant has been part of technology strategy consulting practice for the past four years, successfully resolving business problems for 16 clients in the continental U.S. Nishant has been a skill advisor for the INSEAD virtual program. He is proud of being part of the Kellogg community, which allowed him to propel his career to new heights and provided confidence to embrace any challenge. On top of that, his consulting work has allowed him to keep fresh relationships with "Kelloggites" in different parts of world.
Kirk McNamara
After leveraging Kellogg's Alumni Career Services, Kirk joined Motiva as chemicals venture manager in Houston and is on the forefront of the strategy and business development of major capital projects.
2015-FT
Anwar Ali
Anwar and Sara had their second child, Ziyan Ali, in Seattle in February 2018.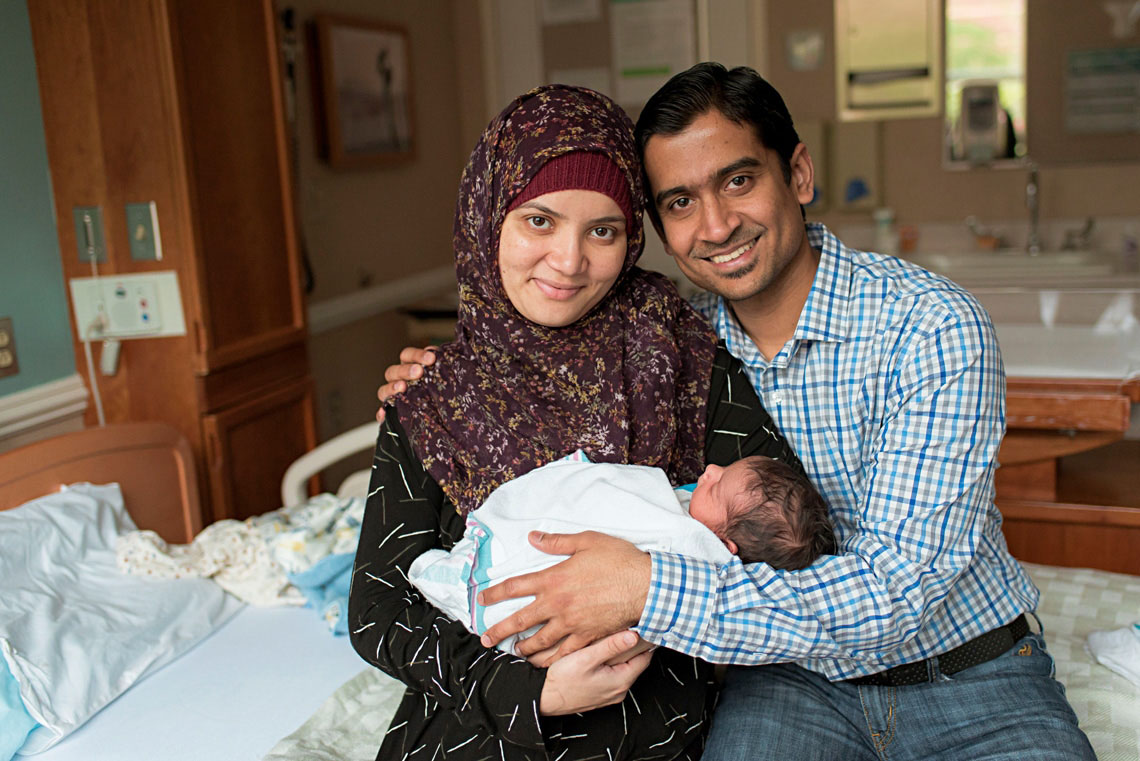 Deependra Ojha
Deependra is proud of moving to Ethiopia and working with the World Food Program in a bid to solve the country's challenges in agriculture, and working with the Ethiopian government to provide strategic and financial leadership to the sector. Even though this meant uprooting his life in the U.S. and managing long distance with his very understanding wife, Deependra grabbed this unique opportunity as it helped him create a difference, so early after graduating from Kellogg.
2015-E&W
Holly Mazzocca
Holly was named principal of Bartlett Wealth Management and joined the firm's management committee. She was also recognized as a local leader in finance as part of the WCPO Cincinnati Next 9 Awards. Holly was a proud host to Northwestern graduate student Zach Wang as part of the NEXT 2018 externship program in April 2018.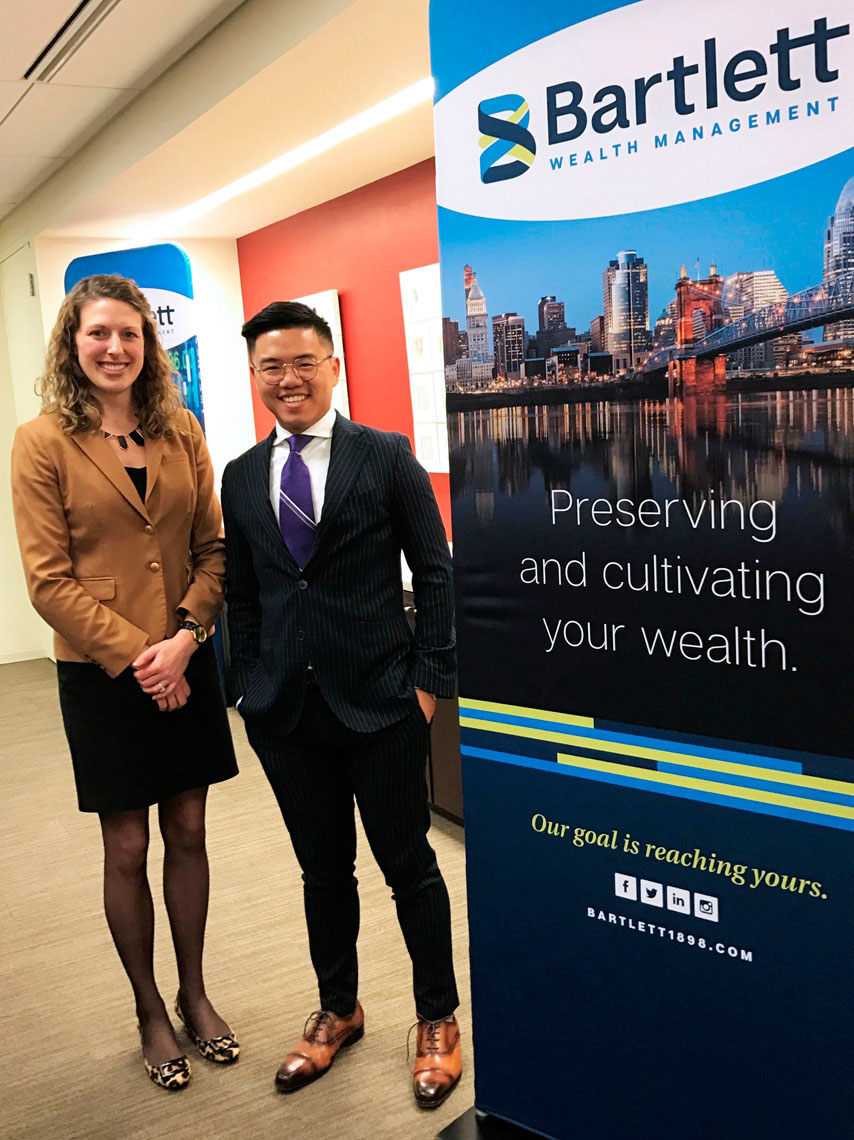 2015-FT
Chris Yenchek
Chris and his wife Kate welcomed their son Joshua Yenchek on Nov. 2, 2017. Chris was promoted to director of strategy at Beam Suntory, focusing on organic and inorganic growth opportunities for the company's brands.
2016-FT
Josh Adland
Josh and his wife Karen welcomed their first child, Liam Ezra Adland, on March 15.
Kim Dean
Kim and his wife Amy Tam welcomed their first child, Maxwell Tam Dean, on April 8, 2018.
Daniel Feldenheimer
Dan and Giulia Gargioni '16 got married last February in Punta Cana, Dominican Republic. They were fortunate and delighted to celebrate with many of their Kellogg friends in a very special ceremony.
Rebecca Sandbothe
Rebecca recently accepted an offer to help open Bain & Company's new Seattle office. She will be moving to Seattle permanently in August and is looking forward to connecting with the broader Kellogg community in the area.
Ari Parritz
Ari and his wife Dr. Rachel Parritz will be relocating from Chicago to the Twin Cities this summer as Ari opens a new office for his real estate development firm, Vermilion Development. Ari and Rachel will also be welcoming a new baby girl this fall!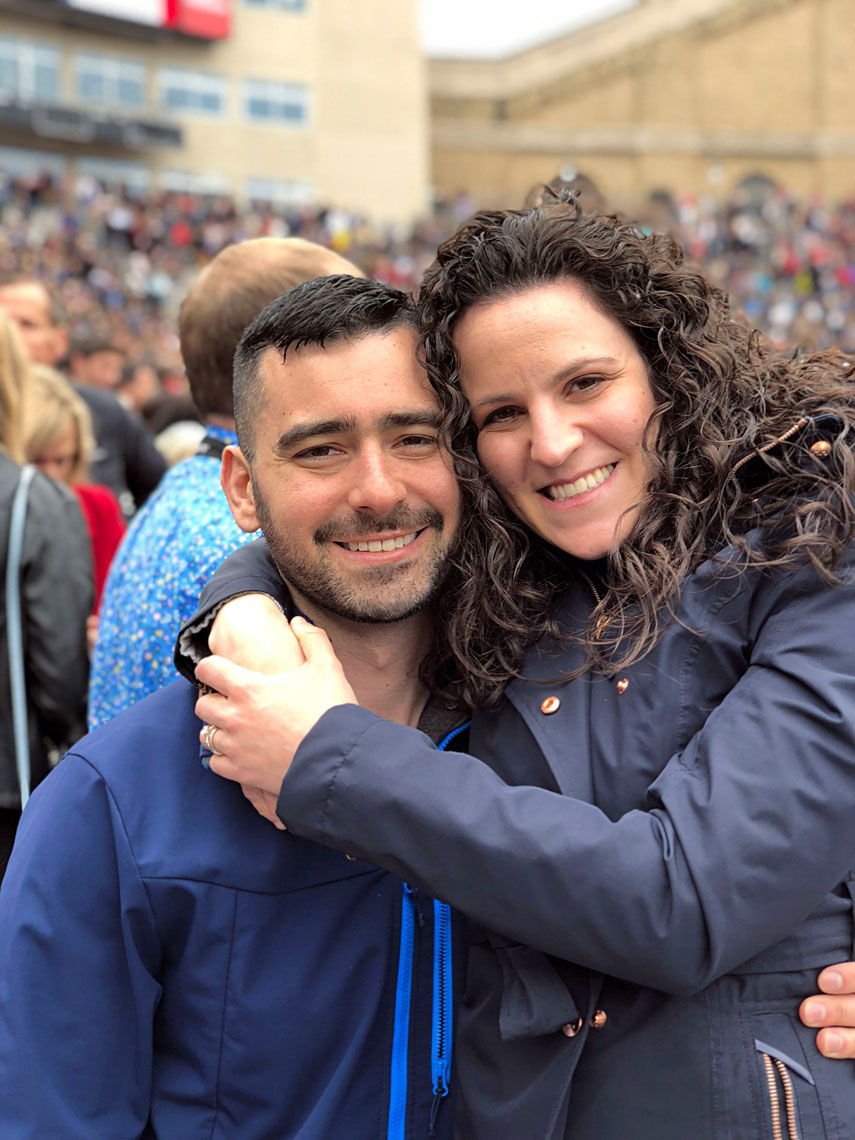 Eduardo Pellas
Eduardo, CEO and fifth generation family member of Flor de Caña Rum appeared in Spirits Business discussing being one of the first spirits in the world to receive The Fair Trade USA certification (thespiritsbusiness.com/2018/05/flor-de-cana-gains-fair-trade-certification/).
2016-E&W
Gordan Graham Van Hook
Graham and wife Katie announce the birth of their first child, Gordan Jackson Van Hook. Born March 18, 2018, he rang in at 10 pounds, 23 inches. Both mom and baby are healthy. Jackson was baptized in the ship's bell of USS Arleigh Burke (DDG 51). Graham is USS Arleigh Burke's operations officer and he will deploy this spring with the Harry S. Truman Carrier Strike Group to the Persian Gulf.
2017-FT
Jillian Masucci
Jillian and Brian Curtis '17 married on March 31, 2018, in Houston, celebrating with many Kellogg friends in attendance. They returned to Houston upon graduation in 2017, where they both work as consultants; Brian at Accenture Strategy and Jillian at Bain & Co.
Executive MBA Cohorts
EMBA COHORT 4
Joanne Gucwa Fujii
Joanne is writing BioFables, a 12-book series of children's novels incorporating science and humanities. She has published six books and has a seventh in progress. There is one trial companion book published for parents and teachers (biofables.com).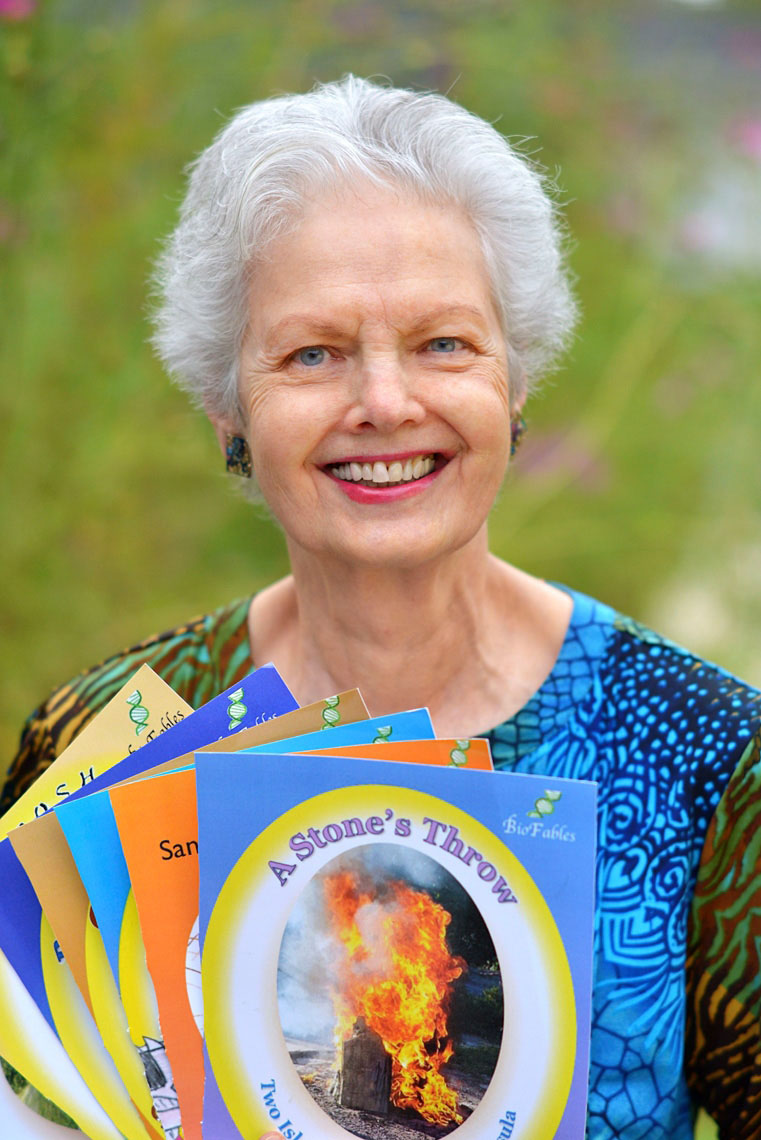 EMBA COHORT 8
Bernadine Bednarz
Bernadine attended a fundraiser for Planned Parenthood at the home of Elise Wetzel '92 in May. She is the president of Blaze Pizza, one of the hottest fast casual places. Bernadine is the director of Ready, Set, Gold!, a program of the Southern California Committee for the Olympic Games.
EMBA COHORT 12
Ally Golan
Kellogg's first collaboration with Techday NY, the largest startup event in the U.S., was a huge success. Kellogg founders, current MBA students and alumni exhibited their promising ventures. The partnership was spearheaded by Ally, who is VP of entrepreneurship for the Kellogg Alumni Club of New York. In 2015, Ally founded the Entrepreneurial Club to bring together and engage Kellogg's expansive network of alumni in the entrepreneurial space. Everyone is encouraged to join the club's quarterly events.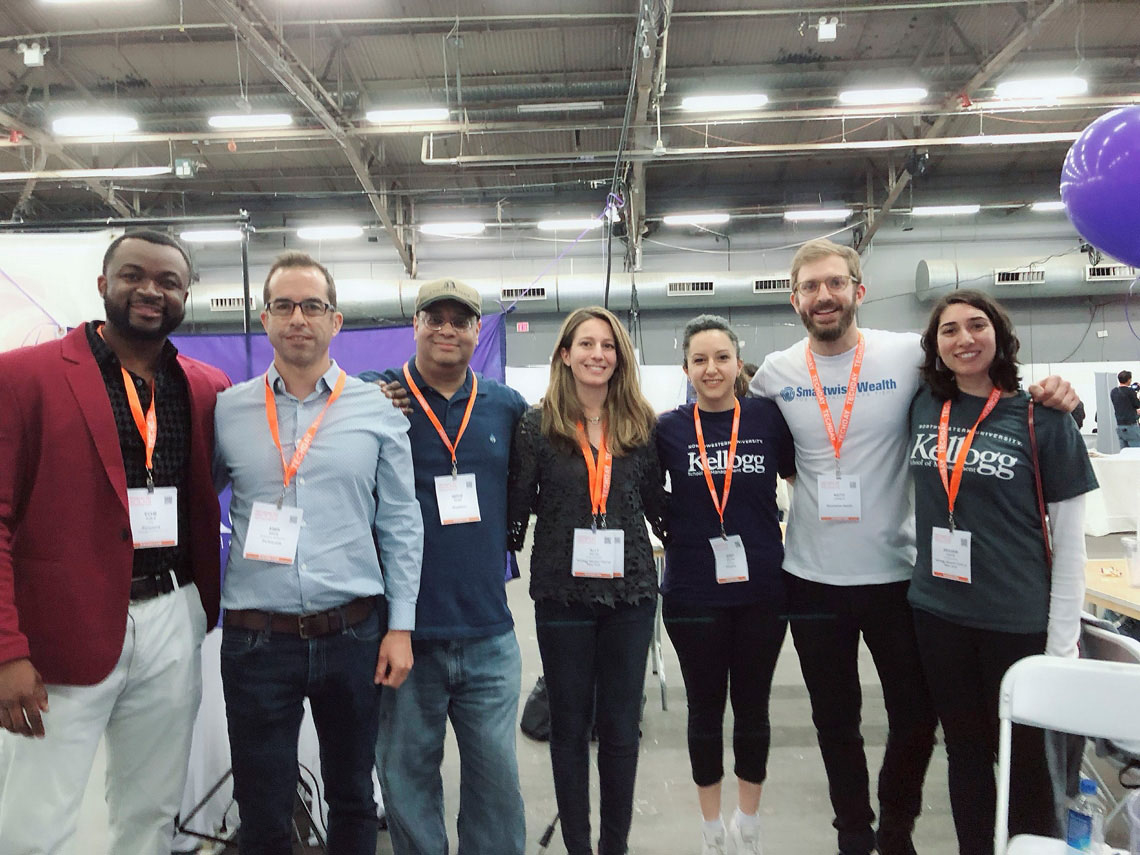 EMBA COHORT 24
Eileen Clune
Fellow alumni, Kellogg magazine has made recent changes to class note submissions, which will no longer call on class representative submissions on behalf of the EMP 24 class. Rather, all alumni will receive communication from the Kellogg magazine team twice per year encouraging individual note submissions by the stated deadline for the upcoming issue. Please feel free to contact Eileen if you have further questions.
EMBA COHORT 29
Kim Marren
Kim launched her own consulting practice in 2013. She provides financial leadership and performance improvement to privately held companies that are at a crossroads and need help moving forward.
EMBA COHORT 40
Christina Ksoll
Chris has made a documentary with a Northwestern public policy grad student named Chris Grimes. Together, they have exposed the money trail behind puppy mills in America. The doc is called Dog By Dog and it can be purchased at Best Buy, on Amazon or seen on iTunes and Netflix. They showed the film at Parliament in the UK, as well as all across theaters in America and Canada, giving the ticket proceeds to rescues and shelters in the theaters' cities and towns.
EMBA COHORT 45
Amy (Liz) Lazarus
Liz released her second psychological legal thriller, Plea for Justice, under her pen name, Liz Lazarus. The story depicts the journey of a paralegal striving to reveal the truth about her estranged friend's incarceration and leads her on a parallel path of self-discovery.
EMBA COHORT 47
Gautam Roy
For more than 70 years, people have been using coins to pay for laundry. Did you know this industry collects 6 billion quarters each year? Gautam is rolling out mobile payment to laundry rooms. Through the mobile app, customers use mobile payment to start the laundry machines. No more coins! The digital company will fundamentally impact the ways people live their lives. It is creating an unparalleled customer experience.
EMBA COHORT 47
Nikola Vajda
Nikola and his wife Lepsa welcomed their sixth grandchild, Monroe Vajda, on Aug. 8. The Kellogg family is growing.
EMBA COHORT 52
Alison Gutterman
Alison was named an Ernst & Young Entrepreneur of the Year for the Midwest region for family-owned businesses in June 2017. She also was named one of the 2017 Influential Women in Business by Daily Herald Business Ledger.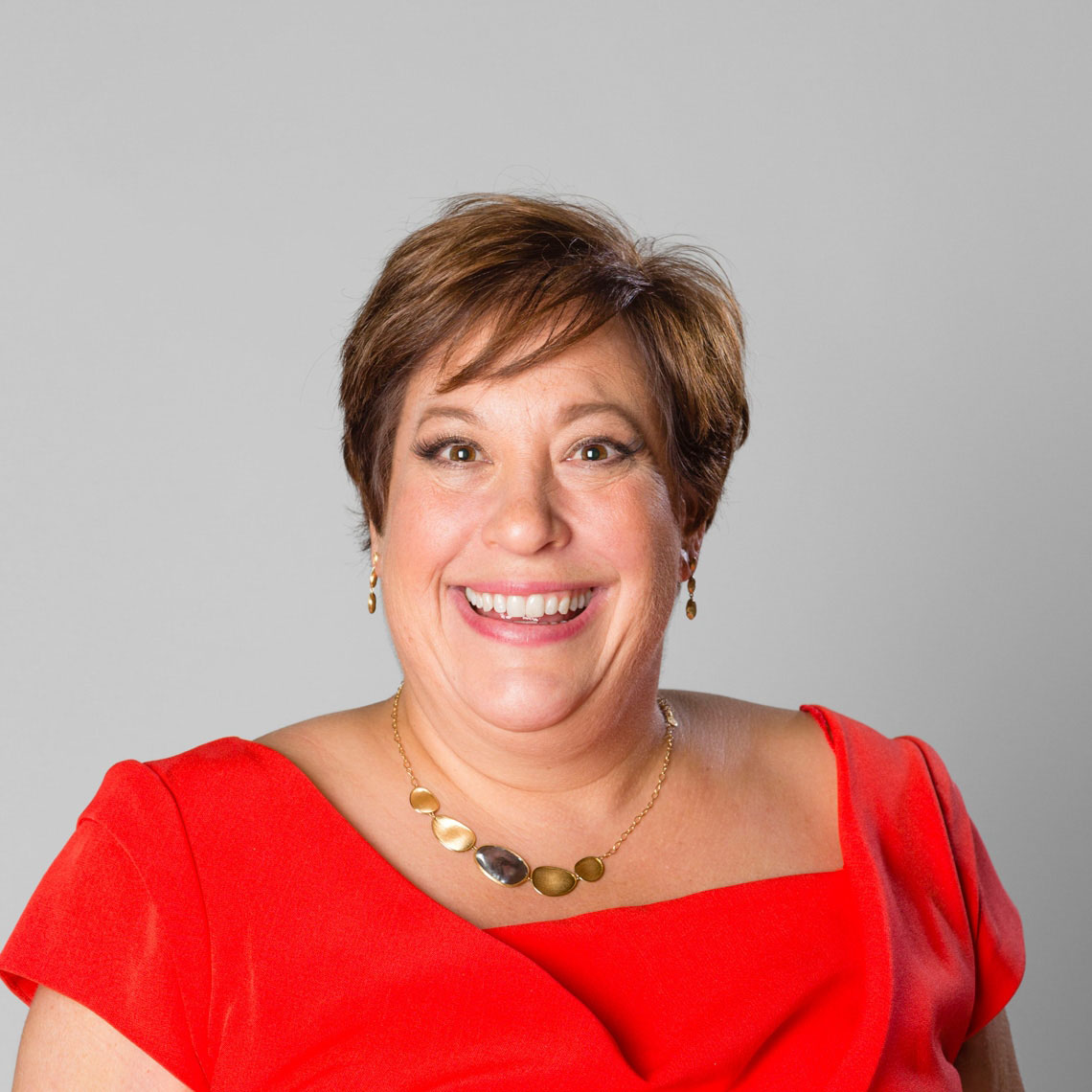 EMBA COHORT 57
Vik Ghai
Vik joined the board at Child Advocates of Silicon Valley to aid the agency in achieving its strategic goal of helping all foster children in the community. Equipped and ready after Kellogg's EMP program, Vik co-founded Quantum Secure in 2005 and led it from a novel concept to a global company that secured the most important places on earth. Quantum was acquired by Assa Abloy in 2015 and merged with HID Global. He enjoyed his recent conversation with EMP 57 peers Elizabeth, Terry, Seshu, John T. and Tim V.
EMBA COHORT 60
Tom Himmel
Tom Himmel has been appointed as the CEO of Ritescreen. RiteScreen (www.ritescreen.com) was founded in 1947 and is the largest independent manufacturer of window and patio door screens in North America.
EMBA COHORT 66
Krishnarao Tangella
Krish is scaling up DoveMed, a health information company. DoveMed.com offers a platform for physicians and patients to interact to improve quality of care. With more than 450,000 monthly users, DoveMed offers a platform to rate and review more than 1 million providers and more than 7,500 hospitals. Its proprietary analytic product called DoveScore measures quality of healthcare in more than 30,000 cities and 44,000 zip codes. Currently, Krish is busy completing Series B funding with help from Bret Waters EMBA Cohort 66.
EMBA COHORT 67
Susan Carr
In June, Susan launched models at Canarias in Downtown Doral in Miami, the culmination of two years of planning for an urban community consisting of 423 contemporary homes and townhomes. More than 60 homes have been sold to date, with prices ranging from the $600s. This is CC Homes' most ambitious and complicated project to date. Nine furnished models and homes for sale mark the grand opening event.
EMBA COHORT 68
Sunil Polepalli
Sunil recently joined Amazon Web Services (AWS) to run a portfolio of storage partnerships globally at the company. He is responsible for unlocking and accelerating the monetization of total addressable market opportunity to AWS with his partnership portfolio. Sunil is thrilled to be part of the AWS team, which continues to change the face of IT through obsessive customer focus and relentless innovation.
EMBA COHORT 72
Mary Pettinato
Kellogg helped Mary make the transition from successful business owner to CEO of Honor Flight Chicago. In that role, she has enabled more than 7,500 WWII and Korean War veterans to experience a day of honor in Washington, DC. Mary thanks the Kellogg staff, her classmates and alumni who've helped as advisors, volunteers and donors. Mary is pictured with Korean War veteran Don Arseneau and his son in Washington during Honor Flight Chicago's 83rd flight on April 11, 2018.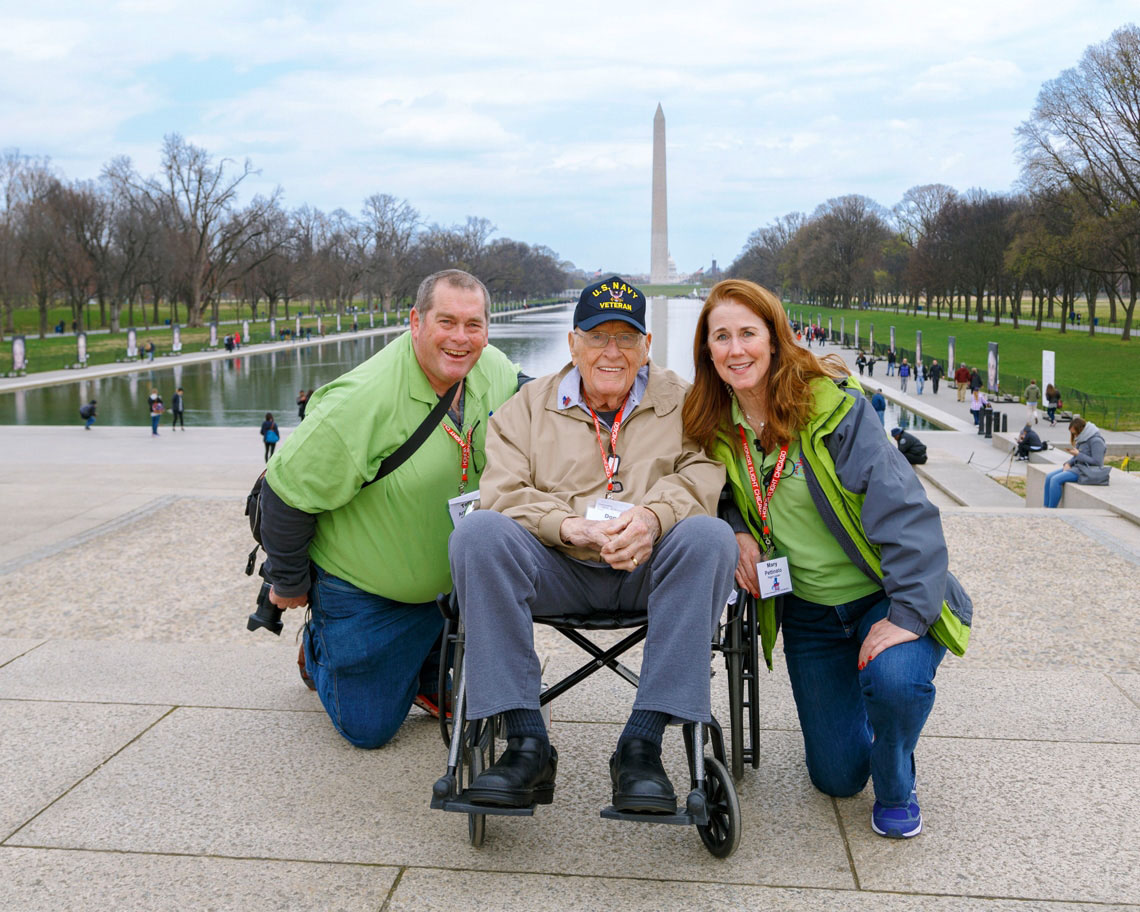 EMBA COHORT 75
Gloria Guevara
The Global Women's Summit was a great opportunity to reconnect with Kellogg. Gloria was part of the steering committee and was invited to speak at one of the sessions. She shared insights on her experience and taking risks. She also spent time with Dean Sally Blount '92 and thanked her for her hard work, legacy and contribution to Kellogg.
EMBA COHORT 79
Sanjay Asnani
Sanjay switched roles after being at Amazon Web Services for six years to head up the North America partner strategy for Oracle's Gen2 IaaS offering (Oracle Cloud Infrastructure). He is married to a nurse and has a beautiful 9-year-old budding scientist daughter who idolizes Marie Curie and is constantly thinking of new experiments (read: messes) to create around the house!
Renwar Berzinji
Renwar is based in Dubai with his wife and two kids. He was promoted to VP of the Middle East and North Africa, and India at Tenaris. He is coming to Miami this summer and the EMBA Cohort 79 group is planning a dinner for the occasion.
EMBA COHORT 79
Holly Both
Holly, vice president of marketing for Plymouth Tube Co., in Warrenville, Illinois, is also vice-chair of the Women in Titanium sub-group of the International Titanium Association. The mission of WiT is to develop a networking group of collegial women presently in the titanium industry; and to promote, attract and encourage high school and college women to enter the titanium industry.
Leticia Gammill
Leticia volunteered to interview prospective students applying to Northwestern University. It was a wonderful experience that she hopes to repeat. Aside from touring colleges for her two high schoolers, she works in the tech industry as head of Latin America for PaperCut Software, a technology company in Melbourne, Australia.
Manish Mohan
Manish was promoted to chief global talent officer and to the executive committee of Kforce Inc., a technology consulting firm. His responsibilities include management of Kforce's global portfolio of 2,600 associates who provide technology solutions to 550 U.S. clients. He lives in Tampa, Florida, with his wife Lidonna and two coonhounds. They are empty nesters with two kids in college.
EMBA COHORT 93
Ramon Murguia
Ramon has written more than 30 articles in the past year. He has been invited to speak at conferences and his travels connect him with Kellogg alumni in different countries. He is representing Kellogg EMBA in Mexico City and has hosted and helped organize events for prospects and alumni.
Brian C. Smith
Brian is a degreed engineer and former Navy officer who uses his Kellogg MBA to create winning processes for marketing and selling real estate. Brian enjoys playing with his daughter, golfing, cooking, riding ElliptiGO elliptical bicycles, volunteering at Camillus House, contributing to Nuestra Noche Colombiana, and is an active member of the BNA, Notre Dame Club of Miami, NU Club of SE Florida, Miami Beach Chamber of Commerce (Pillar Trustee) and St. Patrick's Catholic Church.
EMBA COHORT 103
Luiz Schafer
Luiz co-founded and is the COO and CFO of ISKAY Shoes (iskayshoes.com). ISKAY sells Peruvian handmade shoes, which are fair trade, and collaborates with an NGO to give back to the community in Peru. ISKAY means "two" in Quechua, the Inca language, because of the artisan's hands that create the shoes and the feet that wear them.
EMBA COHORT 104
Robert Meyers
Robert received the Top 40 Under 40 Award from the Commercial Finance Association.
EMBA COHORT 105
Jerome Deveix
Jerome recently accepted a BPM senior manager role at Salesforce after having spent a sabbatical to evaluate how his skills might merge with corporate social responsibility. His Kellogg experience provided him the confidence to move to San Francisco in search of career opportunities. Salesforce is both a product/market and corporate philanthropy leader and has been named the #1 company to work for by Fortune.
EMBA COHORT 106
Ryan New
Ryan and his wife Marta New moved back to Chicago after a year each in Boston and Atlanta. Ryan was promoted to VP at ICE/NYSE, where he is involved with a PM program, a mentoring program and budget management and reporting. He is looking for a mentor for himself. Marta has co-founded Agent Capital, a VC firm focused on biotech and healthcare companies. Their son, Alex 2041, turned 1 in April.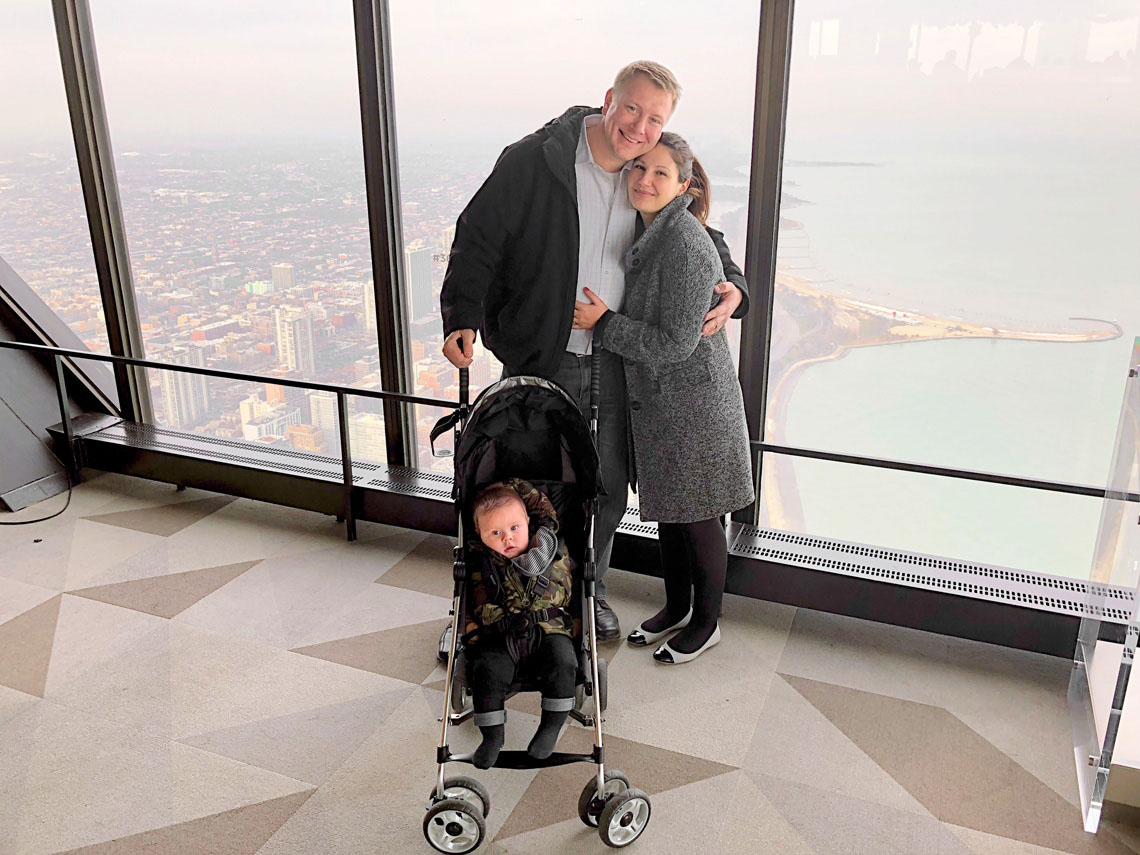 EMBA COHORT 107
Victor Ricardo Cardiel
Victor is the founder and CEO of Latin American Rainmakers, a business development firm established in 2007 and focused on the development of power generation infrastructure projects based on conventional and non-conventional technologies. He is the executive advisor for global engineering, procurement and construction (EPC) firms and a board member at a few SPV companies. He is the former commercial director at GE O&G for the LATAM region, and business area manager at GE Industrial Systems, Rockwell Automation and ABB Systems.
EMBA COHORT KH04
Samuel Gebert
Samuel founded TeSito Profidential Developments gemeinnützige UG (charitable enterprise) www.tesito.de. TeSito is serving Gambia by building and supporting skill centers, fostering startups and coordinating activities to create jobs. In Germany, he wants to offer refugees help to return home by their own decision.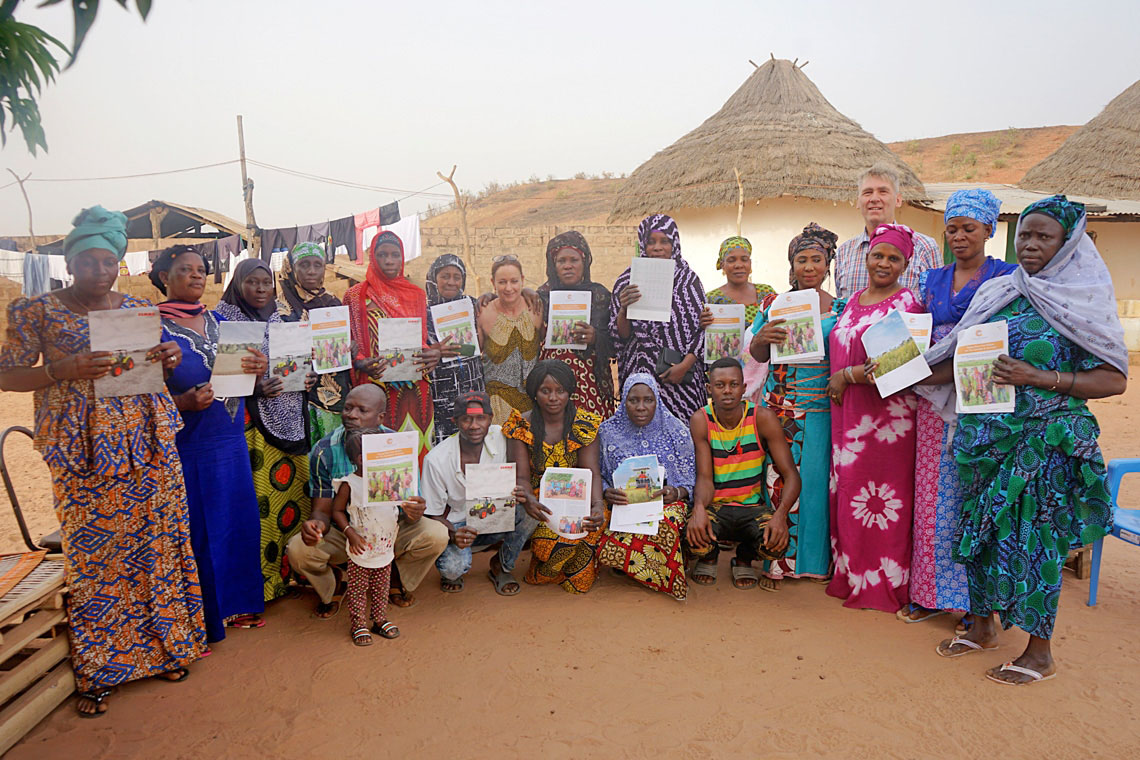 EMBA COHORT KH05
Richard Wright
Richard left Hong Kong after 21 years to lead a blockchain company based out of London. The company is part of an alliance of partner companies in a consortium, permission blockchain model. It is fully KYC & AML banking-standard compliant and offers innovation services, productions and solutions.
EMBA COHORT KH14
Olivier Berger
Olivier joyfully welcomed daughter Mahe, born April 20, 2018, in Dubai.
EMBA COHORT KR05
Reuven Kruger
Reuven has founded a new NGO in Modi'in, Israel, dedicated to promoting civil discourse in Israeli society through alternative dispute resolution. The multi-door clinic offers mediation, arbitration, couples therapy and parental counseling. Mediators, lawyers and family professionals touring Israel are welcome to visit the Emek Hashaveh Center for community dialogue.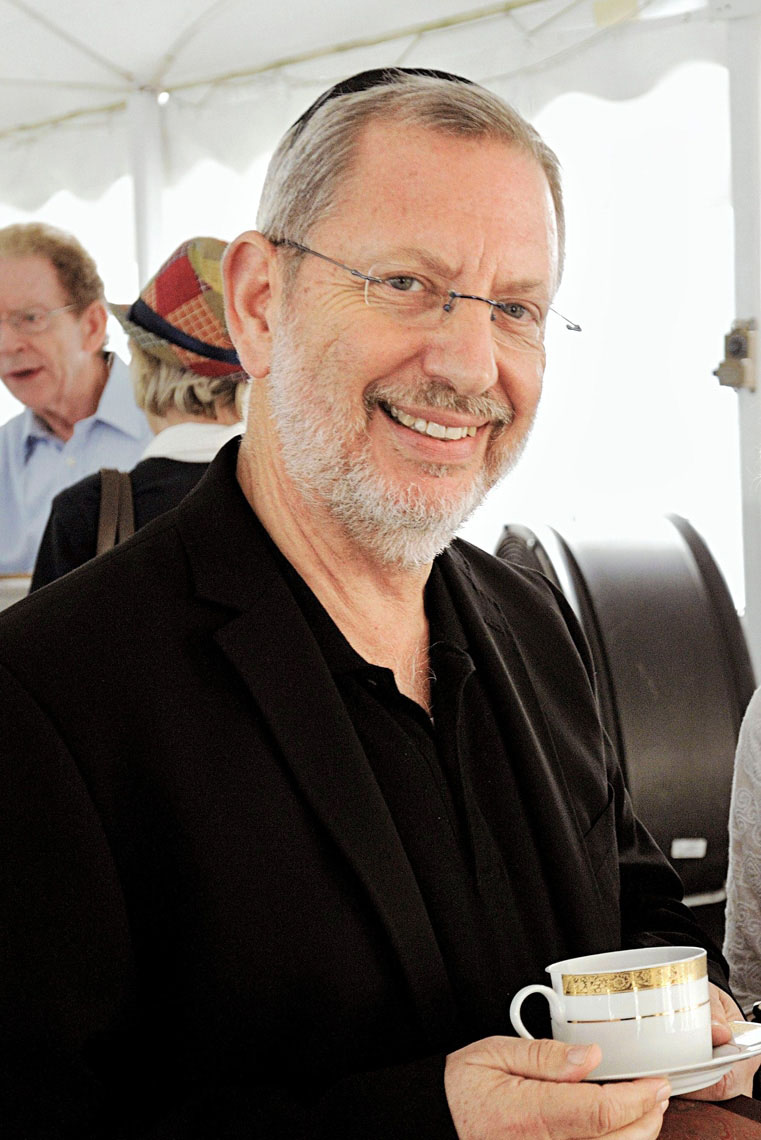 EMBA COHORT KR11
Alon Moshe
Alon is CEO of Twine Solutions Ltd. (www.twine-s.com), which is introducing the world's first digital thread printer, setting to disrupt the entire textile industry. Twine brings dye-house capabilities right to the production floor and to sewing/knitting systems without existing substantial ecological concerns. An industrial paradigm shift at the most basic level is significantly manifesting both at supply and at production chains. Kellogg had immense impact on Twine's success.
EMBA COHORT KR15
Oren Rasooli
Following graduation, Oren left the corporate world. Today, he manages a boutique consulting firm focusing on Israel-China life-science cooperation.
EMBA COHORT KR17
Lior Kodner
Lior was appointed managing editor and chief digital officer at Haaretz in Israel.
EMBA COHORT KS08
Natasha Lebel
Founders of one of Canada's most innovative emerging architectural practices, Natasha and Luc Bouliane of Lebel & Bouliane, were honored to attend the Pritzker Prize ceremony in Toronto, presented to Balkrishna Doshi by Tom Pritzker. Recognized as the world's most prestigious architectural award, the prize was founded by Jay and Cindy Pritzker in 1979.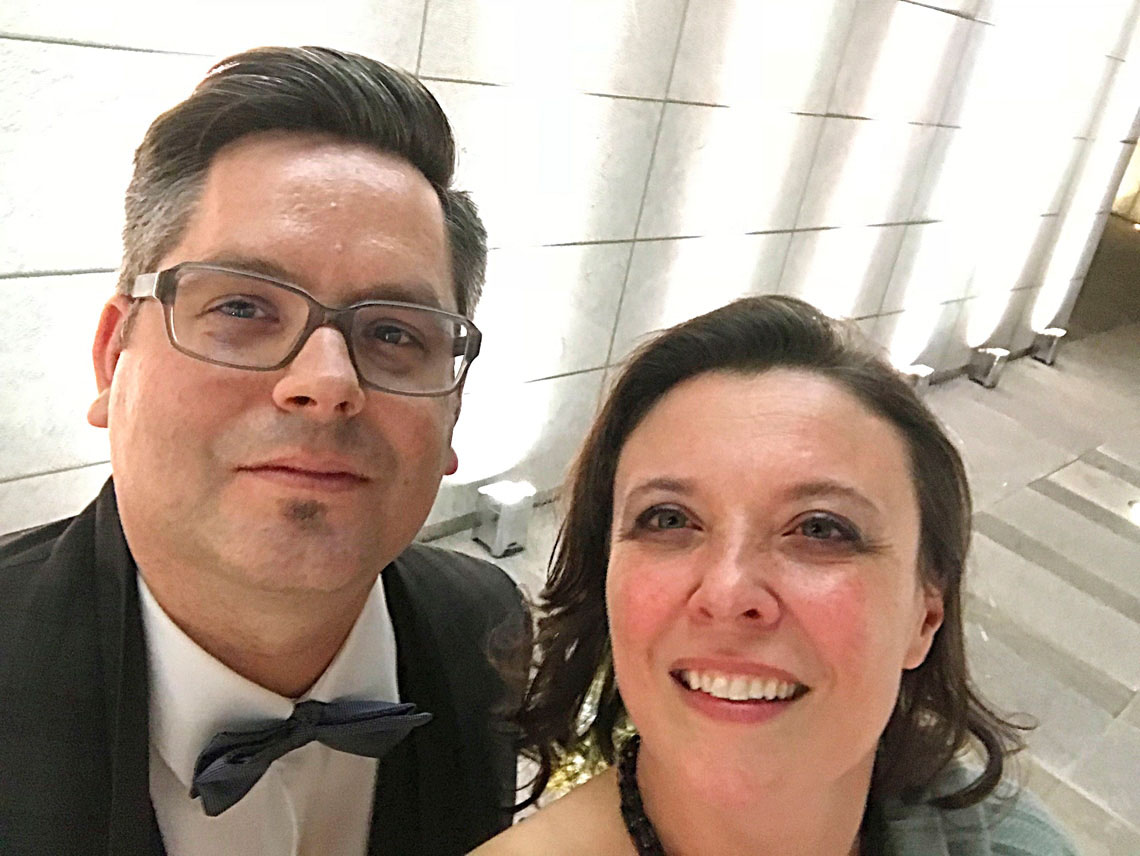 EMBA COHORT KS14
Numan Mubashar
Numan joined Centric Software in January 2017 as senior product manager to innovate and simplify complex product development challenges surrounding retailers and brand owners. As retailers struggle to keep up margins, Numan's ideas pave the way for increased collaboration, reduced cost and improved speed to market. This is made possible via the learning acquired through collaborating among the great Kellogg network.
Are you celebrating a reunion in 2019? Reconnect with everyone by joining your class Facebook group or page.