ELECTRIFYING YOUR BASE
UTILITY SMART-DATA FIRM METERGENIUS FINDS NEW WAYS
TO ENGAGE ITS CUSTOMER BASE


Getting people to use your new product is difficult enough. Getting them to use it in a market that constantly evolves? That can be impossible.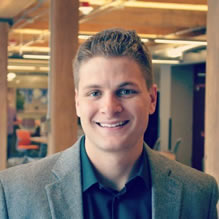 Those were the problems Ty Benefiel '14 and his MeterGenius co-founders — Hillary Hass WCAS'14, Fred Thwaites MEAS '13, Yan Man MEAS '14 and current McCormick PhD candidate Yves Xie — faced after launching MeterGenius, a cleantech startup that developed a platform to monitor smart-meter data.
The trick, Benefiel says, was getting consumers to engage with the possibility of saving money while improving the environment. And after numerous iterations and constant testing, MeterGenius is poised to make impact on a market that includes 46 million U.S. homes sending usage data to power companies via digitized electricity meters.
For the team, that meant being flexible when it came to reaching its audience.
The small team grew around Benefiel's pitch at the Winter 2013 NUvention: Energy course. Back then, the idea was anchored in producing hardware that covered an electrical outlet and enabled users to control attached devices. Eventually, the team pivoted toward a software solution for electricity providers themselves. Benefiel cited a 2010 Accenture survey that found people in the United States spend fewer than 10 minutes per year interacting with their energy provider. "To get a motivated customer base," he says, "making things easy for them is really important."
"
Now that the market has evolved, we are able to fulfill our initial vision and incorporate everything we've learned along the way to enhance effectiveness of that initial idea.
"
TY BENEFIEL '14,
Co-Founder, MeterGenius
Xie built an application for a pilot with 3,000 customers of Infinite Energy, a Texas-based energy supplier. The application provided users with usage data over 15-minute increments, which removed some of the mystery surrounding monthly charges. By the end of the pilot, MeterGenius had increased Infinite's customer retention a total of 27 percent, and saved customers an average of 6 percent on their monthly bills. Among customers who logged in at least once a month, the numbers were even higher.
The team had found its niche. But in many cases, MeterGenius found the application's novelty quickly wore off.
"People don't want to do homework," Benefiel says. "We're not going to keep customers engaged with just usage graphs." Now beginning another pilot with ComEd in Chicago, the St. Louis-based MeterGenius is working to increase and retain customer engagement. Their new mobile app sends users push notifications to encourage reduced consumption during peak hours and a real-time rewards program that uses redeemable points to motivate customers to change their habits.
People with compatible devices in their homes can even turn things off remotely, a sly way of reintroducing the original concept to the company's growing base.
"Now that the market has evolved," Benefiel says, "we are able to fulfill our initial vision and incorporate everything we've learned along the way to enhance the effectiveness of that initial idea."