Pulling a
CORPORATE COUNTERPUNCH
AS STARTUPS PUSH THEIR WAY INTO THE MARKETPLACE,
ESTABLISHED COMPANIES SEEK NEW COMPETITIVE RESPONSES
By HEATHER BLAHA | ILLUSTRATION BY ANDREW BANNECKER
For a traditional company enjoying a long life span, being in business no longer means simply staying in business. To keep going — and growing — leaders of established companies know that they must constantly prepare for and engage with disruptive innovation rather than react to or fight against it.
The 4 A'S

TO COMBATTING DISRUPTION
Professor Mohan Sawhney offers four corporate strategies for dealing with startups trying to steal market share
Attack
digital disruptors by creating a disruptor of your own. This is the most radical approach of the four — the idea of cannibalizing yourself before someone cannibalizes you.
Example: HBO creating streaming services HBO Go and HBO Now in response to Hulu, Amazon and Netflix.
Acquire
a startup and keep your cannibals in the family. This is the most popular strategy and can result in a great marriage combining the distribution, scale and assets of the large company with the innovation of a startup.
Example: Allstate acquiring Esurance. Since Allstate agent channels would not let them go direct to customer, they chose to acquire Esurance and keep it at arm's length.
Absorb
by incorporating innovative activities into mainstream business. Instead of fighting against the innovators, use their business model.
Example: A traditional taxi company can learn from Uber by creating its own app with similar features and capabilities.
Adapt
by learning from and thinking like digital disruptors. Question assumptions, embrace agile processes, build marketing into products, leverage privileged assets. Think big, start small, scale fast.
Example: Target Corporation created an internal digital advisory board as a way to improve digital savvy and remain strong against Amazon.
For some, it means acquiring a cutting-edge competitor. For others, it means creating a board of digital advisors to help lead the technological efforts of executives. Others still will find value in engaging directly with a startup, creating a mutually beneficial relationship.
Rather than fighting back against encroaching innovators, today's corporate mindset has shifted more toward generous collaboration, encouraging leaders and employees to always think like innovators – and to be open to outsiders. For many industries, the landscape for moving nimbly and deliberately in the marketplace offers more engagement options than ever.
Four ways to respond
According to Mohan Sawhney, the McCormick Foundation Chair of Technology, corporations can respond to innovation by taking one of four strategies: attacking, acquiring, absorbing or adapting. "This can be done by disrupting an external disruptor or even cannibalizing your own business, by forming a great marriage, by quickly incorporating innovation activities into mainstream business or by observing, learning and general adaptation," says Sawhney. "An approach can range from quite radical to one with lower impact and less disruption," he says, and the desired approach takes corporate history and culture, alongside current market trends, into account.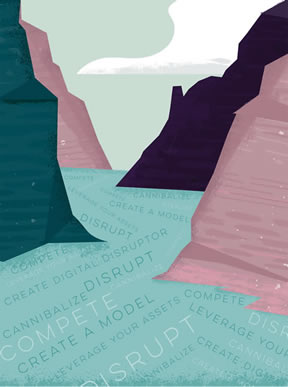 In the early 2000s, E. & J. Gallo Winery recognized a cultural shift in traditional U.S. wine consumption, says Stephanie Gallo '99, vice president of marketing. The relationship consumers had to wine was changing, as smaller, newer wineries were offering both new products and perspective. "Wine was no longer viewed as an elitist beverage," she says, "but rather as something enjoyed in casual social occasions." She acknowledged that Gallo's brand needed a shift to live up to their belief that, like life, wine should be more fun and less serious.
The winery's game-changing move came with its acquisition of Barefoot in 2005. Gallo and her team saw Barefoot wines speaking (and selling) to a new wine-drinking audience in a less serious way and at a lower price point, so they sought an acquisition based on the principles of partnership: "We were looking at building and changing our brand organically, and the Barefoot opportunity came to us. We recognized that what Barefoot had to offer fell in line with the insight that we were already toying around with internally," says Gallo.
Started by two entrepreneurs, Ernest and Julio, E. & J. Gallo has been a wine industry leader since 1933 — meaning that this family-owned business has been innovative decade after decade. By anticipating and reacting to outsider innovation successfully, according to Gallo, the winery has undergone an evolution approximately every 10 years to stay relevant. "The causes and effects of each evolutionary period may change, but preparation and solutions for the next decade are essential for the success of any company," she says.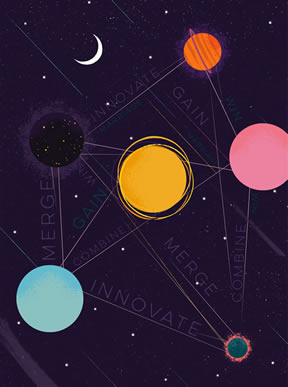 Adapting through advisory
One of Target Corporation's strategies for adapting to disruptive innovation — specifically, against Amazon getting stronger — was its creation of a digital advisory board. The board leads by technological example, says
Stephanie Gordon Farsht '97
, Target's senior group manager of innovation and strategy and adjunct professor at Kellogg teaching New Venture Discovery.
In June 2015, The Wall Street Journal noted Target as a trendsetter for other companies seeking to improve their digital savvy internally. The power of a digital advisory board, says Farsht, is that it's a low-risk, highly effective (honest, fast, efficient) strategy for bringing ideas and feedback to the executive table.
Engaging technological experts who can help an established company work smarter and faster in the digital consumer space allows Farsht to fulfill her team's goal. "Our team is primarily there to disrupt," she says. "We bring in things that are non-mainstream. We help companies navigate Target that generally wouldn't have the opportunity to navigate within our organization. We enlist advisors, partners and acquisition targets to really help bring in new ideas to our company."
So, how does Target position itself against Amazon, which offers a very different consumer experience? Farsht says that as customers want transparency — and power — Target is finding ways to meet them at various points of demand. By giving its customers choice in delivery method, timeline and even on-demand pick up, Farsht and her Target team recognize that they have key assets that a company like Amazon doesn't: 1,800 locations within a mile or two of 95 percent of U.S. customers.
"How we get customers what they want is going to take a tremendous amount of technology, innovation and creative combinations of assets, but to me, that combination is our differentiator in the marketplace," says Farsht.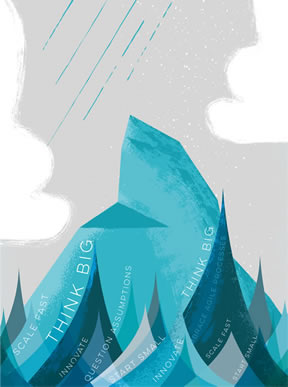 Connecting corporations and startups
A "spectrum of engagement," says Linda Darragh, executive director of the Kellogg Innovation and Entrepreneurship Initiative (KIEI), can be the best way to develop the most powerful innovative relationships. Rather than the commitment of a contract, she believes that corporations and startups should engage in any level of innovative strategizing that suits both parties. From apprenticeship and mentoring to joint ventures and corporate development, identifying an ideal partner — and depth of partnership — takes significant legwork and a strong methodology.
Seeing a need in the marketplace for connecting corporations to innovative startups and entrepreneurs, David Weinstein '00 founded Freshwater Advisors in 2013. For the first time, he says, corporations were starting to see their businesses truly interrupted by entrepreneurs. "In a 2012 report by Richard Foster from Yale, it was reported that the life span of an S&P 500 company had gone from about 60 years in 1960 to around 15 years in 2014," he says.
"Corporations were looking for new ways to engage with startups, but they didn't know how to do that themselves," he says. By helping corporations accelerate their innovation needs in a systematic way, Weinstein has led both sides away from thinking about partnerships merely through the lens of investment. To have entrepreneurial strategies infused into their business, corporations were looking to experiment directly with entrepreneurs.
In addition to developing a clear methodology for this service, Freshwater has built a technology to help corporations see what startups are relevant to their innovation priorities, utilizing Freshwater's scouting network and portfolio software. By matching startups with corporate needs, Weinstein has paved the way for partnerships with Allstate, Exelon, CME Group, Hyatt and Navigant, to name a few.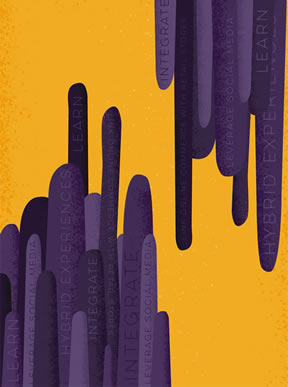 Improving innovation IQ
Weinstein adds, "Corporations want to improve their innovation IQ by connecting not just internally on innovative idea generation, but more specifically on external partnerships that will help them with speed-to-market innovation." With the most agile and successful corporations not slowing down any time soon to deliver on consumer expectations, he believes they are truly disrupting the disruption game.
Another way to explore consumer opportunities — and determine which are best suited for implementation — is to pilot and test ideas, says Farsht. "At Target, we want to throw a lot of things on the wall that we don't necessarily think are right or wrong, but that we can get a huge amount of experiential learning from," she says. "One out of 10 of those is going to stick, and then suddenly it will accelerate tremendously fast." The way to go fast is by partnering, and partnering is something that Target is learning to do better and better, she says.
As the head of global loyalty programs for Hotels.com, Connie Petticrew '88 is also always trying to figure out how to give people what they want: quick access, many choices. Informed by experiences in a wide range of corporate environments, she acknowledges just how innovative Hotels.com truly is all the time, under the Expedia corporate umbrella.
"Corporations want to improve their innovation IQ by connecting not just internally on innovative idea generation, but more specifically on external partnerships that will help them with speed-to-market innovation."
David Weinstein '00
Founder and Managing Partner, Freshwater Advisors
Adding tiers to the customer loyalty program brought new dimensions and a fuller customer-focused experience essential for an industry ripe with competition, she says. "One of the other things we did was to evolve our lodging offerings — all of which can help travelers earn or redeem more loyalty rewards. If you want to stay in an upscale, standard or boutique hotel, an apartment, bed & breakfast, hostel or even the YMCA, you have that choice," says Petticrew.
With a name like Hotels.com, she says, there is a very clear message about what the company offers and what you'll get. "Our North America advertising is all about Captain Obvious, which we have found is exactly what we live up to and what people want: The obvious — along with transparency and control."