STAYING
true

TO THE KELLOGG CULTURE

When an organization undergoes change, there is always the danger of losing one's culture. But Kellogg's culture has actually been a central part of its transformation. Far from abandoning its core values, the 7-Year Plan has actually served to reinforce those values. "Students choose Kellogg for its culture," Tim Simonds says, "and employers choose Kellogg because of the kinds of students who emerge from that culture."

For decades, the school has prided itself on the quality of its graduates — not just their ambition or their business acumen but also their ability to collaborate, support each other and make a difference. "Kellogg has long prepared high-impact, low-ego leaders who have a positive impact on the world," says Dean Blount. "Over the past five years, it's been my privilege to experience this firsthand as I meet with our students and alumni around the world."

The community will come together in an unprecedented way for the first-ever Kellogg on Growth Forum in November 2015. The one-day event will take place at various locations across the Evanston campus, bringing together more than 1,000 students, faculty and alumni to connect and share ideas about the most important growth challenges facing people, organizations and markets.

Kellogg also has been deepening its commitment to diversity. "Teamwork is central to how we teach and operate. We know that diverse teams produce better results. We're proud of the diversity within Kellogg. Just one example is having 43 percent women in the Class of 2017, an all-time high," Simonds says.

Kellogg's 7-Year Plan is a major investment in just about every aspect of the school, from faculty research to new programs to global partnerships. But it is also an investment in the larger community. "One thing that is abundantly clear is that Kellogg and the Kellogg community are deeply integrated," Hubbard says. "To pull this off, you need to have more than just ambition — you need a culture of mutual support."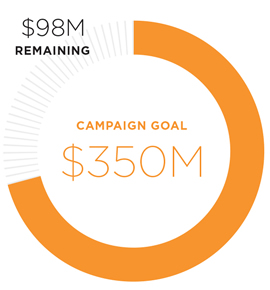 Campaign support
Kellogg launched its largest-ever capital campaign in 2012 to support its transformation. By the end of FY 2015, alumni and friends of Kellogg have raised more than $250 million.
FEELING THE
impact
The community is already feeling the impact of Kellogg's new trajectory. The faculty continues to receive accolades for its cutting-edge research, students are taking advantage of an enriched and expanded curriculum and alumni are giving at unprecedented levels.
The school's global reputation is clearly on the rise.
Kellogg is at the forefront of industry dialogue. Jan Eberly, professor of finance and former chief economist for the U.S. Treasury, was named co-editor of the Brooking Institution's leading economic policy journal; Betsy Ziegler recently spoke on the future of business education to a forum of 600 business school leaders; and Dean Blount visited the White House to discuss diversity and women in business.
"We've made tremendous progress, and we're proud of what we've achieved so far," says Dean Blount.
"But we aren't satisfied stopping here. We will continue to work together as we move ahead to 2020 and beyond."
Sally Blount '92 returns to Kellogg as Dean

| | | |
| --- | --- | --- |
| Kellogg unveils 7-Year Plan | | New series of C-level programming debuts with Marketing Leadership Summit |

Strategic initiatives launch

| | | | | |
| --- | --- | --- | --- | --- |
| First Kellogg Brave Leader Series convenes with Irene Rosenfeld, CEO of Mondelēz International | | Kellogg kicks off public phase of $350M capital campaign and breaks ground on Global Hub | | Revamped MMM Program focuses on core business skills and design innovation |

| | | | | | | |
| --- | --- | --- | --- | --- | --- | --- |
| Enrollment opens in MS in Management Studies Program | | Executive MBA global network expands to include Guanghua School of Management | | "Inspiring Growth" brand strategy launches | | President Barack Obama speaks to Kellogg students |

| | | | | |
| --- | --- | --- | --- | --- |
| Annual Fund sets record for fourth straight year with $6M in gifts | | Campaign reaches $250M mark | | American Academy of Arts and Sciences elects Tim Feddersen, who joins the ranks of Jan Eberly, Ehud Kalai and David Austen-Smith |
| | | | | |
| One-Year Program marks 50th anniversary, welcomes largest class | | Dean Blount visits White house to discuss women in business | | Global Hub reaches its final height |