Collaborative Environment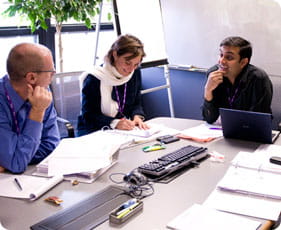 Collaboration across academic and functional disciplines, cultures and borders is a cornerstone of the
Kellogg School's
pedagogy.
Much of the work participants do in our programs is accomplished in small groups. Group exercises encourage participants not only to test new knowledge and practice new skills, but also to learn from their peers — an international assembly of professionals. More than a third of our
executive education
participants live and work outside North America, and each brings a wealth of personal and professional experience that benefits the whole group.
The classroom, too, is a diverse place. Around 25 percent of our faculty are from countries other than the United States, and though each has his or her own teaching style, all employ a combination of case studies, group work, intensive reflection and leadership training for experienced professionals. Since most courses seat 25 to 40 people, faculty engage — and learn from — participants on an individual level.
Participants live and learn in the
James L. Allen Center
, a lakefront facility designed especially for collaboration among executive students.
Connect with the Kellogg School of Management and stay up to date on the findings from our latest research. Followers of Kellogg will receive updates on trends in executive education and upcoming courses at the Kellogg School of Management.

LEARN ABOUT | Negotiation | Leadership | Brand Management | Data Analytics