The business of science
A new program taught by Kellogg faculty empowers Northwestern PhDs to make an impact on the marketplace
By Sara Langen
Feinberg School of Medicine doctoral student Christine McCary hopes to head up a research lab one day.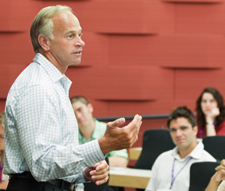 Photo © Nathan Mandell
Thanks to Kellogg's new certificate program Management for Scientists and Engineers, McCary now sees that dream as an achievable reality.
"I'm interested in going into research management, so when the e-mail [announcing the program] rolled into my inbox, it was exactly what I was looking for," she said. "I think one of my strengths is working with people, and the course gave me the tools to do that effectively within a science context."
This past summer, Kellogg collaborated with The Graduate School to give science and engineering doctoral students at Northwestern the opportunity to become better leaders. More than 100 PhD students competed for 50 slots in the program.
The eight-week program drew coursework from the core Kellogg MBA curriculum, including case studies, simulations, and team-building and crisis-management exercises.
"This is for students who want to learn more than just what's in the lab," said Sangeeta Vohra, the program's academic director. "We provide them with the management tools they'll need to thrive in their careers."
With PhD-level research skills and a passion for science and technology, the students bring a "fresh eye" to management problems, observed Senior Associate Dean David Austen-Smith, who led the students through a series of crisis-management exercises.
"They ask questions that MBA students might not ask," said Austen-Smith, the Peter G. Peterson Professor of Corporate Ethics. "It was a lot of fun teaching them. They made all the mistakes one would expect of those with no management background, but then they would follow the problems quickly down the path. They were very impressive."
Chemistry PhD candidate Avi Buchbinder said that as a result of the program, he's learned to think in new ways.
"We learned how to keep the bigger picture in mind and see all the factors that affect a decision," he said. "[Now] I'm better able to understand the terms people use and the way they think in the business world."
This understanding will go a long way in the job market, notes Douglas C. Friedman, who is also pursuing a PhD in chemistry.
"Something like this sets us science students apart, especially since Kellogg is a top-notch business school," he said. "When you say you participated in a program at Kellogg, [employers] know what that means and it adds significant weight."
Many of the students said the experience whet their appetites for more business courses — in particular those at Kellogg.
"It far exceeded my expectations, and they were really high," McCary says. "It just blew me away. Now I'm considering getting an MBA; I thought I should really consider it if I had such a great experience at Kellogg."