Letter from Dean Sally Blount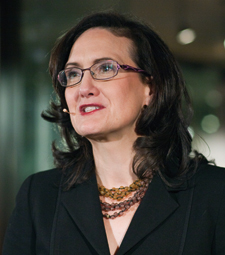 Photo © Chris Guillen
Dear fellow alumni,
In the brief time I've been back at Kellogg, I've spoken with thousands of alumni and other global business leaders.
One theme I stress continuously is that business is the dominant social institution of our day. Business has the power to change lives, and it is our responsibility to educate the young business leaders of this century — leaders who will have to navigate unprecedented levels of economic and social complexity and uncertainty. We must equip them to become wise leaders who understand that ongoing success means confronting enormous global challenges such as poverty, unemployment and environmental sustainability.
I believe that Kellogg's heritage uniquely equips us to take on these challenges. We are a school that has long valued the power of the team, the organization and the community in making change happen. We are a school that wasn't shy about going a different way in the 1980s to create a new model of business education that all of our peers eventually followed.
But to carry us forward, we are going to have to do and be more. We are going to have to reorient ourselves for our 21st-century trajectory.
Across our campuses in Evanston, Chicago and Miami, we are already creating faculty, student and administrative task forces to examine our brand, our building needs and how we organize ourselves.
But we also need you, our alumni, to help assure that the legacy we produce in our next generation is as strong and vital as possible. In this issue of Kellogg World, you'll read about alumni who are tapping the power of the Kellogg network to create amazing new opportunities and organizations. 
Sincerely,

Sally Blount