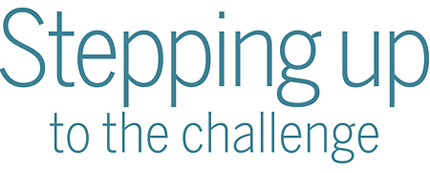 The Career Management Center is working aggressively to help students — and alumni — succeed in the toughest job market in decades
By Deborah L. Cohen
Proactive networking. That's the mantra Kellogg's Career Management Center has embraced to combat a recessionary job market characterized by record-high unemployment and a sharp slowdown in hiring.
It's the approach being cultivated by CMC staff and extended to students as the center continues to uncover hidden job opportunities through extended outreach. From more frequent contact with prospective employers and alumni to the development of highly targeted individual job searches and the addition of new programs — some outside the United States — the CMC has been bolstering support for students and alums, giving them a competitive edge as they face the toughest job market in decades.
"Students need to be extremely well prepared to do a job search and not be dependent on low-hanging fruit," says Assistant Dean and CMC Director Roxanne Hori. "I see this downturn as an opportunity for us to educate people that there are so many other possibilities out there besides what comes on campus."
| | |
| --- | --- |
| | |
| | Carlos Cortez '09 Photo © Nathan Mandell |
| | |
| | |
| | Mariana Quiroga '99 Photo © Doug Beasley |
| | |
In the past year, Hori and her team of six counselors — each with extensive knowledge of specific industries — have supplemented one-on-one coaching and on-campus recruitment with new measures to ensure successful placement. These include aggressive e-mail and telephone campaigns, the addition of a full-time research librarian, and the creation of workshops and tightly knit job clubs that enable students to leverage best practices.
In addition, the CMC has expanded its successful trek and internship programs, giving candidates early exposure to a broad scope of employers and industries ranging from investment banking and venture capital to entertainment and high tech.
"Fewer companies were coming to campus to recruit; we needed to develop some effective tools to help students and alums feel confident about conducting an independent search," says Carla Stewart Edelston, CMC's senior associate director. "We knew employers were more concerned about headcount. These are cautious times."
Edelston points to the addition of more interactive workshops, such as a series that breaks the job search into manageable parts, covering everything from leveraging personal and professional networks to practicing conversations that can lead to useful career connections. Similar efforts have been extended to alumni through new events such as webinars and in-person speed networking sessions held in major U.S. cities and overseas (see "CMC extends outreach to alums").
Research librarian Kara Moore, who joined Kellogg in September 2008, has been offering students and alumni hands-on training in business databases such as Hoover's, Capital IQ, ProQuest and Standard & Poor's. She holds group and one-on-one sessions, demonstrating methods for comparative market analysis, company research and the use of RSS news feeds to manage information. The result: Job candidates become better versed in their industries and can assemble comprehensive company lists for individual searches.
"What's happening in the economy has increased the need for research," says Moore, who works closely with the Northwestern University Library and collaborates with other departments and peer business schools.
The response to these efforts has been measurable. In March, for example, a targeted e-mail campaign to some 3,000 employers uncovered an additional 100 job listings. Those listings were posted on the school's online job board by April. From September through August, the CMC's alumni coaches held nearly 5,100 alumni appointments, an increase of 25 percent from the prior year.
Kellogg's renewed focus on a broader swath of opportunities — including an expanded push to identify more privately held companies that could fall under the radar — has also helped job candidates weather the economic slowdown. Counselors like Shane Sugino, who specializes in the private equity industry, are uncovering new leads at smaller, lesser-known venture capital firms managing less than $500 million.
"Throughout last year and this year, most of our students went to these smaller regional players," Sugino says. "That's where a lot of the hiring needs are."
Carlos Cortez '09 found the CMC's assistance invaluable in securing his post as a consultant with Chicago-based Clareo Partners, a boutique innovation-strategy consulting firm with a hands-on approach. Cortez, 37, came to Kellogg with an extensive background leading a family-run retail pharmacy chain in Mexico, and favored entrepreneurial choices in his search.
"(The CMC) set the stage for me to be very aware, more in tune," says Cortez, who through the center secured an eight-week internship with Clareo prior to landing the permanent job. "I thought it was an excellent resource, especially for those of us looking for a more non-traditional career path."
While the consulting field captured 34 percent of Kellogg's 2009 graduates, job seekers secured positions across an array of fields and geographic regions. Kellogg students were well-represented in the industries of consumer-packaged goods, high tech, pharmaceutical, biotech and investment banking, signing on with names such as 3M, Abbott Labs, Johnson & Johnson, Unilever, Microsoft and JP Morgan.
The push for increased interaction with students is broad-reaching. Last year, the center created and moderated a new collaborative forum known as the "job club." In 2009, 18 of these small, random groupings of first- and second-year students met regularly at the CMC to brainstorm, rehearse presentations, share ideas and hold each other accountable as their searches progressed.
In addition, the CMC expanded its highly popular trek program. Last year, some 300 students at all levels participated in 27 of these one- to two-day, industry-specific trips. At their own expense, they made the rounds to about four companies on average, experiencing the corporate culture firsthand and making lasting personal impressions that demonstrated their interest.
"A majority of the treks are focused on industries where there may not be a big presence on campus," says Kristin Stroud, the CMC counselor charged with coordinating the trips. Hospitality, sports business, alternative energy and distressed asset management were among the recent additions, she says. Students also traveled to London for an international trek.
Last year, one-time cash infusions from the Center for Research in Technology and Innovation and the Office of the Dean allowed the CMC to provide funding for some 70 additional internships, many with an emphasis on technology and international opportunities. Those additions supplemented an ongoing internship program that is offered yearly to students interested in entrepreneurial ventures.
"It's a pitch-in, collaborative culture," says Edelston. "This is a high-touch market and you've got to get out and meet people."
Employers say the center's efforts continue to set Kellogg apart from the pack.
"They make it very easy for us to recruit there," says Mariana Quiroga '99, recruiting manager for Minneapolis-based General Mills. "They know their students."
"The person in front of you is confident; they know how to bring up their strengths," she adds, noting that six out of General Mills' 30 new brand managers last year hailed from Kellogg. "The school is consistently preparing great talent for us and it is obvious when we interview people."
---
To share a job or internship posting with the Career Management Center, please contact:
John Boley (consulting, entertainment/media, high tech, retail, services)
j-boley@kellogg.northwestern.edu
Kate Onn (financial services, public/nonprofit, real estate)
k-onn@kellogg.northwestern.edu
Sam Samberg (energy, manufacturing/CPG, pharma/biotech/healthcare, transportation)
e-samberg@kellogg.northwestern.edu