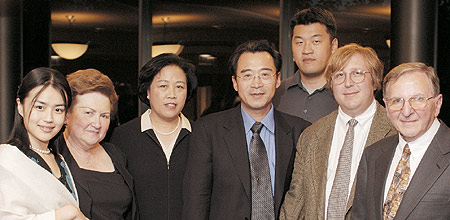 © Steve Serio
Prof. Morton Kamien (at right) celebrates his 65th birthday with family and friends during the symposium to mark the 35th anniversary of MEDS.
Path-breaking MEDS department celebrates 35 years of management theory
by Matt Golosinski
For 35 years, the Managerial Economics and Decision Sciences (MEDS) department at the Kellogg School has directed the passion, creativity and intelligence of its faculty to shape what Kellogg Dean Dipak C. Jain called "a path-breaking discipline that brings quantitative rigor to management education and business."
In September, Kellogg hosted a celebration that featured a symposium and the publication of an edited anthology that includes some of the thought leadership produced by MEDS over three decades.
Founded in 1968, MEDS aspired to combine two disciplines — quantitative theory and economics — under a single departmental umbrella, a move considered unique at the time. Today, the department is world-renowned for its teaching that concentrates on probability, decision theory, statistics, microeconomics and operations management.
Key in the department's development was the inclusion of bright, young game theory experts, said Kellogg Dean Emeritus Donald P. Jacobs, whose "fascination" with game theory led him to encourage Kellogg to make intellectual investments in the discipline.
" The pervasive influence of the MEDS department on Kellogg is in part the result of faculty whose intellectual curiosity pushed them into new areas," recalled Jacobs, adding that MEDS significantly impacted an array of disciplines, including finance, operations and strategy.
MEDS' academic milestone is linked with the efforts of Prof. Morton Kamien, one of the catalysts in the department's development. Kamien, the Joseph and Carole Levy Distinguished Professor of Entrepreneurship, celebrated his 65th birthday this year.
" This birthday provides a natural opportunity to reflect on the past," Kamien said. "Among my fondest memories is participating in the creation of MEDS, an excellent teaching department unique along several dimensions."
The importance of MEDS, said Dean Jain, is the way it impacts all areas of the school.
" It's intellectually thrilling to work alongside Mort Kamien and the distinguished MEDS faculty," said Jain. "We are grateful for their leadership and look forward to their continued efforts to expand research in a discipline that touches the entire management education community."