Leadership, loud and clear
New Pre-term agenda highlights essential leadership lessons while celebrating Kellogg School culture with action-packed orientation program
by Matt Golosinski
CIM 2003 lived up to its billing.
The annual Conceptual Issues in Management event — more than a week of academic and social orientation activities that introduces incoming MBA students to the Kellogg School's unique collaborative culture — promised participants an "Extreme Kellogg Experience."
It delivered on that promise.
Judging by the raucous, rock concert-like convocation in the Donald P. Jacobs Center that kicked off the experience on Sept. 7, Kellogg students, faculty and staff were committed to building on the successes of previous CIMs, a tradition that dates back three decades.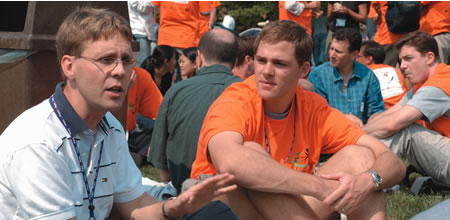 © Nathan Mandell
Finance Professor Mitchell Petersen speaks with Kellogg students at the faculty barbecue.
This year's events, now part of the "umbrella" of the larger Pre-term experience, introduced a new twist to the agenda. For the first time, students were required to augment CIM's technology, diversity and team-building exercises with a formal course as part of the new Pre-term program.
Leadership in Organizations, an offering from the Management and Organizations (MORS) Department, jump-started the students' academic year with rigorous considerations of teamwork, leadership and ethics.
" This course really gives students a sense of why they are in business school. They are here to prepare themselves for a career in leadership — but leadership with a distinctive Kellogg School stamp on it, which emphasizes the importance of teamwork and ethical values," said David Besanko, the Alvin J. Huss Distinguished Professor of Management and Strategy, and chair of the 11-member Curriculum Assessment Task Force responsible for helping revamp the Kellogg core curriculum.
" The course is a perfect one with which to begin the student experience at Kellogg," Besanko said, "because it sets the tone for everything our MBAs will be studying here."
© Nathan Mandell
CIM Section Olympics give students an opportunity to learn and practice teamwork and leadership skills.
© Nathan Mandell
Kellogg alumni and corporate CEOs Arthur
and Betsy Holden deliver keynote addresses on business leadership.

Besanko noted an additional benefit to positioning the MORS course during the Pre-term session is that students now have greater flexibility in pursuing other classes — such as the core finance or marketing offerings — earlier in their Kellogg career. Having this option, he said, means students can strengthen their academic portfolio sooner, and become even more prepared for the summer internships that are increasingly key to recruitment success.
Second-year Kellogg students, traditionally the ones who play a key role in organizing CIM for the benefit of the incoming class, were themselves treated to a new academic component during Pre-term: Values and Crisis Decision Making, part of the Kellogg Business and its Social Environment major, offered them strategic insights into the ways globalization, consumer activism and technology are creating new challenges for business leaders.
Other traditional CIM components remained in evidence in 2003, such as the annual barbecue, class section activities (including the Section Olympics) and community service initiatives. The academic fair introduced new students to the dozens of Kellogg clubs, demonstrating just how many opportunities exist for leadership and purposeful recreation at the school. CIM also featured several keynote speakers, including Kraft Foods President and CEO Betsy Holden '82 and Chief Founder, Chairman and CEO of First Genetic Trust Arthur Holden '81. Philip Marineau '70, president and CEO of Levi Strauss & Co., also appeared, as did James H. Lowry, vice president of Boston Consulting Group.
The keynotes spoke about business leadership, a subject that Kellogg Dean Dipak C. Jain believes must form a central part of modern management education.
" Today's complex business environment presents a host of new and old challenges — ethical as well as strategic — all of which demand leaders fully equipped to manage with skill and innovation," said Dean Jain. "Our Pre-term curriculum has been carefully implemented to give our students a head start in thinking about the matters that will form an essential part of their academic life at Kellogg."