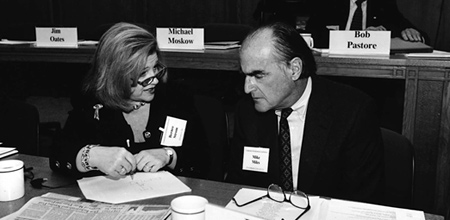 © Nathan Mandell
Helping companies see the forest for the trees
After years of leadership positions at some of America's top companies, former Philip Morris chairman and CEO Michael Miles wasn't yet ready to sever his ties to the business world when he left the company in 1994.
Instead, Miles (pictured with fellow Dean's Advisory Board member Bernee Strom) is spending his retirement as a member of multiple boards, using his experience as a corporate chief to fuel his new role as an overseer of strategy. He currently serves on the boards of several companies, including The Allstate Corp., AMR Corp., AOL Time Warner Inc., Community Health Systems Inc. and Dell Computer Corp., and has been chairman of the Dean's Advisory Board of the Kellogg School for the past six years.
Good directors, Miles says, are able to see the big picture while leaving the details of day-to-day management to the company's internal leaders. It's a role he says he finds professionally rewarding.
"It's easier for a board director to see the 'forest' sometimes than it is for corporate management to see the forest," he notes. "It's very satisfying to be able to say to a diligent, smart CEO, 'Wait a minute. Back up and take another look at this because you may have gotten lost among all the other opportunities.' So you have a sense of making a real contribution and seeing it carried through."
Similarly, Miles says, Dean's Advisory Board members help administrators plan strategy and answer important questions, although their advice is just that — suggestions on how the school should proceed, not dictates that carry the force of binding resolutions.
Despite a recent rash of bad publicity, Miles says, in his experience, most boards are doing a fine job.
"Good corporate governance was important, is important and will continue to be important," he says. "People have lost sight of the fact that 99 percent of the publicly held companies in America have had and continue to have good governance. We shouldn't overreact on the basis of 10 train wrecks and conclude that corporate governance needs to be fixed."
— KR