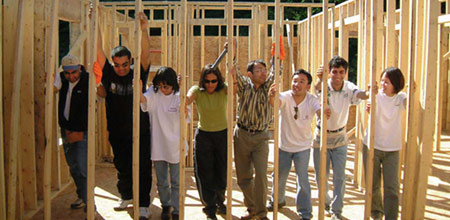 Kellogg students build the foundation for lifelong friendships as they construct homes for Habitat for Humanity during a Kellogg Service Initiative (KSI) in Marquette, Mich.
Building homes and friendships:
Kellogg Service Initiative lets Kellogg students demonstrate their philanthropy and community advocacy
By Amy Reavis Sinn
Some of the best friendships are forged in sweat.
Just ask Ken Age, Karen Lee and Ajay Chawan, all '03, who were among the leaders of this summer's Kellogg Service Initiative (KSI) that took about 20 Kellogg students to Marquette, Mich., where the team constructed houses for needy families as part of a Habitat for Humanity initiative.
The three met last year, during the same trip, when they were incoming students, and an instant friendship resulted. Age, a native of Japan, was more excited about the trip because it served as his first experience in America. Unlike his new friends, Age had never lived or worked in America, and English is his second language. He said that his first KSI trip introduced him to his new culture in a way that nothing else would.
"I got a chance to help others and, at the same time, got to know some of the best people in the entire Kellogg community," he said. "The Habitat program was especially interesting for me because building houses together proved the best way to develop bonds among my fellow students."
This year's KSI trip also offered incoming students a door into the Kellogg culture that they say they won't soon forget, and that would help prepare them for their MBA experience. Lessons learned through the volunteer effort included team-leadership and home-building skills.
Why KSI?
KSIs are about giving back to the community, and volunteers get to see firsthand the powerful impact that their efforts have on the lives of people less fortunate. But if the experience brought plenty of hard work, it also gave students an enjoyable way to get to know one another. "The KSI trip was not just about volunteering," said Sanjeev Mordani '04. "We had lots of fun and also contributed to a good cause." Mordani contends that these qualities really differentiate KSI from other student initiatives.
While painting the interior of one home, a group of students met and talked with the homeowner and her young son when she came by to see the progress. And daily, women from the church and community would make lunch and bring it to the volunteers, as a way of saying thanks. As a result, some KSIers were moved by what they were able to contribute in such a short time. Those with no past volunteer experience often become advocates for future volunteerism, because of the fulfillment that they received from seeing how they can make a difference.
Rafael Aguiar '04, from Brazil, had never volunteered with an agency such as Habitat and found it to be a great experience. "The work gave me a lot of ideas to help my country, in which people live in such bad conditions," he said. "I definitely want to repeat this experience."
Lee and Chawan wanted to continue their Habitat affiliation, so after their 2001 trip they both signed up with a local Habitat for Humanity chapter, working on several projects in the area through another Kellogg student club called "Business with a Heart."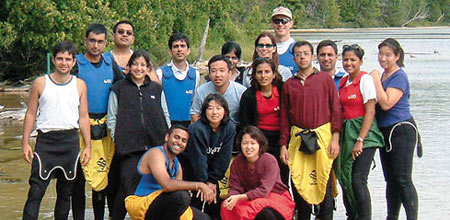 In addition to the chance to help others, KSIs offer students time to get to know one another and explore common interests. When not busy building homes for Habitat for Humanity, Kellogg students on a KSI in Marquette, Mich., played kickball and kayaked.
First-years finding their place
Eleven members of the class of 2004 attended the Marquette Habitat for Humanity trip. Their mix of backgrounds and experience was broad, but engineers led the group. A tradition on the trip, however, is to not allow the incoming students to talk about their education or employment until the last evening. This rule proved worthwhile, allowing the students to really get to know each other — as people rather than pedigrees. Everyone participated in guessing where the others might have gone to school or worked, from details gathered through casual conversation.
Strong bonds are forged on this week-long trip where students spend most of the day together. The team worked together during the day, then competed at bowling, kickball and board games at night. Kayaking and karaoke were highlights, as well as a bonfire the last evening.
Sabina Chatterjee '04 believed the experience offered everyone a special opportunity to hone leadership skills. "KSI provided the ideal setting for teaching teamwork with the added reward of seeing all our efforts materialize into something constructive," said Chetterjee. "Different personalities and working styles came together to build a home, and as importantly, to build bonds among a very colorful group of people," she added. Once back at Kellogg, she found herself seeking out her fellow KSI peers as resources to help her "decompress" from a hectic week of new student orientation activities.
For Mordani, KSI represented what he calls the best beginning to his Kellogg career. "The people on the trip are definitely friends for life," he said. "In fact whenever I encounter any of them in the Kellogg halls now, I feel a genuine sense of belonging to this place. The feeling is almost indescribable."
Continuing a tradition
When students form these kinds of bonds and successfully meet a variety of challenges together, it's easy to want to duplicate that experience. That's perhaps why the Marquette Habitat trip has been a Kellogg tradition for the past three years, and is the longest running KSI. This year's leaders hope that several of the incoming students will be prepared to lead the trip again next year. And some of the students have already expressed interest in doing precisely that.
Amy Reavis Sinn participated in the Marquette KSI, along with her spouse, Matthew Sinn '03.