Kellogg team takes top prize in national marketing competition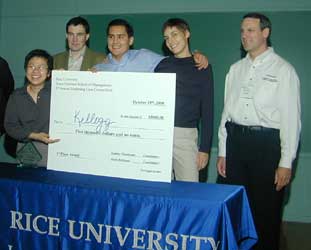 Members of the Kellogg marketing team that won the Rice Case Competition in October.
In October, a three-person team from Kellogg traveled to Rice University to compete against nine other business schools for $10,000 in total prize money. The Kellogg second-year students -- Chris Hsu, Bibi Choa and Ursula Kralova -- swept into Houston for the three-day "Rice Case Competition."
The event challenged each team to create a marketing plan from a case study given to them upon arrival on Friday, and then present the plan before a panel of senior marketing executives on Sunday morning. The Kellogg team performed extraordinarily well under pressure and took home the first-place prize totaling $5,000.
"It's wonderful to see our students recognized for their talent," said Dean Donald Jacobs. "Kellogg's marketing program is consistently ranked the best in the world, and for our team to win this prize shows how well our classroom lessons translate into real-world results."
In addition to Rice and Kellogg, the other schools participating in the competition were Columbia, Yale, University of Michigan, Emory, Southern Methodist University, Thunderbird, Vanderbilt and Tulane.
--Matt Golosinski