"Bringing the classroom to you"--
Kellogg launches Global Forums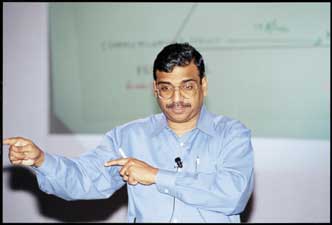 Kellogg's associate dean Dipak Jain explains how the "nanosecond culture" is being impacted by e-marketing
Kellogg's educational vision encourages students, once they graduate from the MBA program, to continue coming back to Evanston for lifelong learning experiences. But what about those grads who cannot return to campus because of time or travel demands?
Kellogg now brings the classroom to them with the school's new Global Forums program. Offered for the first time this past September in London and Paris, the one-day weekend seminars bring Kellogg's professors to our alumni to teach subjects that will enhance the MBA.
In London and Paris, professor Dipak Jain taught a half-day session on "E-Marketing: A Paradigm for the Nanosecond Culture," while professor Mohan Sawhney offered his insights during a half-day session on "Business-to-Business E-Commerce: The Next Generation."
Global Forums are being scheduled with clubs around the world for 2001, with the first one of the new year slated for New York City on Saturday, Jan. 27. Check the alumni Web site and future editions of Kellogg World for a forum near you.
Global Forum participants take advantage of the opportunities to enhance their business skills during the day-long seminar