Jeff Bezos speaks at Kellogg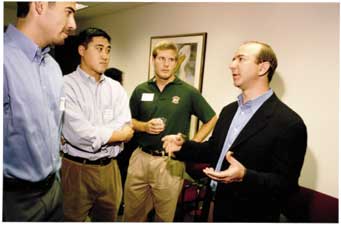 Amazon CEO Jeff Bezos speaks with Kellogg students.
In October, Kellogg's High Tech Club sponsored an appearance by Jeff Bezos, CEO of Amazon.com.
More than 700 students and faculty members packed Owen L. Coon Forum for Bezos' presentation. Bezos discussed his companyıs origins and featured some of his favorite site functionality before answering questions from an enthusiastic audience. "Jeff is a true inspiration for future entrepreneurs. His passion literally fills the room," said Dana Hagendorf, one of the eventıs co-chairs.