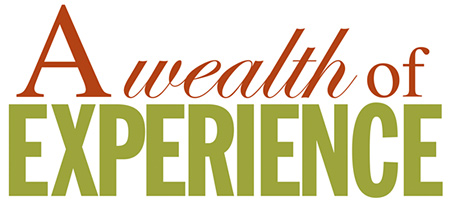 From Homeland Security to investment banking, here's how some of your Kellogg School peers are putting their finance expertise into action
by Rebecca Lindell
Public or private, profit or nonprofit --- the variety of career paths open to Kellogg School graduates with an interest in finance is seemingly limitless.
It isn't just the rigorous finance coursework that opens doors. Many alumni who have become top finance professionals say the Kellogg School's holistic approach to management, with its emphasis on team leadership and broad-based knowledge, set them on an early course to success.
"I probably bring much more of a focus on management and strategy issues than you might otherwise get in a chief finance officer," acknowledges Martha Dustin Boudos '02, CFO of Morningstar Inc. That broad vision made Boudos a natural choice for her current position, even though finance was not one of her Kellogg majors.
Below, some of the top finance minds to come out of Kellogg share their insights and describe the sometimes unconventional routes they took to the top.
| | |
| --- | --- |
| | |
| | Jerry Kenney '67 |
| | |
| | "People skills are underestimated. You have to be able to work in teams and with all the other areas of a company. A lot of finance people think their job is to be the checker-upper. It's not just that. It's to help the firm achieve its mission," says Jerry Kenney. |
| | |
Blazing a trail on Wall Street: Jerry Kenney '67
Being a top finance professional today is a much more complex --- and potentially more rewarding --- job now than it was a generation ago, according to Jerry Kenney.

"You've had all kinds of accounting, regulatory and technology changes," observes Kenney, a vice chairman at Merrill Lynch & Co. "The finance officers are in the center of it all. They're not just preparing documents for the board. Now they're legally accountable for what's stated in them. That's a lot of weight on your shoulders."

But with the added responsibilities come new opportunities.

"The finance officer is more integrated and involved with other areas of the company," Kenney notes. "There are far more options, challenges, and continual learning requirements. That makes the role more rewarding and more varied. A top financial officer can become a CEO or go on to lead another company. It's an excellent preparation for other career paths."

Kenney should know. The Kellogg alum has parlayed his finance degree into a long and varied career on Wall Street.

Kenney's first job out of Kellogg was as a researcher at the investment banking firm White, Weld & Co. He moved quickly up the ranks, eventually becoming director of research, then director of sales and trading, and finally a board member.

During the recession of the late 1970s, the company merged with Merrill Lynch, and Kenney's career took an even sharper upward turn. He became director of a succession of departments: first research, then sales, then global institutional sales, and then investment banking.

In 1984, at age 43, he was made chief executive of the worldwide institutional company, a position, Kenney says, that drew particularly heavily on his finance skills. He was also named to the company's board of directors.

Merrill Lynch restructured itself after the recession in the early 1990s, and Kenney's role changed again. He became responsible for the firm's corporate strategy and was charged with making Merrill Lynch a more global company. He also oversaw the company's credit functions, corporate marketing and government relations.

Kenney held that role for 10 years before he was named vice chairman, responsible for senior client relationships. "It's been a lot of fun," Kenney says. "I've worked all over the world, in Europe, Asia and Latin America, and I've spent a lot of time building the global aspects of the business. It's been very enjoyable and challenging."

A key to Kenney's success has been a firm grasp of analytics, strategy and marketing --- all skills honed at the Kellogg School. Just as important, he says, has been another Kellogg-bred attribute: an ability to communicate.

"People skills are underestimated," he says. "You have to be able to work in teams and with all the other areas of a company. A lot of finance people think their job is to be the checker-upper. It's not just that. It's to help the firm achieve its mission. You can be a good treasurer and controller, but if you want to be a top finance leader, you should be adept at developing strategy. When do exterior opportunities add to shareholder value, and when are they too expensive and will diminish value? These are critical decisions for anyone in a finance role.

"A top finance officer is a good decision maker and a leader," Kenney concludes. "You're not just performing a function for your company --- you're broadly defining and pursuing your company's objectives."
© Nathan Mandell
Andrew Maner '97
CEO of the Department of Homeland Security
Budgeting for the war on terror: Andrew Maner '97
As an undergraduate political science and communications major, Andrew Maner could not have foreseen that he would someday steward a $40 billion budget at one of the highest-profile agencies in the nation.
But in January, Maner was announced as the new CFO of the Department of Homeland Security, the 180,000-employee federal agency created after the terrorist attacks of Sept. 11, 2001.
"I never thought I'd end up here when I graduated from college 12 years ago," Maner says, adding that he "couldn't be more pleased" to take on the role's many challenges.
Maner has worked in both the public and private sectors and has held positions in marketing and communications, as well as in finance. He sees his current role as first and foremost a management position.
"Most people think CFOs have to be a certain way," Maner says. "They have to live, eat and sleep numbers. It's true that CFOs in the private sector often have more of a treasury-and-investment function. And as in the private sector, finance and accounting are paramount to sound financial management.
"But in the public sector, true success is stewarding through Congress a budget that meets the department's objectives while ensuring your agency is free of waste and fraud. That requires salesmanship, personality, leadership and attention to detail."
The job also requires Maner to understand the missions and budgets of a diverse group of agencies, including the U.S. Coast Guard, the Secret Service, the Federal Emergency Management Agency and Customs and Border Protection, to name a few.
Next page: "Some companies make widgets; our mission is to stop terrorism"
1 | 2