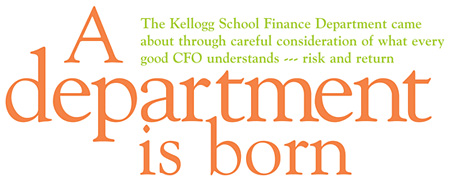 by Matt Golosinski
Diversification.
It's the foundation of modern portfolio theory as set forth by Nobel Prize-winning economist Harry Markowitz in a 1952 Journal of Finance paper. In a sense, diversification is also a central tenet of the modern Finance Department at the Kellogg School.
For more than half a century, the investment world has taken to heart Markowitz's insights about risk and return—particularly his ideas about evaluating risk not based on an individual asset, but rather on how an entire portfolio of assets interacts.
Investors, of course, seek to minimize risk while maximizing return. Putting all your proverbial eggs in a single basket is precisely the wrong way to construct a viable portfolio, according to Markowitz. And it's also not the best way to build a cutting edge academic department, according to the Kellogg School.
One might say that in building its Finance Department Kellogg also diversified its portfolio of scholars by deliberately seeking out brilliant thinkers in many other areas of finance and economics. The Kellogg strategy was to recruit individuals whose research demonstrated innovation and intellectual rigor, and whose insights could be applied within the context of finance.
Such was the case with Professor Artur Raviv, hired in 1981 to revitalize the Kellogg Finance Department and transform it into a research-based center of academic excellence. (See related story: Financial Catalyst.) Raviv, an economist by training, arrived with colleague Milton Harris, and together they quickly assembled an academic team that includes such longstanding Kellogg faculty as Robert Korajczyk, Michael Fishman, Kathleen Hagerty and Robert McDonald.
"The challenge in building an academic department lies principally in the ability to hire an initial set of scholars who act as magnets in attracting other scholars," says Dean Dipak C. Jain. "Kellogg was fortunate to have Art Raviv and others who helped build critical mass in the department."
The Kellogg recruiting strategy was novel for its time, setting the tone for what has become the norm in other finance departments. Equally important was the way these scholars approached their work.
"Some of these people were empirically oriented, but also displayed a heavy analytical focus," says Korajczyk, senior associate dean: curriculum and teaching. "That was a change not only from what had been happening here, but also a change from what was industry practice."
"Finance is a broad area that needs methodologies from everywhere," Hagerty notes. "We never hire for a specific area; we hire people who are doing the most interesting work. Fundamentally, we believe that finance is inherently compelling enough that scholars will want to adapt their research to work on those challenges."
Hagerty also recalls the role the Kellogg School Managerial Economics and Decision Sciences (MEDS) Department played in attracting faculty to the Finance Department.
"Our MEDS Department was incredibly successful and it was the proximity to that department that initially drew many of our finance faculty," she says.
During the formative stage of the modern Finance Department, Professor William Breen served as its chair. It was his "collaborative leadership model" that Korajczyk credits for helping establish what became an increasingly collegial part of the Kellogg School.
It's a tradition that continues today, says Michael Fishman, the current chair. "My colleagues are a pleasure to work with," he says. "Everybody pitches in to get the job done. All the members of the Kellogg community—faculty, administration, students, staff—are reasonable, nice people. This cultural advantage is the result of our recruiting strategy which brings people on board early in their careers so that everyone develops within the Kellogg environment."
Such collegiality has encouraged scholarship to flourish in the department. But as important as the shift toward research has been for the department's success, says Dean Emeritus Donald P. Jacobs, its commitment in the classroom remains strong too.
"We needed to remain strong in teaching, otherwise the students wouldn't accept it," says Jacobs. "But you also need people who can work as a team and who have inclusive, caring natures. That's important around here."
Surveying the last quarter century of finance at Kellogg, Dean Jain evaluates the department's success with pride.
"The story of finance at the Kellogg School is one steeped in bold innovation, vision and a willingness to break with the past to blaze a new path," he says.