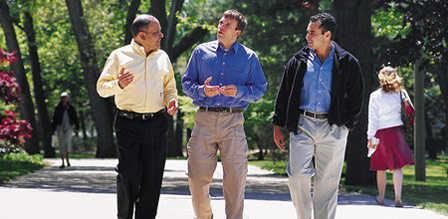 © Nathan Mandell
International executives (left to right) Miguel Castillo, Marcel van der Elst and Martin Hurtado talk strategy while enjoying a stroll on the Evanston campus.
Back to School
When top executives come to Kellogg, they expect strategic leadership lessons that make a difference to their companies, and their careers. They get that — and more — from the school that pioneered executive education
By Matt Golosinski
It's 6:30 a.m. and Moha Bouacha is making his rounds at the James L. Allen Center, making sure every nook and cranny of the 220,000 – square-foot state-of-the-art facility is running. That the doors that are supposed to be unlocked are; that the plumbing, lights, air conditioning, and a dozen other things are operating exactly as they should.
As the building's general manager, that's what he and his staff do. These behind-the-scenes ministrations make a huge impact on the participants in the Kellogg School's Executive Education Program (KEP) who live and study here for up to a month at a time. Bouacha's efforts are indicative of the attention to detail that shapes every facet of the Kellogg executive education phenomenon.
"From the start, Kellogg has been about creating a place for people to come and learn, be nurtured and rejuvenate," says Ken Bardach, associate dean for Executive Education. "This commitment to excellence is a Kellogg hallmark."
One of the premier programs of its kind, Executive Education at Kellogg began a half-century ago and has since earned its reputation by delivering academic excellence in an array of subjects — from general management and marketing to leadership and strategy — taught by senior faculty. KEP consists of a team of some 30 professionals pulling together to achieve a common goal.
Whether it's the efforts of Ron Griffin, director of Kellogg Managed Services, who oversees key planning initiatives such as KEP's outstanding food service, Sue Fox, director of scheduling and technology systems, Sheila Duran, director of marketing, or one of the four associate directors who work with client firms to design and deliver exemplary customized executive programs, KEP delivers what Bardach calls a "turnkey total experience."
Given the top quality of the Kellogg classroom, it would be easy to overlook certain other details that contribute to the enterprise. It would be easy to overlook Bouacha as he runs his hand along a window sill, checking for drafts.
"The brain will not function if the body is uncomfortable," says Bouacha, as he makes his way through one of the large classrooms, recording the temperature as he goes. He checks the angle of the lights and how they hit the board at the front of the room. He makes sure the rooms get cleaned between classes, that there is filtered water available.
"Students spend eight hours in these chairs," Bouacha says, adjusting one of them. Not surprisingly at a place like Kellogg, the facility manager speaks six languages. "If the chairs are uncomfortable, the students will be distracted and the teacher cannot deliver the course."
Like everyone involved in KEP, Bouacha focuses on ensuring that the leadership insights — the reason some 5,800 executives a year choose Kellogg to continue their education — remain front-and-center. And they do.
© Nathan Mandell

Professor

Leigh Thompson

is one of many dynamic senior Kellogg faculty members committed to KEP's excellence.
Hit the ground running
Marcel van der Elst, Miguel Castillo and Martin Hurtado are among the more than three dozen executives who have come to Kellogg from all over the world to participate in "Merger Week: Creating Value Through Strategic Acquisitions and Alliances," just one of 32 specialized courses within six broad programs the school offers.

The three men are "repeat customers," having participated in previous KEP courses, so they have an idea of what to expect. Given that this particular program runs only a week, the students must be ready to hit the ground running from the moment they arrive.

"We're here to share our knowledge and to learn from the professors and our peers," says Hurtado, a financial planning manager with International de Contenedores in Veracruz, Mexico.

Van der Elst, a senior consultant with a Dutch investment management group, concurs and adds that the classroom setting frees many people from the constraints they might feel in their company offices. "Students here often can be more honest about expressing strategic opinions," he says.

The program day starts early, with breakfast in the Park Dining Room and comments from the faculty and staff who will be responsible for delivering that total turnkey experience.

The executives sip their coffee and enjoy gourmet-style omelets or french toast. Like any group of strangers who have just met, they begin talking with one another cordially, but with restraint. Soon, though, full-fledged conversations strike up: some share family photos and talk about sports or hobbies. A couple of amateur pilots discuss the challenges of wind shear.

Just outside the floor-to-ceiling windows of the dining room, the grass slopes gently past a jogging path and soccer field, down to the beach where Lake Michigan laps. The sun reflects off the water as gulls whirl overhead.

This is an eclectic bunch — most classes are, with a mix of mid-career U.S. and international professionals — willing to exchange ideas from the start. As the week goes on, they will grow even closer. Class discussions, intensive study groups, formal and informal breaks and recreation opportunities all cement a bond that can last years.

Breakfast ends abruptly, with the staff making sure each person is in the proper study group. Time to get busy reviewing materials for the morning session, so out come the two-inch-thick binders filled with case studies and background info.

This sense of focus and purpose will drive nearly everything the students do during the next five days.

Theory-driven knowledge, real-world applications
These students know that BusinessWeek and U.S. News & World Report have ranked Kellogg No. 1 for its degreed Executive Master's Program (EMP) and that Financial Times ranked it No. 1 for non-degreed custom executive education programs, and for its faculty quality and overall value.

They've read the glossy brochures — from all the top schools, before selecting Kellogg — so they understand the components comprising this reputation: faculty, curriculum, facilities, culture. Easy to list, hard to deliver.

But any doubt that Kellogg is running a top-tier program is obliterated after three minutes in the classroom with Professor Edward Zajac. He's a maestro with an encyclopedic knowledge of strategic alliances. Students smile and nod as he works the room, deftly engaging the class, moving from industry to industry drawing examples based on the corporate affiliations written on the name plates that sit on the desk before each executive. Zajac, the James F. Beré Distinguished Professor of Management and Organizations, possesses the ability to make complex subjects engaging and comprehendible, but without watering down the content.

"To stand at the podium and lecture is not my style," he explains. "I structure discussion to deliver theory plus real-world examples to induce a strong response from the participants so that they feel the learning is not just a one-way relationship. People sometimes ask me 'where are your notes? Why aren't you reading from your notes?' In a former life I used to be a musician, so I use this analogy: I know the chord changes, so I don't need the notes."

It's the participants who are taking notes, and doing a ton of reading. Case studies primarily. They don't hold back from expressing their ideas or sharing their experiences in the classroom, sometimes delivering frank assessments of their firms' strategies. It's this exchange that Castillo, a business development director with Frito-Lay Mexico, finds among KEP's most enriching components.

"The concerns you have in your industry are often shared by a guy who is here from Saudi Arabia or Europe," says Castillo, who explains that he returned to Kellogg to expand his expertise because his company has grown so rapidly that he now plays many roles within it. Getting that expertise at Kellogg is easy, he notes.

"There are a variety of courses here that address specific issues of value to corporate leaders. You can easily find what you need," Castillo says.

"A flawless experience"
That sentiment is shared by van der Elst, who says that Kellogg offers, by far, "the most differentiated executive programs" he has ever seen.

These programs — which range from three or five days in length to up to three or four weeks — take shape as a result of dynamic interaction among the KEP team. For the open enrollment (as opposed to customized programs) curriculum, Duran spearheads the process, working with the academic directors of the respective programs. The associate directors — in addition to Burnett, Professors Al Isenman, Brenda Ellington Booth and Michelle Buck — typically take ownership for the design of the custom programs, increasingly in conjunction with tenured Kellogg faculty and Dean Dipak Jain.

Without hesitation, Bardach can go to the heart of what makes KEP great. "It's the faculty and the facilities," he says, adding that since the program's inception it has enjoyed the commitment of the very top levels of the
Kellogg administration.

"Our faculty are engaged inside and outside the classroom, but what gives us an 'A-plus' is that these professors all work together, referring to each other's research in their classes," says Bardach. "Students see our faculty interweaving their expertise, and it's stunning."

Burnett and Duran agree. "Everyone here is absolutely compelled to live up to the highest expectations to make our program a flawless experience for each participant," says Duran. "Each of our participants comes to us with their own particular needs, but our faculty takes these separate issues and weaves them into frameworks that address the needs of everyone in the room."

Duran's claim is born out in Zajac's classroom, as it is in Professor Leigh Thompson's "Negotiations Strategies for Managers" class and in Dean Jain's "Managing New Product Development for Strategic Competitive Advantage" course. These professors, like their other Kellogg peers, demonstrate a remarkable facility with their material while also linking their theoretical frameworks to real-world examples — and doing it in a relaxed yet directed fashion that encourages student participation.

"I love to teach Executive Education," says Thompson, who notes that part of her mission is to communicate "core principles that work across a variety of settings" so her participants from various industries all benefit from their KEP experience. "I get totally energized since the executives are ready to go from the moment they walk into class. They are focused on the material and understand its importance to their professional lives."

It's not only the executive participants who benefit from the interaction, says Burnett, explaining that Kellogg has been a prime mover in the customized executive education arena, designing courses for leading firms. "What our professors learn from these people and the reactions they get from the material they teach has a huge implication for what faculty teach in the Kellogg full-time MBA program," says Burnett.

These implications include research insights for faculty as well as recruiting opportunities for the full- and part-time students. "The people participating in our curriculum are senior-level professionals: country managers, division presidents, CFOs from all over the world," notes Burnett.

Leadership frameworks and foundations
Like Hurtado, van der Elst and Castillo, Keith Jossell is a repeat KEP customer, but with one difference: the vice president of finance for Sonic Corp. enjoyed his non-degreed experience so much that he enrolled in EMP, the Kellogg degreed executive program.

Originally a member of the Executive Development Program (EDP), a certificate program that enhances the skills of middle-management executives to prepare them for senior leadership, Jossell explains that his EDP experience helped him frame business challenges and opportunities. He credits the program with helping him become an officer in his firm and notes that KEP's "best-kept secret" is the other students.

"The courses provide the foundation for discussion, the professors guide you through key takeaways, and your classmates build upon those learnings with vast experiences from some of the top organizations in the world," Jossell explains.

Other KEP alums share similar perspectives. Cheryl Miller, president of consumer services for AmeriCredit, attended a three-week EDP course in 2001and recalls that the program allowed her insights into a broad spectrum of companies while affording her the chance to interact with executives from the international community.

"EDP challenged my thoughts about business and leadership," she says. Miller, who at the time had just been promoted to president and wanted to bolster her knowledge base, remembers believing that her return to the classroom years after graduation would be a difficult challenge. Though challenging, she says that EDP's focus on real business and leadership cases put her at ease because of the material's "real-time" relevance to her professional experience.

Lifelong learning — a leadership value
Lifelong learning has long represented a core value at the Kellogg School, as well as for professionals who aspire to top leadership levels in their firms, says Dean Jain. Jain has been an enthusiastic advocate for Executive Education throughout his tenure at Kellogg, teaching some 100 courses in such areas as marketing leadership and strategic product development.

"At Kellogg, we focus on effecting change," says Jain. "We look toward delivering excellent results, of course, but we also understand that the actual educational process is what offers real insights. It's these insights that provide leaders with the frameworks to drive innovation and success in their organizations."

George Spas agrees. The senior director for government relations for Motorola's Americas market points out that "learning is an everyday experience." Continuously updating one's skills is a must in today's marketplace.

"Organizations are undergoing critical changes, and leaders are responsible for decisions that will make differences in the ways organizations react to these changes," says Spas, who recently completed the "Reinventing Leadership" course at Kellogg.

Educational alternatives for executives are limited, according to van der Elst. Many companies have their own training weeks, he notes, but time is limited in that hurried environment. And what typically occurs in that context, he says, is that people get together with colleagues they see every day. This familiarity can diminish the opportunity for insights.

For him, coming to Kellogg has been a chance to gain "perspective and support" for the strategic ideas he will bring back to his firm.

"I'm going back to my company to spread the knowledge I've learned in the classroom here," says van der Elst. "The Executive Education experience will not simply stay with me, but I will share it with my peers and grow within the organization."